UniCoverter by Wondershare is the ideal software to convert audio and video quickly and easily without losing quality
Nowadays made mostly of multimedia files, music has taken on a particular way to make itself known. Usually let's watch some videos on YouTube or let's listen to some songs on Spotify or on other programs that take advantage of our connection. But what if our Internet line doesn't work? How will we be able to listen to our favorite songs so easily?
The best solution a few years ago would have been to listen to the songs of your favorite authors via audio cassette – and later via CD. Today, however, you can still listen to them via your smart devices. All you have to do is have the song file. All you need is UniCoverter of Wondershare which allows you to convert audio and video files quickly and easily without quality loss.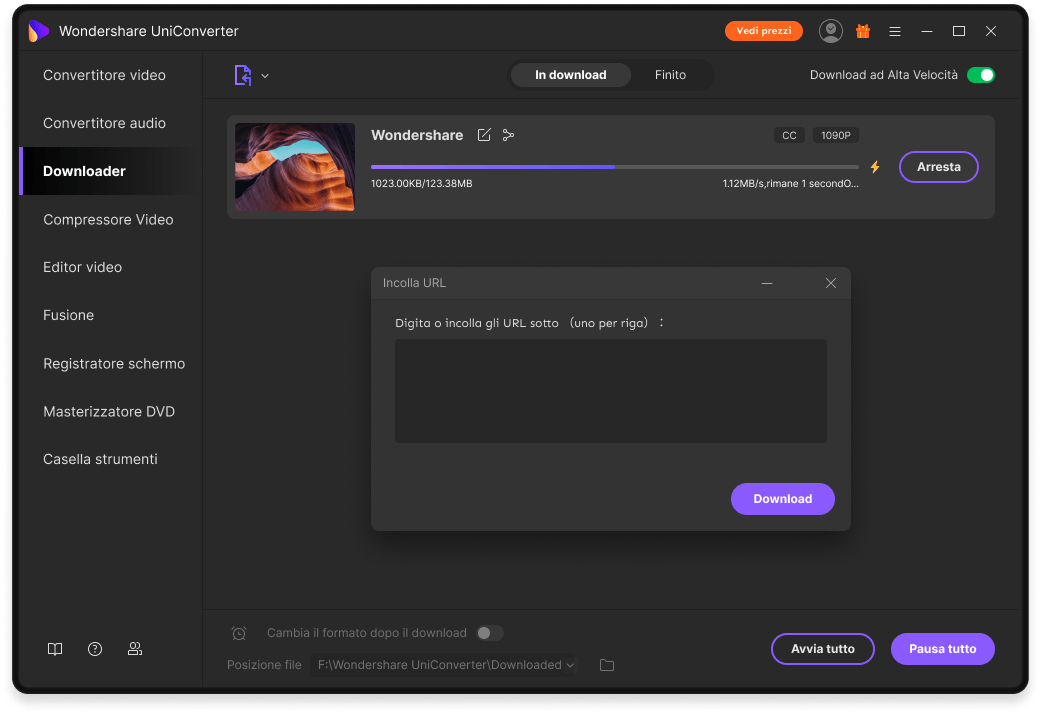 Convert audio and video files with Wondershare UniCoverter
The best solution to convert audio and video files is definitely UniCoverter. This software, as mentioned above, will allow us to convert our files without the loss of quality that plagues other software or online programs. Everything is possible thanks to the Lossless conversion technology. However, UniCoverter is not just that!
In fact, through the program you can safely interact directly on the file by modifying it during the process. You can indeed compress the file going to safeguard disk space or even merge multiple videos together depending on our needs. Very important function is then that of download videos. The software in fact allows you to download videos from many sites. Later we can then convert the video file into an .mp3 file to listen to the chosen song at any time.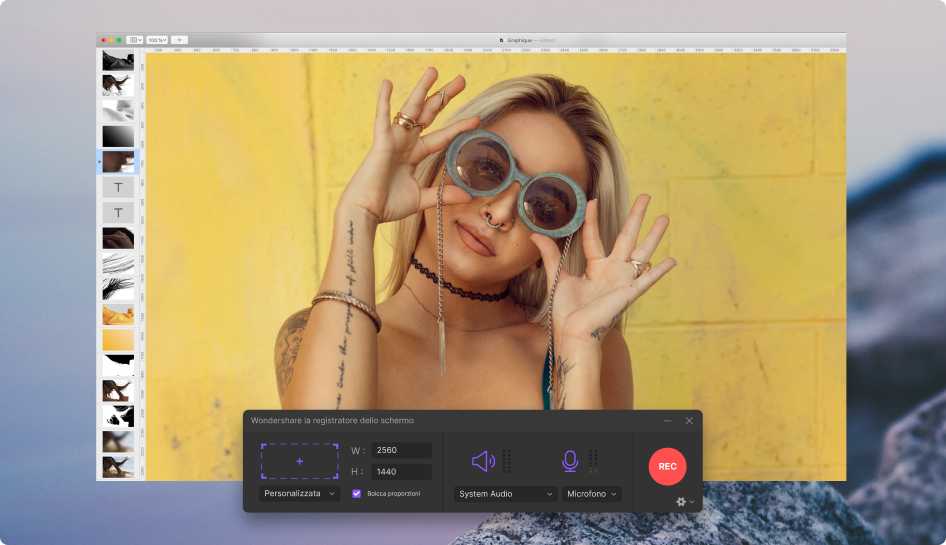 Important is the wide range of supported files both in input and in output. Here are some of the various formats with the various codecs supported by the software:
Video:

MP4: H.264/AVC, XVID, MPEG-4, MJPEG, ProRes, H.263, DIVX, HEVC/H.265
MOV: H.264/AVC, XVID, MPEG-4, MJPEG, ProRes, Apple Intermedia Codec, Sorenson 1/3, HEVC/H.265
MKV: H.264/AVC, XVID, MPEG-4, MJPEG, DIVX, VC-1, Theora, DV, Uncompressed, MPEG, HEVC/H.265
M4V (solo su Windows): H.264/AVC, XVID, MPEG-4, MJPEG, ProRes, H.263, HEVC/H.265
AVI: XVID, DIVX, MPEG-4, MJPEG, H.264

Audio:

MP3: MPEG Audio
WAV: PCM
WMA: Windows Media Audio
M4A (your Windows only): AAC
M4B (your Windows only): AAC

Image: APNG, BMP, DPX, GIF, JPEG (.jpeg, .jpg, .jp2, .jls), Netpbm formati (.pam, .pbm, .pgm, .ppm), PCX, PNG, PTX, RAW formati (3FR, ARW, BAY, BMQ, CINE, CR2, CRW, CS1, DC2, DCR, DNG, ERF, FFF, HDR, IA, K25, KC2, KDC, MDC, MEF, MOS, MRW, NEF, NRW, ORF, PEF, PXN, QTK, RAF, RAW, RDC, RW2, RWL, SR2, SRF, SRW, STI, X3F), SGI, TGA, TIFF, WebP, XBM, XWD.
In addition to these formats there are many others, especially those concerning audio and video files. The program is also capable of support some devices Such as Apple, Huawei, Samsung and some social media like Facebook, Tiktok and so on. For more information, please refer to the official page.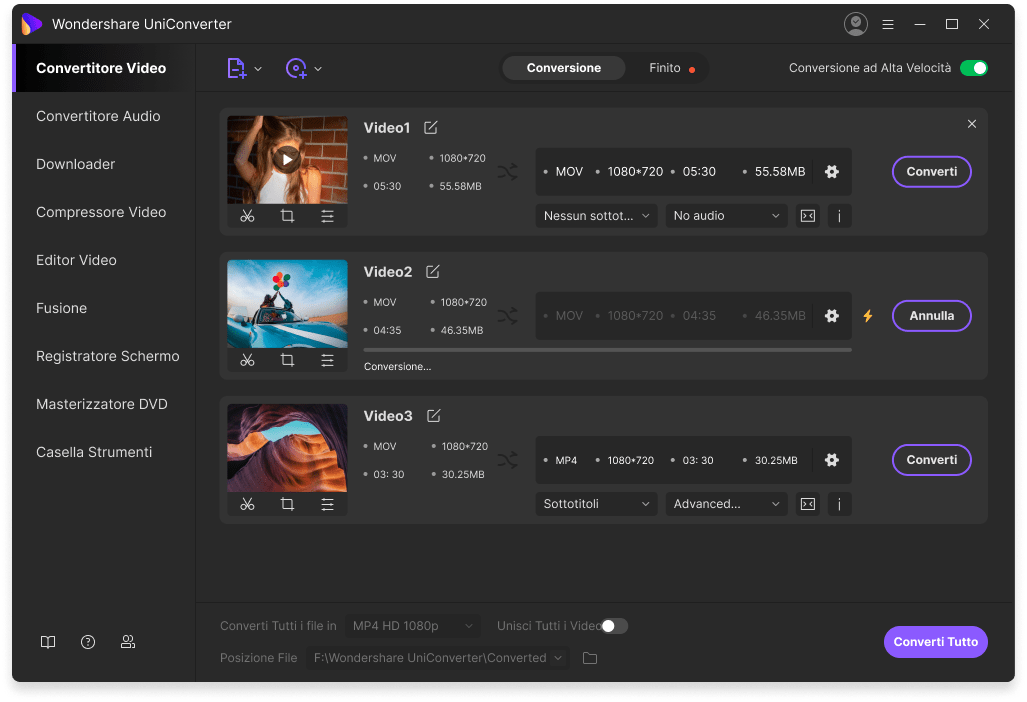 Other features of Wondershare UniConverter and availability
The software also supports the resolution and size adjustment. Besides that it is also able to make some small basic changes before converting the file. With this program we can indeed add titles or watermark effects or even cut small clips that interest us. In this way we can then refine the files even more before using them.
The software is available for computers running Windows or macOS. More in detail it is compatible with Windows 7 64-bit and later and with macOS 10.10 and later. The software is available on the official website with various purchase plans. We pass by quarterly license at a cost of € 29.99, to switch to the annual license at a cost of € 39.99. Also there are gods plans dedicated to companies and also EDU plans reserved for students and teachers.
What do you think of this Wondershare UniConverter, the software to convert audio and video files? Let us know yours in the comments. In order not to miss further news regarding the software universe, keep following the pages of tuttooteK!