In this review of the XPG PRIMER gaming mouse we will have the opportunity to discover an atypical product that offers a lot while leaving out some fundamental details
In this review we will not only talk about the aforementioned protagonist, that is XPG PRIMER, in order not to miss anything, in fact, we will also talk about the XPG BATTLEGROUND XL PRIME playmat. In combo, these two products (three if we also consider the keyboard of which you can read our review), are truly symbiotic and can turn the fortunes of a play upside down. In a symbiotic way, these two peripherals reveal how the Taipei company has not spared itself in the study of materials. Materials that have been designed to blend perfectly with each other, to work together ensuring the best for the user.
We do not hide the fact that at first glance the mouse did not make an amazing impression on us but it is only by using this product that its true potential is discovered.
An excellent quality optical sensor combined with a scrupulous research of materials and various devices, ensure that this product is actually understood only by looking beyond the mere primary impact. I would say that we have gone too far with this introduction, let's go deeply into this XPG PRIMER and discover its positive sides and shortcomings together.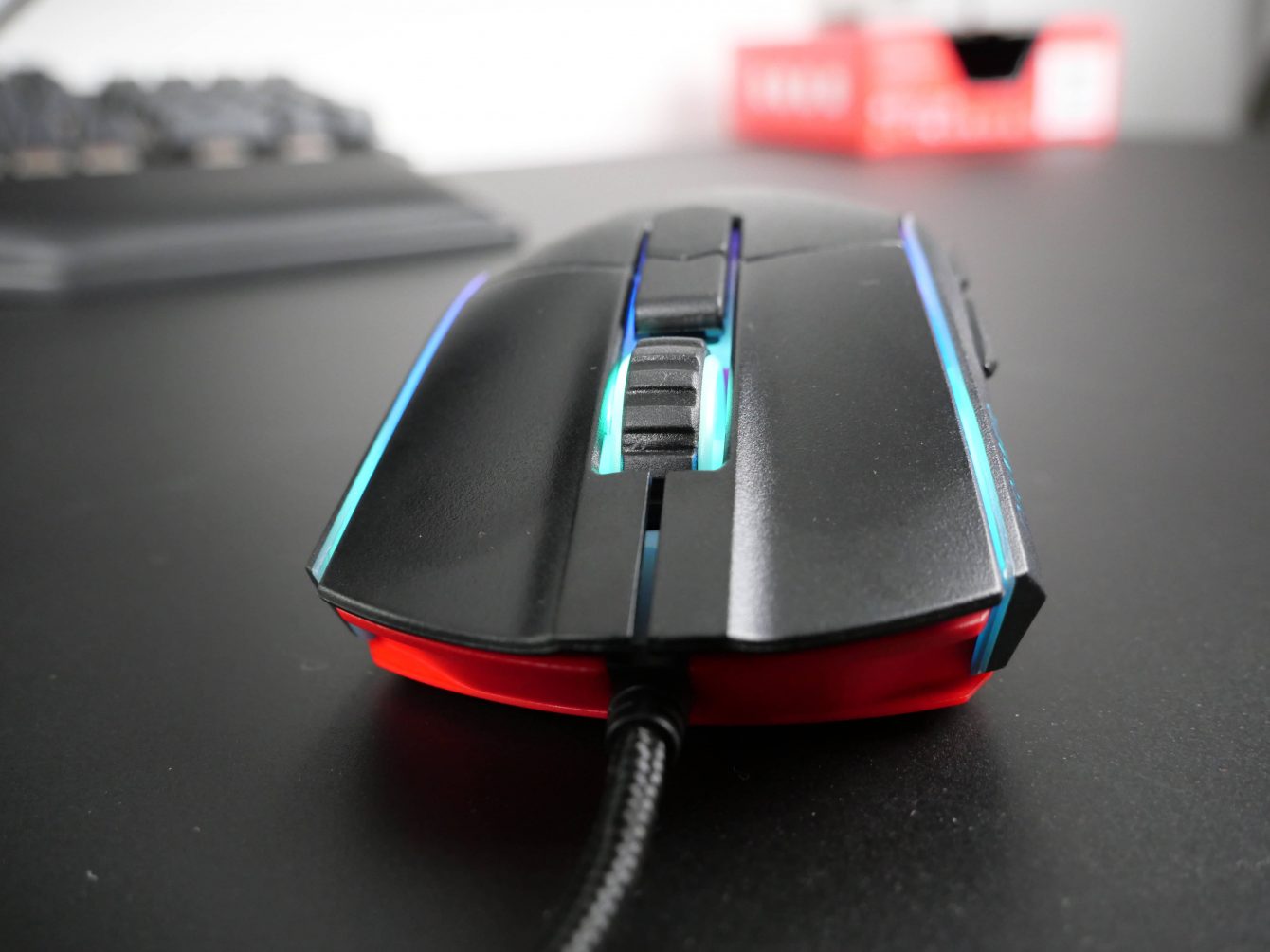 Let's discover this gaming mouse thanks to its technical data sheet
Connection: USB type A
Switch: Omron with capacity for 20 million clicks
DPI: 400/800/1600/3200/6400/12000 dpi
Polling frequency: 250/500/1000 Hz
RGB lighting: Color Wave, Intermittent, Static, Off
Weight: 98g
Dimensions: 126 x 65,6 x 37,9 mm/4,9 x 2,58 x 1,49"
Packaging and design | XPG PRIMER review
The packaging of the PRIMER gaming mouse is classic and sober. A book opening allows you to take a closer look at the mouse which is still depicted in full size on the front.
Inside the package we obviously find our PRIMER followed by the instruction booklet, a series of stickers (always very welcome) and the sheet that acts as a guarantee.
A small note goes to inform that unfortunately the Italian language is not present in the instructions even if English is very simple and the accompanying images are a valid help.
As for materials and design, nothing to complain about. The management of the LEDs, as well as the general ergonomics, is certainly good.
The embossed logo that is present in the part where we rest the palm of the hand is an elegant and sober choice. Good choice of material that constitutes the whole upper part which is smooth, but at the same time it is not slippery, even after long sessions of use.
I two sides boast a grip system that anchors the mouse to the hand thanks to a textured texture able to guarantee comfort and safety. The same goes for the scroll wheel. The wheel is in fact equipped with grooves able to make perceive "every single step".
In the lower part we find four feet that combined with the feather weight of the mouse allow you to slide on each mat but that if placed on the XPG mat have an even greater bust.
How does it behave in the game and in everyday life? | XPG PRIMER review
We have obviously tested this mouse far and wide to get the most complete picture possible. In these Christmas holidays we were able to give vent to all our desire for revenge in the lands of Verdansk on Warzone but also on COD: Cold War. The PRIMER gaming mouse is obviously rated for FPS and consequently it seemed correct to try it on these titles but in reality we could also use it on different titles, such as: Tom Clancy's Ghost Recon Wildlands, which we are having fun bringing to our official Twitch channel.
The wide choice of PPE therefore allows us to adapt the mouse to many titles, many monitor resolutions and above all to many different users. A great lack in our opinion, however, lies in the impossibility of going back in the choice of the speed of the optical sensor. Put simply, there is a single button dedicated to the choice of PPE. With this choice it will be mandatory to go through the choices completely, to return to a lower value.
In fact we have yes two buttons just below the wheel, but only one will be able to make us select the pointing speed, the adjacent key at the end of the previous one has in fact been predisposed to the choice of color. It is true that each DPI change is followed by a default color, but if, like me, you want to keep a single color for the whole PC and its peripherals, all this is almost useless. Speaking of colors, we have one set of presets linked precisely to PPE or a choice between static or rainbow color. Everything is selected using the second button we talked about earlier.
In short words we were not satisfied with the choices made for this "section" discussed, even if comparing everything to the price we cannot complain too much.
The switches chosen for this mouse are still excellent and precise. In the gaming phase as in the work phases we never had any problems and we were also fully satisfied with the optical sensor.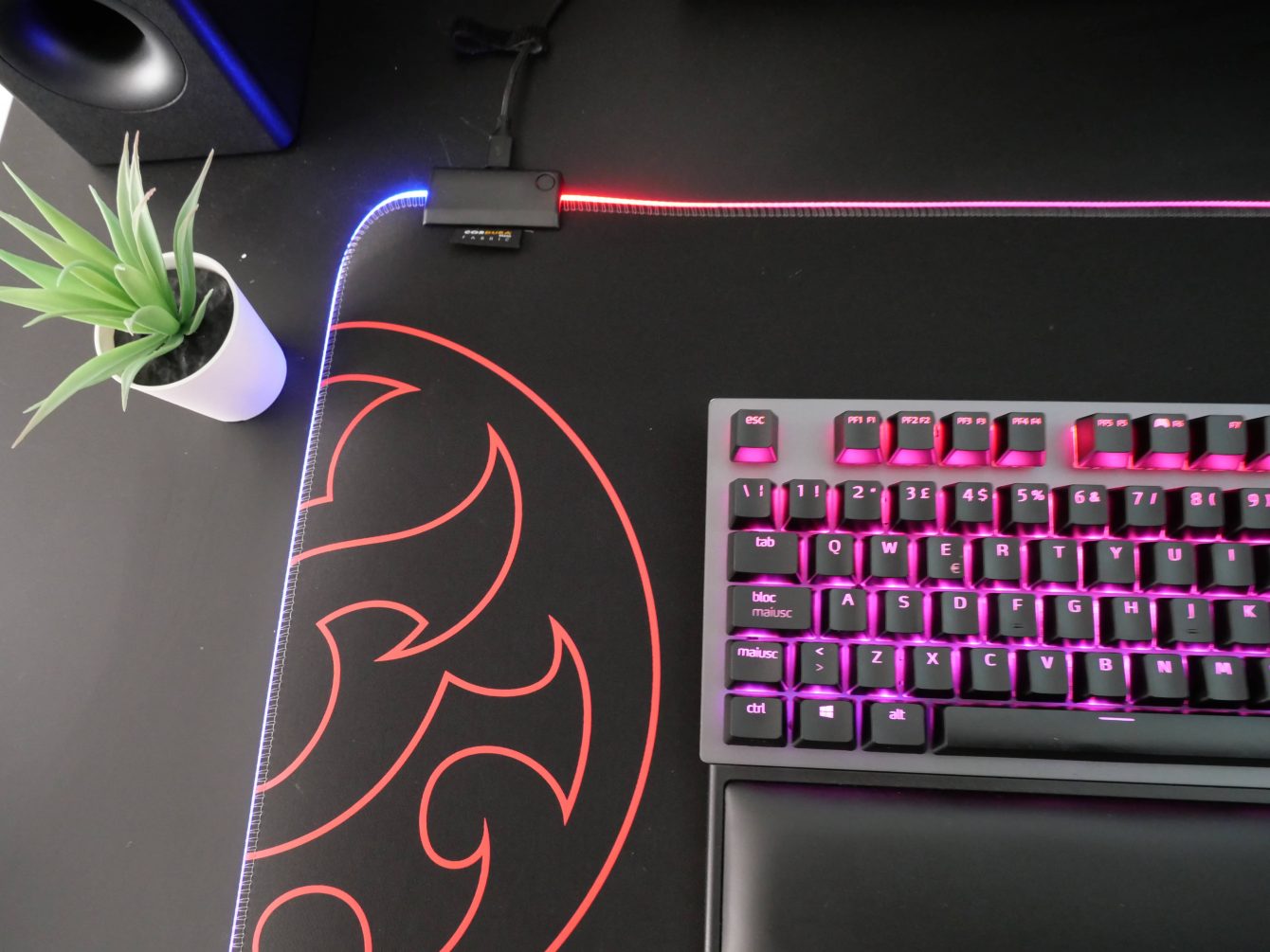 In this article, as promised, we will also talk about the BATTLEGROUND XL PRIME gaming mat
As anticipated in our tests we had the opportunity to combine XPG's gaming mouse with its best mat. The result was amazing!
For many years the mat has been mistreated, a notebook has been used, the mouse has been tried directly on the desk or worse. But with the advent of competitive play, everything has changed!
Where the mouse pad was just a simple addition to general comfort, in the world of games this object has also become a valuable ally.
The micro-mesh in cordura chosen by ADATA for this mat, it seems designed to slide its mouse over a metal plate smooth and free of imperfections. Obviously the effect is also obtained with other models, but obviously the XPG product combo is fully felt with superior quality. Each movement is sinuous but precise. The only flaw if we want, is precisely the texture that too easily captures dust or dirt in general. This problem can be easily circumvented thanks to the waterproof fabric that allows you to wash the mat without problems even with a damp cloth.
If the general quality of the mat weren't enough, which I remember has some finishes that prevent it from fraying, BATTLEGROUND XL PRIME it is also equipped with RGB with two color zones. The selection of colors takes place via a convenient but non-invasive button located in the upper left corner. Obviously you can choose whether to have it in a fixed color, to use a preset or to turn it off completely.
The (removable) cable is quite generous (1.8m). Also the dimensions of the mat are really XL: 900 X 420mm.
As for the price, we are absolutely in line with the general quality.
Who should buy this gaming mouse? | XPG PRIMER review
In conclusion we can say that the mouse in question is really good, even if some shortcomings are felt. The inability to comfortably manage the selection of PPE and above all the lack of management software dedicated mean that we are not faced with a definitive choice.
Despite this, thanks to the really low price compared to the actual value, we are faced with an excellent choice. In the gaming sessions we found ourselves very well especially using a complete bundle signed XPG. Ergonomics such as the choice of materials and the excellent sensor make the XPG mouse a recommended purchase if your main use will be to play games. FPS titles.
We would like to recommend it to those who eat bread and shootings. At this price you will hardly find a better mouse for this purpose. For the rest of the uses, it is still an excellent product, even if it is necessary to take into account the shortcomings we have talked about extensively.
Note: All photographs in this review were taken with a Panasonic Lumix DC-G90.
Points in favor
Excellent value for money
Excellent materials
Voted for shooter titles
Points against
Voted almost exclusively to shooter titles
There is no dedicated management software
Management of PPE a bit awkward