All'evento [email protected], a lot of news has arrived. Acer presented laptop for every need, desktop designed for gaming and graphic work, Chromebook to move with ease. And still many other products, from screens to antimicrobial accessories. Here are all the news announced today.
Acer, all the news announced in the laptop world and beyond
Acer started this conference by introducing the concept of "Made for Humanity", Presenting not only computationally powerful products but attentive to users at 360 degrees. For example, it has announced its line of antimicrobial products, developed to minimize the proliferation of bacteria thanks to treatments such as Acer Antimicrobial 360 and using antimicrobial displays.
TravelMate SPin P4 and the Enduro Urban line
Among the antimicrobial products, the convertible laptop for professional use stands out Acer TravelMate Spin P4 (which you can see on the cover). Made with processors up to Gen Intel® Core™ i7 Pro of eleventh generation and the torage M.2 SSD up to 1TB, offers the best in productivity. The Trusted Platform Module (TPM) 2.0, biometric fingerprint reading and Windows Hello secure the device, which has a battery of over 13 hours at a weight of 1.53 kg and 17.9 mm thick. In short, a truly complete package with a really interesting antimicrobial treatment. It arrives at the beginning of 2022 starting 1.119 euro.
If you need something more solid for an adventurous life, you have the choice Acer Enduro Urban N3. With a weight of 1.85 kg it is easily transportable. And it's tough: it can drop from 1.22 meters without any problems and withstands dust and water with IP53 certification. It also has processors up to Intel® Core™ i7 of the eleventh generation, GPU NVIDIA® GeForce® MX330 and 32GB of DDR4 memory. Comes next year starting from 799 euro.
Acer Enduro Urban T3 instead it is a 10-inch rugged tablet, with the same durability and protection as the N3 laptop. It has an FHD screen, a processor MediaTek Octa-core and 4 GB of RAM to not miss anything. The price is 299 euro.
Finally, there are also "Works With Chromebook" certified accessories which are antimicrobial. Like the Acer set Bluetooth Keyboard and Mouse KM501 (€ 59.90) and theAcer Bluetooth Mouse B501 (24.90 euros), arriving from February 2022.
Acer, laptops and desktops that think about the environment
In addition to being hygienic, Acer has also made its laptops super green. Like Acer Aspire Vero, which has the shell recycled at 30% e i keys at 50%. The packaging is totally recyclable. All without giving up 11th Generation Intel® Core ™ processors and Intel® Iris® Xe graphics.
Acer TravelMate Vero has 11th generation Intel® Core ™ i7 processor[2], 16GB of DDR4 memory and a 1TB SSD. All that you need. But it has the 30% recycled plastics in the chassis and fully recyclable packaging.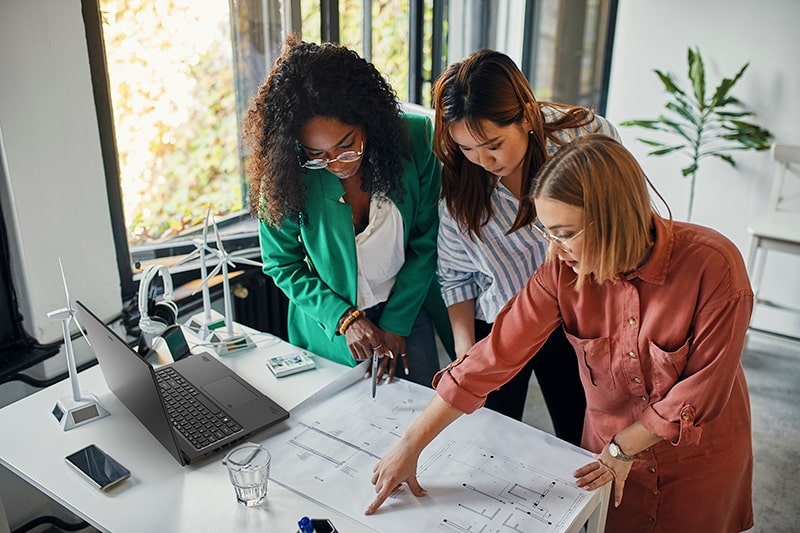 In addition to laptops, there are also Acer Veriton Vero Mini (VVN4690G), a mini-PC. And also Acer True BR277, a monitor awaits your eyes (for example with blue light filters) as much as the environment. And then accessories made with the same attention.
Acer Aspire Vero (AV15-51) starts from € 799,00.
L'Acer TravelMate Vero (TMV15-51) yes € 919,00.
The monitor Acer True BR277 of the € 299,00.
The mouse Macaron Vero (AMR020) to € 24,90.
Vero Mousepad (AMP120 / AMP121) from € 19,90.
Vero Ecosleeve (ABG131 / ABG132) da € 24,90.
Acer: news for gaming
In addition to announcing products for those who work, the moment dedicated to gaming with the Predator line cannot be missed. Which also this year does not disappoint. In fact, products such as the Predator Orion 7000, a true liquid-cooled powerhouse. In fact, you'll find the latest 12th Generation Intel® Core ™ overclockable processors, up to NVIDIA GeForce RTX™ 3090 series GPU up to 64GB of DDR5-4000 RAM. And then new generation fans, a truly complete system of ports and due SSD M.2 PCIe 4.0 NVIMe plus two 3.5-inch SATA3 HDDs.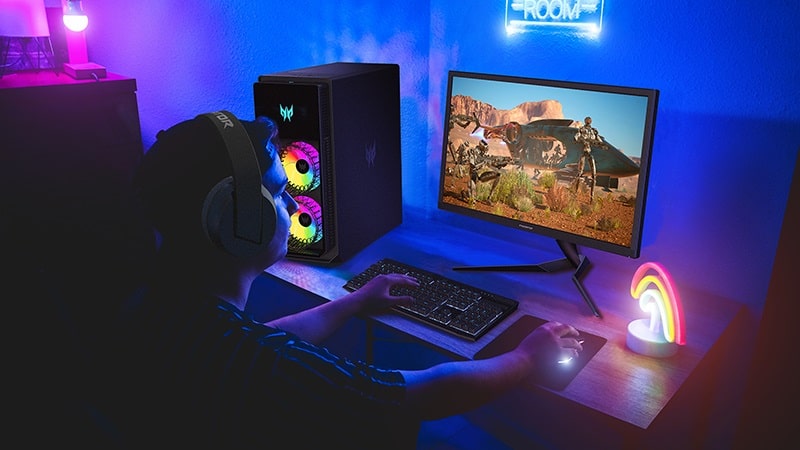 The gaming projector Predator GD711 instead it allows you to enjoy your games in 4K with a brightness of 4,000 lumens and the performance of dynamic HDR10. If you prefer a lamp projector, you can opt for the Predator GM712. They cost respectively 1499 e 1399 euro.
Finally the Predator Gaming Desk allows you to have 140cm of space for your accessories, monitors and offers space for bottle cages, headphones and much more. The perfect station for gamers. It costs 229 euros.
Projectors and monitors for the best in entertainment, and more
Acer also announced another projector today, the new one Acer L811, an ultra short throw laser projector that delivers HRD 10 compatible 4K resolution and 3,000 lumens of brilliance. You can project up to 120 inches at just 31.2 centimeters of distance.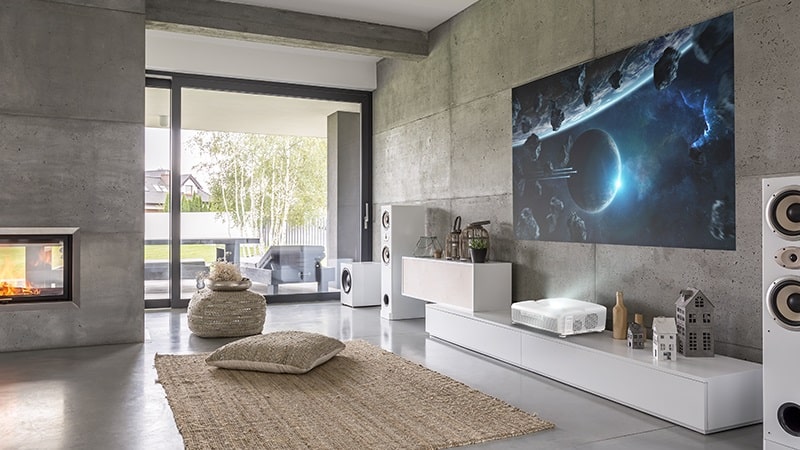 If you prefer monitors, the new one Nitro XV272U KF offers 27 inches with a refresh rate of 300 Hz, with AMD FreeSync Premium technology to enjoy the lowest possible latency and have a super smooth vision. Acer CB273U is a 27-inch WQHD (2560 × 1440) IPS monitor that allows you to work at your best: the dream of graphic professionals.
The Acer L811 projector arrives in November starting with 2.599 euro. Nitro XV272U KF costa 1.149 euro while Acer CB273U costs 449 euro.
Acer announces ConceptD 7 SpatialLabs Edition, the laptop for content creators aiming for 3D
ConceptD 7 SpatialLabs™ Edition represents the perfect workstation to access the Acer SpatialLabs suite with optical solutions perfect for who works in 3D. The device therefore has a GPU Laptop NVIDIA® GeForce RTX™ 3080, accompanied by up to 11th Generation Intel® Core ™ i7 processors. With DDR4 RAM memory up to 64GB and NVMe PCIe SSD storage up to 2TB. A PANTONE® certified 4K UHD display is paired with this awesome hardware.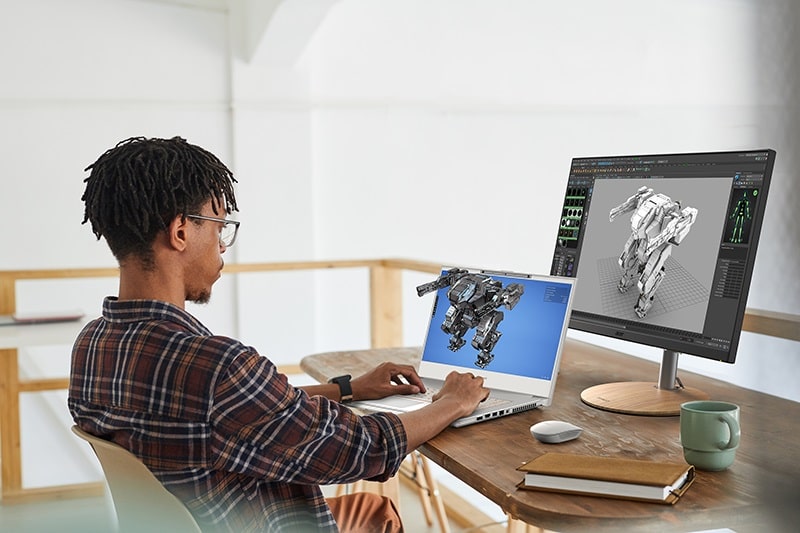 In addition to the top of the range they also arrive laptop ConceptD 3 Donkey Convertible e ConceptD 3 16:10, which can go up to Intel® Core ™ i7 capable of 4.6 GHz and NVIDIA T1200 Laptop GPU. These products will arrive between November and December in Italy, while the ConceptD 7 arrives early next year.
Prices:
ConceptD 7 SpatialLabs Edition (CN715-73G) a € 3.799,00.
The new ConceptD 3 (CN316-73G) a € EUR 1.999,00.
ConceptD 3 Pro (CN316-73P) a € 2.099,00.
Il ConceptD 3 Donkey (CC315-73G) a € 2.199,00.
ConceptD 3 Easel Pro (CC315-73P) a € 2.299,00.
Acer, not just Windows laptops: here are the new Chromebooks
In addition to the many innovations in the Windows area, Acer has presented some really interesting Chromebooks. The top of the range is represented by the new ones Acer Chromebook Spin 514 (CP514-2H) e Acer Chromebook Spin Enterprise 514, designed for productivity. They have up to 11th generation Intel® Core ™ i7 processors, with 14-inch FHD IPS display. With two USB-C ports, WiFi 6 a lightweight and portable form factor, they have nothing to envy to their Windows counterparts.
Acer Chromebook 515 (CB515-1W/T) e Acer Chromebook Enterprise 515 they are based on up to 11th Generation Intel® Core ™ i7 processors and Intel® Iris® Xe graphics, up to 512GB of PCIe NVMe storage and up to 16GB of RAM. Here too we have the best, but on a larger 15.6-inch screen, in the classic laptop format that Acer has now perfected.
Acer Chromebook 514 (CB514-2H / T) instead uses a MediaTek Kompanio 828 octa-core processor, which ensures 15 hours of battery life and can be recharged to 50% in just 30 minutes. In the end, Acer Chromebook Spin 314 (CP314-1H / N) features the exclusive touchpad made of OceanGlass ™, recycled from ocean plastic. With one USB 3.2 Type-C port, two USB 3.2 Type-A ports, an HDMI port and a MicroSD slot, connectivity is truly at its peak.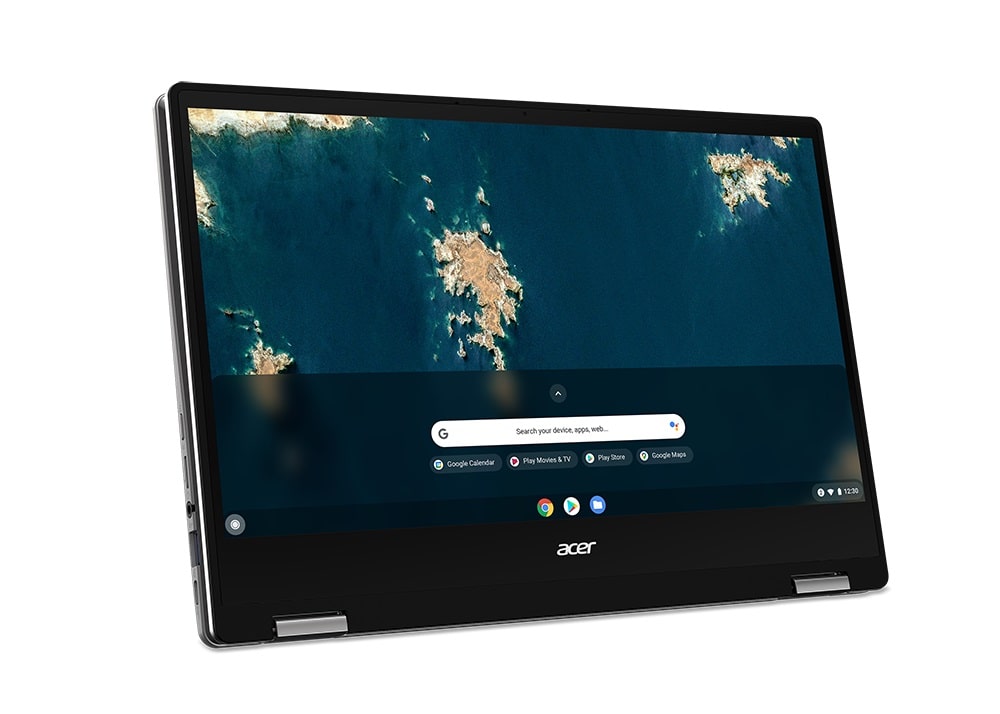 Acer Chromebook Spin 514 (CP514-2H) parte da € 799,00, the Enterprise Spin 514 version from € 1.049,00.
The new Acer Chromebook 515 (CB515-1W / T) starts at € 499,00. The Enterprise version € 515 799,00.
Acer Chromebook 514 (CB514-2H/T) parte da € 399,00.
Acer Chromebook Spin 314 (CB314-1H/N) da € 449,00.
You can find more details by following the integrated links on the product names. But you can find many other products on Acer's official website.