Apple M1 recently outperformed the Intel Core i7-11700K, but there's still plenty of room for recovery
It's been news for a few hours that Apple's octa-core M1 CPU has exceeded single-threaded performance of its closest competitor, the Intel Core i7-11700K, the octa-core CPU from Intel based on the Cypress Cove architecture.
Main differences between the various competitor processors
Before Apple M1 made its PassMark debut, both the Core i9-11900K and the Intel i7-11700K took first place in the ranking of the well-known benchmark portal, surpassing even AMD's Ryzen 5000 series based on Zen3 architecture. Apple M1 is based on the manufacturing node TSMC 5nm and this is Apple's first ARM-based processor with four high-performance cores with codename "Firestorm" and four high-efficiency cores called "Icestorm".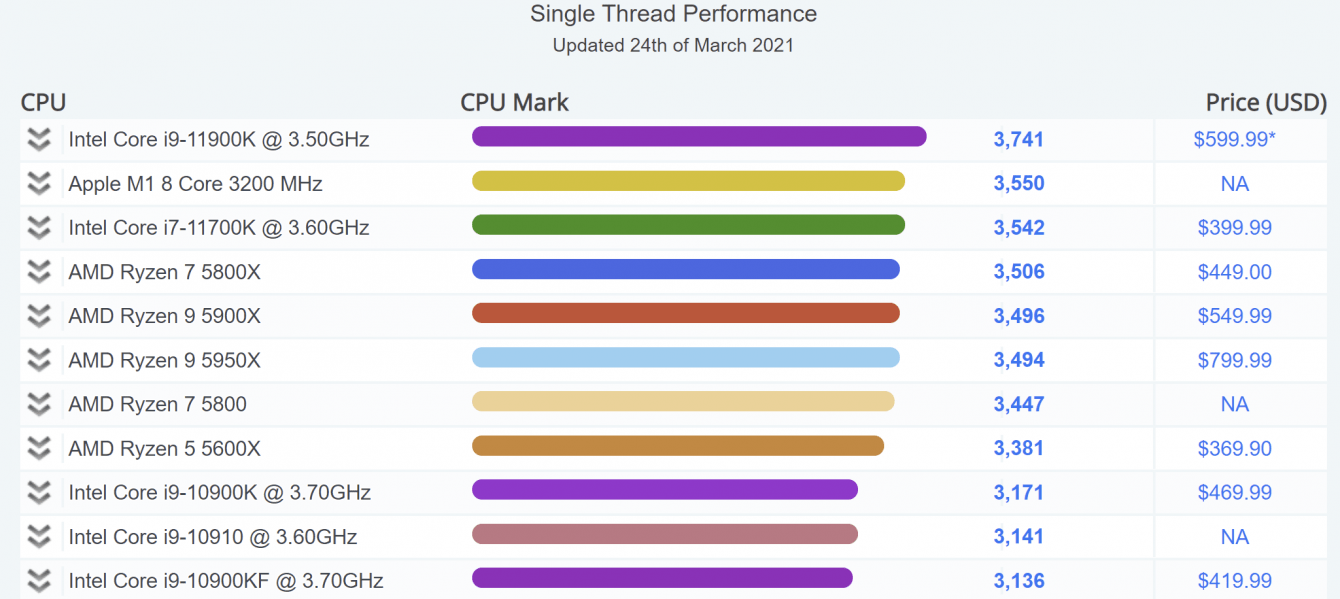 It is architecture similar to the ARM DynamicIQ (successor to big.LITTLE) or Intel's Lakefield hybrid technology. AMD, on the other hand, has not yet developed this technology for its top-of-the-line processors dedicated to desktop use. The M1 thus got 3550 points in a single-threaded benchmark, while the Core i7-11700K has an average score of 3542 points.
The margin of error in Intel's favor
The difference lies in the margin of error (just 0.2%) and the number of samples is still not enough to claim a clear winner. It is likely that Rocket Lake-S will resume its place once a new microcode is available for Intel 400 and 500 series motherboards. The power-limited Apple M1 chip may actually have great single-threaded performance, but it still has no chance to compete with desktop CPUs in multi-threaded benchmarks. Apple's chip doesn't have hyperthreading technology, so a processor that could change this is imminent Apple's M1X chip high performance.
What do you think of these results? Let us know in the comments and keep following us on the TechGameWorld.com pages where you can find the latest news and more.