The new version of the Apple Maps also arrives in Italy, as well as San Marino, Vatican City and Andorra. The update, announced last year and already released in the United States, Canada and some European countries, will make navigation faster and more accurate, allowing users to better plan any trip.
"Apple Maps is the best way to explore and navigate the world – all while protecting your privacy – and we're thrilled to bring this experience to even more users with today's launch," he said. Eddy Cue, Apple's senior vice president of Services. – We've rebuilt the maps from the ground up, with better navigation, richer details, more accurate location information, and notable features only Apple can offer, including Look Around, Natural Language Siri Directions, and more. It is now easier than ever for users in Italy to find the places they love and reach their destination even faster and easier. "
Navigation with the new Apple Maps
The news included in the update of the Apple Maps are several, starting from the passage to a more natural language for the indications that are thus even easier to follow. The app will also suggest you which lane to choose to avoid making mistakes while the electronic speed control function warns you when you are near speed cameras or red lights.
Apple Maps show theand congested traffic areas to allow you to avoid them but that's not all: the Sharing of arrival time (Share ETA) allows you to share your arrival time with family, friends and colleagues, giving them the opportunity to follow your movements and updating the timetable based on traffic conditions.
Users can also contribute to improving the map experience. Like? Reporting accidents, dangers and speed checks along the route. All this by saying to Siri: "There is an accident ahead" or "There is something on the road". In addition, you can update the status of incidents, indicating whether they are resolved quickly and without distractions.
What if I use public transport?
This fall, with iOS 15, there are also important news for those who prefer public transport. The update will alert users to the closest stations and will allow to indicate your favorite lines. Maps also tells users when it's time to get off and allows them to track their route using Apple Watch.
Nn are missing detailed information on timetables departure, arrival, current location of a bus or train and links to help you plan your trip. They are finally provided real-time communications regarding service interruptions.
Look around and the other features of Maps
The function Look around gives you access to interactive images that allow you, if you wish, to move around the city in a totally digital way.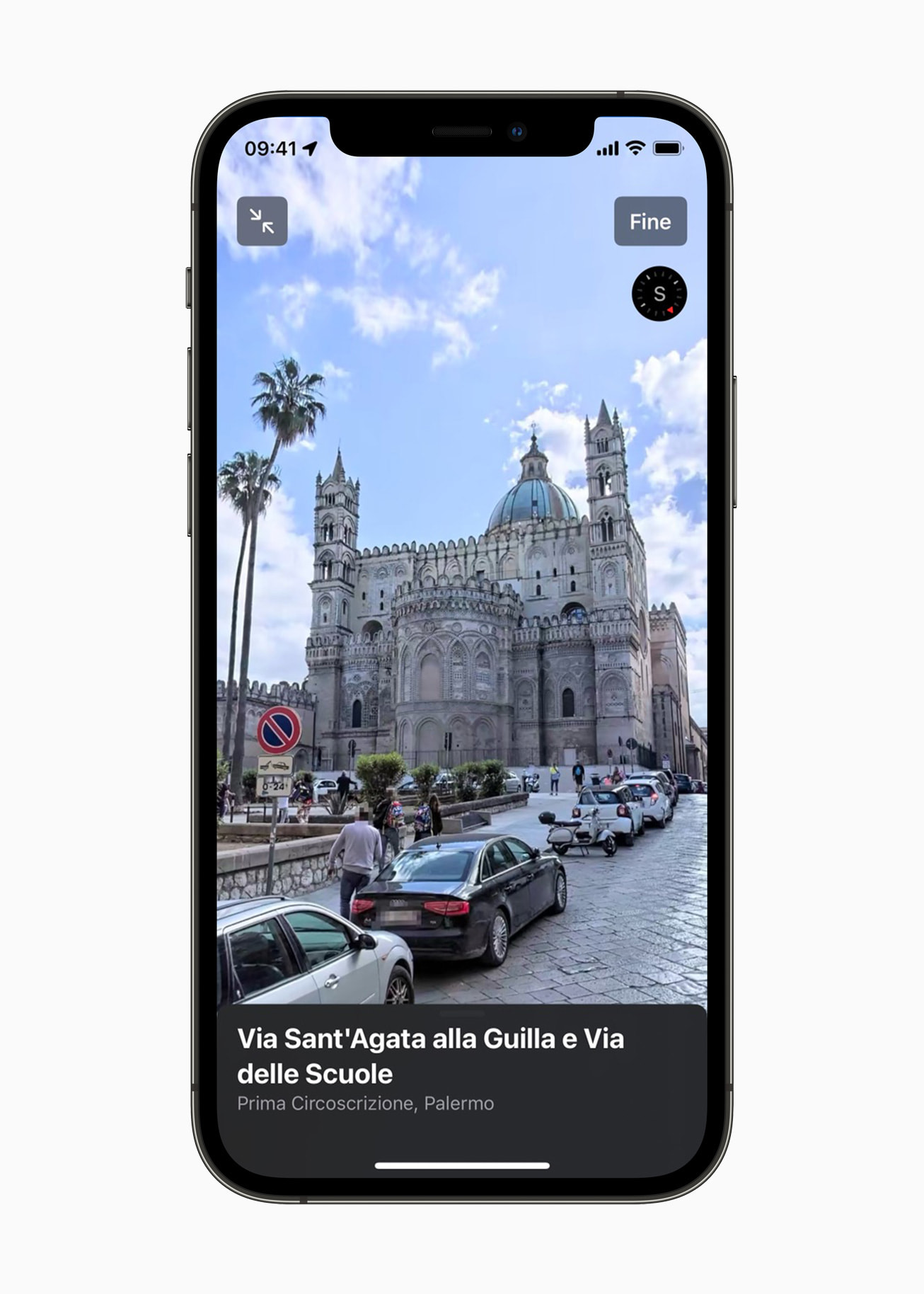 Then there are the Guide, that provide a curated list of places around the globe and tell you what to do, where to eat and what places you can shop. All this using reputable sources like Louis Vuitton City Guides, Culture Trip, and Lonely Planet.
I Favorites instead they are perfect for starting navigation to the most popular places with a single touch, while Flyover allows you to see some of the major metropolitan areas with photo-realistic and engaging 3D views. Finally, don't forget le mappe indoor for airports and shopping centers, useful to understand, for example, you have to find the right bathroom or restaurant.
Apple Maps and privacy
Worried about your privacy? Don't worry, Apple has also thought about your data. First of all, Maps requires no registration, they are not linked to an Apple ID and the custom functions are based on on-device intelligence. All data collected during use are also associated with random identifiers that reset continuously and in addition the position is also obscured at the server level. In short, you can sleep peacefully.
What do you think of the news in Maps? Will you abandon other navigation systems?