Apple and Meta (then known only as Facebook) they "argued heatedly" about privacy in the last year. The ability to block tracking for advertising purposes on iPhones did not appeal to Facebook, which publicly objected to Cupertino's choice. But it is clash between Meta and Apple does not stop at privacy issues: it goes through the 'metaverso' e i viewers for the XR, the smartwatch and devices for the smart home. And in the next few years it is destined to grow.
Apple vs Meta: two giants compete in the metaverse
Over the past decade, tech fans have lined up on two fronts of a great rivalry, that one from Apple and Google. The two companies were the only ones able to successfully enter the field of smartphone operating systems. Microsoft has tried for a long time with Windows Phone, Amazon with Fire. But today we see that the two companies are quite happy to continue competing on this ground without needing to be in constant challenge. If users still line up between Android and iOS lovers, the two companies collaborate on many services and products.
But for Apple comes another rival, at least according to the analysis of Mark Gurman by Bloomberg: Meta Platforms Inc. The company that unites all companies of Mark Zuckerberg criticized Apple for the App Store fees, while Apple has repeatedly attacked Facebook for the privacy. But the new challenge area promises to be the metaverso.
Meta has long invested in virtual reality. Already in 2014 he acquired Oculus for $ 2 billion, selling several VR headsets in recent years. But this market promises to be on fire next year. Both Facebook and Microsoft have launched new services for companies in virtual and augmented reality, with many other companies ready to launch services for the 'mixed reality' (XR). And this will be an important battleground between the two companies.
Oculus Quest 2
Project Cambria vs Apple Glasses
Last month, Meta showed a prototype of Project Cambria, its first headset for mixed reality (XR). A device therefore that combines a virtual reality viewer (which Oculus knows well) with smart glasses for augmented reality, that implements digital information into the physical world. This device requires a great deal of computational capacity, with a new processor and more complex sensors than previous Oculus products.
For its part, although there hasn't been any announcement yet, Apple is working on a similar device. The data is still scarce but industry experts think it can implement mixed reality using both internal processors and associated iPhone and Mac processors.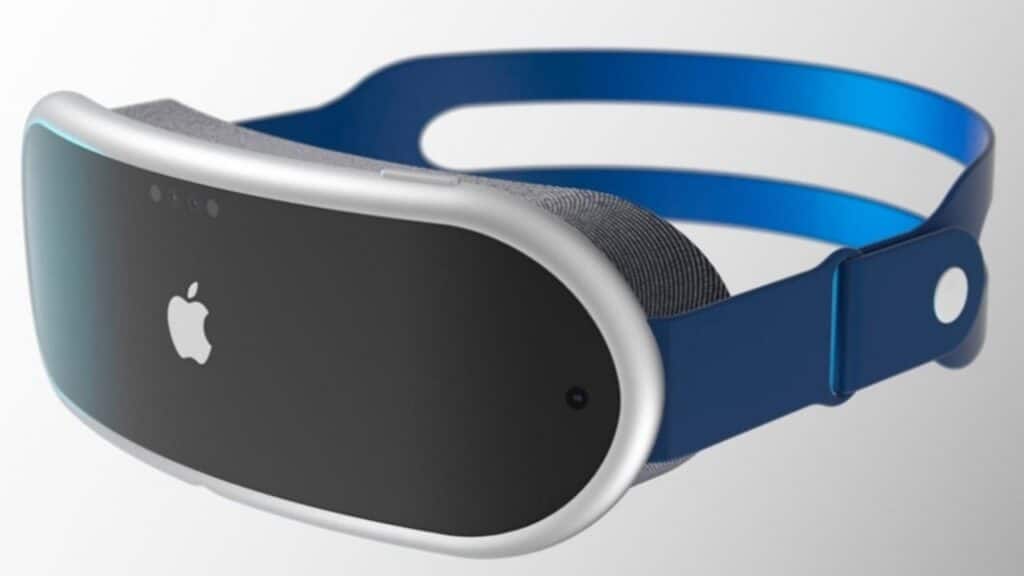 A render of the possible Apple viewer
According to Gurman, Apple's device should arrive a few months after Meta's and probably cost more above 2000 dollars (while that of Meta promises to be much cheaper). They will therefore not be two products in direct competition. But they could provide the two companies with the key to an ever-expanding ecosystem. The market shares achieved could make a difference on the future of these projects, beyond the success of the first devices. A head start could mean victory in this context of the rivalry between Apple and Meta.
Apple vs Meta: comparison in the world of smartwatches and smart home (and beyond)
In addition to the metaverse, Meta has announced that it wants to invest in hardware devices with more vigor than when it was simply called Facebook. One of the changes in which he announced that he wanted to spend is that of smartwatch, with a new device in the pipeline. With one thing Apple Watch doesn't have: one video camera for video calls included on the watch.
In this area, Apple has a notable advantage, with Apple Watch who are the market leaders. A market, however, with still many rivals and room for maneuver, in which Meta wants to enter. He is already working on a smartwatch for next year but according to Gurman he has plans for others three devices for the near future. Something that might prompt Apple to respond by installing a FaceTime camera on the Apple Watch itself.
Another commercial space in which companies are already competing is that of smart home. I Portal were among the first hardware devices that Facebook invested in (and continues to do so). The HomePod have received the attention of the Apple in the last period, with new colored devices announced by Cupertino. But it is above all the ecosystem HomeKit that continues to expand, carrying Siri on many devices. In this context, either Google that Amazon they are better positioned than their rivals, but Apple and Meta will want to compete with no holds barred.
Then there is the huge world of services. Gurman speculates that Meta may soon bring a service similar to Apple Fitness + in the Oculus VR world.
In short, the challenge between Meta and the Apple is only just beginning. If the world of mixed reality (and related applications) will be the main battlefield, the two Silicon Valley companies seem fierce in the round. It remains to be seen who can take advantage. And if really the discussions between which is the best set in XR they will replace those between Android and iOS for technology lovers.