Aspire: Ina's Tale is the new platform 2D di Wondernaut Studio e Untold Tales that accompanies us to the discovery of a surreal and mystical world: after trying the title on Nintendo Switch, we are ready to tell you what we think with this review. Did he manage to capture us or did we fall into a dark ravine? Let's find out together.
Aspire's review: Ina's Tale – a mysterious and mystical journey
The protagonist of this adventure is the young woman Ina which, trapped in a perpetual sleep inside the Tower, he dreamed. Suddenly, without knowing how or why, she is abruptly awakened. The surrounding environment is strange: it seems mystical it's almost surreal.
Ina's job is to explore the inner chambers della Torre and find an escape route. In the course of his adventure, he must also understand for what reason she was locked up inside this apparently lonely and mysterious place. The road, however, is not all roses and flowers: in the darkness, a little further down and far from the light, they nestle terrifying creatures and ready to prevent our Ina from escaping.
Are you ready to discover the truth with Ina and her fiery orange hair? We want to warn you: it is a short but intense journey, full of secrets e mystery.
Every corner is a show
The initial video it tells us roughly what is happening, but without giving us one concrete answer. Everything is obviously shrouded in mystery and shadow and it is precisely for this reason that ours curiosity begins to rise, increasing dramatically.
Why was Ina trapped inside that Tower and what woke her up? We do not know but we are ready to discover the truth, together with her.
The first element that immediately catches the eye and that we cannot help but admire with amazement, as if we were children, is the graphic sector. Aspire: Ina's Tale boasts a graphics sector tremendously surreal, magical and characterized by vibrant and bright colors. Every corner takes life of its own and it is as if there narrating the qualcosa.
Every crystal that we find in our path, every column, every floor even, exudes personality e vitality. Seeing little Ina in the center of this marvel is a feast for the eyes. Her orange hair is in sharp contrast with dark colors e purplish of the whole background. The graphics on the Nintendo Switch have managed to bewitch us from the start so we dare not imagine what it will be like on Xbox consoles. We are sure it will be just as wonderful and spectacular.
Each scenario tells us a story, it almost seems to be inside numerous paintings that can't wait to explode with its own light and dazzle us.
Untold Tales, however, has well thought of adding a equally exceptional sound sector. Dear readers, this title deserves to be bought even just for the soundtrack melodica ed enveloping that accompanies us in the course of our adventure. It is so special and full of pathos that it really turns out complicated to describe it in words. Luckily, you can get a quick glimpse of it in the launch trailer above.
The sound sector of Aspire: Ina's Tale it deserves to be experienced second by second, note by note.
An engaging storyline and characters that stand out
Along the way Ina will not only pass through amazing and full of life scenarios but will also encounter secondary characters. Our job will be to talk to them and find out what's going on. However, not everyone remembers their past or what they are there for. With the right attention, in the most hidden corners of the Tower we will be able to find theirs memories: once found, we will have to bring them back to the inhabitants e free them once and for all.
On our way we will also have to solve puzzles, more or less complicated, which will allow us to unlock one new section of the map and move forward with our story. Each section, or region, has its own secrets to reveal and as we find them, history will become even more engaging e mysterious.
Another interesting element, which makes the plot even more particular, are Ina's dreams. Proceeding forward we will realize that the latter, in some way, shape reality and that, at the same time, the Torre is feeding on it. This will force Ina to pay attention to any inscriptions on the walls. If you want to find out with her what is happening, you will have to carefully observe every detail.
But beware of the enemies. There are gods hidden in the shadows strane creature, graphically well done, whose purpose is to chase us and not to give us respite. We cannot fight them because Ina has no weapons but we can trick them thanks to power of spirits.
Ina has been trapped for a reason still unknown to us but we will discover that her powers are in close contact with the spirits who live in the Tower. We can then become friends with them and use them to manipulate objects, solve puzzles, reveal hidden passages and explore the surrounding environment, looking for a way out.
The verdict of the Aspire review: Ina's Tale – pass or fail?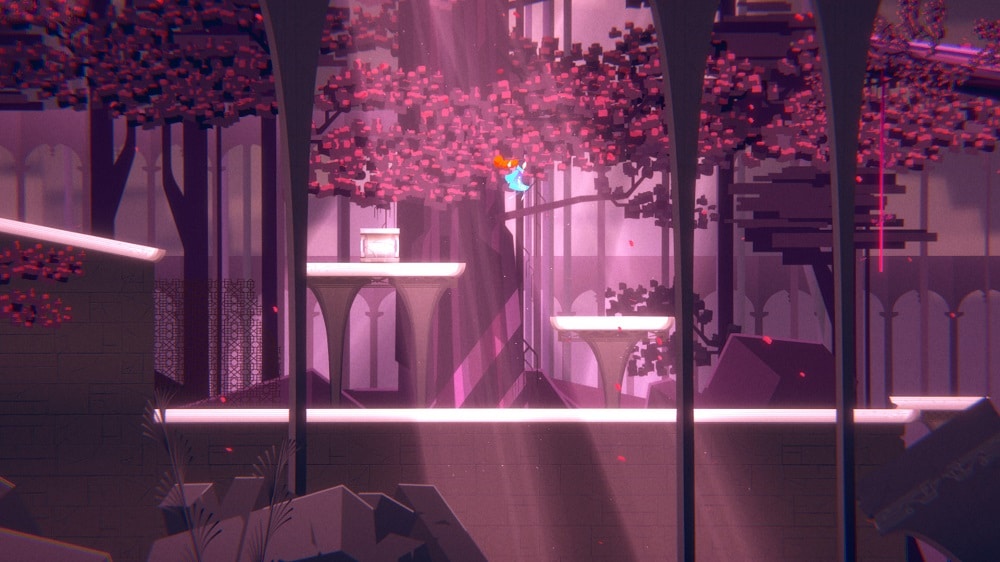 So what's the verdict of the Aspire: Ina's Tale review? The title offered by Untold Tales is pure poetry and is characterized by a overwhelming story e full of intense backstories. A plot perhaps too short but you know, good things do not last long. Perhaps this is also the reason why he captured us in this way.
We also want to be honest with you: even if the story was boring or not very exciting, we would still have advised you to try this title. Aspire: Ina's Tale indeed deserves to be purchased even just for the incredible and magical combo of the graphic and sound sector.
A similar soundtrack is not found often and is a shame to deprive yourself of it.
Instead Untold Tales even managed to offer us one interesting plot, characterized by puzzles that test us but also narrative coherence e compelling. There are also secondary characters initially annoying but who, in reality, have a background interessante and able to offer the overall plot that something extra.
We have enjoyed the Nintendo Switch experience immensely and believe it can offer a lot on any platform. Be sure to though use headphones because the soundtrack is ready to envelop you and make you live an incredibly unique experience.
Aspire: Ina's Tale officially debuts on December 17, 2021 on Nintendo Switch, PC via Steam and Xbox One (also playable on Xbox Series X and Series S).