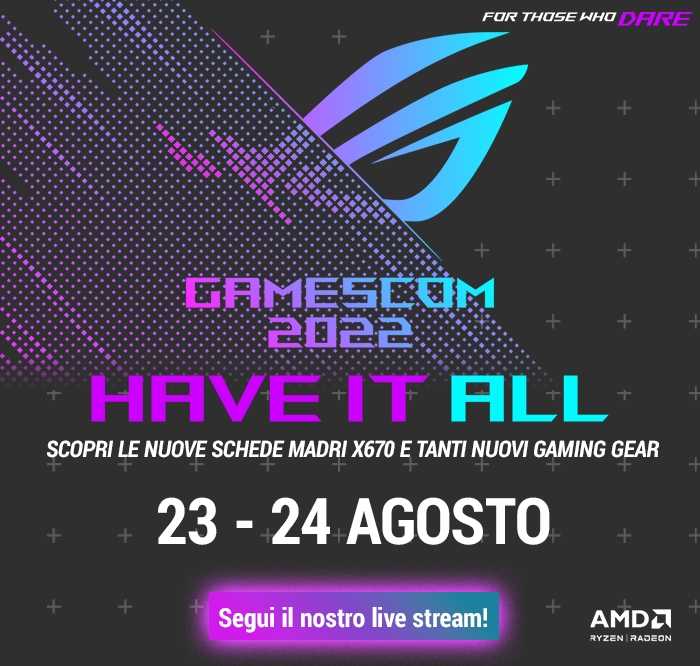 ASUS ROG presents the Have It All event at Gamescom 2022 and previews its new AMD X670E. In addition, the new AIO heatsinks, PSUs, Swift and Strix series monitors, routers and various gaming peripherals were presented.
ASUS Republic of Gamers (ROG) held the event today Have It All on the occasion of Gamescom 2022, at Dock2 in Cologne, Germany. Have It All is the first large-scale ROG event to take place in attendance since the start of the pandemic. The event was developed with the aim of offering ROG fans and the media theopportunity to see and experience the latest AMD X670E ASUS ROG series motherboards.
In addition to these, however, the new ones were also presented AIO and PSU heatsinksnew displays and network solutions, as well as many new ones periferiche gaming. ROG Crosshair X670E Gene microATX motherboards, ROG Strix X670E-I Gaming WiFi mini-ITX motherboards, ProArt and Prime were the true protagonists of the event Have It All. These cards all support technology PCIe 5.0 not memorie DDR5. Complementing the new generation of AMD X670E series motherboards developed to support the AMD Ryzen 7000 series processors. build AMD Ryzen and to take performance and performance to the next level.
The news presented at the ASUS ROG Have It All event
In addition to the ASUS ROG AMD X760E motherboards, there are many new features presented during the Have It All:
Motherboards: the new proposals AMD X670E are divided into a wide range of solutions. The already announced ones were presented at the event ROG Crosshair X670E Extreme, ROG Crosshair X670E Hero, ROG Strix X670E-E Gaming WiFi e TUF Gaming X670E-Plus WiFi. To these are added today also the ROG Crosshair X670E Gene, ROG Strix X670E-I Gaming WiFithe new Pro Art e Primeall with PCIe 5.0 and DDR5 support.
New monitors: many proposals that include the new series ROG Swift OLED e i monitor ROG Strix PG27UQR, XG32UQ e XG32AQ with Fast IPS panel.
ROG Rapture GT6: is the first system WiFi tri-band mesh by ROG designed for gaming. This offers users up to 10 streams and WiFi speeds of up to 10,000 Mbps.
New mice: the renewed ones ROG Keris Wireless AimPoint e Gladius III Wireless AimPoint now integrate the proprietary ROG AimPoint optical sensor.
The earphones: gaming headsets ROG Cetra True Wireless Pro e Cetra True Wireless deliver immersive, low-latency gaming audio.
In this article we will focus on the brand new series of AMD X670E motherboards, getting to know them one by one in detail.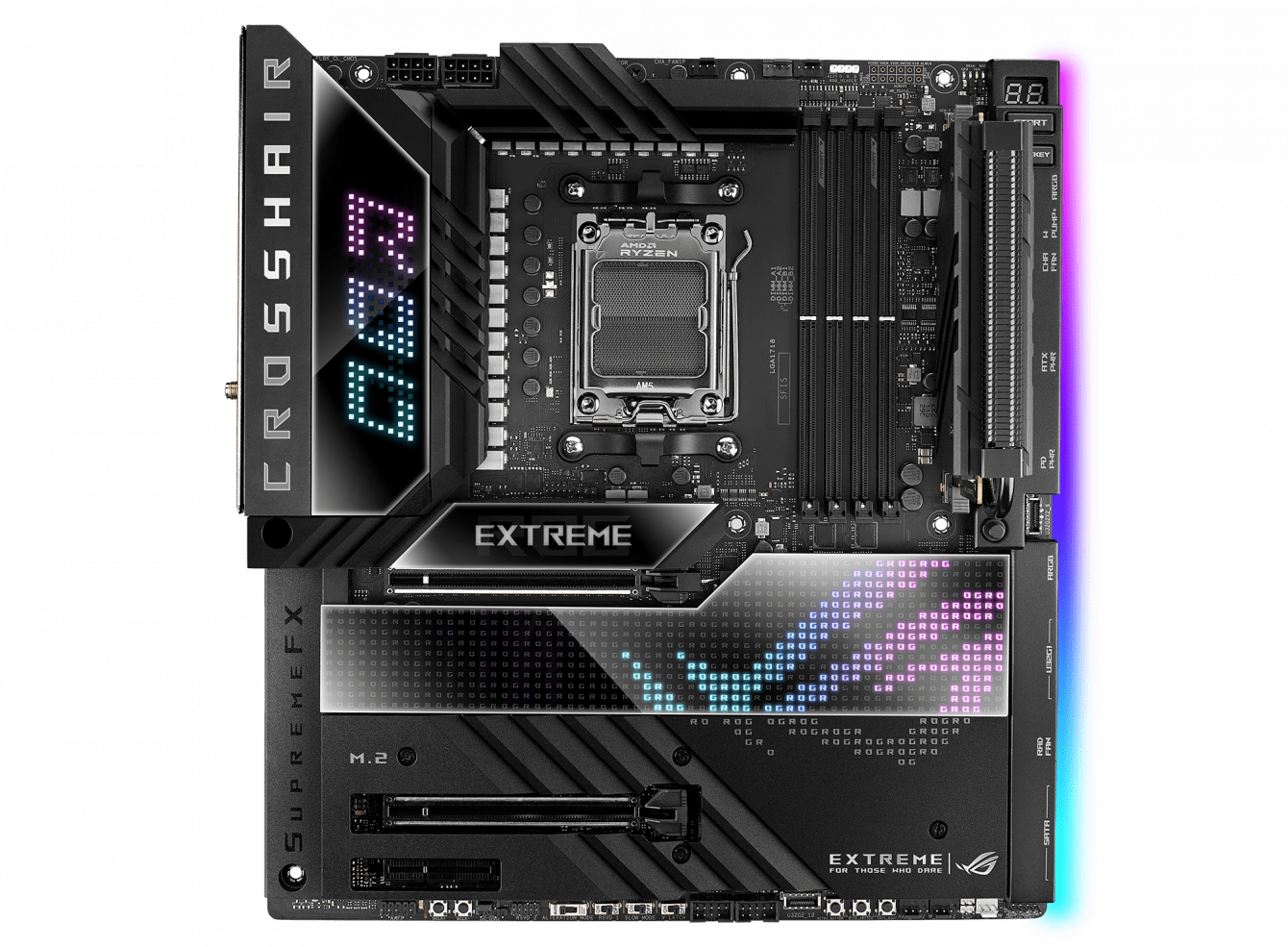 Details of the new ASUS ROG AMD X670E series motherboards
These cards from the ROG AMD X670E series, join the already large series of AMD ROG motherboards recently announced on the occasion of the Canadian National Expo (CNE). That is the cards ROG Crosshair X670E Hero, ROG Strix X670E-E Gaming WiFi e TUF Gaming X670E-Plus WiFi, oltre all'ammiraglia ROG Crosshair X670E Extreme. These cards all feature improved overall bandwidth, stability and connectivity. The new cards feature all the latest innovations ASUS Q-Design. ROG Crosshair X670E Hero and ROG Strix X670E-E Gaming WiFi cards include button PCIe Q-Release. The latter allows users to release the graphics card from the PCIe slot with a simple push.
Also, all three motherboards ROG e TUF include docking design Q-DIMM on single side. This ensures easier installation and allows the memory modules to stay securely in place. Finally, the cards include the M.2 Q-latch, which allows users to attach or loosen an M.2 drive with just their fingertips. Along with these products, ROG has released its first Reality music singlewith the voice of the famous musician and voice actor Troy Baker.
ROG Crosshair X670E Extreme
The real one flagship of the new AMD ROG range! ROG Crosshair X670E Extreme collects the legacy of the fame and greatness of the ROG brand, combining it with a series of cutting-edge technologies, to give life to the most exclusive and preforming builds. Designed to comfortably handle CPU AMD Ryzen serie 7000 in the most demanding workloads, they offer the finest way to embrace the new era AM5. The most extreme of the ROG X670E series offers a robust power solution with 20 + 2 power stages in 110 amp teams, MicroFine alloy inductors, superior metal capacitors and ProCool II power connectors.
Technical features
VRM heatsinks large, aluminum I / O panel, thermal pad high conductivity, five M.2 heatsinkstwo M.2 with integrated backplates and ROG Water-Cooling Zone. All this to offer an optimized thermal design. The design is oriented to always guarantee the highest performance. Ultra-fast connectivity ensured by 4 slot PCIe 5.0uno slot M.2 Gen 5a door USB 3.2 Gen 2×2 on the front panel with Quick Charge 4+ support, two rear USB4 ports and from the ROG Gen Z.2 card.
Network connections that are certainly no less, with WiFi 6E on board, a door Ethernet Intel 2,5 Gb and one Marvell AQtion 10 Gb. The ROG Crosshair X670E Extreme also offers intelligent controls and easy setup. This is thanks to ASUS exclusive tools, including Fan Xpert 4 with AI Cooling II, AI Networking and Two-Way AI Noise-Cancelation. In addition to an unparalleled customization thanks to the display LED AniMe Matrixal display OLED LiveDash 2-inch, to exclusive lighting RGB Aura Sync. Finally, we also have a header RGB and three Gen 2 addressable RGB headers.
ROG Crosshair X670E Hero
The flagship model of the Crosshair X670E line, ROG Crosshair X670E Hero, bridges the gap between professional PC builders and everyday gamers, allowing all users to build high-performance, aesthetically appealing PCs. With its 18 + 2 110 amp team power stages and generous built-in heatsinks, the X670E Hero offers stable power supply at lower temperatures.
The X670E Hero is ready for the future, featuring a pair of PCIe 5.0 x16 slots to support next generation graphics cards, a PCIe 5.00 M.2 card, and WiFi 6E functionality to ensure unhindered wireless connectivity. The ESS ES9218PQ Quad DAC provides excellent quality audio at the output placed directly on the front panel. Dark shades predominate on the surface of the ROG Crosshair X670E Hero, offering a refined aesthetic for making exclusive builds. Polymo lighting and the motif
Bright RGB on the built-in I / O panel offers an eye-catching microstructural array of light and color.
ROG Strix X670E-E Gaming WiFi
The board ROG Strix X670E-E Gaming WiFi synthesizes the best of form and function into balanced gaming performance. The card is equipped with 18 + 2 power stages in teams of 11 A and one large M.2 heatsink. This provides a stable flow of power to the new AMD CPUs while ensuring optimal thermal performance.
In addition to the PCIe slot release button, the ROG Strix X670E-E Gaming WiFi also features a power button integrated on the motherboard e you replacement M.2 thermal pads. These to ensure an optimal pre-test and any future replacements. The card heatsinks feature angular accents and distinctive ROG iconography. All accompanied by an illuminated acrylic display on the integrated I / O panel.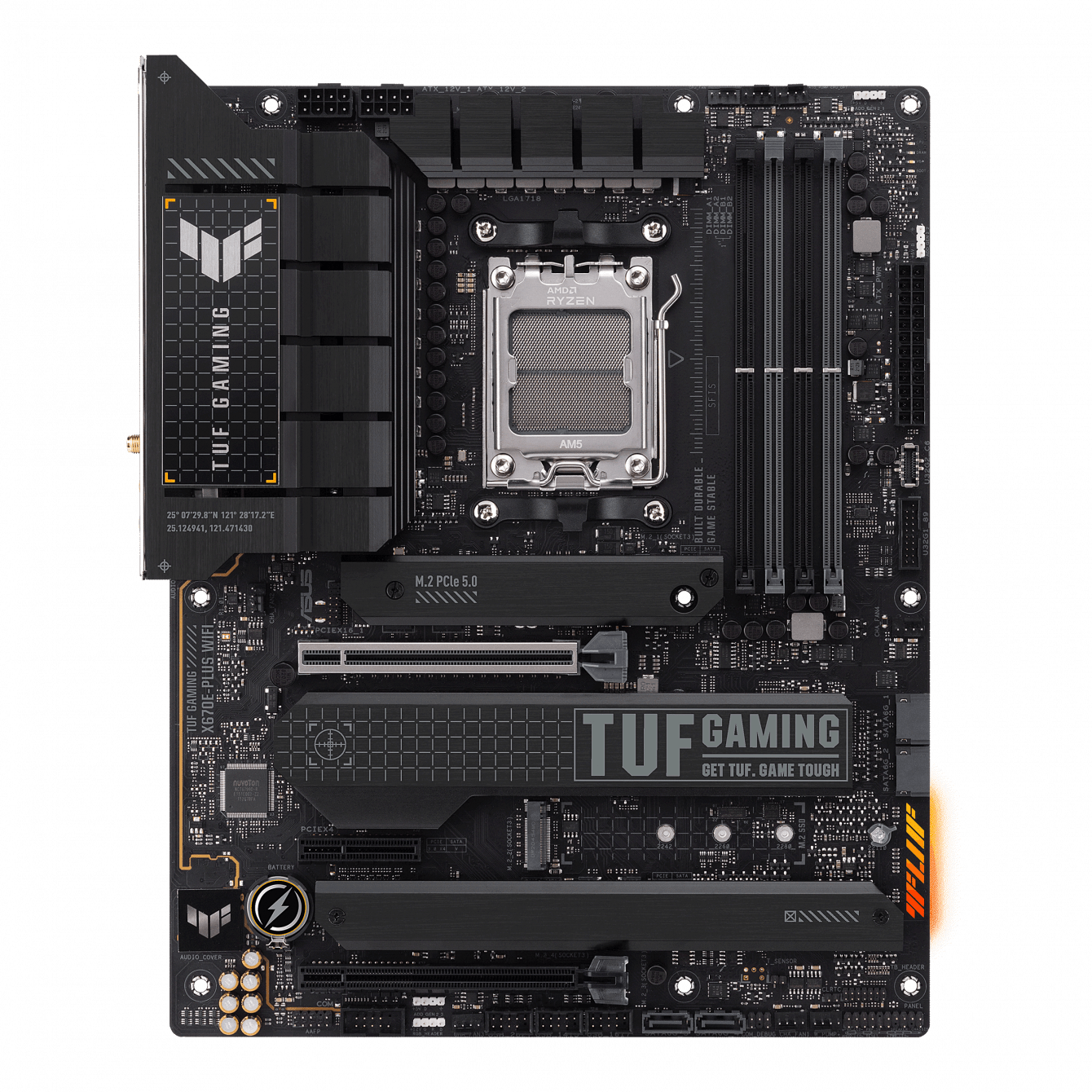 TUF Gaming X670E-Plus WiFi
The new tab TUF Gaming X670E-Plus WiFi it offers robust performance expressed in a robust and functional form. The card includes a slot PCIe Gen 5.0 x 16 e quattro slot M.2. This is characterized by a minimal and clean aesthetic and by distinctive graphic elements on the panel Integrated I / O. The TUF Gaming X670E-Plus WiFi also includes the latest features Q-Design by ASUS. Among these, we have an intuitive one Q-LED diagnostic matrix which offers immediate monitoring of the status of your build.
ROG Crosshair X670E Gene
ROG Crosshair X670E Gene offers world-class performance, an exceptional feature set, and the distinctive aesthetic of ROG cards in the mid-sized MicroATX form. Visually, the X670E Gene features a shimmering ROG logo in black and white on the I / O panel and a ROG icon composed of several pixels on the chipset heatsink. While the RGB LEDs on the VRM heatsink, customizable with Aura Syncgive a note of color and an unmistakable distinctive touch.
Uno slot PCIe 5.0 x16 is ready to welcome the latest and most performing graphics cards. While the support DDR5 it translates into huge bandwidth, fast speeds and exceptional power efficiency offered by next-generation RAM. Due slot PCIe 5.0 M.2 e uno slot PCIe 4.0 M.2 they also offer ample storage possibilities to satisfy every need and ensure even the largest collections of titles.
Technical features
The X670E Gene is ready to house the powerful desktop processors AMD Ryzen Serie 7000 thanks to its solid supply with 16 + 2 power stages matched rated for 110 amps. The X670E Gene also includes several connectivity options, including WiFi 6Ea door Ethernet Intel 2,5 Gbseveral doors USB4 posterioria front door USB 3.2 Gen 2×2 Type-C as well as support Quick Charge 4+.
ROG Strix X670E-I Gaming WiFi
The motherboard ROG Strix X670E-I Gaming WiFi Mini-ITX it's incredibly small, but it offers a complete platform for next-generation games. Includes one slot PCIe 5.0 x16 ready for next generation graphics cards, plus a pair of slots DIMM DDR5 and two slot M.2 which support PCIe 5.0 and PCIe 4.0. Innovative design elements ensure users the performance and functionality they need despite the small size typical of Mini-ITX cases.
The I / O block is pre-mounted for ease of installation and to ensure greater order around the rear doors. A single heat sink cools the PCIe 5.0 M.2 slot and chipset at the same time. While the low temperatures of the VRM are facilitated by the presence of a large backplate which uses a thermal pad to transfer heat away from the most critical decoupling capacitors. The small footprint ROG FPS-II card allows easy access to the front panel headers, the 2 SATA ports, the important headers for clearing the CMOS. In addition to enabling CPU surge and PCIe mode switching for legacy expansion cards.
ROG Strix Hive Technology
The inclusion of the newest technology ROG Strix Hive clearly differentiates the Strix X670E-I motherboard from the competition. ROG Strix Hive is an external control interface that houses an ALC4050 codec and an ESS Saber 9260Q DAC. A headphone jack and a 3.5mm S / PDIF optical output Mic-in jack deliver pure audio. While the integrated volume knob allows the user to have everything at hand. The ROG Strix Hive is also the first external device with gaming functions typical of a …