ASUS TUF Gaming B550M-Plus review. Competitive price, reduced Form Factor, and full power support for the new Ryzen 5000
Asus with the TUF Gaming B550M-Plus has created an extremely compact but complete product with his Form Factor MicroATX, offers a dual slot M.2 SSD, connection USB 3.2 Gen2 Type-C, Wi-Fi 6 AX200, and a good endowment in terms of power supply, without neglecting the price, very competitive in its segment. Are we forgetting something? Yes, this card fully supports the new Ryzen 5000, and could be an excellent solution for high-performance configurations, but at the right price.
So let's find out in detail this small but efficient motherboard, capable of give you access to the world of PCIe 4.0, without necessarily having to resort to more expensive chipsets or models.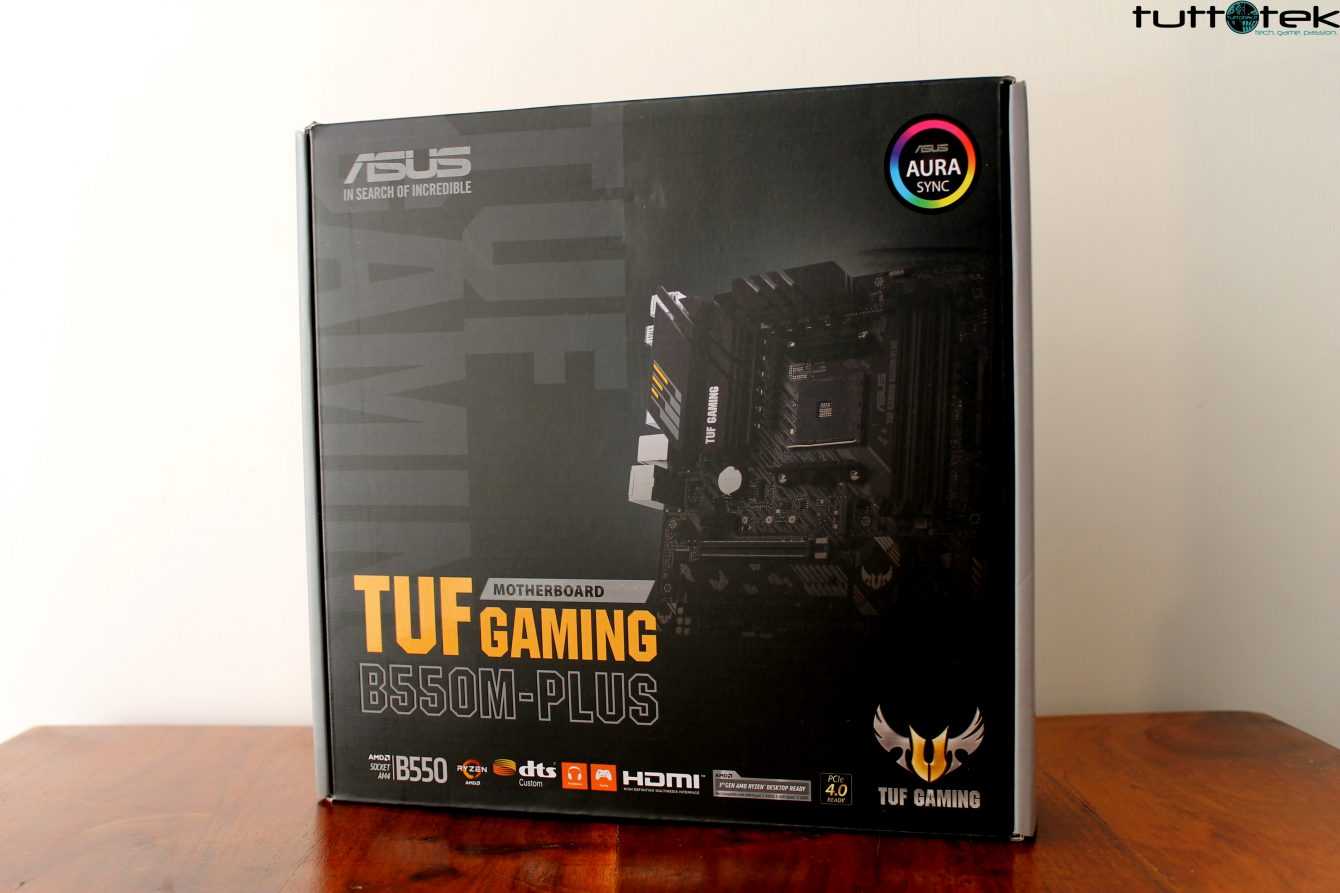 Who should buy it? | TUF Gaming B550M-Plus review
Who is this motherboard for? Certainly to anyone who plans to buy a best buy belonging to medium-low range, without giving up the possibilities offered by the latest generations of Ryzen processors.
On this card you can safely overcock on an Nvidia 3090 RTX GPU, or on a 3950x, the power to support these components is certainly not lacking, but neither is the stability in Full Load phases. Adding to this last factor his own future-proof nature with the new Ryzen, and to support PCIe 4.0, I therefore think it is an excellent card to consider for low-priced build.
Chipset B550 e Socket AM4: therefore, support for third generation CPUs based on the Zen 2 architecture, and brand new Zen 3 based Ryzen 5000 with BIOS update. In both cases you can take advantage of the PCIe 4.0 protocol, thus having doubled the bandwidth for the CPU bus compared to the past, and speed equal to 32 GB / s on x16 tracks.
Don't be fooled by the size, this motherboard offers everything you need for general daily use. You will have it available 4 SATA 6Gb / s connections, due slot M.2 where only one will support the 4.0 protocol, of course quattro slot DIMM, due slot PCIe 4.0 x16, and a fair amount of equipment for the I / O panel. In short, it is a card that turns out to be excellent if you intend to build a compact machine, given the format.
After this brief general overview, if she is the motherboard that could be for you, then you will be curious to find out all the details on this TUF. Let's not waste any more time, and let's get to the bottom with the review.
A brief look at the specifications | TUF Gaming B550M-Plus review
Starting from Form Factor Mini ITX, this board is perfect for building systems SFF (Small form factor), without sacrificing performance, with a sub-fund – which we will analyze later – consisting of 8 + 2 phase DrMOS, e ProCool connector belonging to the system Asus Digi + VRM for maximum stability. The heatsink for the VRM sector is passive and therefore without a fan. In line with the typical functions of Asus, we will have the technologies available TUF LANGuard and TurboLAN, to make the most of the Intel WiFi 6 protocol, guaranteed a 2,5 Gb Ethernet. Also present a I share audio able to guarantee effective noise cancellation for the microphone, thanks to theIntegrated AI.
The constructive design and relative to the slots DIMM for RAM, or the layout, is of type Daisy Chain. Powered, just like the whole sector, by the now consolidated Drmos on Asus, stages which include High-side and low-side MOSFETs and drivers in one block. TUF however, is synonymous with gaming, and as such, there are elements that wink at gamers, but in this case we do not find an extreme aesthetic sense of the typical TUF brand, which has always been a reference to the concept of armor. We have a more sober and less articulate design. A design that pervades the entire structure, up to the PCB itself, is an example of the PCIe slot, equipped with the classic Reinforced SafeSlot, designed to offer superior strength and made in a single block using a new insert molding process with reinforced metal for a more stable GPU once inserted.
Guaranteed audio with the codec Realtek, by a clean flow e without interference during gaming sessions, thanks theaudio DTS. Then, theRGB lighting in a small section of the PCB at the bottom right, to give a touch of aesthetics to your configuration, thanks to the system Aura Sync and to all intents and purposes that the same software has.
If you choose TUF, you definitely choose too TUF Alliance, the Asus home security certificate, which sees close collaborations with the major manufacturers in the sector, for a wide variety of components, from PSUs, to CPU coolers, memory kits and more, to ensure full compatibility between all components that you will choose to install on your PC.
Software equipment | ASUS TUF Gaming B550M-Plus review
Armoury Crate, complete and advanced software offered by Asus, becomes more and more mature and fundamental. Armory Crate, is defined by Asus "a new generation of system control software" and that we could define as ALL-IN-ONE software. A software utility designed to provide centralized control of supported gaming products compatible with Aura Sync.
It will allow us to carry out with ease driver updates, check the lighting system for multiple devices, resolve and manage compatibility and software installations, but also to choose Overclock profiles and management fans carrying out adjustments to this, all with innovative modern graphics. Always convenient then, is the profiles function, we can in fact create multiple profiles, for different usage scenarios.
But now after having seen this card in general, let's get to the heart of the review. You will find a dedicated chapter for each main section covered, good reading, but above all a good choice. Also available the classic but complete ASUS AI Suite 3, which will allow you to obtain a complete and general overview of the system, with the possibility of overclocking directly from the software, or changing the speed of the fans themselves, using the utility integrated in the software Fan Xpert.
Packaging | Review TUF Gaming B550M-Plus
As per tradition with Asus products, we have a packaging related to the quality level of the product, but certainly more "poor" than higher-end solutions. As you will be seeing from the photos, we have the main box, robust and resistant, where the main features are illustrated and some images that you will also find on the product page.
We have inside the blackplate I/O, the classic DVD and the related manual. We then two SATA cables, the screws to install the SSDs. To conclude the classics but always loved ASUS TUF themed stickers in this case, and the purchase thank you. In short, the essential.
General functionality and quality Review ASUS TUF Gaming B550M-Plus
Starting from VRM heatsink block, what we can immediately notice is that it is a passive system. The capacity of the heatsink is related to the heat generated by the power supply phases itself, which is certainly not on par with an X570. There are several grooves built into the design, which allow for better heat transfer. Also present thermal pads to optimize heat transfer with mosfets. The block continues to the I / O panel.
The connector for the CPU is a single 8 PIN EPS. And instead looking on the right we see the four DIMM blocks, which support together with the chipset and bios, up to a 128GB maximum with speeds up to DDR4 4600 (OC). Next to the RAM we find the usual blocco Q-LED, where we can check the problems in the post phase related to CPU, DRAM, VGA and boot). Too bad about the heifer of the 2-digit debug LED.
Going down we find the audio department, hidden by the plate with the TUF symbol we see the S1200A chip manufactured by Realtek, and modified by Asus. Flanked by a series of Japanese ELNA capacitors. The S1200A is a definitely good audio codec and that we can rank about a step below what we find on higher-end motherboards, and we are obviously referring to the S1220A model. An audio sector that, however, overall gives good performance.
We then see three PCIe slots, two x16 slots and a single x1 slot which works with PCIe 3.0 x1 protocol. Going down to the technical, the first PCIe slot, the reinforced one, is powered directly by the CPU, and this guarantees the protocol at speed PCIe 4.0 x16. The lower one to be precise is powered by the chipset bandwidth, and works with PCIe 3.0 x4 protocol. As mentioned, however, full support for the system AMD 2-Way CrossfireX.
Of the two M.2 slots, there is the heatsink in the lower part with a pre-applied thermal pad. You can install up drive da 80mm. The first, on the other hand, is without a passive heat sink. Also in this case, as for the PCIe tracks, the first connected and powered directly from the CPU bandwidth, and the one below powered by the chipset. The two slots therefore, which however do not share the same bandwidth and can be used simultaneously without performance drops.
Finally, even if it is superfluous to talk about it, you will find yourself in front of the Asus' award-winning bios, now consolidated and mature for some time.
Connectivity | ASUS TUF Gaming B550M-Plus review
ASUS TUF Gaming B550M-Plus is equipped with four ports SATA III to 6Gb / s, with support a RAID 0, 1 and 10 configurations, as regards the installation of M.2 modules, we have available due slot, one capable of supporting up to 64Gb / s bandwidth, therefore of type PCIe 4.0 x4, one below, divided by the first PCIe port, which offers a connection PCIe 3.0 x4 but, with support for a theoretical maximum bandwidth of 32Gb / s.
Continuing with the on-board USB connections, we find two USB 3.2 Gen1 headers with a speed of 5 Gbps, shame about the lack of a Type C header, USB 3.2 Gen2 with speeds of 10 Gbps, which could limit those who intend to buy this card and this predisposition is present on the buyer's homes. After the headers for the front panel, there are also the classic headers for the 4 front USB 2.0 ports.
For network connections instead we will find the single port Ethernet da 2.5Gb, managed by system Realtek RTL8125B. Like many other Asus series products, it supports ASUS LAN Guard technology for protection against electrostatic charges.
We now come to the I / O panel, which is not pre-installed as happens with the higher-end cards, and as we have seen with the review of the ASUS ROG Crosshair VIII Impact.
As you are seeing from the photo we find, we have from left to right: a single connection for old generation mouse and keyboard PS2, just under two USB 2.0 ports. Continuing well quattro porte USB 3.2 Gen 1, and immediately on the right the button BIOS FlashBack. Next we find a connection Display Port ed un HDMI, a 2.5Gb connection Ethernet,…