The new TUF Gaming Capture Box CU4K30 from ASUS offers a professional tool for streaming, both from console and from PC. With this 'box' you can transmit the vostro gameplay su Twitch, YouTube e Facebook with great ease. A simple and complete solution for every streamer.
ASUS presenta TUF Gaming Capture Box
Using multiple streaming applications requires care in adjusting each of them as appropriate. The new ASUS TUF Gaming Capture Box CU4K30, on the other hand, simplifies your work with compatibility USB Video Class (UVC). Gamers simply need to connect to any PC with one USB port 3.2 Gen 1 to start recording with your favorite software. No additional drivers or software – it's all Plug & Play.
The Capture Box is certified for use on Open Broadcaster Software (OBS) Studio. You can also use it as a source for Xsplit Gamecaster, Streamlabs and almost any other application. Through the USB 3.2 Gen 1 interface it can transfer uncompressed 4K SDR video data up to 30fps, 2K video at 60fps or 1080p video at 120fps. You can also plug in a mirrorless or DSLR camera to get a high quality webcam right away.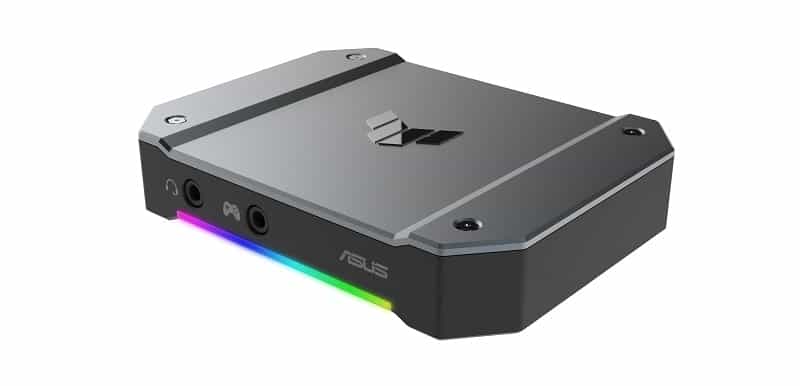 Using HDMI 2.0, the input lag becomes practically nil. You will have signals 4K up to 60Hz, 2K signals up to 144Hz and 1080p signals up to 240Hz. In this you can view the console and PC output images on the high frequency monitor without any lag. Furthermore, if a source broadcasts in HDR TUF Gaming Capture Box it will transmit the signal to compatible displays. While it will transfer data to SDR for streaming and recording. The passthrough HDR works for all resolutions and frequencies.
In addition to the technical qualities, you find an alloy shell that cools passively and with one light LED bar nice to see. But they also act as visual signals to warn you of any problem. The audio is also well integrated: just connect a four-pin wired headset to the audio input on the Capture Box and use the male cable.
male included in the device with console controller audio input. This way you can hear the chats in the headphones.
ASUS TUF Gaming Capture Box CU4K30 comes with the three included cables (HDMI, male-to-male jack and USB AC adapter included) and costs 199 euro. Find more information on the ASUS website.