Within this review we will find out if the AUKEY KM-G12 mechanical keyboard can be considered a best buy in the reference price range
Thanks to the enormous diffusion of the streaming, which has made it possible to bring users of all ages closer to pro players (and not) of all kinds and their setups with a budget of thousands of euros, the presence of entire PC workstations characterized by an aesthetic and functional obsessive care, in the past the prerogative mostly of enthusiasts and amateurs. Whether it is used lightly, for work or for pure gaming, the current market now offers more than valid solutions in different price ranges, including going fishing to build the station of your dreams.
However, for economic reasons, it is not always possible (just as it is not necessarily a better choice) to combine first choice peripherals to your PC, perhaps recommended to emulate the deeds of your favorite pro player. Creating a setup while maintaining a balance between desires and financial availability is not a simple operation and often we tend to allocate most of our budget to PC components, finding themselves having little to invest in input peripherals. Here is that AUKEY comes to our rescue with a very interesting product thanks to its excellent quality-price ratio, the AUKEY KM-G12 mechanical keyboard which I will tell you about in this review.
Among the various products sold by the Chinese company, the peripherals of the gaming series are establishing themselves in the low end of the market, although it is not an area in which the company imposes its focus. We wanted to try this keyboard because, if it is true that being among the best-selling products on Amazon is not always synonymous with quality, I immediately had the feeling that it could be a best buy among the cheap gaming keyboards.
Technical sheet | AUKEY KM-G12 review
Dimensions: 433×126 mm
Anti-ghosting keys: 105 keys
Switch: Outemu Red
Materiale keycap: ABS
Interface: USB 2.0
Packaging and design | AUKEY KM-G12 review
The AUKEY KM-G12 mechanical keyboard fully follows the company philosophy of value for money extreme, leaving aside unnecessary frills. This is why the packaging of this product is certainly not one of the noteworthy peculiarities. Inside the sales package, in addition to the keyboard, there is only the manuals and a small keypuller made of plastic which is always a welcome addition.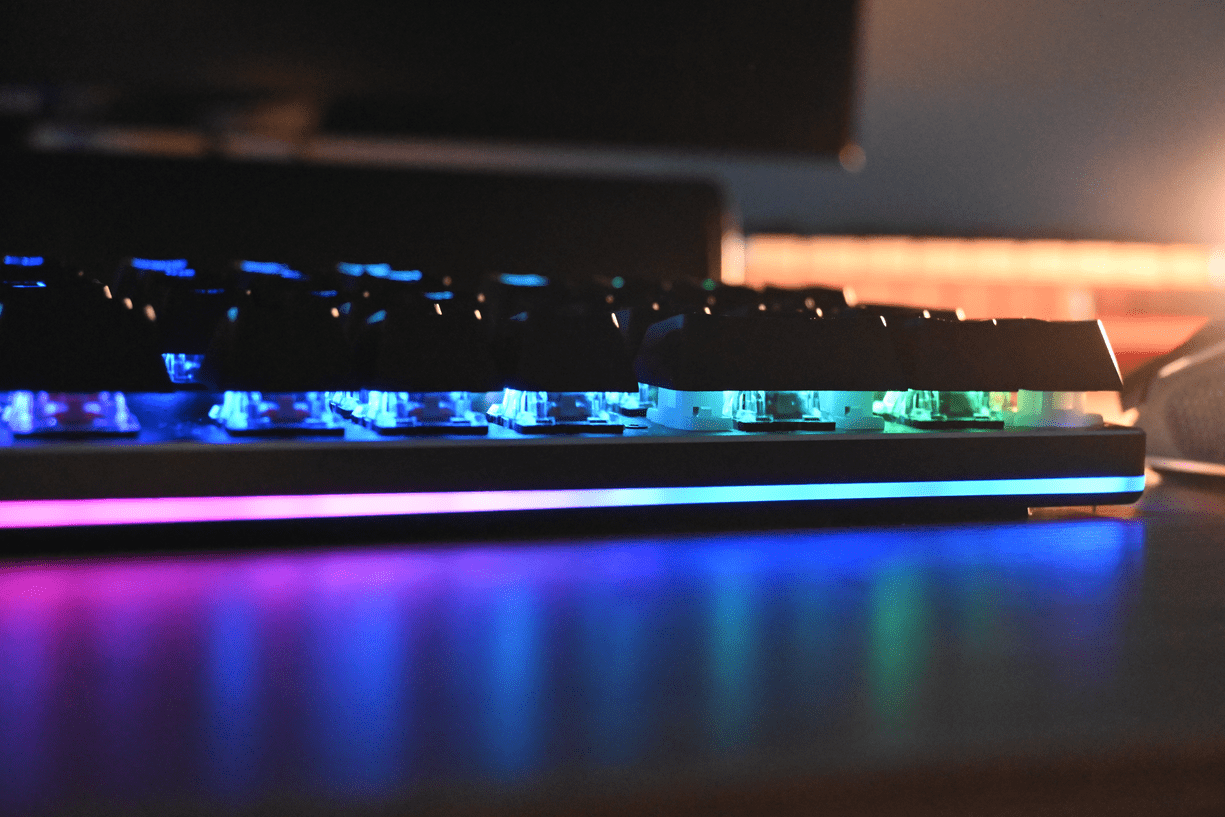 All this, however, allows us to immediately focus attention on design keyboard. AUKEY KM-G12 comes in the most classic of keyboard formats a 105 keys (therefore with numeric keypad included) with Italian layout, often seen on many medium-low range products which, in order to contain prices, do not undergo a particular customization by the various companies. In fact, dedicated multimedia keys are absent, functionality relegated instead to a combination of keys (Fn + F1, F2, F3, ..).
What actually amazes about this keyboard is the quantity and quality of lighting provided by the various LEDs. The lighting of the keys is quite homogeneous (although the bulbs are placed in the upper part of the key) but it is undeniable that the real protagonist of your desks is the LED strip which traces the entire perimeter of the AUKEY KM-G12 and offers impeccable and impactful lighting. Personally I find it a very high level addition that can easily become a must-have for all fans of lights on their desk. Through key combinations it will then be possible to alternate 12 light effects and 7 different colors preset by the company. Honorable mention for the upper backplate completely in aluminum alloy, unlike the lower part of the keyboard, instead made of a medium quality plastic. Too bad that the USB connection cable, 1.6m long is not covered with the now ubiquitous (on these products) woven fabric.
How does it behave in play and in writing? | AUKEY KM-G12 review
The AUKEY KM-G12 mechanical keyboard is available in two variants to choose from: switch blu o switch rossi. Given the gaming nature of this product I wanted to personally try the version with red switches. While we are not allowed to know much about the technical characteristics of these switches (which should still be classics Outemu), since the company does not mention it practically anywhere, on the other I can tell you that this keyboard confirmed the great expectations I had.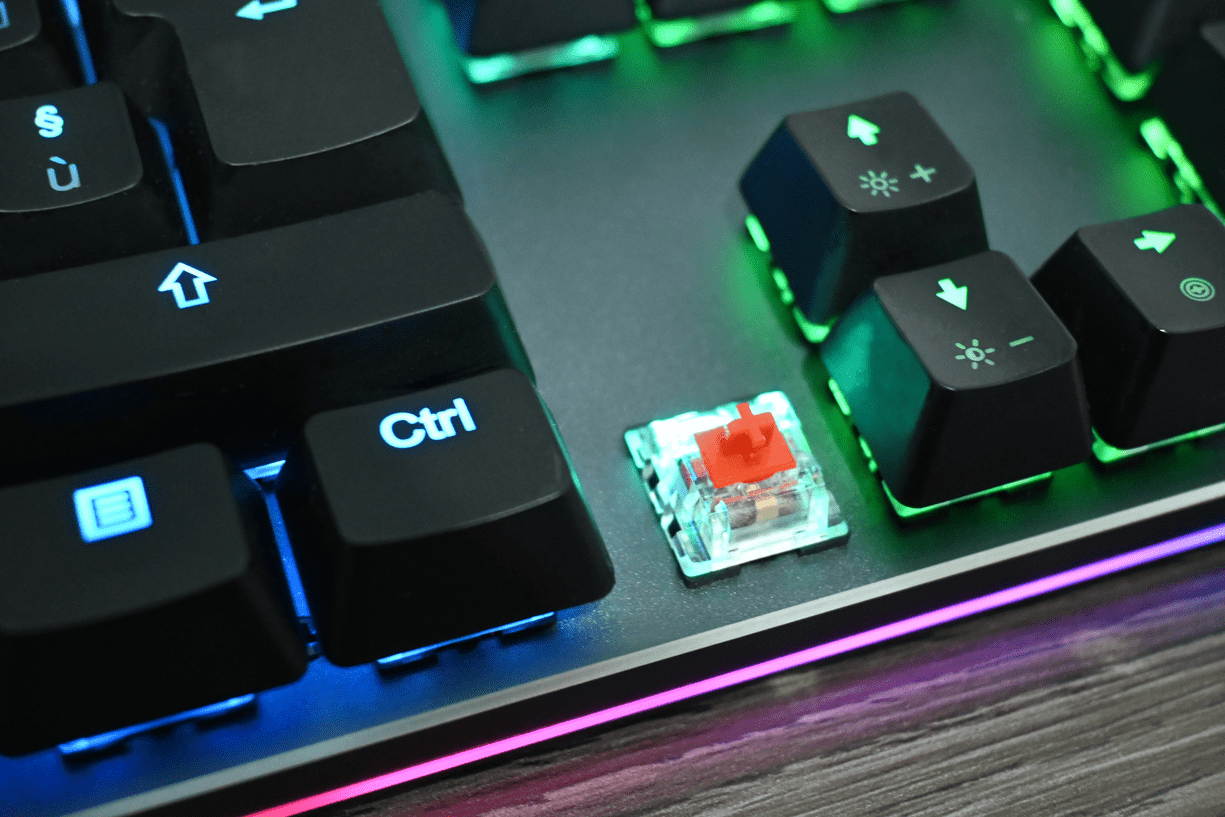 The feeling of the fingertips on the keys while typing is absolutely typical of the Cherry MX Red clones, with a good one actuation point which should be between 1.8 and 2.1 mm. Comfortable both in typing during the writing phases and in the most excited phases of the gaming sessions, I really appreciated the feeling returned by this device. Absolutely plug and play, just connect it to the PC and it will be immediately usable.
On the front "noise" I can advise you this variant of the keyboard more than its version with blue switch (much louder), precisely because the red switches present in this product are also pleasant to listen to. Too bad for the sound returned by the keys with larger keycaps, such as the space bar, which tends to turn to a sharper and cheaper impact. Always accurate and reliable, in a month of prolonged use I have never skipped a single beat on this keyboard, thanks also to the technology N-Key Rollover con anti-ghosting. Small mention for the presence of a lighting management software called G-Aim which, however, we do not recommend using given the poor optimization.
It is time to take stock
AUKEY KM-G12, the protagonist of this review, is definitely a product to be taken into consideration within its price range. Treated from an aesthetic point of view, it is practically flawless in operation, whether you want to use it in writing contexts, or whether you want to use it to show off all your gaming skills. It will certainly not be this keyboard to mark your limit!
His Amazon it is often offered with a significant discount, costing around 55€. Needless to go around it too much, that figure is absolutely a best buy, able to beat the competition of the products that we have been able to try within the same price range. At the official selling price, on the other hand, it requires a few more reflections but it would still remain a choice that you won't regret. Well done AUKEY!
All photographs included in this review were taken with a Nikon Z50.
Points in favor
Excellent value for money
Top RGB lighting
Good feeling with switches and keycaps
General robustness
Points against
Non-original design
Uncoated USB cable