Let's see together what are the best COVID masks to protect us from Coronavirus and comply with the DPCM rules
The latest report published byECDC (European Centre for Disease Prevention and Control), with the indications on the use of medical and non-medical masks in people not yet infected, to counter the spread of COVID-19, highlighted that:
the use of medical-grade face masks (surgical or other medical device) it is generally reserved for healthcare professionals
the use of masks in public it is an excellent means of control to reduce the spread of the virus, because reduces the spread of respiratory droplets by those infected individuals who have not yet developed symptoms or asymptomatic and is especially recommended in crowded and closed places, such as shops, shopping malls or when using public transport
the use of non-medical face masks made from various fabrics, especially in case of supply problems, making sure to wear them correctly
the use of masks is only a complementary measure and does not replace other preventive measures, such as, social distancing, respiratory hygiene (coughing or sneezing into a disposable handkerchief or the crook of the elbow to avoid passing the droplets to others), hand hygiene, and avoiding touching your face with your hands , nose, eyes and mouth
The latest provisions of Prime Ministerial Decree of 24 October 2020 indicate that the bezels:
they must be worn outdoors and indoors other than private homes (not only in closed places accessible to the public)

exception to these obligations, when both indoors and outdoors, due to the characteristics of the place or the factual circumstances, the condition of isolation from non-cohabiting people is continuously guaranteed

are not subject to the obligation of mask children under the age of six, the people with pathologies or disabilities not compatible with continued use of the mask e those who assist / interact with them

during thesporting activity the use of a mask is not mandatory
The use of the mask must be accompanied by other protective measures aimed at reducing the infection (such as physical distancing and constant and careful hygiene of the hands), waiting for the first to be produced Coronavirus vaccines.
It is not useful to wear multiple overlapping surgical masks. The reasoned use of surgical masks is important to avoid unnecessary waste and create situations of deficiency of the same.
In the event that symptoms appear, it is necessary to use masks certified as medical devices.
Index
Which mask to wear?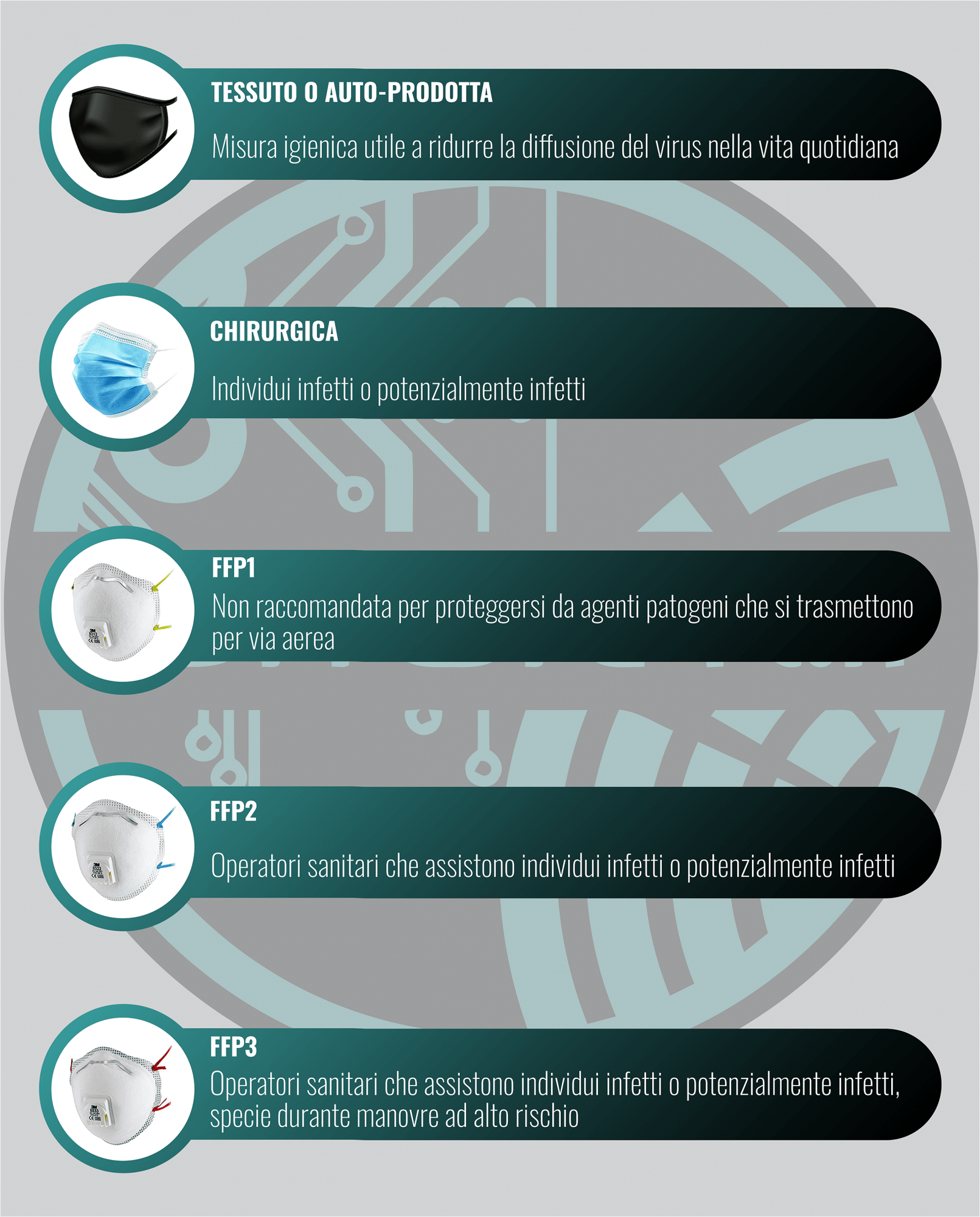 Best COVID masks of washable fabric
Let's start with a fundamental consideration: fabric masks (even self-produced ones) are not medical devices or Personal Protective Equipment (PPE).
This type of masks cannot be used in a hospital or care setting as they do not meet the technical requirements of medical devices and personal protective equipment. The wearer must in any case respect the rules on social distancing and the other indications introduced to face the COVID-19 emergency.
These masks can be produced pursuant to art. 16, paragraph 2, of Legislative Decree 18/2020, according to which the manufacturer must guarantee the safety of the product. For these masks there is no evaluation by the Istituto Superiore di Sanità and INAIL.
Disposable masks or washable masks can be used, even self-produced, manufactured with multilayer materials suitable to provide adequate protection and, at the same, guaranteeing comfort, breathability, shape and adequate adherence, which allow to cover from the chin up to the top. of the nose.
If you know how to dabble with needle and thread, you can produce the so-called ones yourself community masks, with common low-cost materials (such as fabric scraps), which are designed to reduce the circulation of the virus in daily life and are also not subject to particular certifications.
Same as for fabric masks neither medical devices nor personal protective equipment should be considered, ma only a functional hygienic measure to reduce the spread of the SARS-COV-2 virus, if used correctly and constantly.
If you want to self-produce your masks, I suggest you follow the guidelines on the production of self-made community masks.
Community masks can be washed self-produced if you make materials that resist washing at 60 degrees, while the commercial community masks they are washable if indicated on the package.
It is not useful to wear multiple overlapping masks.
Best COVID surgical masks
The purpose of surgical masks is to avoid contamination of the environment by the wearer, acting as a physical barrier, limiting the transmission of infectious agents.
I'm medical devices as per Legislative Decree no. 46 of 24 February 1997, as amended and are generally used in hospitals and in places where assistance is provided to patients (for example health homes, clinics, etc.). They do not fall into the category of PPE.
To be safe, surgical masks must be produced in compliance with the technical standard UNI EN 14683: 2019, with well-defined characteristics that meet the requirements of:
resistance to liquid splashes
breathability
bacterial filtration efficiency
cleaning from microbes
In the event that symptoms appear it is necessary to use surgical masks, which I remember, are certified as medical devices.
They generally come in packs of 50 pieces, with prices around 15 – 25 €.
FFP masks
The FFP filter masks (Filtering Face Piece) they protect the user from inhalable dusts, fumes and mists of liquids (aerosols), but not from steam and gas. A filter mask of this type covers the nose and mouth and is made of different filter materials.
This type of masks is one of the so-called Personal Protective Equipment (PPE).
The classification system recognizes three filtration efficiency classes:
FFP2 and FFP3 masks protect against viruses, FFP1 do not.
Best COVID FFP1 masks
The FFP1 masks filter at least the80% of the particles present in the air, up to a size of 0.6 μm; a SARS-CoV-2 particle is about 5 times smaller, so they are not suitable for protecting us from pathogens that are transmitted by air.
These are devices generally used as dust masks (DIY and other works) and do not protect against the virus.
Manufacturers use yellow rubber bands to identify this typology.
Best COVID FFP2 masks
The FFP2 masks are suitable filter at least 94% of the particles found in the air down to a size of 0.6 μm, use work environments in which the breathable air contains substances that are harmful to health.
They usually are reserved for healthcare personnel engaged in specific clinical activities or certain work contexts.
Manufacturers use white rubber bands The blu to identify it.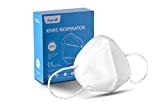 Jiandi, Pack of 10, KN95 / FFP2 Respiratory Protective Mask, 5-Layer Dustproof
PERFORMANCE: KN95 and FFP2 refer to Chinese and European standards for filter masks. This mask has several K95 markings, but has also been tested according to the European standard FFP2, evaluated and approved by an EU Notified Body (number 0370) according to the EU standard FFP2 EN 149: 2001 + A1: 2009. The documentation of the notified body can be downloaded under the product image.
No products found.
Best COVID FFP3 masks
The FFP3 masks offer the maximum possible protection, with a filtering capacity of at least 99% from particles up to 0.6 μm in size.
As for FFP2, this type of mask is also usually used by healthcare personnel engaged in certain clinical activities or workers engaged in certain work contexts.
Manufacturers use red rubber bands to identify it.
Good purchase!
These are the best COVID masks currently available on the market. Keep following us to not miss other valuable buying guides.
Given the delicacy of the subject matter, please report any errors and / or inaccuracies in the comments.