I cinquantini is an agile, fast and undemanding way to get around the city covering short or medium distances. Here is a guide to the best 50cc scooters and mopeds to buy to guide your purchasing choices!
The legendary fifties was the companion of a thousand adventures for many of us, young beardless in search of first loves and first evenings with friends in the summer heat. However, nowadays it can also be a valid means of transport to go to work or in any case move covering short and medium-haul routes – as long as they do not include venturing into prohibited roads. Also compared to cars or large-displacement motorcycles, mopeds and scooters 50 cc they consume little and maintenance is generally easier and less expensive.
However, there are different types of motorcycles, designed and optimized for a different audience ranging from the youngest to the least young, from the most skilled and adventurous drivers to the laziest and meekest ones. First of all it is therefore good to understand on which criteria is the evaluation of the best 50cc scooters and mopeds based, we will then illustrate some tips and general advice. Then we will move on to the list of the fifty selected that you can reach directly by clicking here. And now full throttle!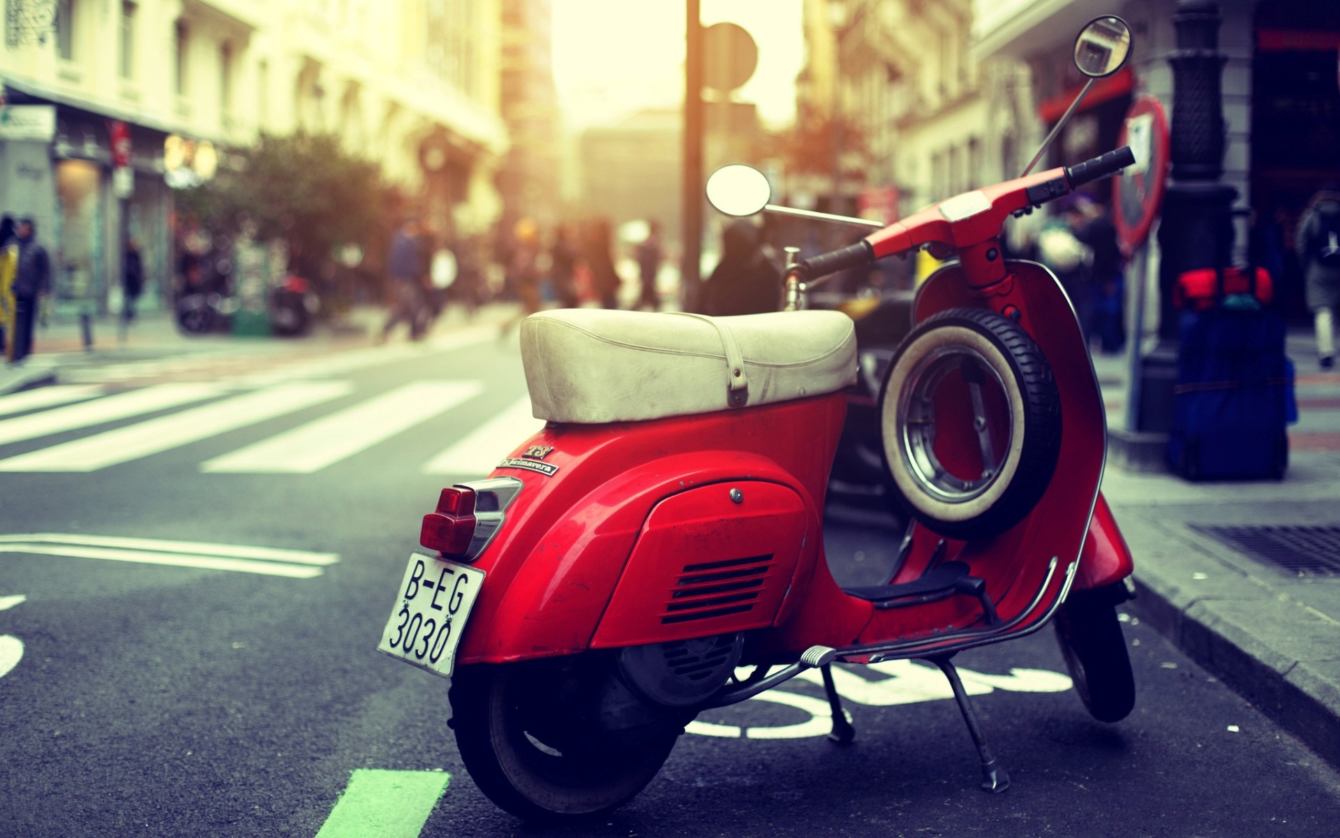 Best 50cc scooters and mopeds (fifty): some practical advice
Although the various models enjoy numerous advantages in different areas it is good to note that among the best 50 cc scooters and mopeds there is no absolute best buy: various aspects must be evaluated according to your needs. So here are some useful tips.
Consumption, usability and safety
All the best 50cc scooters and mopeds are light, practical and easy to handle compared to their higher displacement colleagues, however there are simpler and lighter models compared to others which, however, remain more stable at high speeds: depending on the type of roads – urban or extra-urban – you will have to travel, it is better to opt for one type rather than the other. Also consumption can vary greatly between the different types of fifties in relation to the performance and usability of the vehicle: for example, recently the fifties with gears are making a comeback among the youngest, guaranteeing lower consumption and excellent recovery when compared with the best 50 cc scooters and mopeds with power variator.
Another important aspect to consider is the engine which is somewhat the heart of your vehicle. There are essentially two categories of engines that power the fifties: 2-stroke and 4-stroke. We will not go into the technical details, but we will briefly illustrate the features. 2-stroke engines are more responsive and are often able to deliver more power, however they tend to break more easily because they are more subject to wear; they consume even more and obviously for this reason they are not environmentally friendly. 4-stroke engines, on the other hand, are generally less performing, but more reliable over time and have lower fuel consumption. In general, very young people prefer 2-stroke models because they occasionally use 50 cc mopeds and scooters; if, on the other hand, you have to use the vehicle daily for work, it is better to go on a 4-stroke. In this guide to the best 50cc scooters and mopeds we will integrate models with both engines to meet everyone's needs.
There are also low models with 13 or 14 inch wheels, generally stockier, but also more comfortable to drive thanks to the wide and well padded saddles and are often equipped with a capacious saddle pad and can be equipped with a top case and windshield for the colder months. On the other hand, there are models with taller and more slender wheels that allow better maneuverability of the vehicle and also allow you to venture a little off-road because they better absorb shocks due to potholes and disruptions (which with the state of many Italian roads is a bit a necessity nowadays). Inevitable in a modern scooter is a sistema ABS which can very often save the skin, especially in difficult conditions such as with slippery asphalt. Other important parameters that have significant effects on handling are the weight – trivially – and the turning radius which must be as low as possible to allow you to easily manage your 50 cc scooter or moped even with the engines off or backwards.
How much will it cost me?
For a good new fifty the starting price is around 2000 euros, under this price it is difficult to find something valid, however the second-hand market is very thriving. In any case, we do not recommend not going too far below 1000 euros because you risk finding yourself with an old model or with a lot of kilometers which you will have to do a lot of maintenance before making it reliable again.
L'insurance it is not very cheap and in some cases it can come close to that of a car because that of 50 cc mopeds and scooters is considered a high risk category; starting prices are around 200 euros per year to grow according to your "insurance record". However, a mild and economical maintenance, combined with reduced consumption, can save you a lot. The main fuel is still gasoline, even if some manufacturers such as Piaggio are throwing themselves on the electric, a technology still too immature in this category, however.
Best 50cc scooters and mopeds (fifty) | The list
So here we come to the most interesting part of the guide: the list of the best 50cc scooters and mopeds. This is not a ranking since each model has strengths and weaknesses which make it suitable for slightly different uses and users. We have therefore selected the best fifty and in the following paragraphs we have summarized the characteristics so that you can choose wisely.
LIST:
Yamaha Aerox  4
Aprilia 50 SR
Aprilia 50 SR Motard
Piaggio Liberty S 50
Kymco Agility 50 R16 +
Kymco People S 50 4T E4
Vent Derapage RR
Aprilia SX 50
Yamaha Aerox 4 | best scooters 50 cc and mopeds (cinquantini)
The Yamaha scooter is one of the most loved by young people, but it fully deserves the place on this list because it is a perfect combination of performance and comfort in use. There saddle is wide and comfortable, as well as the footrest, and allows you to easily accommodate a passenger. The compartment under the saddle it can easily accommodate a helmet or a folded jacket without you having to carry everything with you. The controls on the handlebars are easily accessible and the scooter in general, despite the important bodywork that weighs almost 100 kg, is easily maneuverable both on the road and by hand. The equipment also includes a display LCD to view information.
The Aerox Engine 4 four-stroke is liquid cooled and delivers fino a 2,2 kW (3 cv) it can push the vehicle even at around 70 km / h (without the "stops" on the exhausts) remaining stable even for long distances. Really an excellent compromise between performance and ease of use. The double 190 mm disc brake guarantees excellent braking performance. Clearly, having low 13-inch tires, he finds a bit of difficulty on bumpy roads, but on the road it is certainly one of the best. The 6 liter tank together with the Euro 4 certification they also allow to reach an autonomy above the average.
Yamaha Aerox 4, list price: 2990 euros
Aprilia 50 SR | best scooters 50 cc and mopeds (cinquantini)
Another nice piece of puberty is the Aprilia SR, very similar to Aerox in design and features, pushing perhaps a little more on performance and a little less on comfort and reliability.
We find in fact a 2-stroke Hi-Per2 Pro engine with electronically managed carburetor that guarantees superior reactivity thanks to the maximum power output of 4,4 cv. Unfortunately, the integrated air cooling is a little less efficient and could decrease the scooter's average life. We always find 190mm disc brakes and a chain drive more resistant than the belt one. The 7-liter tank and the Euro 4 homologation are also excellent, even if the performance is paid for with a slightly higher consumption. There is also the Motard version of the Aprilia SR, a little more spartan and cheaper. In any case it is a scooter mainly aimed at young people and especially for non-daily use.
Aprilia 50 SR, list price: 3449 euros
Aprilia 50 SR Motard, list price: 2300 euros
Piaggio Liberty S 50 | best scooters 50 cc and mopeds (cinquantini)
Let's now move on to a vehicle more suitable for everyday use and work: Piaggio Liberty S 50. Designed to be comfortable and comfortable, this scooter does not guarantee stratospheric performance, but it will take you anywhere with extreme ease. The glove compartment is very large and can be configured with a USB socket to charge the smartphone and the bag hook is included. Also very comfortable for traveling in two thanks to the wide saddle and front padana.
The engine is a 4-stroke air-cooled Euro 4 it delivers 2.4 kW and is equipped with i-get technology (Italian Green Experience Technology) to optimize consumption and emissions. The 6-liter tank allows you to reach a good autonomy. The wheels measure 16 and 14 inches and allow you to move easily even on roads that are not exactly smooth, such as those inlaid with cobblestones or in the suburbs while remaining stable when driving. We have only one front disc brake, while the front one is a drum brake: it can fit as it is not a model designed to reach high speeds, but rather to slip through traffic. The price is among the most affordable.
Piaggio Liberty S 50, list price: 2290 euros
Kymco Agility 50 R16 + | best scooters 50 cc and mopeds (cinquantini)
Kymco is a brand that offers a really interesting value for money on its products and for this reason it has carved out the interest of many centaurs. We have chosen a comfortable and functional mid-range model for this list, which competes directly with Piaggio's Liberty.
Approved for 2 people, with a large saddle, spacious footboard and 16-inch front wheel, Agility 50 is one of the most manageable and ergonomic scooters. The convenient top box with 12V electrical socket is also supplied. The 4-stroke engine delivers about 2.2 kW and it's air-cooled isn't the most powerful around, but it's enough. Especially if we look at consumption: about 45 km / l with a 7-liter tank guarantee over 300 km of autonomy: a whole week of work in practice. Also in this case only the front brake is disc. We also report the People S 50 4T E4 model, more expensive and more equipped, with an extra touch compared to Agility 50 R16 +.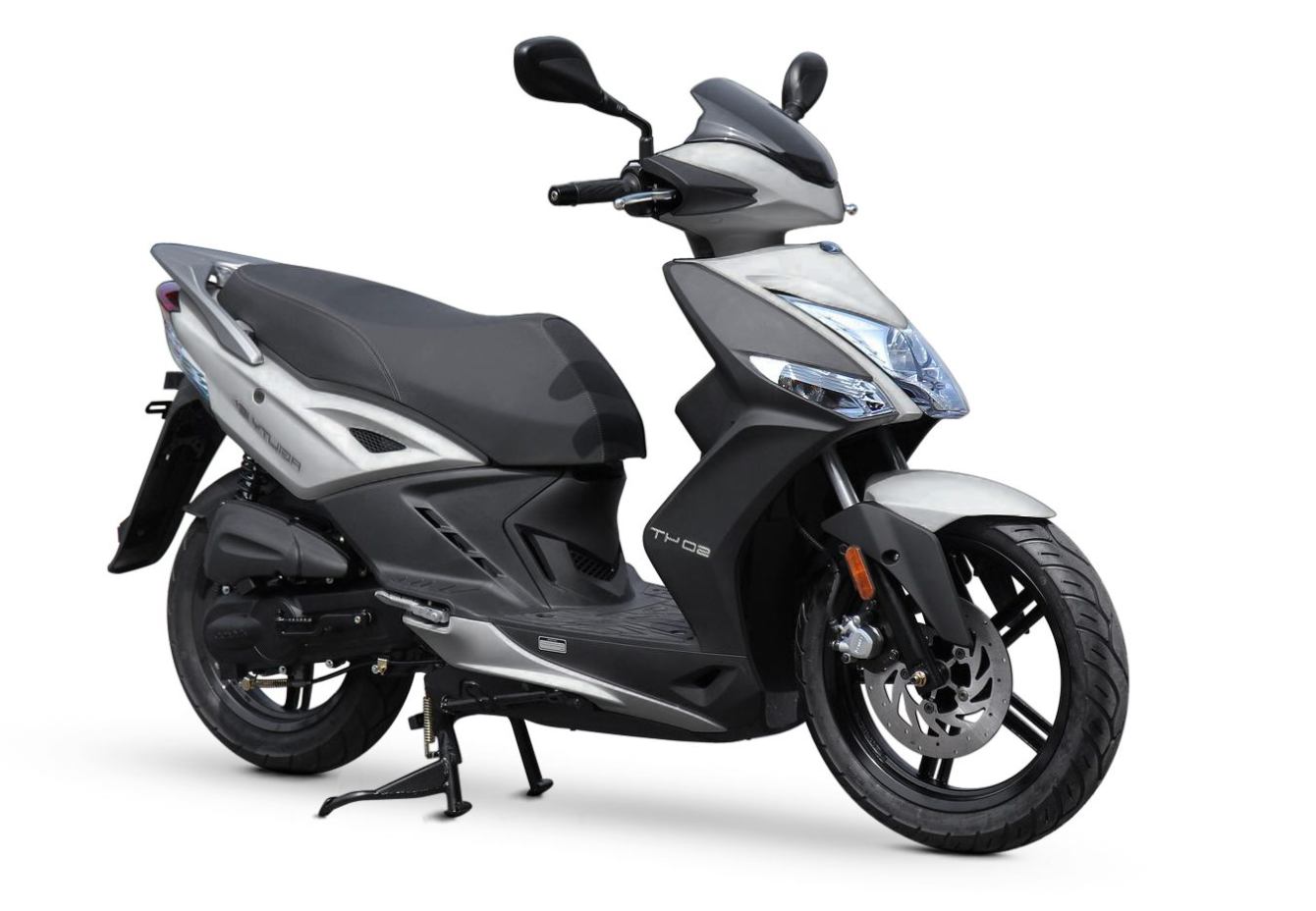 Kymco Agility 50 R16 +, list price: 2,090 euros
Kymco People S 50 4T E4, list price: 2,590 euros
Wind Skid RR | best 50 cc scooters and scooters (fifty)
Now let's change the cards a little bit by talking about a rather particular category of fifties, difficult to define with scooters or mopeds, but which is having great success especially among the youngest: road motards. Essentially it's about …