It seems that slides have been leaked featuring the new Intel Alder Lake processors. The twelfth generation of Intel processors will introduce many new features, many of which are confirmed by these rumors
We have been talking to you about Intel Alder Lake for several months now. The new processors immediately captured the attention of fans and enthusiasts because they will be the first x86 for desktops to use a hybrid architecture which will integrate high power cores (called Golden Cove) together with a series of high efficiency cores (called Gracemont). All made with the new 1o nm Enhanced Superfin process, already used by Intel in laptop processors. In addition, the Intel Alder Lake processors could be the first to support the new DDR5 RAM memories that theoretically can double the speed compared to current standards. All news confirmed by a set of slides very similar to the official ones used by Intel that were leaked thanks to colleagues from the Videocardz site. Let's see the details.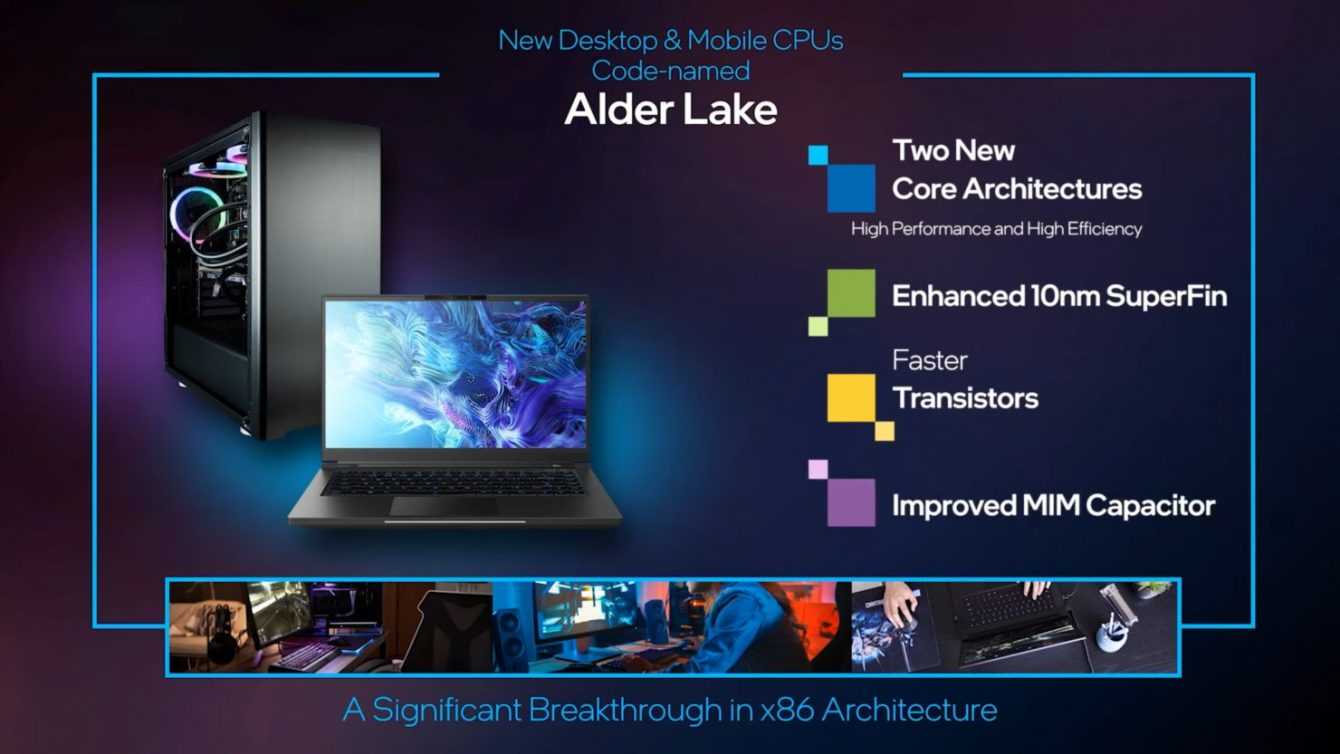 Intel Alder Lake: big news for the twelfth generation
The leaked slides confirm the numerous rumors that have occurred in the past months, consolidating our knowledge of the new Intel Alder Lake processors, the first examples of which could be presented in September. The slides confirm that there will be both desktop models and models dedicated to laptops. Also you can see how it is waved a 20% performance increase in single-thread (although it is not clear what, perhaps in Rocket Lake) thanks to the new Golden Cove architecture that will equip the cores at high performance. Yes, because it also comes hybrid architecture confirmed with LITTLE (high efficiency) and big (high performance) core, both made with the a 10 nm Enhanced Superfin. The slide shows a block diagram of future Intel Alder Lake CPUs, which may offer up to 8 high-performance Golden Cove cores and up to 8 high-efficiency Gracemont cores, for a maximum of 16 physical cores.
In the leaked slides it is also stated that Intel Alder Lake processors will be twice as fast in multi-threaded workloads. This is where the new high efficiency Gracemont cores are mentioned and along with a Hardware-Guided Scheduling. We can therefore imagine that the scheduling will be managed taking into account the hardware characteristics, in order to allocate the heaviest processes to the high-performance cores to avoid wasting power unnecessarily, while the so-called I / O bound processes could be assigned to the cores with greater efficiency. .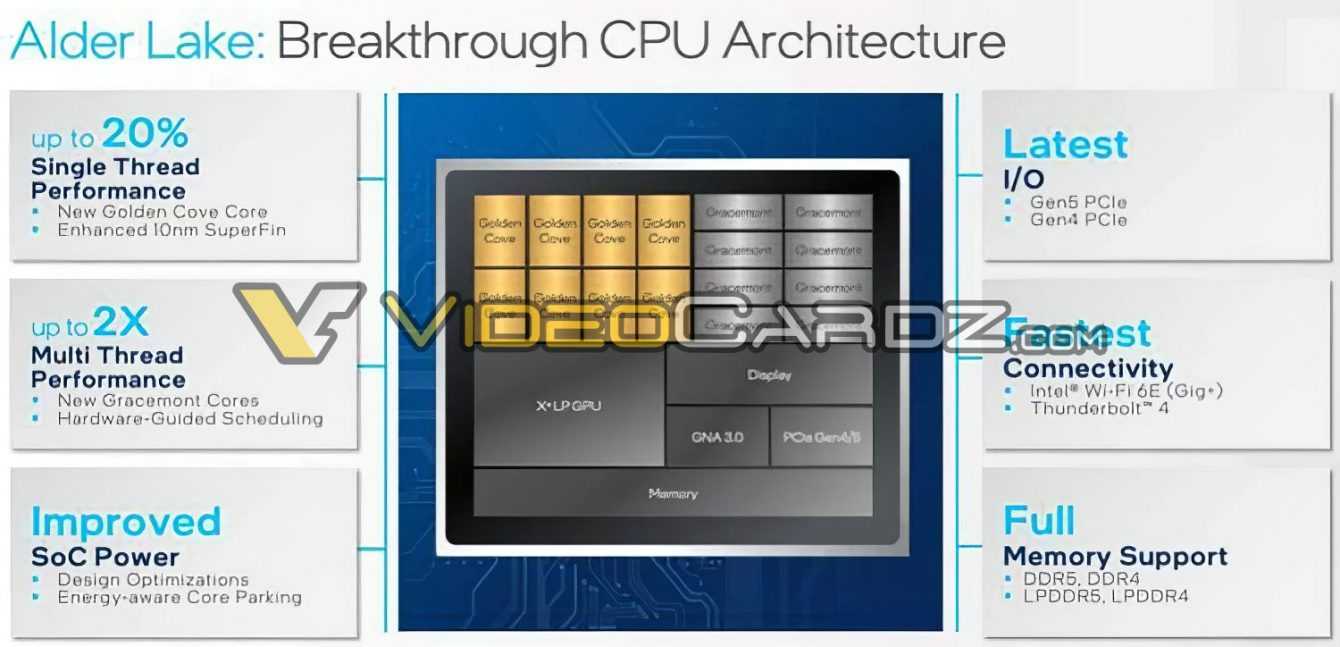 Revolutionary I / O
Another slide also confirms that Intel Alder Lake will support PCI Express Gen5 e Gen4. There is also a confirmation to the memory support RAM DDR5 e DDR4. It appears that the 12th generation platform will support both memory technologies simultaneously for complete backward compatibility. The first DDR5 modules in fact will probably be very expensive and not necessarily so powerful as to justify the surcharge. In addition, you can recycle your DDR4 RAM in case you want to upgrade the CPU. For Intel Alder Lake mobile, it is also confirmed support for LPDDR4 and LPDDR5. Instead, the Raptor Lake architecture, a successor to Alder Lake, will also have memory support for LPDDR5X, but will likely be introduced in more than a year.
We also have the first details on the Intel 600 series chipset. The new desktop CPUs will support memoria DDR5-4800 dual-channel. Motherboards compatible with DDR4 will support modules up to 3200 MHz. High-end Z690 motherboards offer DDR5 support, while cheaper variants are probably based on DDR4, but in a transition situation that's okay. Another important update is support for PCI Gen5. Intel Alder Lake CPUs will have up to 16 lanes compatible with PCI Gen5 and also 4 lanes for PCI Gen4 standard. The chipset will also support Gen3. Finally, the Direct Media Interface (DMI) has been upgraded to Gen4. However, remember that 600 series motherboards will feature a new type of socket called LGA1700. The CPU package will also change, which will make all existing cooling solutions for LGA115X and LGA1200 unsuitable for the new CPU series.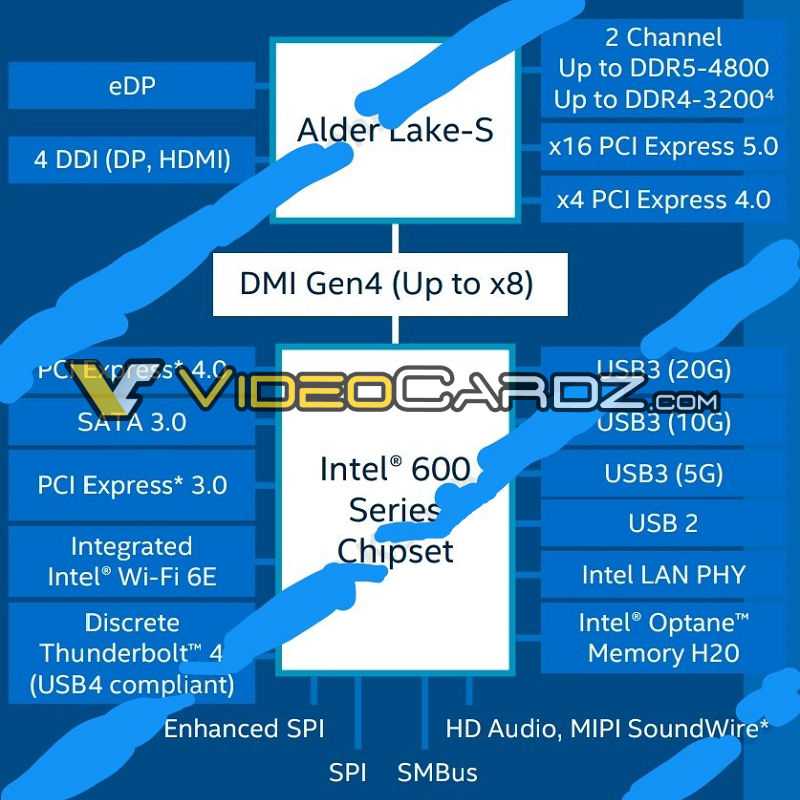 Basically to renew your configuration with an Intel Alder Lake CPU you may be forced to change the motherboard and heatsink, while maintaining the RAM memories and obviously GPU and mass memory. Of course we are really curious to see what this hybrid architecture will be able to do and what are the reasons that led Intel to prefer this path rather than a chiplet approach like AMD's for its Threadripper processors that go well beyond 16 physical cores. Perhaps to contain costs and consumption, while opening up to advanced multithreading? We will surely know more so keep following our hardware section!