Apple TV + is a new streaming platform, launched by the multinational also in Italy, which offers very varied content in 4K HDR quality. We have selected the best movies currently on Apple TV + for you to watch!
Thanks to Apple TV + we can watch shows and movies on all our devices with all the features of the largest and most tested streaming sites. Choose a subscription, see comfortably when we want and what we want, stop and resume watching: Apple TV + offers all this at a price of € 4.99 per month, or alternatively with an annual plan that costs € 49.99. Particularly interesting features of the platform are that buyers of a new iPhone, iPad, Mac, Apple TV or iPod touch are entitled to a free year of service, and that a single subscription can be shared with the whole family via contextual sharing at no additional cost. .
Before starting it should be noted that the following list of the best movies to watch on Apple TV + is not classified but numbered randomly. All the contents in the catalog are equally valid, in the different genres of belonging. It will be up to the viewer to choose the films that best suit their personal tastes. However, the advice is to give each of these contents a chance without being influenced by prejudices of any kind, trust me you will not regret it!
Best movies on Apple TV + to watch
So let's find out what are currently the best movies to watch on Apple TV +. Different genres, some original and some classic, a lot of quality. We invite you to report in the comments which in your opinion are the best films currently in the catalog and why they impressed you so much.
10. Jobs | Best Apple TV + movies
In Apple's schedule, a film about its creator could not be missing, Steve Jobs. A controversial figure, bordering on divinization, in this film he is told thanks to the excellent performance of Ashton Cutcher who makes realistic what is an undoubtedly sensational biography.
9. The Banker | Best Apple TV + movies
America, 1950s. Two African American entrepreneurs, Bernard Garrett and Joe Morris, devised an ingenious system to circumvent the racial laws in force at the time and to carry out banking activities in favor of black customers. However, the couple needs a white employee who looks like a businessman and takes their place in public. Their plan works and the two manage to acquire Mainland Bank & Trust Co. and gain a stake in the First National Bank of Marlin, but when the white establishment figures out what is happening, Bernard Garrett and Joe Morris become a target.
The film is based on a true story and stars Anthony Mackie, Samuel L. Jackson and Nicholas Hoult. Definitely recommended.
8. Casino Royale | Best Apple TV + movies
Casino Royale is the first film in which Daniel Craig plays the role of 007. The literary character always has success on the big screen, but in this case it is all deserved. The first blonde James Bond, the first human, imperfect James Bond: from his first assassination on behalf of the Queen it is clear that not everything will always go smoothly.
Casino Royale inaugurates a new role of the secret agent best suited to the times, which continues to this day. Very high quality for the film itself, not always replicated in the various sequels, which, however, must certainly be recovered pending the release of No time to die.
7. Harry Potter: the saga | Best Apple TV + movies
Famous saga that needs no introduction, sees the wizard Harry Potter grow from when he is intent on taking his first steps in the world of magic to when he will have to face the threat of annihilation of this world, Voldemort.
To see and to review, as indeed the books from which it is taken are to be read and reread. On TechGameWorld.com you will find a series of reviews, curiosities and guides to orient you in the magical world of Hogwarts.
6. The King of Staten Island | Best Apple TV + movies
Scott Carlin is suicidal, uses marijuana extensively, doesn't have a job, and hangs out with friends who are just as poorly integrated. He lives by his wits, despite his age implies greater maturity. When his sister leaves for college, her mother begins to look outside the family unit and soon finds a relationship that puts Scott in crisis, forcing him to finally take some responsibility.
Coming-up film with a not particularly original plot, which however benefits from the absurd comedy of the couple Pete Davidson and Judd Apatow.
5. Bombshell | Best Apple TV + movies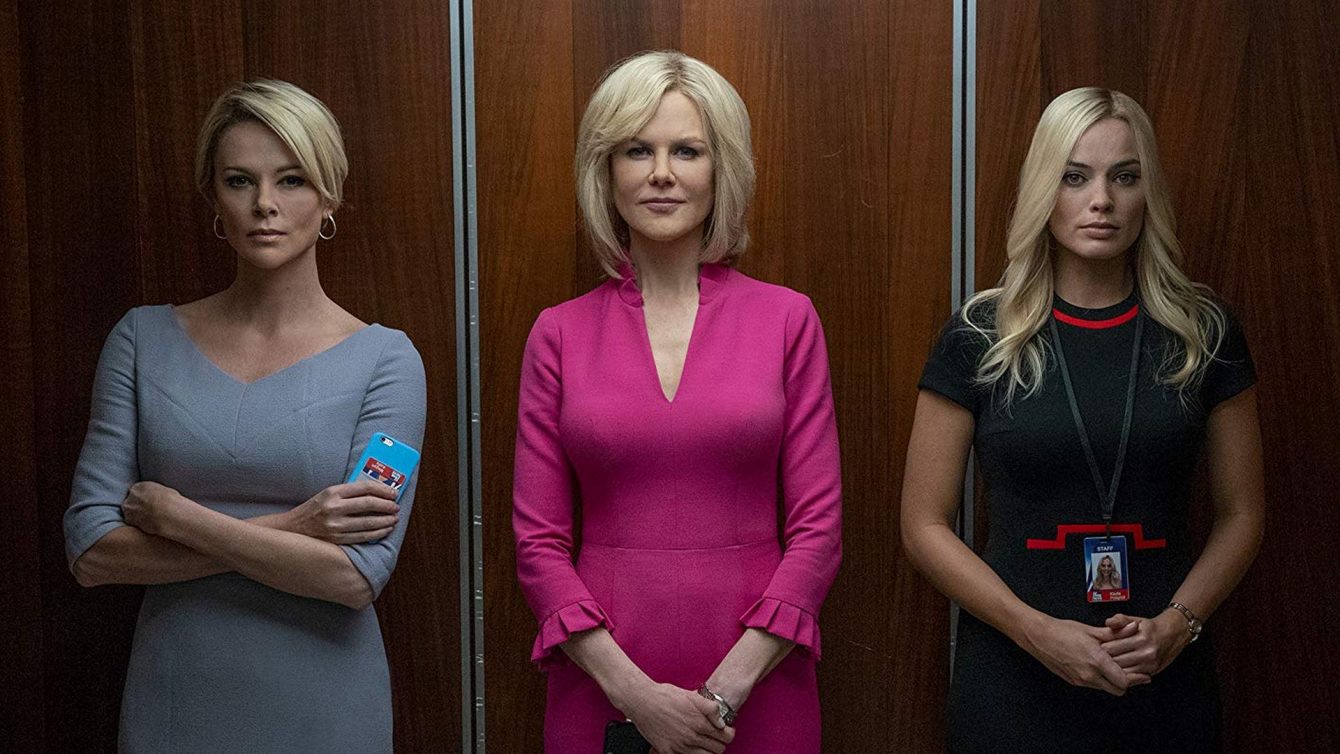 Bombshell is based on a true story, lo sex scandal which involved Roger Ailes (John Lithgow), then head of the Fox News media empire, shocking America. The film crosses the story of three women (Nicole Kidman, Charlize Theron and Margot Robbie) of different ages and above all of different positions in the workplace, all involved in the course of their careers.
Powerful film, which shocks for being taken from real events in the recent past. It transmits a message of denunciation and courage that always upsets. For a more in-depth evaluation, we refer you to our review.
4. Bohemian Rhapsody | Best Apple TV + movies
The life and career of Freddie Mercury and Queen. There is an abundance of film material with this premise, and in fact at the end of 2018 this biopic arrived, perhaps the most successful of recent years, both having regard to box office receipts, and considering the critics and the various awards, even at the Oscars.
Rami Malek was able to impersonate the iconic singer with an almost shot by shot fidelity, which was achieved thanks to the comparison with archive footage. Here you can find our review.
3. The Lion King | Best Apple TV + movies
Reproduction in live action of the 90s cartoon, The Lion King does not deviate from the classic plot and rather points to the strategy of scene by scene remake. The protagonist is always Simba, with the voice of Marco Mengoni, son of the former king Mufasa, ousted and killed by his ferocious brother Scar. Quintessential Disney film, capable of recounting a profound human experience behind the mask of animation.
The remake divided the critics: some appreciated the modern visual impact, while others shouted sacrilege. In our extended review, however, you will find our opinion on the matter.
2. Django: Unchained | Best Apple TV + movies
Django is a tribute to the 1966 film of the same name directed by Sergio Corbucci and starring Franco Nero (who appears here in a cameo), which received five nominations for Oscar, winning two: Best Supporting Actor for Christoph Waltz and Best Original Screenplay for Tarantino. Set in Texas in 1858, close to the American Civil War, the protagonist is a slave in the South of the United States who is freed by the former dentist and now bounty hunter King Shultz, with the aim of finding three wanted former slavers of Django.
In a habitat where violence is the order of the day, it is not surprising that situations become more and more explosive, in a typical Tarantinian escalation. A modern cult.
1. Jojo Rabbit | Best Apple TV + movies
Jojo is ten years old, he is not very popular but he has an imaginary friend: Adolf Hitler. A fanatic Nazi, he does everything to respect the party's canons and prove himself a good soldier. One day his life is turned upside down by the discovery of Elsa, a Jewish girl that her mother keeps hidden in the house. Between the two develops a relationship that shakes the cornerstones of the boy, who begins to see the regime in a different light.
With Jojo Rabbit Taika Waititi comes out of her comfort zone of light films, albeit excellent. He does so by speaking in his own way of a subject that always arouses many reflections in the cinema and outside: the holocaust. Under his lens, this dramatic subject finds a vein of humor that is anything but out of place and that does not overshadow the importance of the message of solidarity and integration that you want to convey.
See you next month!
Our advice for this month ends here. The hope is to have helped you in some way to orient yourself among the products offered by this one rich platform, which is becoming increasingly popular with a constantly updated catalog and in which it is not easy to find your way around.
See you next month with the list of the best movies to watch on Apple TV +! In the meantime, don't miss the other contents of our section dedicated to movies and TV series, the best movies available on Netflix, Prime Video and Now TV and the best TV series from Netflix, Prime Video and Now TV.