How does Bitpanda work? And, taking a step back, what is it Bitpanda?
It is a dedicated platform to the sale and exchange of cryptocurrencies, stocks, ETFs and precious metals, recently launched in Italy. We know, said that it all sounds a bit complicated and out of our reach, but the reality is a bit different. In fact, Bitpanda was created to be simple: simple to download, simple to set up, simple to use. The three founding partners – Eric Demuth, Paul Klanschek and Christian Trummer – have in fact given life to the platform with the intention of democratize the investment market, making sure that anyone could enter this world.
Democratizing, however, does not just mean designing a product that is easy to use. To make investments truly suitable for everyone, it was necessary to lower the minimum entry threshold. You will therefore not have to invest hundreds or thousands of euros to get closer to Bitpanda. Simply top up your wallet from just € 25 and it is even sufficient just one euro to make your first real investment.
We don't want to overwhelm you with information though, so let's take it easy and start with the basics.
Bitpanda: how does it work?
The Bitpanda web portal
bitpanda is an Austrian company founded in 2014. Today it has over 600 employees and is one of the fastest growing fintech companies in Europe. The platform provides both a comfortable one iOS and Android application, is a web portal which you can access from any browser.
To start using the platform you will need to first of all create an account, a procedure that involves the insertion of some data, the scanning of a document chosen between an identity card and passport and the recording of a very short video to verify the correspondence with what has been provided up to that moment. These verification procedures required by law, allow the company to keep their users' savings safe and to say with certainty that you are a real person and not a bot.
But what about the information provided? Don't worry, the data is processed according to the GDPR – General Data Protection Regulation – and in compliance with all other European laws.
Once registration is complete, you will need to add funds to your account. It starts from € 25 to go up and you can deposit them using the most varied methods: from the classic free SEPA transfer to MasterCard or VISA credit and debit cards. Of course, not all methods guarantee the same speed. In the case of a bank transfer, for example, you will have to wait at least one day.
We also point out that you have the option to add funds using different currencies: euros, dollars, pounds, Swiss francs and Turkish lira.
TIP Choose the amount to pay carefully. Our advice is to start with a low amount, a figure that you can also afford to lose. So use a few euros to understand how Bitpanda works and do your first experiments. It is important to become familiar with the platform and the market.
What do I invest in?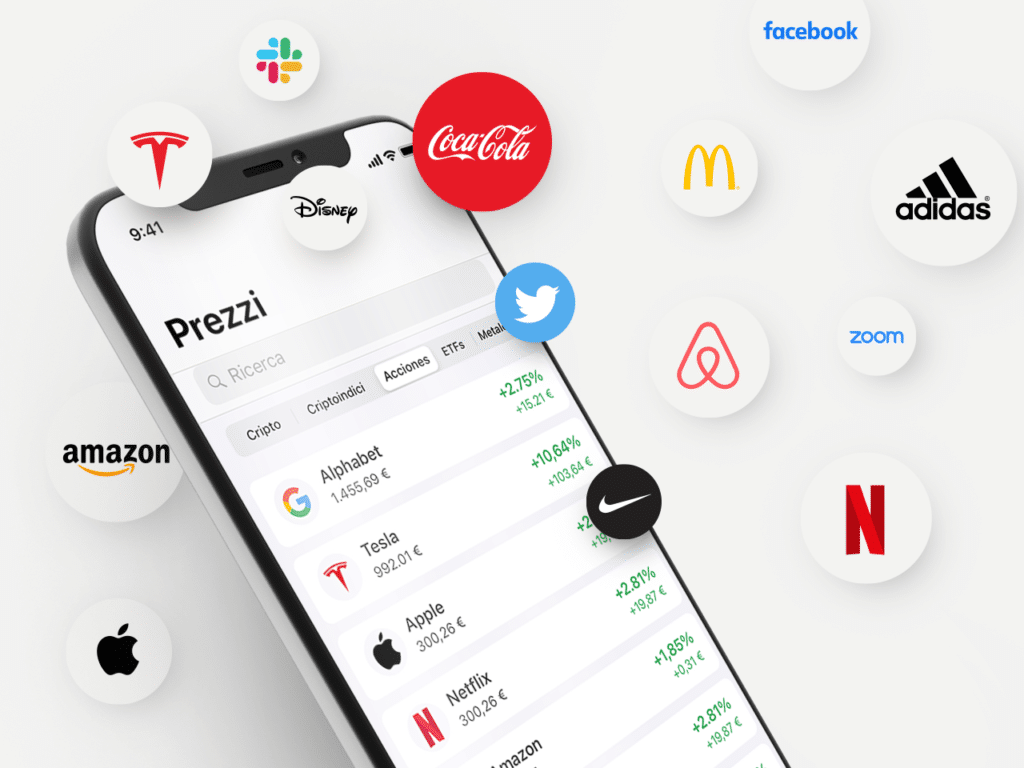 Bitpanda allows you to invest in over 100 resources, both digital and non-digital.
Specifically we have:
Cryptovalute;
Crypto indexes the Crypto Index;
Fractional shares;
ETFs;
Precious metals.
Let's go in order.
the cryptovalute they are virtual coins that are created through a system of codes. They are independent and have been around for over 10 years now. The most famous is Bitcoin but in reality there are many others: on Bitpanda you can find over 50, so you are spoiled for choice. And the offer is constantly being expanded to include new products.
Not sure where to start? I help you Cripto Index. They are packages that contain 5, 10 or 25 different digital coins. They are not always the same. Cryptoindices include the top 5, 10 or 25 coins by market capitalization and liquidity. Each month these packages are reviewed and rebalanced thanks to the collaboration with MVIS, a subsidiary of VanEck that is in charge of providing and calculating all the components and weights of the cryptocurrency indices.
Do you prefer classic actions? Well, there are those too. Or rather there are fractional shares, which are small portions of a whole share. What's the point? Well, a stock has a specific price so to buy that stock you will have to spend a certain amount. Fractional shares allow you to establish a very low starting amount and then calculate what percentage of that share you can take home by spending the money you have decided to allocate to this operation.
Let's take a practical example.
Today a Google share is worth more than $ 2,000. Buying one is therefore quite prohibitive. However, I can decide to spend € 10 which corresponds to about 0.0045 of a share ..
All this allows you to invest in your favorite companies starting from € 1.
Finally, the ETF, investment funds that track an underlying index or asset, such as the S & P500 index, e precious metals, such as gold, silver, platinum and palladium.
The other features of Bitpanda
bitpanda provides other useful features, starting with Savings which allows you to set up a periodic and automatic savings plan. For example, you might decide to buy new Bitcoins every Friday at 08.00 or add new stocks to your portfolio on the first day of each month. In this way you will benefit from the virtuous mechanism of cost averaging.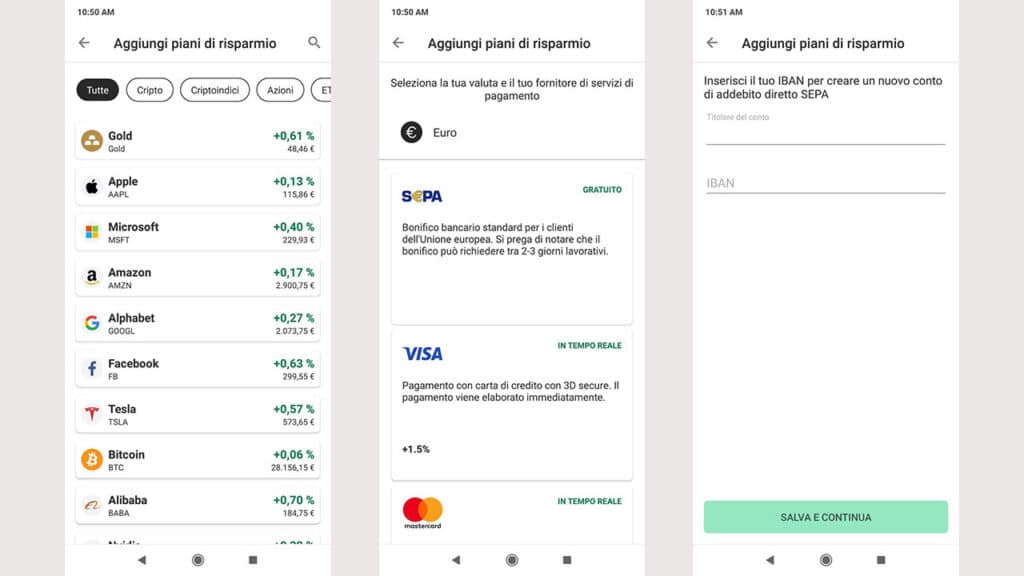 Bitpanda Swap instead it was created for the real-time exchange of cryptocurrencies supported by Bitpanda with any other coin or token among those accepted by the platform, while the BEST – Bitpanda Ecosystem Token – is the digital currency of the platform that allows its holders to access discounts and incentives within the Bitpanda ecosystem.
We also point out the possibility of requesting the Bipanda card, a debit card with which to shop both online and in physical stores. The operation is quite simple: imagine spending 35 euros in a shop and having invested in Bitcoin. The equivalent of 35 euros is moved from your Bitcoin wallet to the euro wallet and then deducted to pay. You obviously don't have to worry about anything. Use the card as normal and that's it.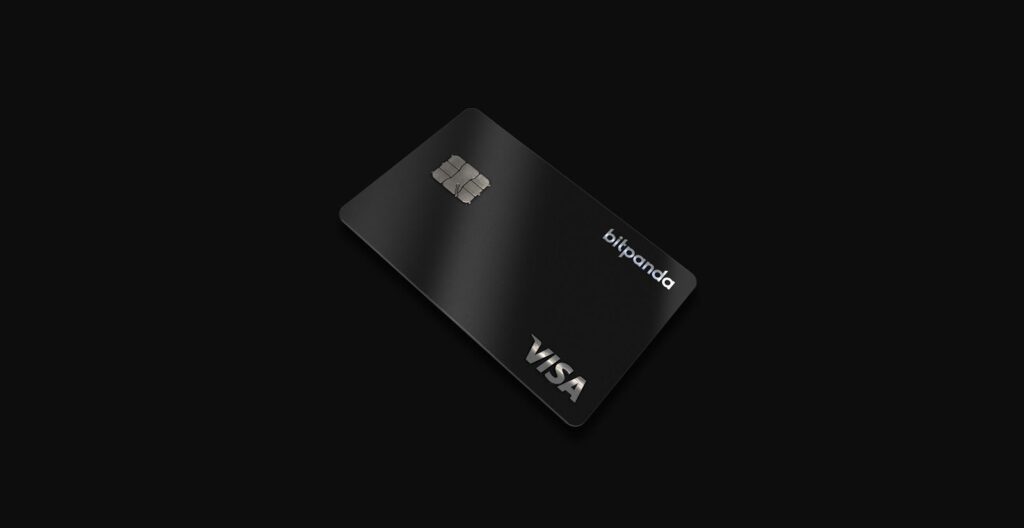 There are no additional costs to get the card, but you must meet 4 basic requirements:
have a verified Bitpanda account;
reside in a eurozone country;
have at least € 100 of resources on Bitpanda;
have the app on your smartphone, because it is with the one that you manage the card.
Bitpanda Plus e Pro
Everything we have told you so far concerns the basic version of Bitpanda. Then there is the Plus version, which allows you to benefit from discounts, reduced surcharges and payment fees on demand, as well as increasing limits for deposits and withdrawals.
If you want to raise the bar, there is Bitpanda Pro, a more advanced platform designed for experienced traders, companies and institutions.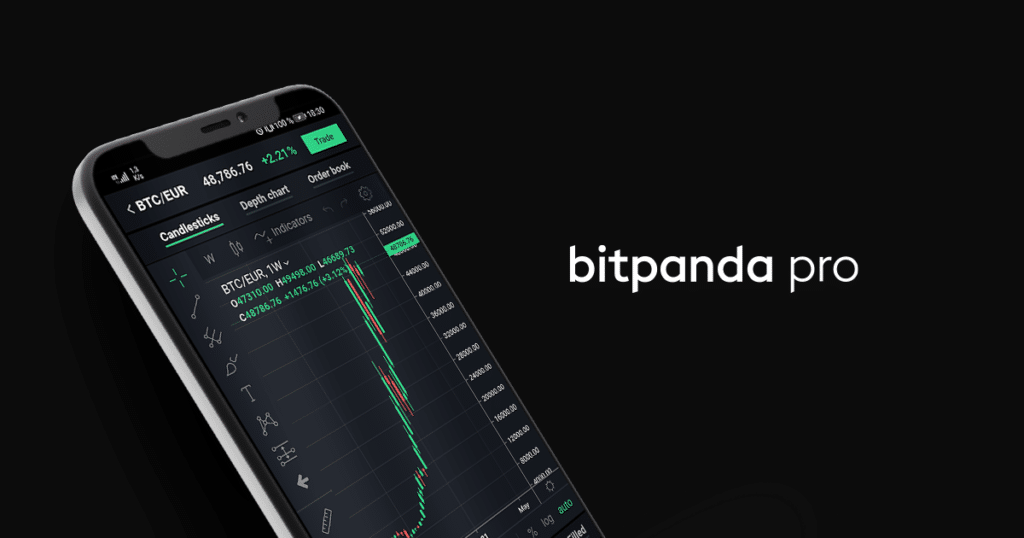 The costs of the service
Finally, we come to the costs of the service. There is no monthly fee but of course it is applied a commission which in this case is even all'1,49%. The latter is already included in the price: if you invest 25 euros in Bitcoin you will spend 25 euros, not 25 euros plus commissions.
Also know that using BEST to pay trading fees, you can get up to 20% discount on surcharges, while with Bitpanda Pro commissions go down to 0,05%.
The surcharge, on the other hand, increases per i Crypto Index, arriving a 1,99%. A fee that also applies when the index is rebalanced every month.On precious metals, commissions and surcharges are variable.
How to sign up for Bitpanda
At this point you know everything there is to know about Bitpanda. To register, just visit the official website or download the application, then the wizard will accompany you step by step.
Finally, we would like to point out that the platform is accessible all over the world, but the purchase of cryptocurrencies is currently only allowed within the European Union.