Introducing the new Blackview BV7100 rugged phone with 13,000mAh battery and 33W fast charging It also offers up to 10GB RAM, Android 12 based Doke OS 3.0 and Sony IMX362 12MP photo sensor
Months have passed since the launch of the new top of the range, the Blackview BL8800 5G series. Today, this leading rugged phone brand announced its new flagship device, the 13,000mAh Blackview BV7100, the first Android 12 rugged phone with the largest battery in the world – a whopping 13,000mAh. It will be launched on September 14, 2022 (PT) with an early bird offer priced at $ 179.99.
Blackview BV7100: the new top of the range among rugged smartphones
According to the information released, Blackview BV7100 is the result of more than a year of efforts by the company's research and development team. This is the second phone with such battery capacity, besides the 13,000mAh Blackview BV9100, the Blackview BV7100 is packed with incredible ruggedness and more powerful features that are sure to impress and change the lifestyle of rugged users. Overall, the BV7100 has four main features.
Long Battery Life: 13,000mAh battery + 33W fast charge + reverse charge
Most Blackview fans are lovers of the outdoors and want to get away from the hustle and bustle of city life and savor freedom, inner peace or the thrill of challenge in nature. A rugged smartphone, able to withstand natural hazards, is an essential accessory to take with you outdoors. Since a large battery, without the need to pack a power bank in the backpack to extend the pleasure of outdoor travel is a desire of many, the Blackview BV7100 incorporates a 13,000mAh battery, two to three times the capacity of the competitor. According to Blackview lab tests, the battery offers up to 48 days of standby time. This giant battery adopts dual electric-core technology instead of traditional single-core battery to ensure high safety and longer life. Unlike the BV9100's 30W charge, the Blackview BV7100 supports Blackview's fastest charge rate, fast charge at 33W, to charge your phone faster. In addition, the BV7100 doubles as a power bank to charge other devices.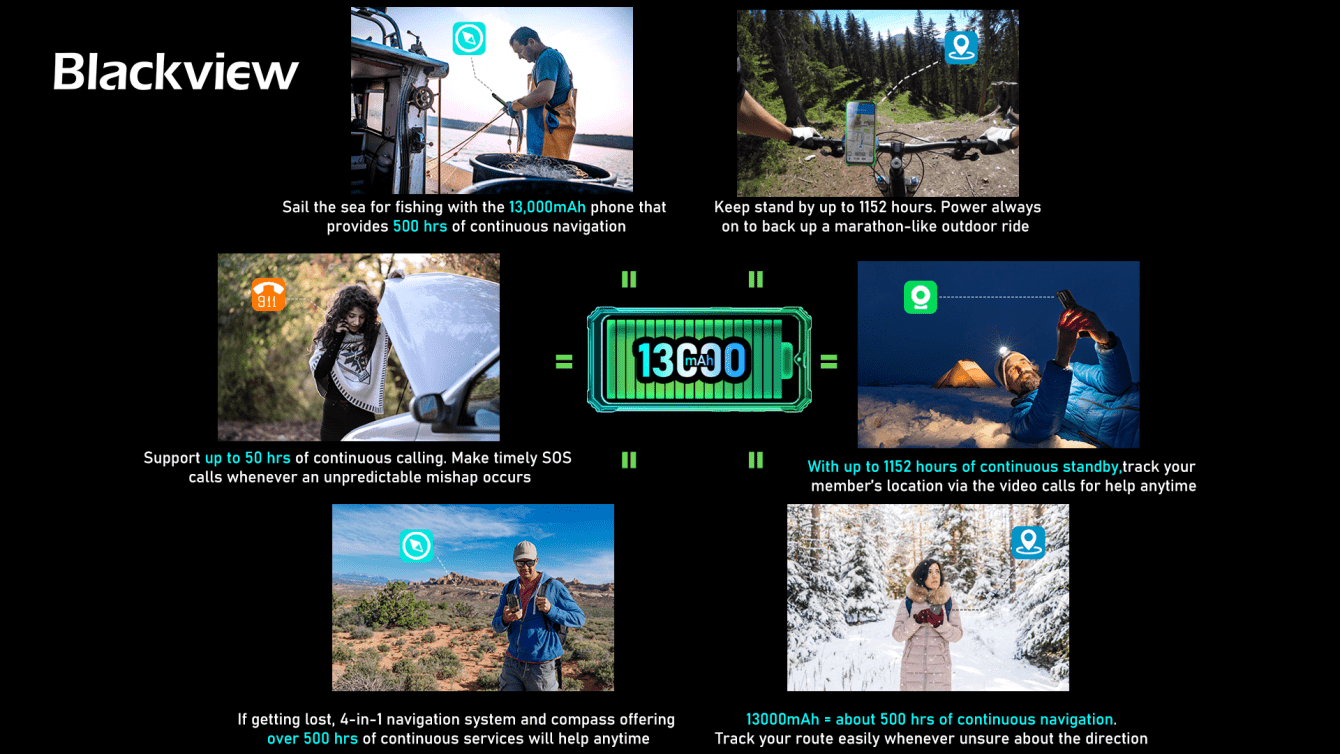 All of this comes in handy when planning a week or month trip outdoors or abroad, eliminating low battery anxiety once and for all, eliminating frequent recharges and supporting your life in the name of energy. 'adventure. Thanks to the 13,000mAh battery, users can reach the furthest places from home, such as the rainforest, Mount Everest and the Arctic. Whenever you are on the go, you can listen to music, play games, watch videos, browse, take photos, and so on. In all emergency situations outdoors, a large battery that lasts a very long time is undoubtedly very useful.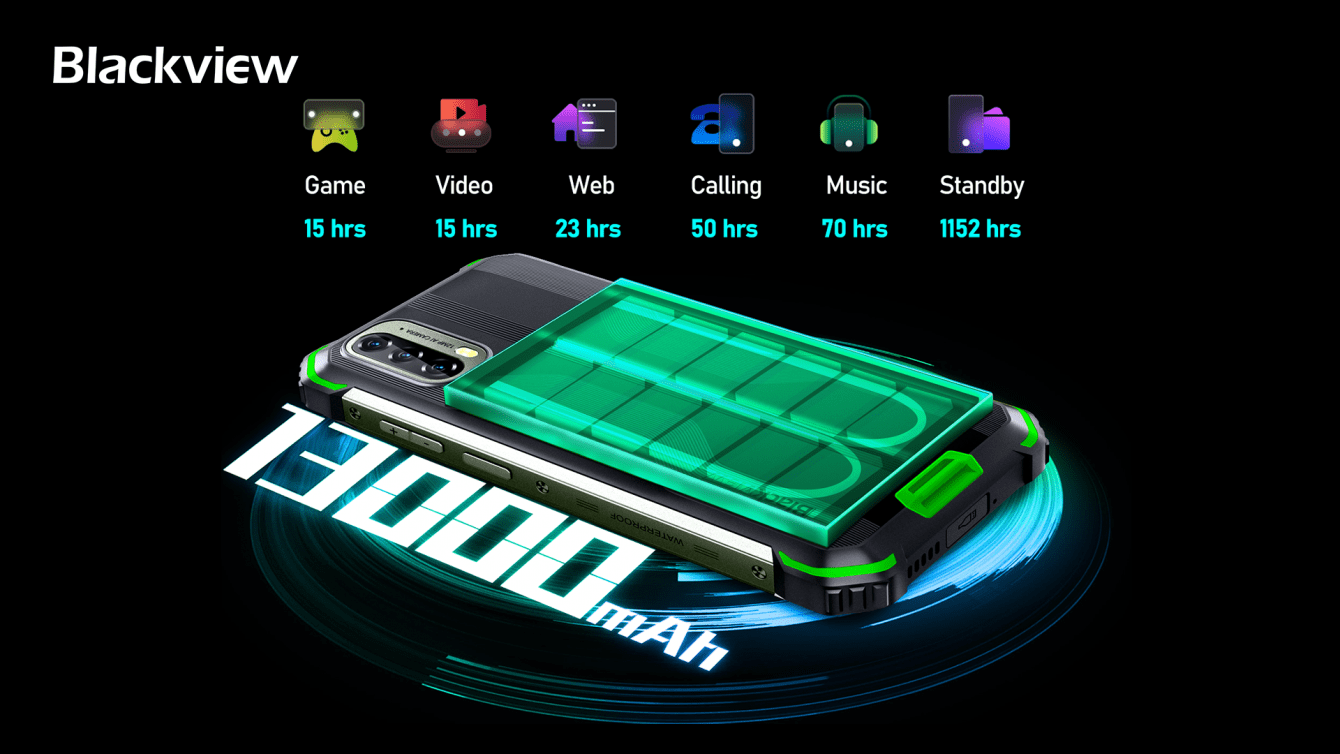 Everything works faster and smoother: MediaTek Helio G85 + up to 10GB of RAM + 128GB of ROM + up to 1TB of TF
Some official posts claim that the BV7100 will support the tecnologia Memory Expansion to expand 6GB RAM up to 10GB, the largest available RAM so far available on Blackview devices. As applications consume more memory and users install more applications into phones, those with small RAM cannot handle the overhead of multitasking. However, the larger the RAM, the higher the price, which is a stumbling block for budget-conscious buyers who want a rugged smartphone. For this reason, Blackview BV7100 solves this dilemma by expanding the RAM that allows you to take full advantage of the performance power of the BV7100 and increase the ability to multitask. According to Blackview engineers, RAM expansion is available by default at a specific number of GB, tested hundreds of times and found to be useful for best performance.
As for the CPU, Blackview BV7100 will integrate the MediaTek Helio G85 12nm mid-range octa-core processor, the same available on Blackview's latest flagship tablet, the Blackview Tab 13. This CPU allows for improvements in all situations, such as faster and smoother uploads / downloads, games with fewer frame drops and better responsiveness. Storage memory has 128GB storage and a TF expansion of up to 1TB. 13,685mm² ultra-wide graphite area helps dissipate heat effectively and reduces CPU temperature by as much as 5 ℃. All this to offer maximum performance over time for those who expect maximum productivity. Playing games with rich graphics or doing time-consuming tasks will be easier than ever.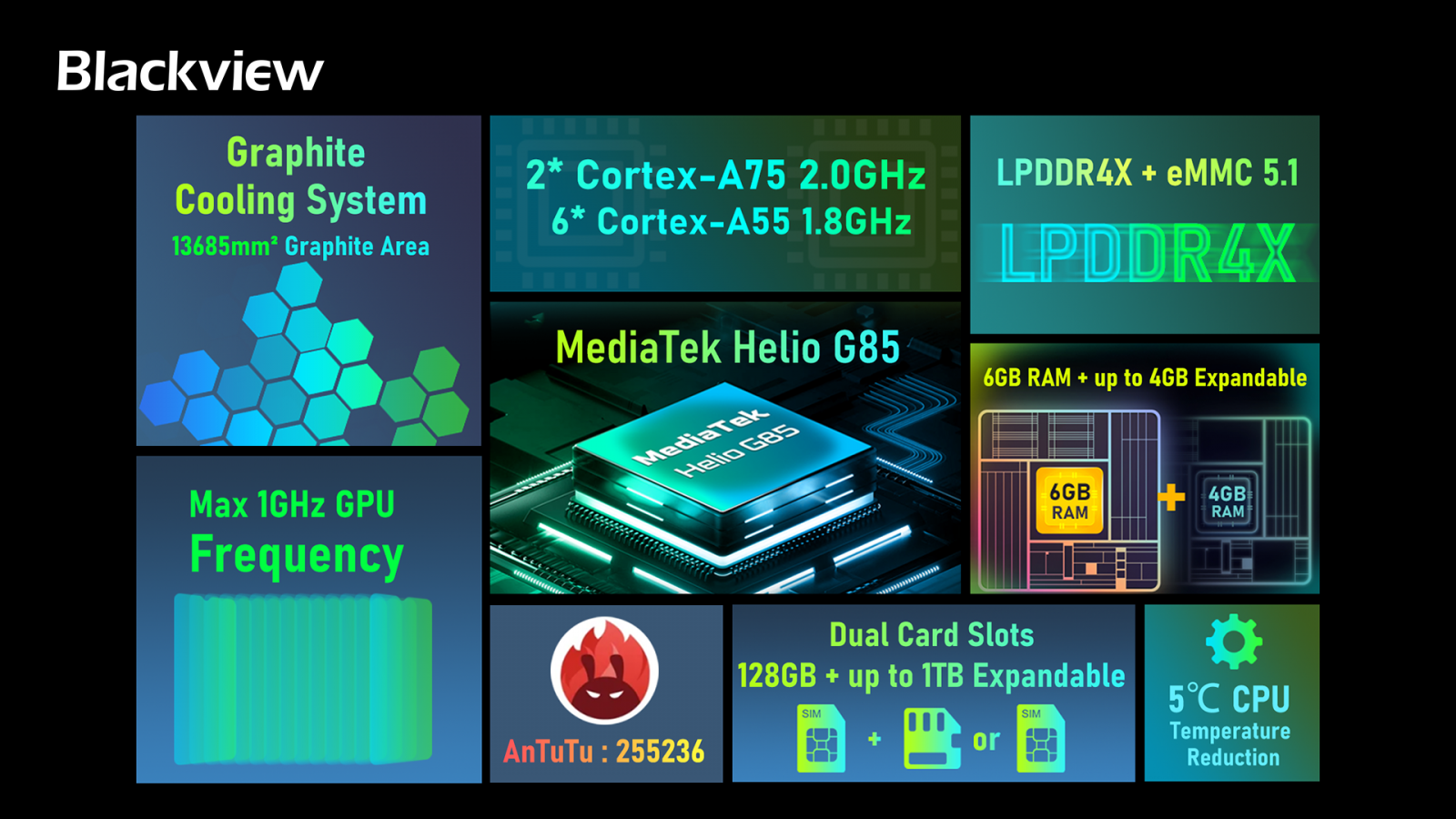 An operating system designed to improve design, convenience and fluidity: Doke OS 3.0 based on Android 12
After the inexpensive Blackview BV4900 Pro, Blackview BV7100 is the second rugged phone equipped with Doke OS 3.0 based on Android 12, the latest operating system currently available on Blackview devices. Blackview has focused heavily on research and development of the operating system to obtain a system that is pleasant to see, easy to use and multifunctional. As most users want a personalized experience, the Blackview BV7100 tries to fulfill all these needs. For example, thanks to the new wallpaper app and Android 12's color palette changing feature, users will have no problem customizing their phone's interfaces. For a more enjoyable viewing experience, the Dark mode is available in three different intensity styles: advanced, moderate and gentle. A versatile home page allows you to classify and group apps into folders and change the shape of icons. Users can pin the most used apps on the Smart Sidebar and access it at any time.
Compared to previous versions of Doke OS 2.0 and 2.1, Blackview BV7100 has made great strides in terms of practicality and fluidity. Users can take a screenshot with a single click, turn on Wi-Fi and adjust the brightness in the convenient control panel without having to switch to other setting interfaces. Floating windows make accessing apps a breeze. All to offer a high-level user experience. With the upgrade from Android 10 and Android 11 to Android 12, users will be able to enjoy more secure and personalized privacy control.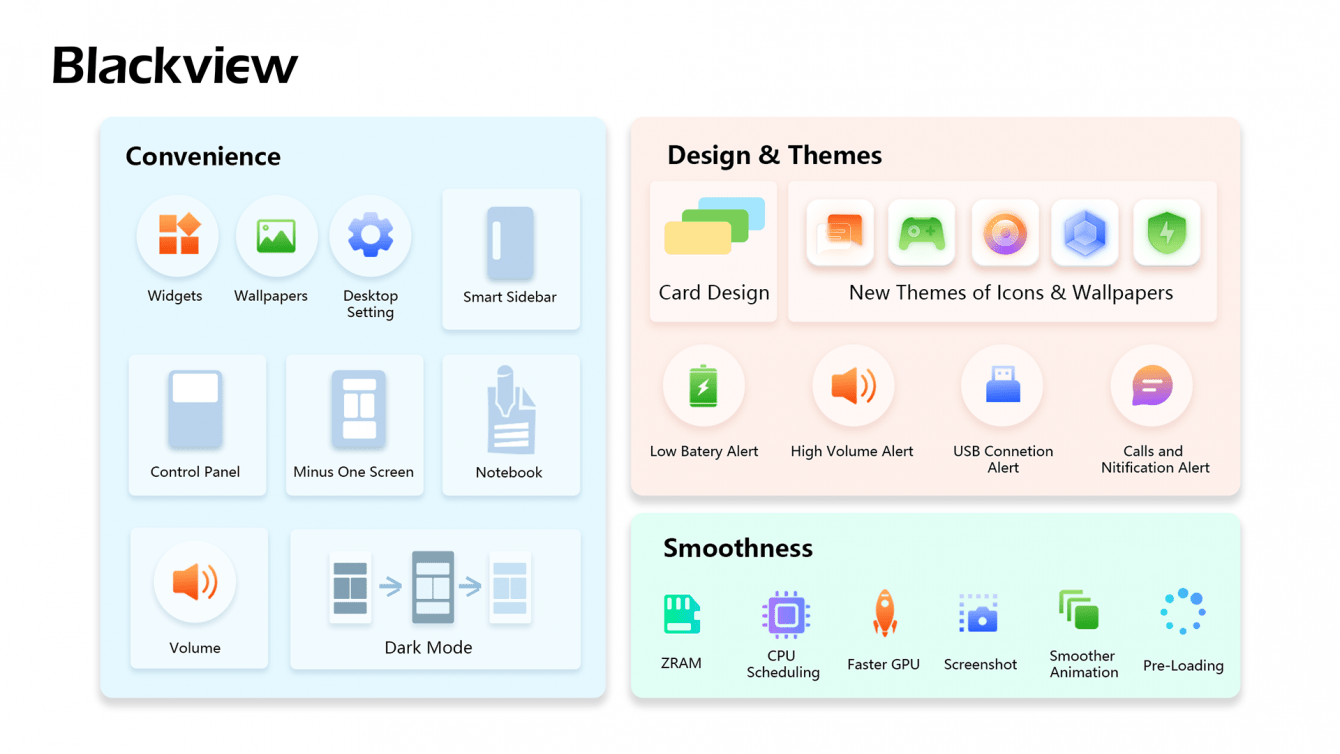 Cameras and other functions: 12MP Sony IMX362 + 8MP Ultra-wide / Macro
Blackview has adopted the highest-level functions and features available on mainstream flagship smartphones into its line of rugged phones, while keeping the price down. First, Blackview BV7100 will adopt the 12MP Sony IMX362 sensor, the same available on the Blackview BL5000 and Blackview A100, as the primary rear camera. Although the resolution is reduced, its quality is not inferior to that of some 48MP or 60MP sensors and users will not have to spend too much to get good photographic performance. 6P lens and 1.4μm large pixels they help gather more light, resulting in photos with better exposure and vivid detail, even in poorly lit environments. L'autofocus Dual Pixel e il VCM closed-loop ensure an auto focus speed of 0.03 seconds, while the continuous shooting speed reaches a burst of up to 10 fps which allows you to take up to 99 photos in seconds. Perfect for framing fast-moving subjects such as flying birds, speeding cars or running pets. In a word, the Sony IMX362 promises ultra-fast autofocus speed with uncompromising photo quality. The BV7100 is equipped with a 8MP and 117 ° ultra-wide camera which supports autofocus and allows the sensor to perform the macro function.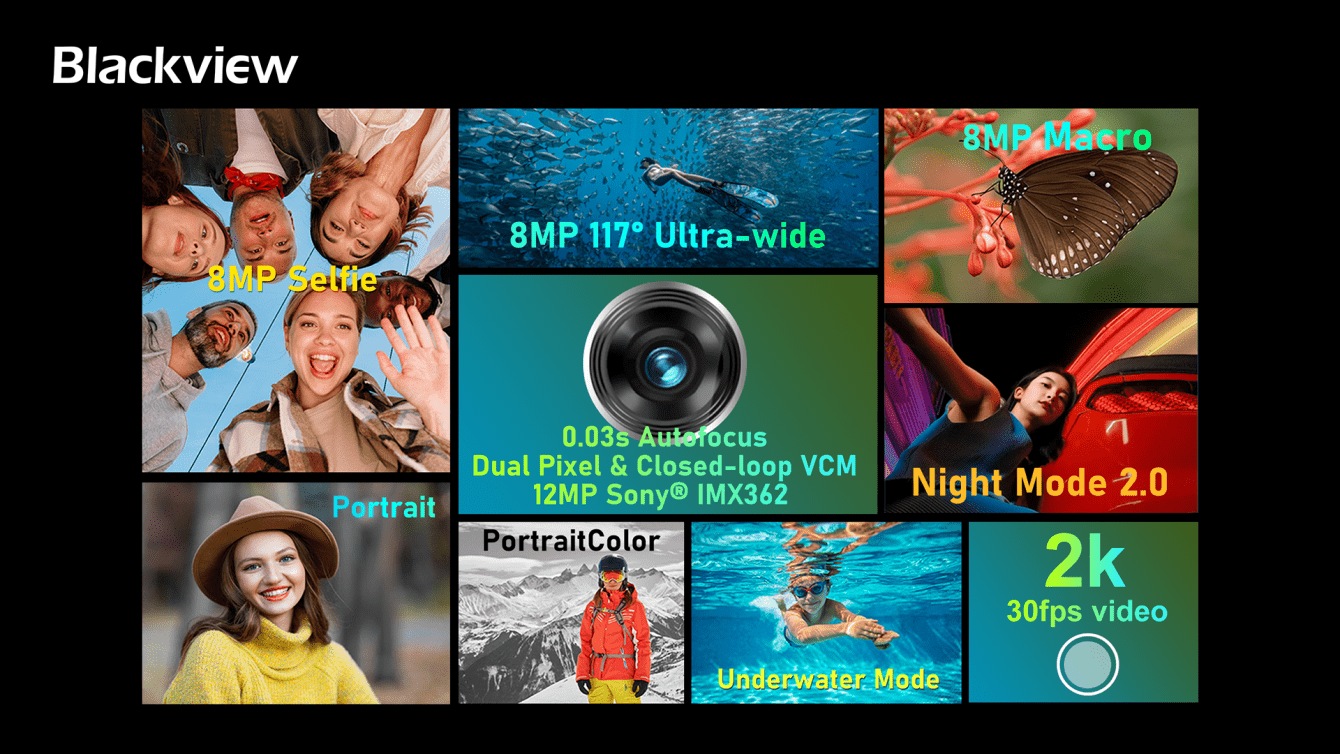 Furthermore, Blackview BV7100 sports other amazing features to add value. The IP68 and IP69K and MIL-STD-810H certifications ensure performance that conforms to high standards of robustness in various types of harsh environments. The 6.58 ″, 2408 x 1080 pixel FHD + display with an 85% screen-to-body ratio and 480 nit brightness offers incredible immersive viewing pleasure. In addition, it includes Glove mode, NFC, custom shortcut button, GPS & GLONASS & Beidou & Galileo navigation and fingerprint unlock.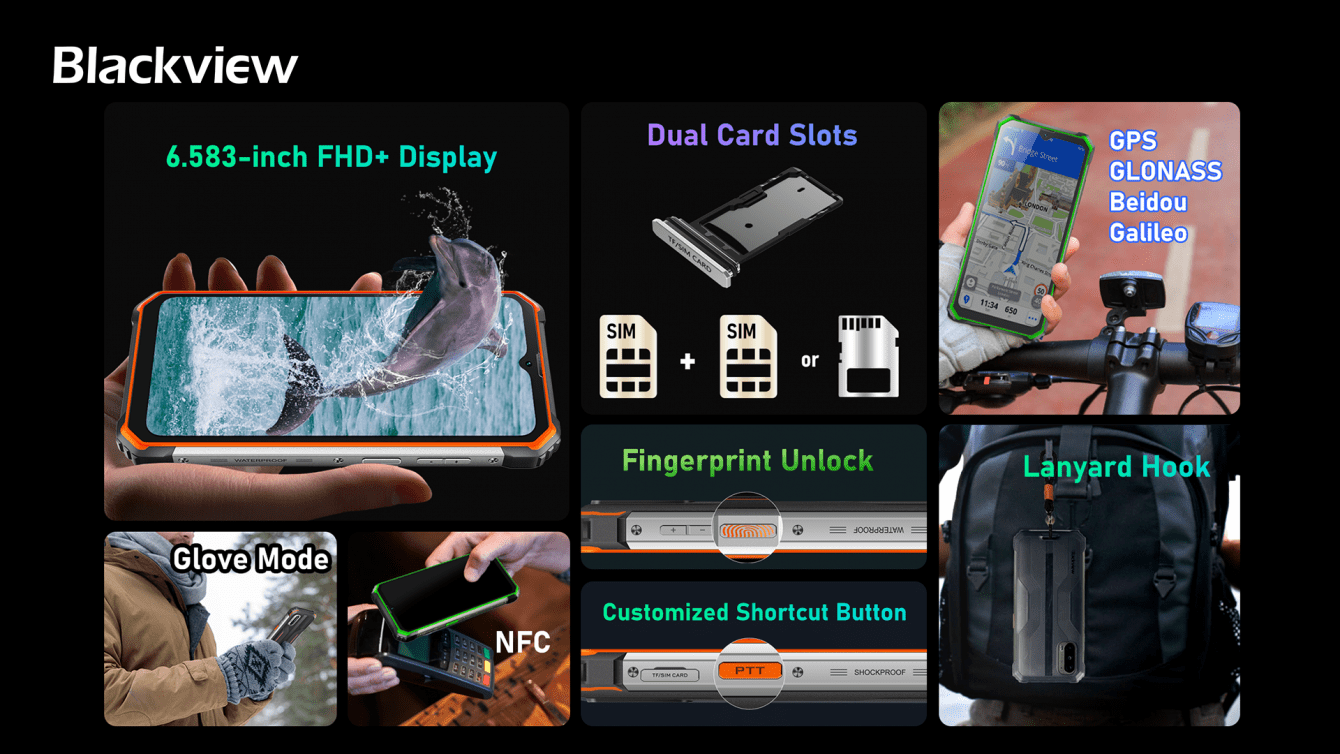 Blackview BV7100: price and availability
Although the bundle of high-level specifications and functions raises the bar of performance of rugged phones, Blackview BV7100 has a very affordable price. The Blackview BV7100 will have its world premiere on AliExpress on the occasion of the Blackview Super Brand Day from 14 to 15 September for just $ 179.99 (from $ 299.99). That's it from the mobile devices section, keep following us!