In this review we are going to examine Cannon Brawl in its port on the Nintendo Switch. How did the title behave in our hands?
For those of you who don't know it, the title came to life in the now distant September 2014 in its PC version. Subsequently, in August 2016, it also landed on PlayStation 4 and Xbox One and, finally, many years later, tomorrow it will also land on the Nintendo home console tomorrow. So let's start this one review and find out how he behaved Cannon Brawl on our Switch.
A tactical airship
The title is one strategic in 2D in which you will find yourself piloting an airship. Thanks to this vehicle you can build your kingdom. In fact it will be possible purchase structures to be placed within your borders. Yes ok, said that it all seems somewhat arcane, but it is simpler than it seems. Let's rewind the tape a bit and make it clearer. In the game you will face 1 vs 1 battles, in which you have to destroy the opponent's fortress.
To do this, of course, you will need both offensive structures to attack the enemy, but also defensive structures to protect yourself from the opponent's offensive. You can easily buy them at your castle and then position them strategically on the map. However, the placement area will be limited. The latter will in fact be represented by a small circle around your structures. It will be possible to expand it not only with the buildings you are going to build, but also with gods aerostatic balloons that will provide you with depth and height should you need it.
Said so obviously it seems that you can build anywhere, yet it is not so. In fact, if your opponent has already built his own structure, taking possession of that area, you will not be able to proceed in your turn. Furthermore not even the "common areas" can be used for building. Grabbing the most space on the map so it might be a wise move, but it won't always be a winner.
Lots of buildings and multiple airships – Cannon Brawl Review for Switch
Grabbing a large area won't be the only important thing. If you don't build defensive, offensive and productive structures, having a large area will be useless. In the game I am countless buildings and airships available unlockable as you progress through the story. In addition, there will also be others that can only be unlocked by purchasing them with XP points. Earning the latter will not be difficult. In fact, there are various missions that will guarantee you a considerable amount of XP points. Let's go now step by step and discover the various buildings and airships.
Buildings of all kinds – Canno Brawl Review for Switch
In the game there are 18 buildings, each with particular characteristics to be exploited in combination with the various airships. These are in turn divided into three categories: offensive, defensive and productive. It's hard to say which are the most important, but an important role is certainly played by production buildings, such as mines. Thanks to the latter, in fact, we will be able to produce an enormous amount of money that can then be spent to build or upgrade other buildings.
Thanks to this vastness of buildings each player can select the strategy that best suits his style of play. In fact, at the beginning of the game we will find ourselves faced with a very important choice regarding the "deck" we are going to use. In fact, during the battle we will only be able to use 5 of the buildings present in the title. This is certainly one of the main points of the game that will then affect the course of the fight.
Airships for all tastes – Cannon Brawl Review for Switch
However, the choice will not only be based on buildings. Before the fight, and even before selecting our "deck", we will have to select the pilot that best suits our attack tactic. Each pilot is represented in combat by a very specific airship e possesses important skills, such as healing buildings or a shield that will deflect all attacks. In total there will be 10 pilots available in the game. Half will be unlocked during the campaign, while the rest, just like the buildings, will be unlockable through purchase with XP points.
Knowing how to adapt your tactics according to the selected pilot and the combat map will surely be the keystone that will allow you to survive the clashes and finish them in a short time. However, while there is such an important choice to make early in the game, the difficulty will allow you to play quietly without thinking too much about an attack tactic very precise. This of course is only valid for the campaign in its standard mode.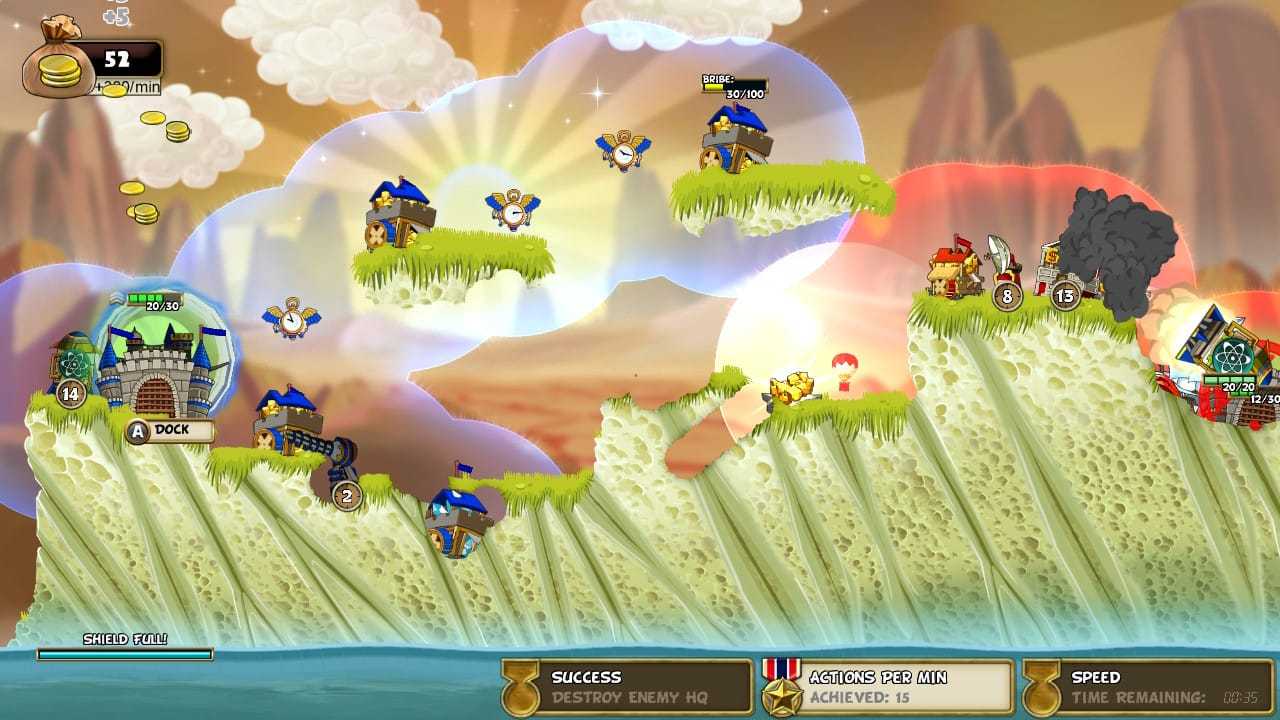 A non-strategic strategic one? – Cannon Brawl Review for Switch
Such a question arises spontaneously after the previous sentence. obviously the game is suitable for all ages having a PEGI 7 classification. So do not expect who knows what difficulty during the fight, or at least not in the stages of the first campaign. Passing all the levels will certainly not be a feat. Different speech instead must be done if you want to get three stars in all levels. In this case, in fact, the choice of buildings and the pilot will greatly affect the completion of the assignments.
There are also others in the campaign map bonus levels which will guarantee you a important influx of XP points to be spent later in the store. These levels however will not be like the usual battles, but they will be real puzzles that will force you, at least some, to squeeze your brains out in order to complete them. In some you will have to withstand hordes of enemy attacks, while in others you will have to destroy the castle with a maximum of one or two hits. In short, not really a walk from this point of view.
We can therefore say that the game presents a good deal of difficulty when viewed from some points of view, forcing us to find the best attack tactic to be able to complete it 100%. If, on the other hand, you want a more peaceful experience then don't be afraid to find yourself in a game that you will never be able to complete.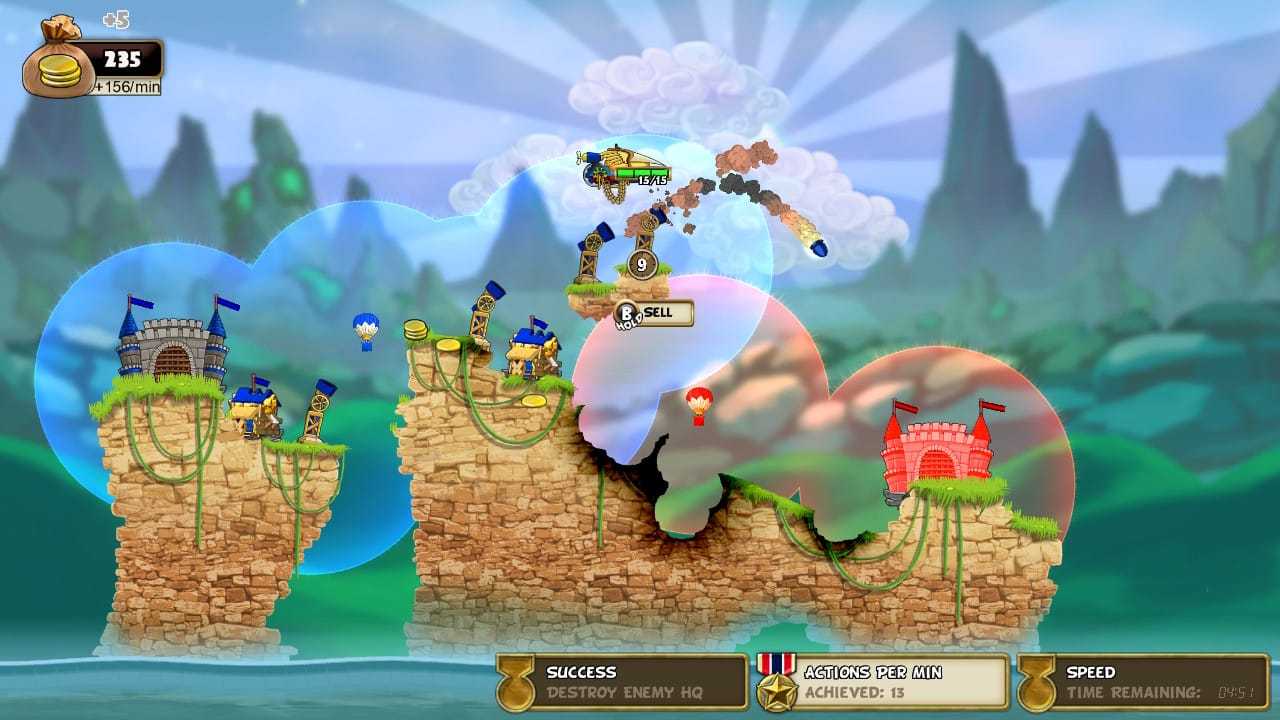 A simple but efficient technical sector – Cannon Brawl Review for Switch
From a technical point of view, the game enjoys what was the original technical sector, without too many changes due to porting. The cartoon graphics are very nice and even the animations best accompany our adventure in these lands out of some fantasy book for children. Even from the audio point of view, the game seems well cared for with very well-chosen sound effects not only for fidelity, but also for the style of the title.
Command input is also good and the frame rate quite stable in any situation, both during single player and multiplayer fights. Very pleasant is the opportunity to play in company not only online, where a Nintendo Switch Online subscription is required, but also sitting comfortably on the sofa together with another person. In fact, it will be possible to play with your friend or family member simply by detaching the Joy-Con, without having to buy another pair.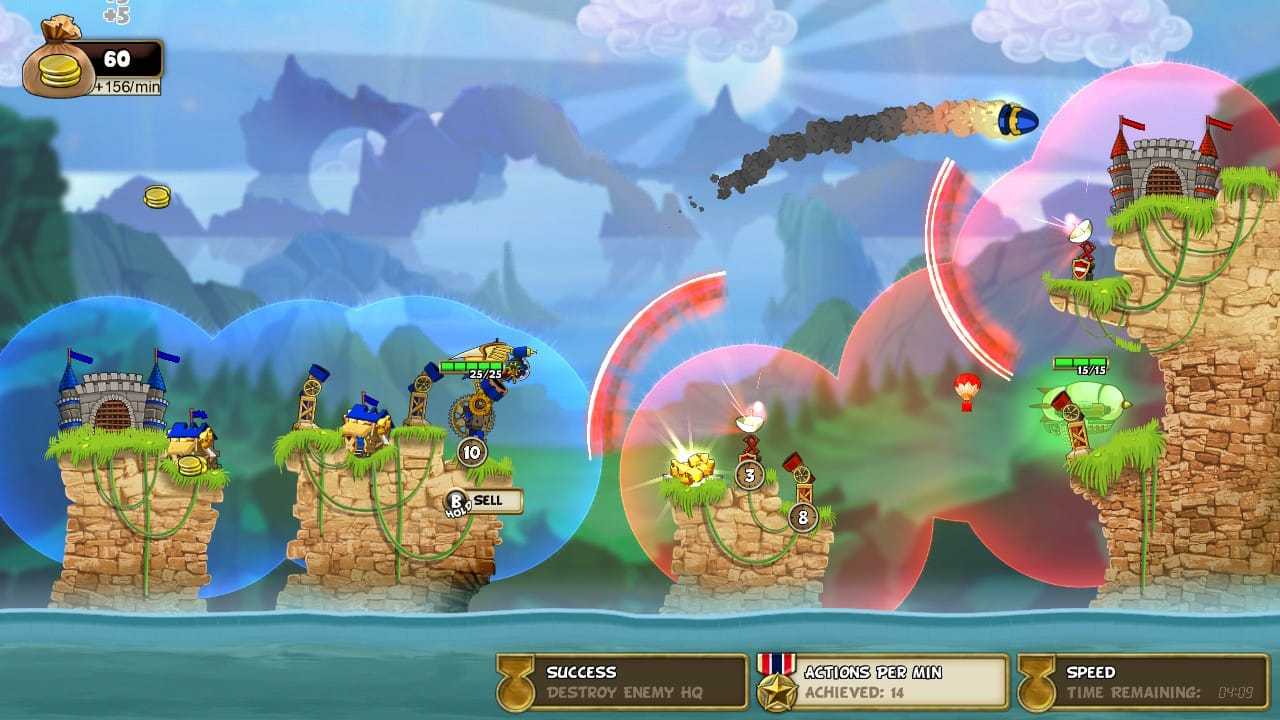 Build and destroy
We have now reached the end of this review regarding the Switch version of Cannon Brawl and it is therefore time to draw some conclusions. The title looks like a game suitable for any age and with a very low overall difficulty. Things change slightly if you want to complete every single quest and thus get the maximum score. With a little attention and a good strategy, however, you can progress easily.
I found multiplayer very enjoyable even in local which makes it become a good pastime to play in company. The fact of not being able to have all the facilities is certainly a plus, even if being able to use a few more towers to vary the tactics even during the course of the game would certainly have been a plus. With only 5 structures, one of which is dedicated to the collection of resources and the other which is a balloon, you risk seeing the game compromised before you can even start it.
The bonus challenges are also very well structured that put us in front of challenging puzzle games, although some are all too easy to solve. However, we are faced with an efficient port that maintains the structure of the game without affecting it in any way. In short, a good pastime that will surely keep you glued to the screen, but that does not point to the title of indie of the year.
That's all for this review on the Switch version of Cannon Brawl. I remind you that the title will be available from tomorrow on the Nintendo store at recommended price of € 9.99. I also remind you that on Instant Gaming you can find the Discounted Nintendo Switch Online. The latter will be useful if you want to play online multiplayer. In order not to miss future reviews concerning the videogame world, keep following the pages of techgameworld.com!
Points in favor
Multiplayer in locale
Lightweight graphics
So many buildings …
Suitable for all …
Points against
… but only 5 usable
… but with a difficulty that is sometimes too low