Canon announces EOS M50 Mark II, the successor to the award-winning mirrorless which will be available to the public from 25 March 2021
Following the growing demand for high quality photographic equipment capable of meeting the evolving needs of modern content creators, Canon announces the EOS M50 Mark II, heir to the award-winning EOS M50. The strong desire to create, share and watch content on Instagram, YouTube and Twitch shows no signs of slowing – people are spending more and more time discovering new hobbies and learning new skills. In Europe alone, between Q3 2019 and Q2 2020, TikTok usage increased by 93%, in the 16-64 age group.
The EOS M50 Mark II is a small but powerful mirrorless camera that makes the whole process from shooting to uploading content easier and easier.. This new camera is capable of 4K panoramic and vertical shooting and full HD streaming direct to YouTube, allowing content creators to take their projects to the next level. The EOS M50 Mark II has numerous ports and outputs, from 3.5mm microphone input to HDMI and USB outputs. The compact body, tiltable touchscreen and compatibility with a range of Canon lenses give users the ultimate creative freedom, whether it's capturing the perfect 'looking in camera' shot or a vlog on the go.
A versatile mirrorless aimed at web content creators
Versatility is the beating heart of this camera. Whether it's taking high-quality photos for Instagram Reels, making a vertical video to share on TikTok or live streaming on YouTube, the EOS M50 Mark II is the perfect solution. Thanks to the HDMI output, users can create professional live streams while the free EOS Webcam Utility software allows you to stream content on Twitch or make video calls with friends and family.
To meet the demand for fast content publishing, the EOS M50 Mark II boasts advanced mobile connectivity via Wi-Fi and Bluetooth. This allows you to connect from any mobile device and directly upload images and videos to social channels.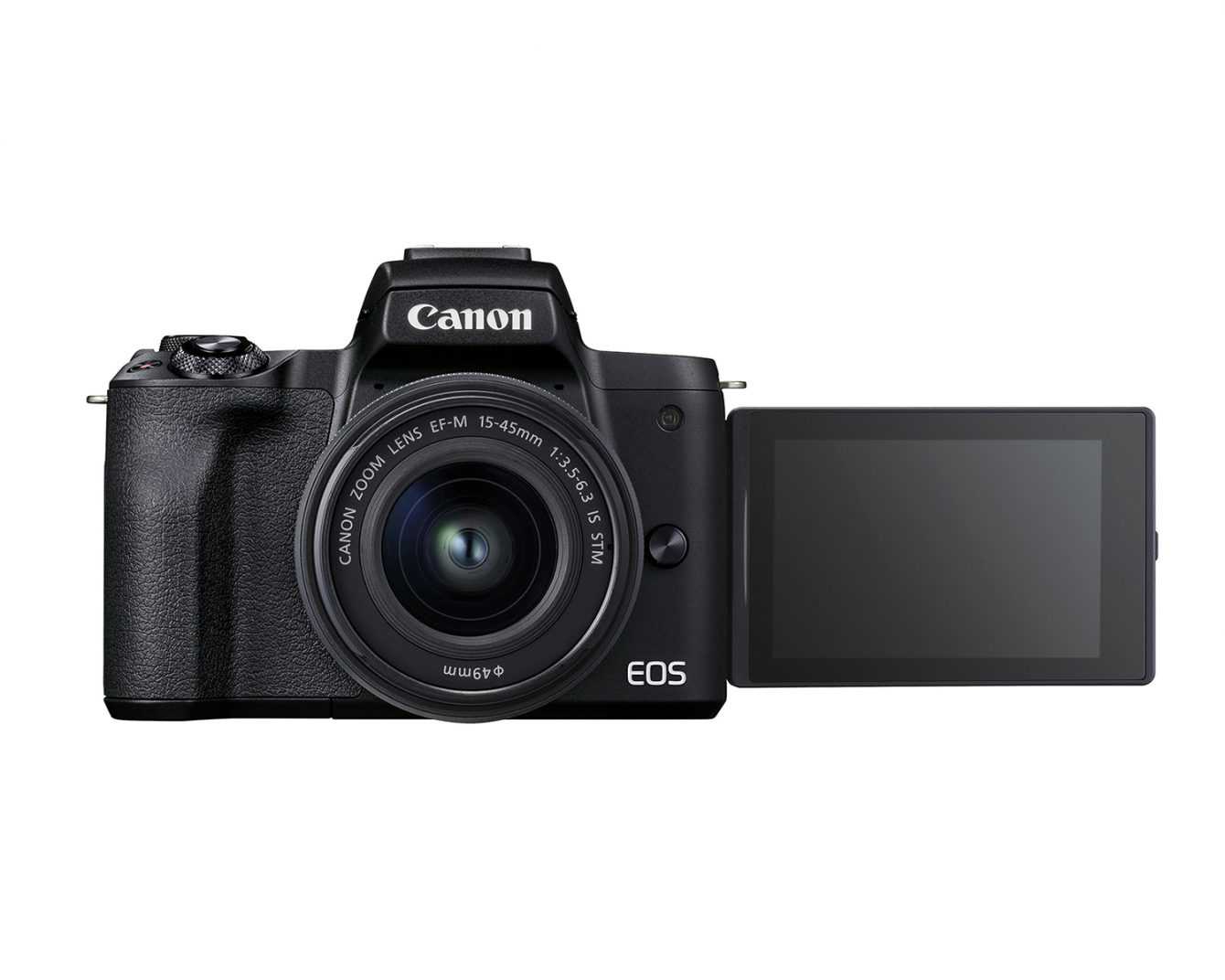 This portable camera features a built-in microphone and can be easily used either handheld or connected to a gimbal, giving users maximum flexibility, regardless of their needs or style. The tilting touchscreen and responsive electronic viewfinder (EVF) also help you get the perfect shot in any situation, in front of or behind the camera.
With over 300,000 stories posted on Instagram every minute, quality is essential to creating content that stands out. The EOS M50 Mark II allows content creators to use the EF-M and EF lens range, with a lens adapter. Compatible lenses include an ultra wide-angle zoom, ideal for vlogging, and a lens with a shallow depth of field, for perfect selfies.
The speed of the camera, the 24.1 megapixel APS-C sensor, the intelligent autofocus and eye recognition modes will provide a huge advantage in photo shooting, allowing content creators to take sharp action photos that they will grab the attention of the social media audience. But the number of views and followers does not increase only thanks to the quality of the images, the audio quality is also important. The Canon EOS M50 Mark II is equipped with a 3.5mm microphone input that allows aspiring YouTubers to create vlogs with flawless sound quality.
Perfect for vloggers, bloggers and influencers, Canon EOS M50 Mark II is the ideal choice for content creators who need exceptional image quality, intelligent features and the ability to live stream to interact with online audiences in real time.
The Canon EOS M50 Mark II will be available from 25 March 2021 at the suggested retail price including VAT of 639.99 Euro for the camera body only and 769.99 Euro with EF-M 15-45 IS STM lens.
Canon EOS M50 Mark II: main features
• Creation and sharing of content from any platform via Wi-Fi and Bluetooth connectivity
• Creation of vertical videos to be published directly on social channels
• HDMI output for live streaming on YouTube
• 24.1 megapixel APS-C sensor for exceptional Full HD images and video
• Tilting touchscreen for multiple shooting options
• 3.5mm microphone input for professional sound quality
• Lens compatibility to meet any style and perspective need