Welcome back to our weekly appointment with In the mood for East, a column entirely dedicated to oriental cinema. Today we tell you about Uncle Boonmee who remembers the past lives of Apichatpong Weerasethakul
Some works transcend their objective conception. Let's take the movies. Yes, they are products, cinematographic material, stories created thanks to the magic of editing, with the actors and all the rest. But sometimes they are so narrow in this definition. They are more, more than just films, more than an experience. They are works so rarefied, suspended, so symbolic, that they pass as light as breaths of wind. They immerse us in another reality, but without making us feel its weight. Today our appointment of In the mood for East, section dedicated to Asian cinema, will try to do justice to one of these works.
This is in fact the case of Uncle Boonmee who remembers past lives, of Apichatpong Weerasethakul. And if his name is so complicated, it is just as complicated to talk about his most famous film – as long as we can talk about famous films in such a poorly distributed filmography, at least in our country.
In 2010 he won the Palme d'Or at the Cannes Film Festival, becoming the first Thai film in history to receive the prestigious award. Critical acclaim was almost unanimous, but not everyone knows that Uncle Boonmee is part of a larger project. The film is inspired by a book from the Eighties signed by the Buddhist monk Phra Sripariyattiweti: here the man recounted his encounters with a certain Boonmee, capable of remembering his previous lives. This literary work was used by Weerasethakul to create a multimedia project called Primitive Project. Together with the feature film, there are two shorts (Phantoms of Nabua and A letter to uncle Boonmee), an installation (Primitive) and a volume containing the project documentation.
If you want to fully immerse yourself in the experience of Uncle Boonmee, you will therefore have to recover the other pieces of the puzzle as well.
Plot and trailer | Uncle Boonmee who remembers past lives
Elder Boonmee (Thanapat Saisaymar) is returning to his estate near the jungle after being hospitalized for severe kidney failure. Finding himself in the last stage of his illness, Boonmee is aware that he is close to death. On this journey, he will be assisted by his sister-in-law Jen (Jenjira Pongpas) and the young Thong (Sakda kaewbuadee) Jaai (Samud kugasang).
The days pass quietly, but one evening at dinner some spirits visit him. I'm Huay (Natthakarn aphaiwong), deceased wife, and Boonsong (Jeerasak Kulhong), the son who has been missing for years and has reappeared in the form of a large fiery-eyed monkey. Together with loved ones, Boonmee will finally be able to make her journey inside a cave / womb, where she will find a peaceful death.
A window on multiple stories | Uncle Boonmee who remembers past lives
Facing the jungle, hills and valleys, my past lives as animals and other creatures rise before me.
Uncle Boonmee is not a simple movie. Loved by critics, but accused by the public of being inaccessible, too static, slow, even boring. As expected, he did not have much luck at the box office. What is certain is that if you lean towards a more compelling and linear cinema, you are certainly in the wrong place.
Weerasethakul is known for his quite linear narrative, l'almost hermetic use of symbolism eluse of a truly peculiar surrealism. What matters is not the events. We know that Boonmee can remember his previous lives, but in reality the director does not in any way explicit where this reincarnation ends. The viewer deduces that the elder may be the buffalo, or the princess, without finding any confirmation. "Boonmee could have been a fish, a leaf, a tree, a woman or whatever else you see in the shots," these are his words.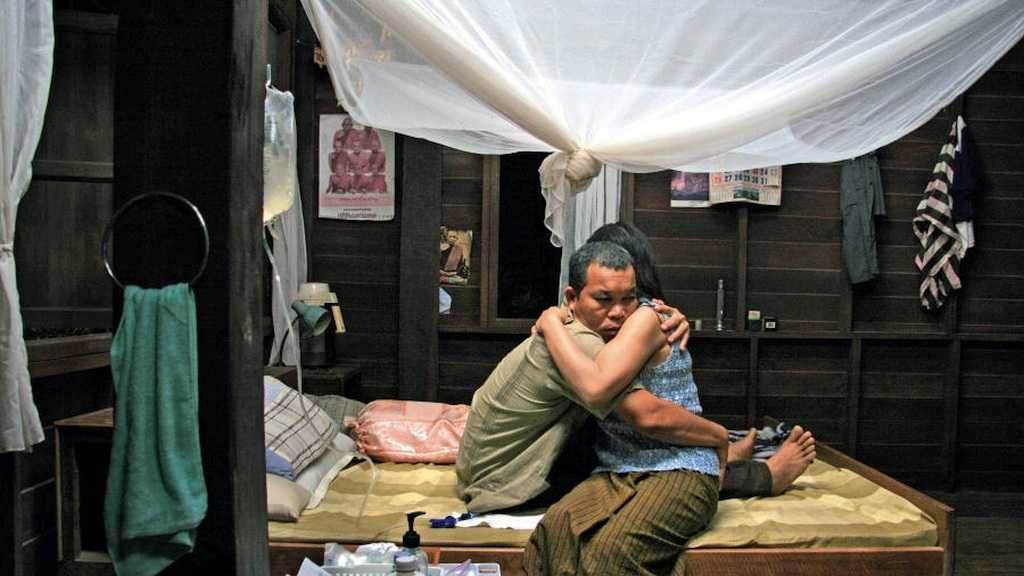 And we viewers can also try to give some labels to this Uncle Boonmee: fantastic, dramatic, surreal, and so on. The truth is that we would probably waste time trying to enclose it within such conventional cinematic canons. As the film flows incessantly, we must be willing to let ourselves be carried away with it.
In search of their ghosts | Uncle Boonmee who remembers past lives
Ghosts are not related to places. They are linked to people, they are linked to life.
The spatial location of this Uncle Boonmee is fundamental. We are located in northeastern Thailand, Isan province, Nabua village. Border territory, territory of violent armed struggles, which have profoundly marked the country. A territory described by the director himself as "a place with a violent past where memories have been repressed". Despite this, and despite the political condition is strongly inherent in the work, Uncle Boonmee is permeated with an all-encompassing serenity. Serenity towards the "ghosts", the real ones and those of our past, serenity towards death.
Through the recurring medium and long shots, almost always in a fixed camera, nature becomes a fundamental element of the work. Weerasethakul chooses 16 mm to show us nature how element of reconciliation between past, present and future, between life and death. A nature that comes back strongly also in the soundtrack: it is the jungle and its animals that act as a "musical" background to almost all of the story. And the director chooses handmade make-up and costumes that refer to the b-movies he watched as a boy, preferring a return to a primordial cinema, made of fairytale charm and spirituality.
Conclusions
Cinema understood as a combination of dream and reality finds its perfect synthesis in the world staged on the screen by Apichatpong Weerasethakul, and in particular in this Uncle Boonmee who remembers previous lives. Only the great authors are able to infuse the connotations of the dream with the crudeness of reality (death, the harsh political situation), and the Thai director is undoubtedly one of them.
A stream of consciousness between earthly life and the other life, imbued with an absolute animism, to be "looked at" with all the senses.
Keep following ours specials dedicated to cinema and TV series on this page, where you will find new appointments every week!