Corsair introduces new Corsair One a200 all-in-one gaming PCs with AMD Ryzen 5000 CPU and Corsair One i200 with 11th gen Intel Core CPU
Corsair aims high with its new ones Desktop All-In-One, solutions designed to offer the best to professionals, they call themselves Corsair One, and come with different configurations to satisfy every need. The new solutions integrate the graphics card NVIDIA GeFORCE RTX 3080 for an uncompromising gaming experience and professional streaming performance.
They come with both AMD and Intel solutions, providing CPU configurations such as Intel Core i9-11900K, o AMD Ryzen 9 5900 X. Gamers and content creators can opt for either the Corsair model One a200, or for his brother Corsair One i200. Here are all the details.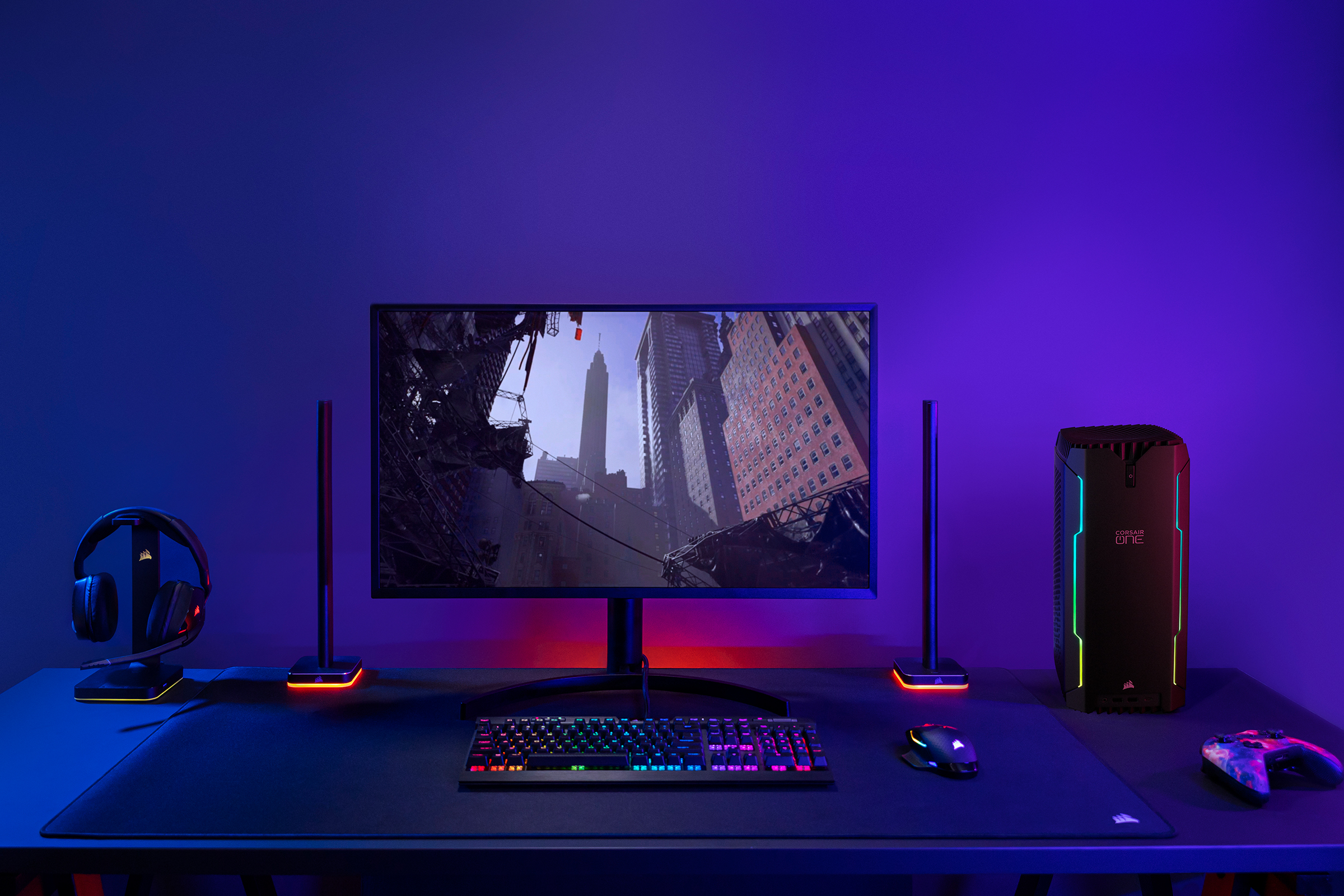 Corsair One: here are the new and powerful All-In-One Desktop PCs
Corsair today unveiled updated configurations of CORSAIR ONE a200 e CORSAIR ONE i200, flagship of its line of compact gaming PCs.
Both products guarantee exceptional performance by taking advantage of some of the newer CPU models, namely an AMD Ryzen 9 5900 X and an Intel Core i9-11900K, and the incredible power and speed of the NVIDIA GeFORCE RTX 3080 graphics card. Corsair specifies that each Corsair One computer has been assembled using the full range of Corsair's award-winning components, enhancing the unique and incredibly compact form factor.
Let's start with the first one, Il CORSAIR ONE a200, equipped with a Ryzen 9 5900X CPU a 12 core e 24 thread, the second, named CORSAIR ONE i200, is based on the new CPU Intel Core i9-11900K 11th generation.
Any One model is capable of processing complex requests, sustaining intense gaming sessions and heavy applications with ease. The incredible experience of 3D game and the content creation activities they are managed by the NVIDIA GeForce RTX 3080 GPU with Ampere architecture and technology NVIDIA DLSS 2.0 AI, which guarantees incredibly realistic graphics and an extremely fluid frame rate even when you play at maximum resolution, i.e. in 4K.
Specifically, Sia CORSAIR ONE a200 and the CORSAIR ONE i200 model highlight the unmistakable compact form factor characteristic of the CORSAIR ONE family, which is still able to guarantee all the power of traditional desktop computers thanks to the patented liquid cooling with assisted convection. In addition to integrating a door USB Type-C The latest generation front panel I / O, CORSAIR ONE a200 and CORSAIR ONE i200 are built with the full range of CORSAIR top-of-the-line components, such as memory DDR4 VENGEANCE LPX da 32 GB, the power supply SFX SF750 80 PLUS Platinum, l'SSD NVMe M.2 PCIe 4.0 1TB and 2TB HDD.
Corsair's goal, that of aim at a professional sector in search of the most up-to-date configurations, With the latest AMD and Intel hardware components, the new CORSAIR ONE a200 and CORSAIR ONE i200 once again raise the bar for compact gaming and streaming PCs.
Corsair let us know that CORSAIR ONE a200 and CORSAIR ONE i200 can now be purchased immediately on the CORSAIR online store in North America, the UK and Europe. At the moment we know the price exclusively of the model equipped with AMD processors, which stands at 4.039,90 Euro. If you want to continue to know the latest news from the hardware world, keep following us. Greetings from TechGameWorld.com.