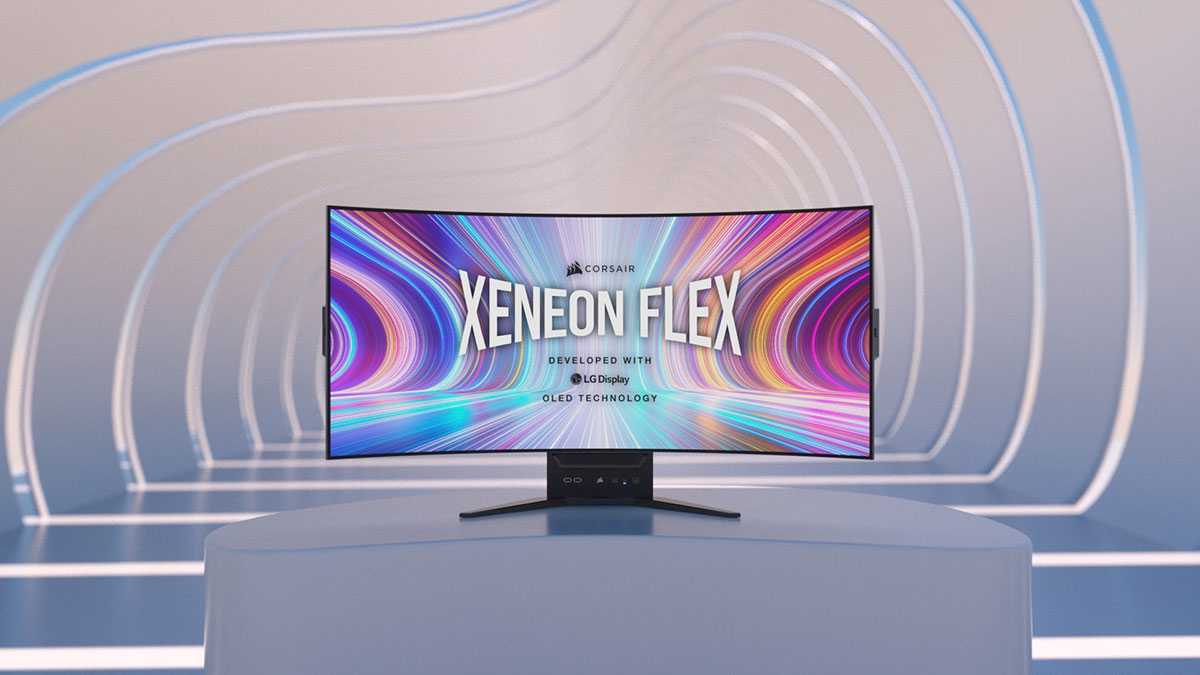 Follow your inclination and change the cards on the table! CORSAIR unveils the revolutionary 45 ″ flexible OLED gaming monitor, let's find out together in this article
CORSAIRa leader in the industry of the most advanced components for gamers, content creators and PC builders, today unveiled the new XENEON FLEX 45WQHD240 OLEDand monitor gaming flessibile high-end, designed in close cooperation with LG Display.
Equipped with the most modern technology W-OLEDthe XENEON FLEX OLED monitor offers stunning image quality, exceptional black levels and responsiveness, as well as the ability for users to manually adjust the curvature of the panel. 45″ with an aspect ratio of 21:9.
It can be used as a flat screen for productive or strategic applications, or it can be tilted to a curvature of 800R, for an immersive experience of simulations and shooter, adapting in an instant to any need and content. Thanks to the cutting-edge performance of the gaming panel, the XENEON FLEX OLED monitor represents a real revolution for the gaming monitor industry.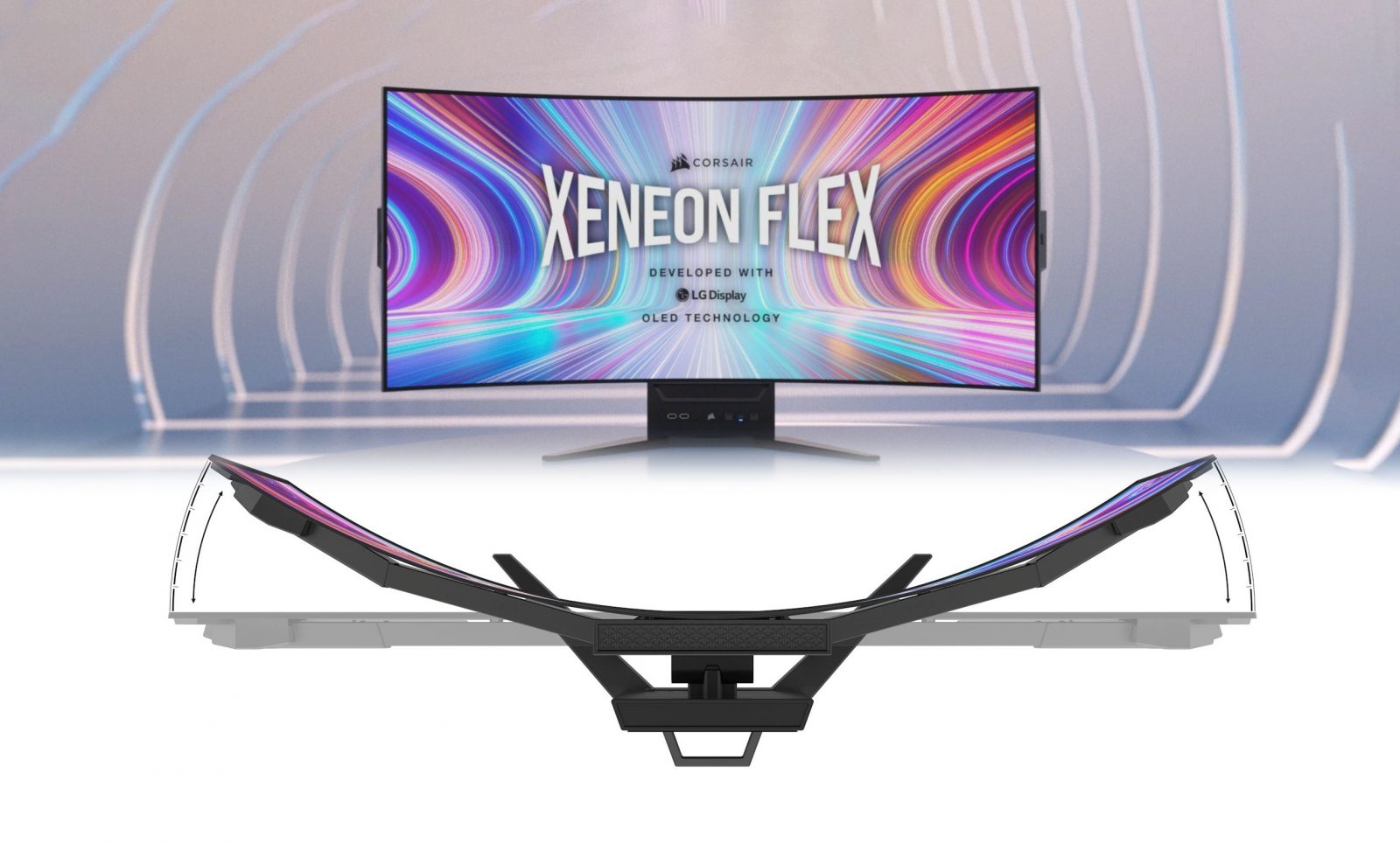 Amazing and cinematic visual experience
Thanks to the screen from 45″ and the termination of 3440×1440 (aspect ratio of 21: 9), XENEON FLEX OLED, ensures a visual experience extraordinary and cinematicideal for play, work or watch movies. The size and aspect ratio allow you to leverage beyond the 20% more screen area than a monitor ultrawide and 49″ 32:9, and beyond81% more than a screen ultrawide and 34″ 21:9.
Thanks to the special coating anti-glare of the display that limits glare and reflections, XENEON FLEX OLED has been specially designed to be an immersive gaming monitor, equipped with the Low Blue Light protective of LG Display which reduces eye strain even during long TV marathons.
Thanks to the latest technology LG W-OLEDXENEON FLEX's self-illuminating OLED pixels offer a peak brightness of 1000nit, with a contrast ratio of 1.350.000:1and images that are as realistic and accurate as possible.
Response times GtG di 0,03 mspixel activation / deactivation times of 0,01 ms and a refresh rate of up to 240Hz allow you to almost completely eliminate image blur, ensuring an uncompromising gaming experience, fully compatible with adaptive synchronization standards NVIDIA G-SYNC e AMD FreeSync Premium.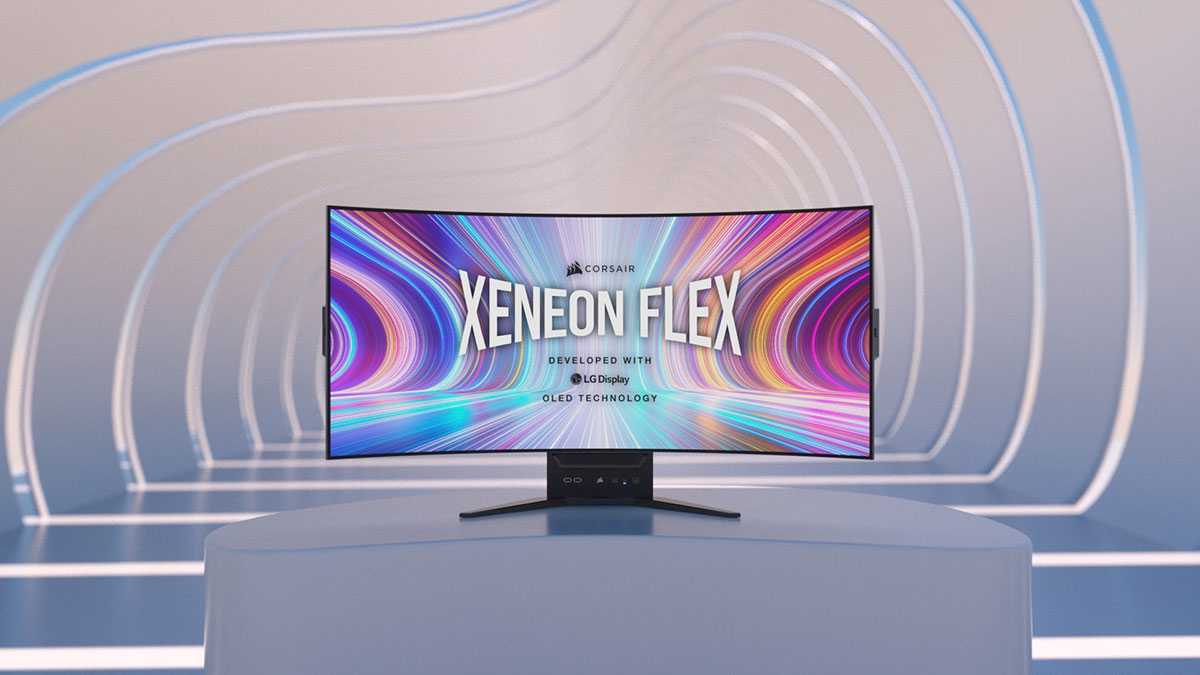 The statements of Dennis Jackson and Mina Lee
For display protection, XENEON FLEX OLED boasts a sophisticated prevention system burn-in, performed both when the monitor is switched on and off, in order to offer perfect images even after prolonged use of the interface or the operating system, all covered by a three-year warranty Zero Burn in e Zero Dead Pixel.
Dennis JacksonSenior Director Systems Product Management & Marketing and CORSAIR, said:
We have focused all our efforts on creating an innovative display that can offer an exceptional and personalized experience. I believe that the goal has been achieved, if not exceeded. Thanks to the collaboration with LG Display, XENEON OLED FLEX represents the beginning of a new era of gaming monitors, with real performance and flexibility, which allow to exceed the expectations of even the most astute gamers.
Mina LeeTeam Leader per Gaming Strategy & Marketing di LG Display, afferma;
CORSAIR has been an amazing collaboration to bring flexible W-OLED displays to gamers. We can't wait to bring this new generation of gaming monitors to PC enthusiasts.

Availability
This week, the gaming monitor XENEON FLEX 45WQHD240 OLED, will be presented during the Gamescom 2022. Further launch details, availability and final specifications will be provided during the course of the 2022. For more information, visit the dedicated internet page.
What do you think of CORSAIR's revolutionary new 45 ″ flexible OLED monitor? Let us know below in the comments. Don't forget to follow us on our Instagram page, on all our other social networks and to stay connected on TechGameWorld.com.
L'CORSAIR article: unveils the revolutionary 45 ″ flexible monitor comes from TechGameWorld.com.