Creative has recently launched a new soundbar on the market. In this review we will discover together the merits, and any defects, of Creative Stage V2, an all in one solution created to enjoy video games, movies, music and much more.
Creative, with Stage V2, has decided to introduce on the market an audio device that truly adapts to all the requests of an often attentive and pretentious public. The thing that amazed us most is to see a truly complete and versatile product offered at a truly affordable price for everyone. On paper we have available a soundbar with attached subwoofer suitable to keep you company while using your PC, playing with a console, watching a movie or wanting to listen to something from your smartphone, all without one thing excluding the other.
In a nutshell, the strength of this soundbar is precisely that it can be connected to any device that transmits an audio signal and enjoy excellent sound in all cases. But will it really be like this? Let's find out together in this one review of the brand new Creative Stage V2.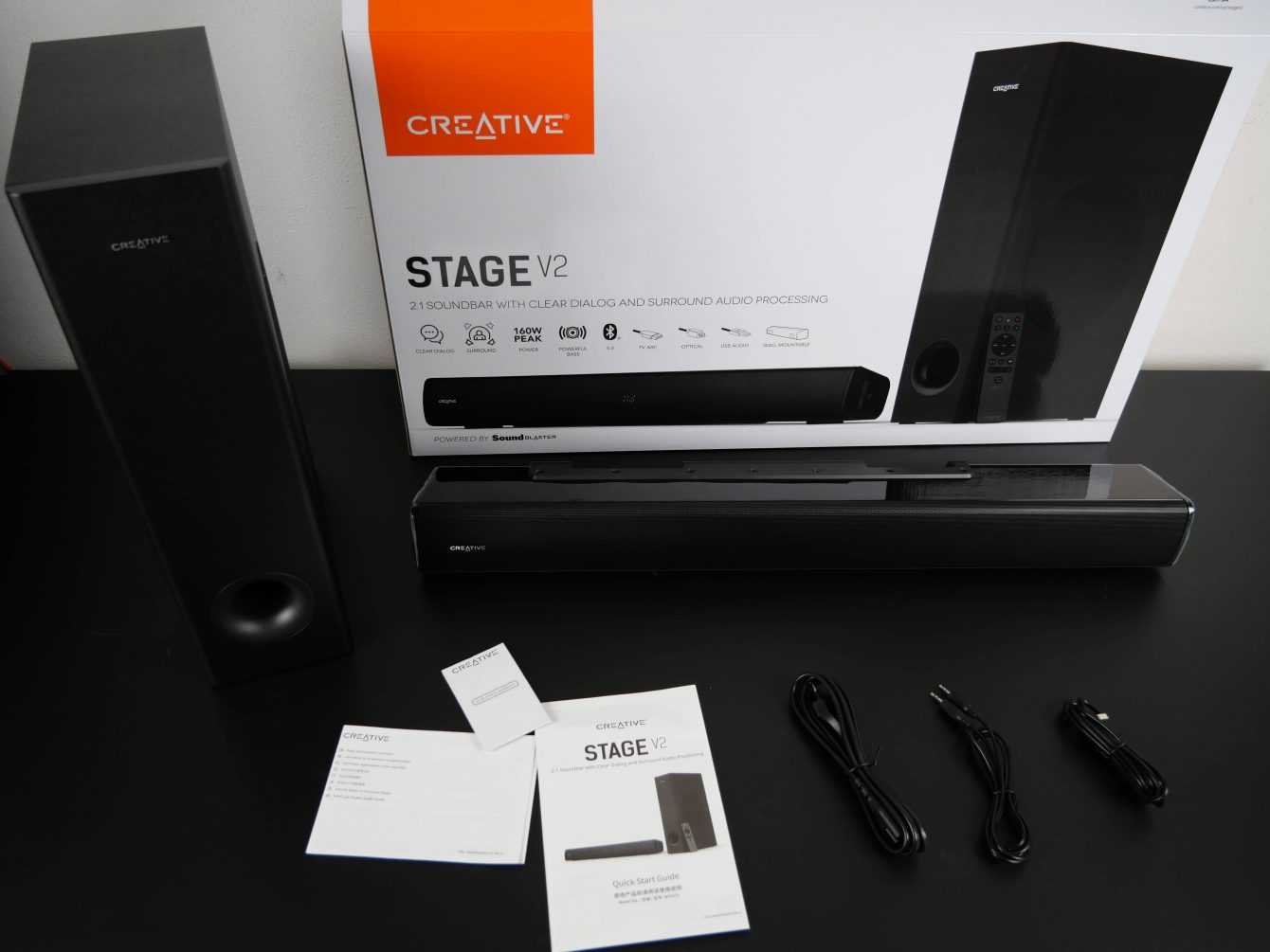 Package Contents and Design | Creative Stage V2 Review
Inside the package we can obviously find our Creative Stage V2 with attached subwoofer, a remote control, an aux cable, the various cables for power and connection and finally an HDMI cable for connection to the TV. The TV link feature takes advantage of the ARC system, but we'll talk about that later.
The materials chosen for the construction of this soundbar are really of excellent quality. We find solid plastics for the rear and sides and a metal grille for the front. On the right side of the speaker there are four buttons dedicated to volume up and down, switching on and off and the Bluetooth connection. Instead of the button dedicated to the Bluetooth connection only we would have liked to see a function key able to switch us between the options connection, a feature unfortunately present only on the remote control.
The glossy plastics that cover the three visible sides are elegant and not tacky also because the "broken" glossy from the front puts everything in order. The grid in its central part shows the connection information with the classic abbreviations AV, HD, Ub etc. etc. In addition, the Creative logo at the bottom left gives an elegant touch to the whole.
To conclude, great job also done with the non-slip and scratch-resistant rubber pads on the part where the soundbar rests on the surface. Alternatively, Stage V2 gives you the possibility of being hung on the wall using two convenient supports.
Speaking of the subwoofer, the choice of materials boasts the same quality. In fact we find a mixture of wood and plastic. A choice not to be underestimated. More than once we have found ourselves in front of loudspeakers built entirely of plastic. Finding wood as a choice (even if only partial) makes us understand that we have chosen to aim for an excellent general quality. In the front we find the classic outlet for the audio, in the right side wall instead the speaker is covered by a thin layer of fabric as concerns these types of speakers.
At the reckoning, we can only promote the design and materials chosen by Creative for its Stage V2 with flying colors.
Technical specifications | Creative Stage V2 Review
Soundbar dimensions: 78 x 680 x 100 mm
Subwoofer Dimensions: 423 x 116 x 250 mm
Power output: Total system power: up to 80W RMS, 160W peak power, Main unit: 2 x 20W, Subwoofer: 1 x 40W
Driver Soundbar: two 2.25 ″ drivers
Driver Subwoofer: driver da 5.25 ″
Frequency response: 55–20,000 Hz
Signal to Noise Ratio (SNR): ≥ 75 dB
Bluetooth: Bluetooth 5.0, up to 10 meters, frequency 2 402 – 2 480 MHz
Audio quality and connections | Creative Stage V2 Review
We obviously tested Creative's sounbdar in every aspect and we must tell you that it has pleasantly impressed us in almost all usage scenarios.
Obviously wanting to be competitive is not at all easy, especially if you decide to do it in such different areas. If you range from cinema, video games and music with different frequencies, different management systems and different environments, it is not always possible to find the right compromise. But in this case we must once again congratulate Creative for having achieved a really good result on many points.
In watching movies and TV series we really have nothing to complain about. You can enjoy clean and emphasized sounds at the right point. The sound of the rain, a sheet on the roof of a hut pushed by the wind, the dialogues full of charisma, with a soundtrack full of deep bass, (yes I'm describing the trailer of the first season of Stranger Things) put the whole sector to the test audio of this soundbar leaving very few smudges bare.
In listening to music in general we can confirm what was said previously. Obviously the music is intrinsic of many, almost infinite, facets and expecting great audio in every single song is pure utopia but overall we were satisfied.
Ultimately, excellent bass management. During explosions, shootings and big battles, the bass left to the compact but powerful subwoofer is deep and well audible. The management of mid and high tones is also appreciable.
When it comes to gaming, it all depends on what you are looking for. Obviously in single player titles everything works perfectly, excellent audio and discrete surround emulation. However, if you play competitive titles where perceiving the footsteps of the enemies is an obligatory prerogative, there is a lack of pure directional audio. Obviously it is always recommended to opt for a good surround system at least 5.1 or better still for a good pair of headphones in this area and it is certainly not the fault of the device, but it seemed only right to open a small parenthesis.
I also remember that this soundbar has two very important arrows in its bow which are an excellent system for managing multichannel audio named Surround and the Clear Dialog function.
Surround, as anticipated, identifies and improves the spatial information of the incoming audio through the Sound Blaster audio filters, optimizing the listening experience and giving you the extended audio of a soundproofed room from all audio sources.
Clear Dialog it extracts vowel sounds and spoken dialogues through an algorithm to improve and amplify them, and thus allow you to perceive them clearly, without compromising the other ambient effects.
Now let's talk about connections
Moving on to the connections we really have a lot of choices available. As mentioned this soundbar has been designed to be connected to any audio device.
We can connect it to the TV thanks to the ARC system. In very crisp words, if you want to have audio transmitted from a multimedia device without the ARC system you will need to use at least two cables (one HDMI and one with optical or AUX output). On the contrary, with this system, you only need one HDMI cable to do everything. This way you can make the most of all the sonic potential without having to add more cables. Obviously the whole thing will have to be connected to a system that has this option, like one TV Panasonic GZ1500 of which you can read ours review.
You can also choose to connect your devices using the system Bluetooth 5.0by simply connecting them with an AUX cable or by choosing to use an optical output cable. Thanks to the multiple audio inputs available, you can connect multiple devices simultaneously and choose the one you want to use if necessary.
An example could be to take advantage of the ARC system for the TV, the optical output for your PlayStation 5, the AUX cable for your Nintendo Switch and the wireless connection for your smartphone. All at your fingertips via the convenient remote control.
In our station we decided to connect a PC and a console to Stage V2, in addition to our smartphone, and we were really excited about the audio quality in a small room. Less well connecting the system to our TV, the much wider room and the greater distance from the device, did not allow us to enjoy the whole sound sector in the management of surround channels.
As mentioned, we connected the system to our PC and we were really happy to test how the sound is even more well processed and reproduced thanks to the sound card we have supplied, that is a Sound BlasterX AE-7 of which you can read our review. Thanks to the management system Sound Blaster Command everything takes a more complete form. Obviously it is not necessary to have this configuration to enjoy the excellent sound reproduced, but it is still a very welcome plus on PC.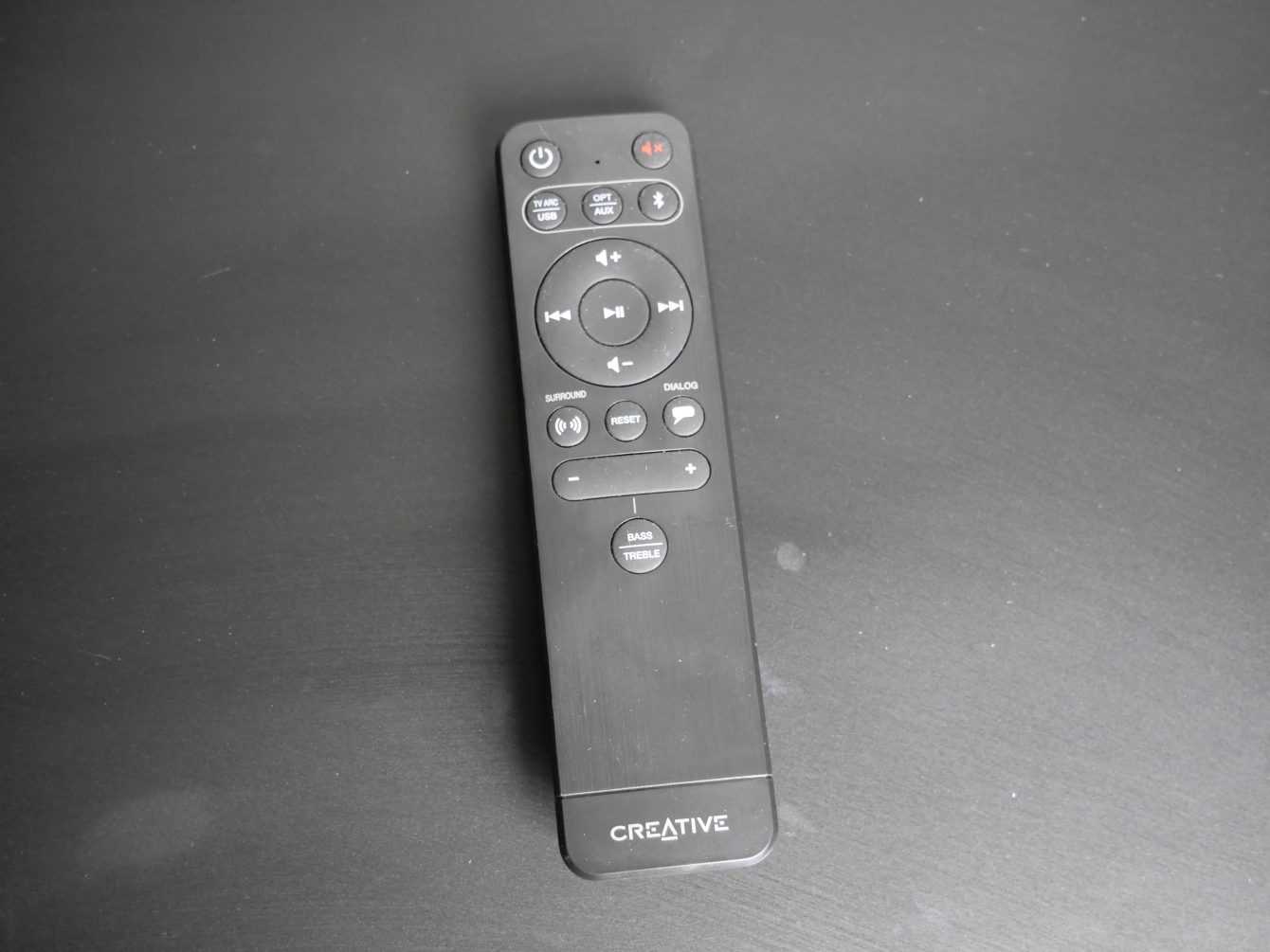 Who should buy this 2.1 system soundbar?
In general, we would like to recommend it a little to all people who need to connect several systems under a single system. Gamers who do not want to give up space and design but not even a good sound system. If positioned at the right distance in the office or in the room used for video games it becomes absolutely a best buy. With just over a hundred euros you will be given the opportunity to exploit all the audio power of your devices in a single solution, without ever giving up elegance and space.
We would have liked to have seen a "multifunction" button instead of the one dedicated only to Bluetooth on the soundbar but, apart from that, the Creative Stage V2 is almost without defects. Beautiful, functional and designed for the most demanding gamers, all at a very low price when compared to the actual value you have.
The only problem will be to convince yourself that you don't want one too, as soon as it becomes available on the market.
A best buy for gamers
Points in favor
Excellent materials
A powerful and clean sound
One solution for all devices
A price that makes it a best buy
Points against
Lack of a multifunction button (present only on the remote control)
Remote control without batteries included