We tried Epic Chef, the new adventure game peppered with elements of life-sim e crafting by Team17 and we are ready to tell you what we think with this one review. Will he have won three Michelin stars or should he throw the title in the bin? Let's find out together.
Epic Chef's review – delicious but spicy battles
Today Team17 released Epic Chef, an interesting one adventure game characterized by elements of life-sim farming e crafting. In short, in this game we find several ingredients. Our adventure begins on a ship that arrives in the thriving town of Ambrosia.
We take on the role of Zest, a nice little blond-haired man who has inherited a gigantic villa located in the outermost part of the city. Having superfluously explored the city, it's time to go to our new home.
It will be a short time before our Zest understands what he wants from life: to become one chef more important and hot than all Ambrosia. You see, Ambrosia is a dream place for budding chefs like Zest who want to open a restaurant. Creating delicious dishes with exquisite ingredients, toppings and spices, it is up to Zest beat the competition and impress the inhabitants of this thriving city.
Will we make it or will we end up like boiled fish?
Half a pound of humor and a kg of colors
Very well, dear readers, let's start with the simplest ingredients: humor. One of the main aspects of the title is, without a shadow of a doubt, a sense of humor that characterizes and unites every single character we meet in Ambrosia. We will find ourselves talking to many characters: some will help us to carry out missions, others will explain to us what happens in the city, what are its secrets and mysteries.
Either way, you will never miss that joke which will make our meeting more or less pleasant: in short, it depends on tastes. We had a lot of fun, in particular because some jokes didn't even make our Zest laugh, who offered his interlocutor a really funny face.
the facial expressions of the characters, especially Zest, are a breath of fresh air. I am funny e genuine, they make us laugh out loud at all times. Despite being an animated character, Zest turns out to be tremendously realistic.
It will be the jokes, the thoughts he makes or his simple expressions. However, it is very easy feel close to this character. We loved it from the very first seconds of the game.
From a graphic point of view, however, Epic Chef is one vera e own eye candy. The whole city was built in the smallest details, it is characterized by vibrant and bright colors. The characters, on the other hand, as we said earlier, are surprisingly realistic. We are not referring to elaborate creation techniques and research.
Team17, however, wanted to focus on simplicity, creating simple, cute and funny but really realistic characters: not only for facial expressions but also for the way they react to certain situations.
Even the sound sector it was to our liking. For the duration of the game, one nice e pressing melody accompanies us as we explore Ambrosia, as we gather ingredients or cook new delicacies. It's simple but effective: the perfect recipe.
Everything can be an ingredient: let your imagination run wild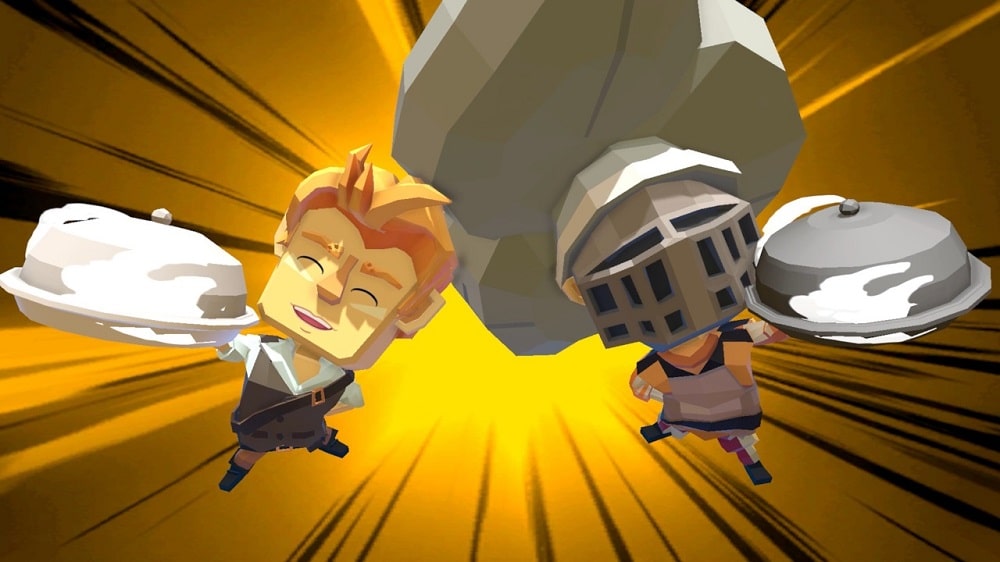 As a title characterized by crafting and life-sim elements, in addition to having to cook sensational dishes to win the title of best chef in Ambrosia, we will also have to grow plants, build objects and live our days to the fullest. But remember to go to bed around nine in the evening: la country life, combined with that in the city, can be really tiring.
But maybe it's time to talk about the special dish: the kitchen.
Let's start by saying that one of the most interesting elements of Epic Chef, able to make our experience even more immersive and of quality, is the possibility of being able to explore every corner of Ambrosia. Exploring the city, talking to its inhabitants, we can find numerous objects or ingredients for use in the kitchen.
Yes friends, because here in Ambrosia any object can be an ingredient – as long as you cook it with love and passion. During our first challenge, for example, we were completely short of edible ingredients but we managed to win thanks to a special ingredient: a trunk!
The Infinigon team, who collaborated with Team17 from a culinary point of view, said the title features over 100,000 combinations of dishes, with 27,000 having unique images. Every item that appears in your inventory, can be used to accomplish one of these amazing dishes – well, it depends on your taste but you get it.
But keep in mind that when create e served a dish, the success you will have in Ambrosia, both during a battle between chefs and in the daily management of your restaurant, it is based on experimentation. To win it is necessary create sauces, use the most extravagant ingredients e overcome truly competition by creating your own recipe. Don't forget the taste, that must always be at maximum.
Don't worry though because Epic Chef provides us with all the necessary instructions so that Zest can become the best chef in the neighborhood. Our advice is therefore to don't skip dialogues, particularly when the game is explaining to us how to cook O create certain dishes.
Often the dialogues can turn out quite long, we are aware of this, but remember it is for your own good – and that of your restaurant.
In the most remote corners of Ambrosia you can also find special ingredients come dragon eggs O stingray fins. Keep your eyes peeled and look for the strangest ingredients to create unique dishes that will make you known throughout the city.
The gameplay, on the other hand, is very simple but fun: we have to grow plants, look for objects, cut wood, cook and explore the city. Nothing too complicated but Ambrosia is quite large, there are many inhabitants and each day will be different from the previous one. You never get bored with Zest and this is one of the strengths of the title.
Epic Chef's review: in conclusion
To stay on the culinary theme, Epic Chef is delicious. a simple title, which points to the fun and toexploration, characterized by extravagant recipes and out of the ordinary characters. With his simplicity, he managed to win us over in a few minutes and at every game, we had fun like children.
It is a capable title of conquer anyone, especially lovers of crafting and life-sim farming style video games. Taking care of your garden and tidying up your home every day, and then preparing delicious dishes, gives us a pleasant sense of peace and tranquility.
Don't worry though, because the culinary battles will be compelling and full of adrenalin. Just remember to always have some item or ingredient in your inventory because challenges are around the corner.
To conclude, we remind you that the title is available starting today on PC via Steam, Xbox One, PlayStation 4 and Nintendo Switch.