Epson SureColor SC-F501: the future here and now. A sublimation printing solution that thanks to fluo inks offers the opportunity to open up to new markets and applications by offering a new dimension for cover-style objects for smartphones, mugs, mousepads, t-shirts or cushions.
Epson SureColor SC-F501: product features
The printer is specially designed to offer extreme application flexibility, productivity, efficiency and ease of use for printing on a wide range of gadgets and promotional items. This sublimation machine ensures reliability and low running costs for small businesses, ensuring fast delivery times, and does not require specific skills for installation, use or maintenance.
Thanks to the refillable tanks using special 140ml bottles, refilling is very simple and can also be performed during printing, thus reducing the plastic used, waste and, last but not least, downtime.
Tecnologia heat-free with permanent print head and reduced energy consumption
Cheapand rechargeable even when printing with practical 140ml bottles
Using water based inks compliant with safety and environmental regulations, including OEKO-TEX standards
Anti-dust design which avoids printing errors due to clogged nozzles or long cleaning cycles
Automatic switching from one support to another (from roll to single sheet and vice versa)
Touch-screen da 4,3″
Wi-Fi connectivity
Intuitive software for precise calculation of printing costs
"Thanks to fluorescent inks, printers can imagine new application areas to better meet the demands of their customers, going beyond those segments for which fluorescent effects are already widely appreciated, such as swimwear, sportswear or clothing", comments Renato Sangalli, Pro-Graphic Sales Manager of Epson Italy. "Digital printing is making huge steps forward and with the availability of these new inks also for Epson SureColor SC-F501, a fundamental step is added to the expansion of the possible fields of application".
An example of creativity to turn the spotlight on sustainability: WE ILLUME THE WORLD
To give a concrete example of what it means to communicate with sublimation printing and fluorescent inks, we have developed an idea that finds in this technology a way to emphasize a message, that of sustainability, which often comes from awareness of problems and pushes to Act.
With the idea of ​​communication WE ILLUMINATE THE WORLD, we chose a thermos, a symbolic object of those who choose to live green, and we printed three different customized graphics in fluo that tell as many ecosystems at risk: the Doñana Park in nearby Spain, the Belize Barrier Reef in the Caribbean Sea and the forests downpipes of Madagascar.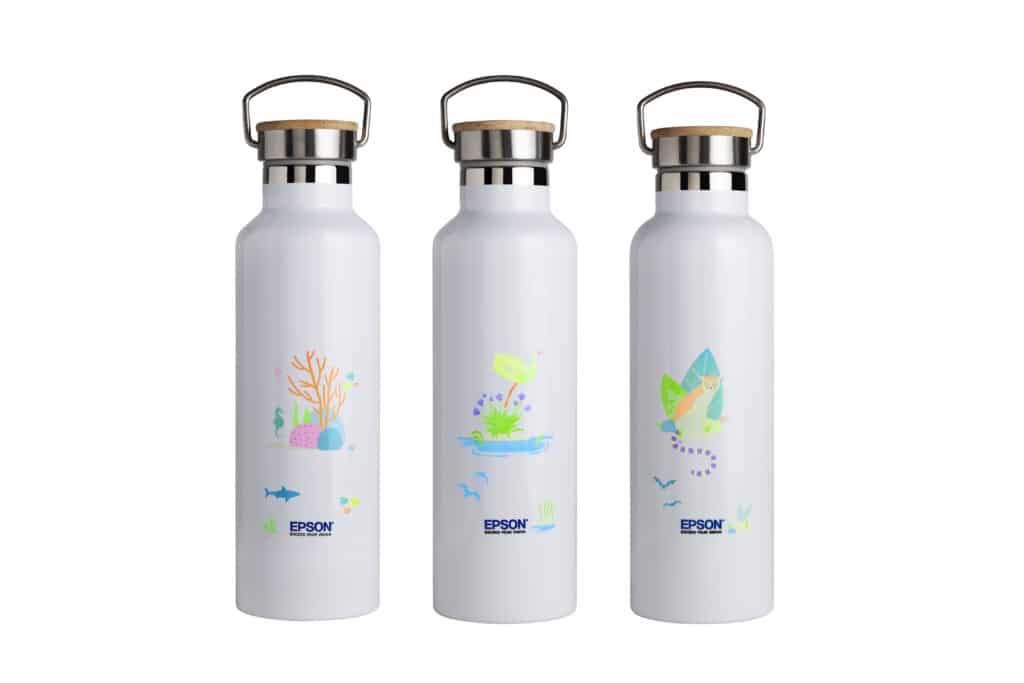 Shedding light on environmental risk situations is often a first step to become aware, and therefore the gesture of "turning on" the fluorescent colors with a small torch pointed at these graphics, becomes an invitation to keep the spotlight on the environmental problems of our Planet.