In this preview we will talk about Freud's Bone, a very interesting Italian project dedicated to Sigmund Freud, the father of psychoanalysis
Freud Bone is a graphic adventure for PC really very interesting in which we will play the role of Sigmund Freud, the most famous psychoanalyst in the world. The title is currently in development by the Italian game designer Fortuna Imperatore and very soon one will be launched Kickstarter campaign to finance his work.
We recently had a chance to try a demo of the game and in this article we will share with you our impressions of this intriguing project.
A tormented mind
In Freud's Bone the players will play a mysterious inner voice which dwells in Freud's mind. The title immediately throws us into his office, where the doctor is in an obvious state of agitation. Due to numerous doubts Freud will be very unstable and our job will be to help him get back on his feet.
The basic structure of the game is that of a classic graphic adventure where it is possible move and interact with objects in the environment simply by using the mouse. In this way we will be able to explore Freud's office and examine many of his particular possessions, looking for something useful or simply obtaining an insight into the character. But the game is not based solely on this, but also has some other very interesting elements which we will talk about in the next paragraphs, first of all psychoanalysis.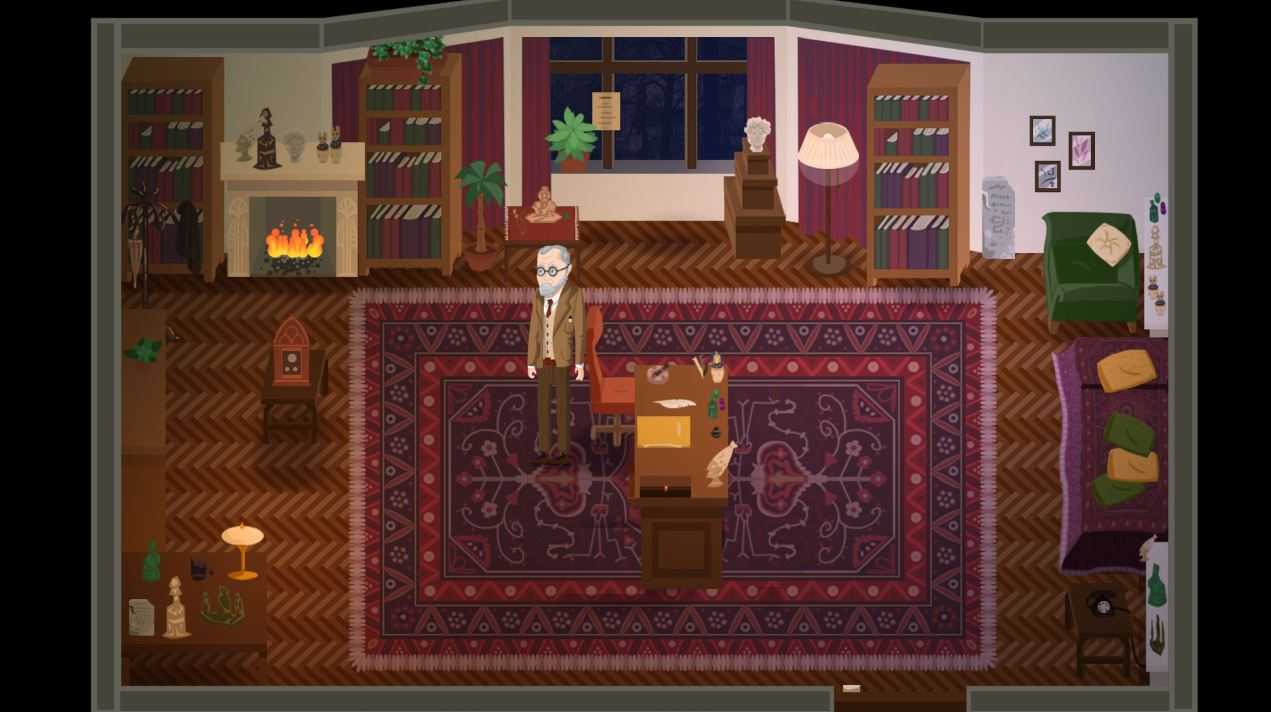 Working with Freud – Freud's Bone Preview
Being an integral part of Freud's mind we will accompany him in all his activities, including his work as a psychoanalyst. When dealing with clients, the game will change dramatically and it will put us in front of a new screen dedicated to psychoanalysis. During these sessions our task will be to understand what ails patients and to do so we will have to push them to open up with us.
During the dialogue we will have to choose the approach to use, selecting a theme, a rhythm of speech and a tone of voice. The combination of these three elements will trigger a reaction in the patient, who at best will open up to us and provide us with useful information. At this stage, however, it is necessary to pay close attention, because our interlocutor will have one stress bar which will fill up in case we use an unwelcome approach. If the bar fills up completely, the patient will be furious and it will go away before its time, preventing us from obtaining any other information about you.
Once the therapy session is over we will have to consult Freud's notes and try to make a diagnosis. To do this we can also help with the patient medical record, which may contain a lot of useful information on the subject we are examining. Also, since the game uses many psychoanalytic specific concepts and terms, it is also possible consult a dedicated encyclopedia.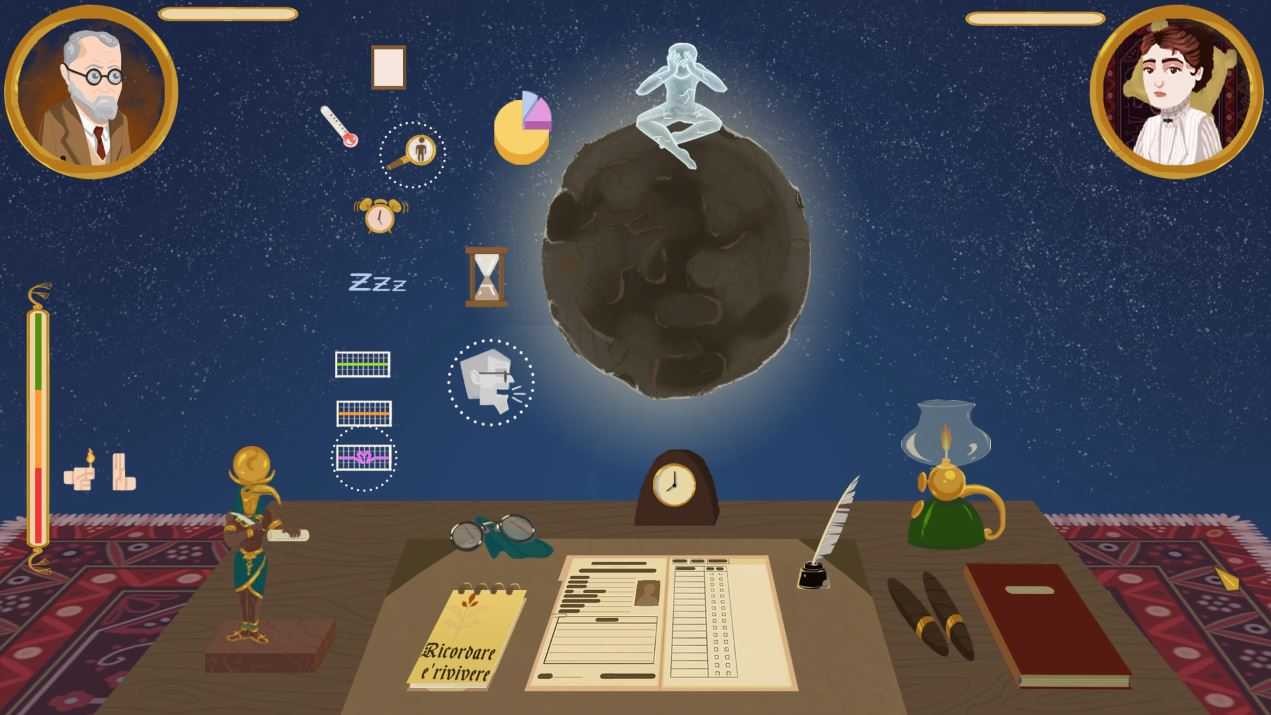 Lots of Great Ideas – Freud's Bone Preview
During the game we will be able to open the Freud's notebook and from this screen we will have the opportunity to dedicate ourselves to many different activities. From here we will be able to read and respond to the letters, take a look at Freud's thoughts and manage his family's finances.
Of all these elements, that of the letters is the only one that we have been able to deepen during the demo, but despite this, money management still seems to be very interesting. According to what the game suggests the way we spend our money will really weigh a lot on history, even going to influence relationships with the rest of the family.
In addition, from the notebook it is also possible to observe an interesting portrait that represents l am gods Freud. This portrait will change based on some events that will influence our protagonist, such as the outcome of an analysis session or an article dedicated to him. Unfortunately even this aspect cannot be explored in the demo, but for sure seems like a very interesting element for character development in the full game.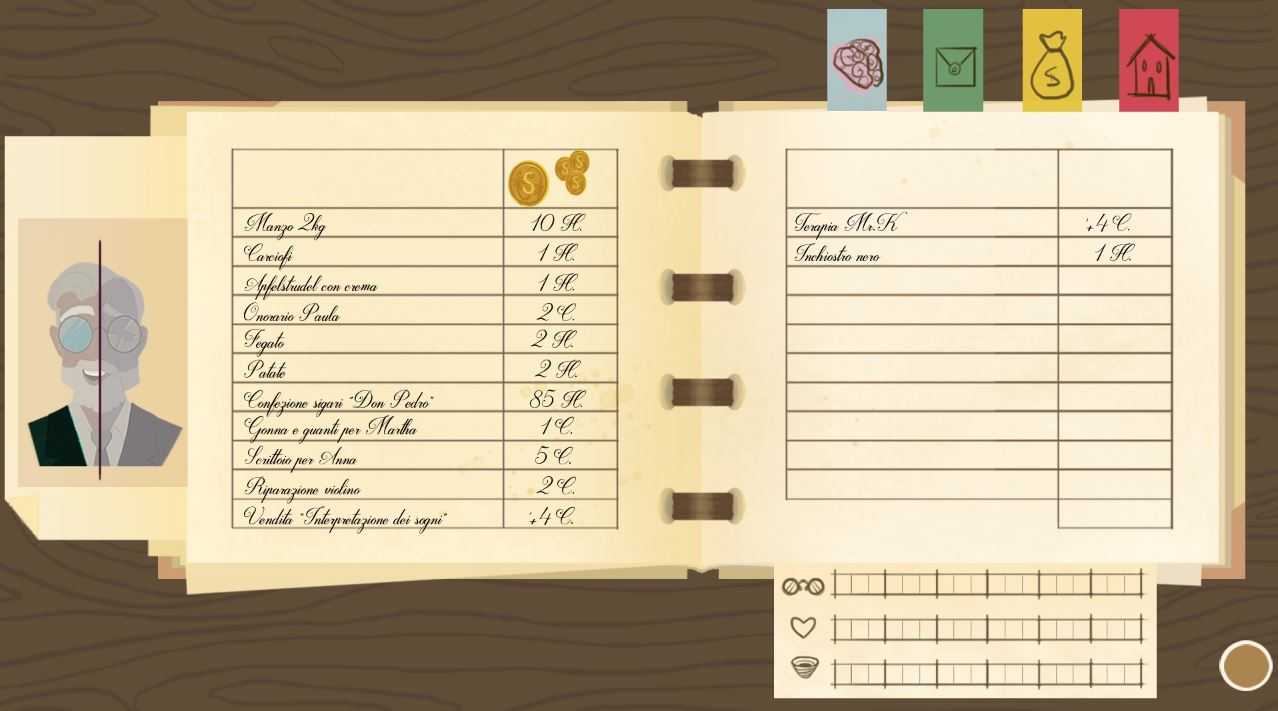 Conclusions
Freud's Bone is indeed an intriguing title and that it seems to have so much potential. While we weren't able to experience all aspects of the game in the demo, what we have seen makes us very hopeful for the future. Freud's Bone promises to show the figure of Sigmund Freud in a very personal way and extremely different from usual and, if he manages to hit the target, he will be able to grasp the interest even of those who have never had anything to do with psychoanalysis.
If the title seems interesting to you, we suggest you also take a look at the page of the Kickstarter campaign that will start on Monday 6 July. By clicking on this link you can find out more about the game and contribute to its development through a donation.
If you found this preview useful and want to stay updated on all the news regarding the title and much more, keep following us here on TechGameWorld.com.