FUJIFILM continues its promotional period dedicated to an exclusive bundle that combines the photographic and video performance of X-T4 and X-T3 with the versatility of cine MKX lenses, known for their excellent value for money
FUJIFILM returns to propose a promotion that is aimed at the world of video-makers and which concerns the X-T4 and XT3 cameras, which in this case can be combined with one of the lenses of the MKX cine range.
FUJIFILM's great quality doesn't compromise on video productions either. For professional movies, with unique and authentic character, FUJIFILM has combined the descriptive and color capacity of X-T4 and X-T3 with the lightweight and ultra-compact design, adaptability in different shooting situations such as landscape, architecture, nature and portraiture of MKX optics.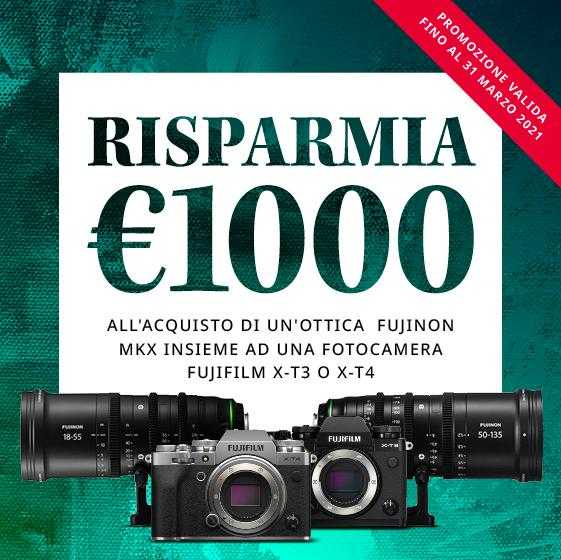 The result is a formidable bundle, which until March 31, 2021 it will be possible to purchase the Instant Rebate promotion. A promotion that has already been proposed by the company in April 2020 to give a signal of presence in a market that is also hit hard by the coronavirus with millions of homebound photographers and which is also now being re-proposed at the beginning of 2021 with the possibility of choice between two top of the range lenses.
FUJIFILM: The immediate discount promotion valid until March
It will be possible benefit from an immediate discount of 1,000 euros including VAT on the purchase of X-T4 or X-T3 in combination with one of the two lenses of the MKX cine range, namely FUJINON MKX18-55mm T2.9 or FUJINON MKX50-135mm T2.9.
To take advantage of the promotion, purchases must be made at an authorized retailer, online or at a point of sale in Italy, the Republic of San Marino or the Vatican City. The promotion is valid only for new products distributed by FUJIFILM ITALIA SpA Second-hand or refurbished products are excluded from this promotion.