The X Series is enriched with FUJIFILM X-E4, an absolute novelty that is small and light with professional performance, the perfect storytelling tool for photographers, videomakers and content creators who want to get great products
FUJIFILM announces the new FUJIFILM X-E4 mirrorless camera. With a weight of 364g and dimensions of 121.3mm x 72.9mm x 32.7mm, X-E4 is the most compact interchangeable lens camera of the fourth generation of the X Series. Equipped with the same 26.1MP X-Trans CMOS 4 sensor, 0.02 second autofocus and the stunning expression of color found in pro-grade X Series cameras, the X-E4 stands out as it makes its features easily accessible to image creators of all skill levels. Outstanding image quality, wide dynamic range and excellent low-light performance, combined with simple controls, advanced Face / Eye Detection and a 180 ° tilting touchscreen LCD, make FUJIFILM enjoyable and rewarding to use. X-E4. FUJIFILM X-E4 gives everyone an incredible user experience and a fast, easy and fun approach, whether it is used to take professional quality photos, 4K / 30p movies or Full HD / 240p movies in super slow motion.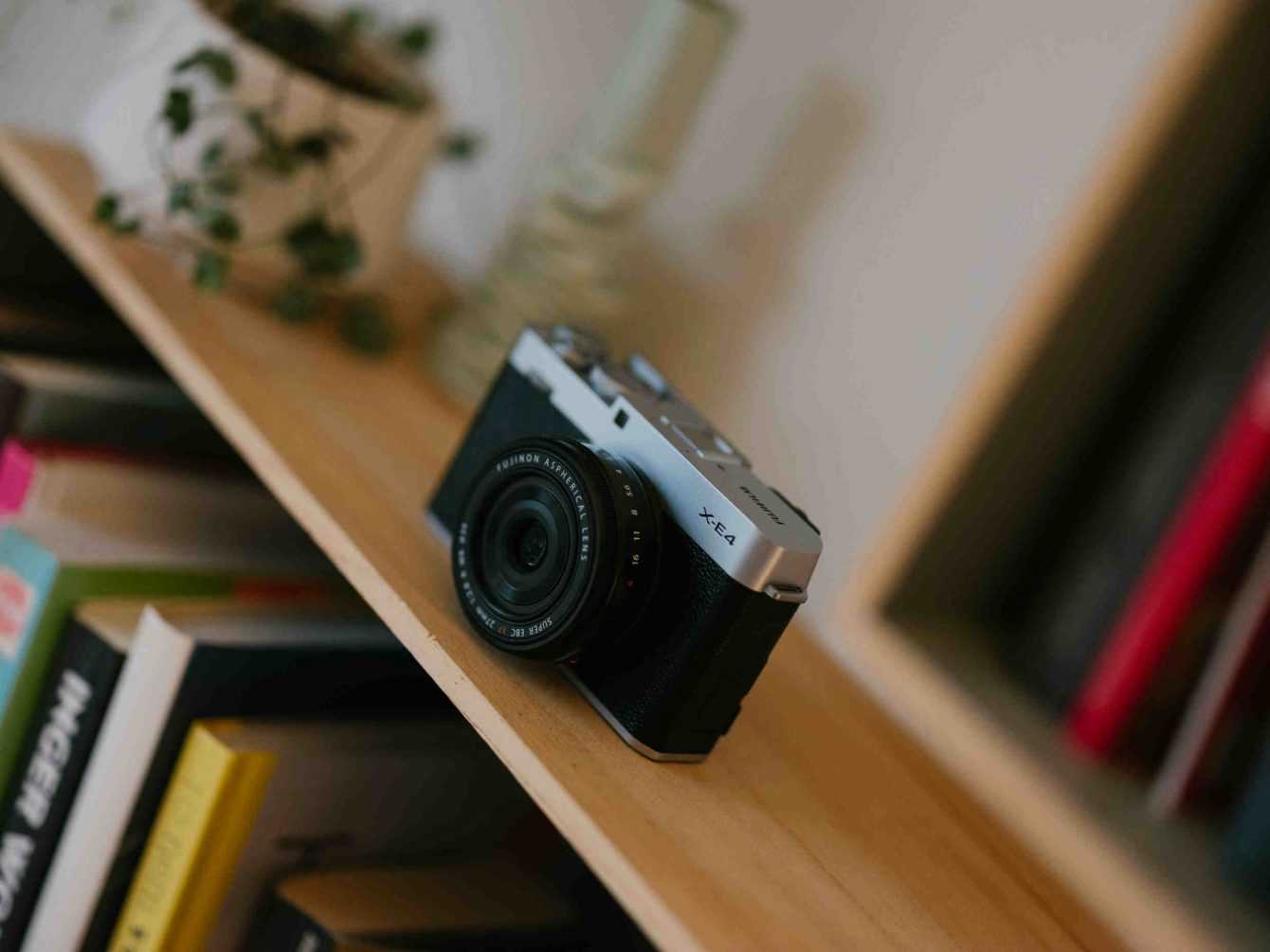 FUJIFILM X-E4: main features
The lightest and smallest body in the X Series
To maintain its streamlined and elegant design, it has been carefully designed a tilting LCD screen to ensure that the body remains as slim and portable as possible. The compact camera design is inspired by the style of classic film cameras. Both the front and rear handles are flat to give them a more traditional aesthetic, while the polished magnesium top plate is carefully modeled with extreme precision, for a wonderfully classic look.
Functions and ease of use
The tilting rear screen can be flipped up and facing forward up to 180 degrees, which can be useful in a wide variety of situations, from top to bottom shots, as well as selfies and vlog-style movies . The top panel includes dial to adjust shutter speed (SS dial) which can be set manually or switched to program mode (P) when fully automatic functionality is desired. The controls have been concentrated on the upper dial, within easy reach, to give more space to the thumb and increase grip comfort.
Performance and responsiveness
Thanks to the advanced sensor "X-Trans CMOS 4" da 26,1MP and the "X-Processor 4" high-speed image processing engine, FUJIFILM X-E4 is equipped with aBlazingly fast AF system, with phase detection that covers almost 100% of the sensor, so as to acquire focus in just 0.02 seconds. It is also able to track moving subjects thanks to an advanced AF tracking algorithm, so you always shoot at the right moment. FUJIFILM X-E4 also includes the latest technology di Face/Eye detection to accurately track subjects, even at luminance levels as low as -7.0EV. It captures focus on a subject even in near-dark conditions, thus expanding your creative possibilities.
Extensive video recording capabilities
FUJIFILM X-E4 takes a sensor reading with 6K oversampling and then records 4K / 30P 4: 2: 0 8-bit movies on internal media, or movies 4K/30P 4:2:2 a 10 bit via its HDMI port. It can also record filmati Full HD 240fps high-speed, which can be used to reproduce fast-moving subjects up to 10 times slower than movies recorded at 24fps.
Various Film Simulations
A total of 18 Film Simulations, including Velvia, characterized by high saturation and sharp gradations, and ETERNA Bleach Bypass, which reproduces the traditional darkroom development technique, to create unique images with low saturation and high contrast.
FUJIFILM X-E4: pricing and availability
FUJIFILM X-E4 will be available from March 2021 at the following prices suggested to the public, including VAT:
X-E4 BODY 919,99 euro
X-E4 KIT XF27mm 1119,99 euro
X-E4 ACC KIT 1019,99 euro
That's all from the photography section, keep following us!