G.SKILL is pleased to announce the new luxury line of Trident Z Royal Elite DDR4 RAMs. Here are the main features
G.SKILL International Enterprise Co., the world's leading manufacturer of extreme performance gaming memories and peripherals, announces a new addition to the renowned family Trident Z of the memory kit series DDR4 high performance: the series Trident Z Royal Elite. Featuring a meticulously sculpted crystalline pattern on the shiny surface of the aluminum heat sink, the Trident Z Royal Elite also retains the light bar over the entire length and8-zone RGB lighting to improve the aesthetics of any high-end PC you want to make. Representing the highest level of DDR4 performance, G.SKILL Trident Z Royal Elite will be available at speeds from DDR4-3600 a DDR4-5333 at launch.
Trident Z Royal Elite: Made for magnificence
Evolved from the luxury design elements of the Trident Z Royal, G.SKILL presents the brand new Trident Z Royal Elite series which features a magnificent faceted design through the reflective aluminum heat sink. After more than a year of development in creating the perfect sized model and sculpting the 3D structure on a solid piece of aluminum, each Trident Z Royal Elite heat sink is accurately chiseled with 76 total facets to give the ultimate in luxury aesthetics to any PC. Available in gold or silver colors, the Trident Z Royal Elite modules have also inherited the iconic full length light bar for a dazzling reflective display and excellent RGB lighting.
Continuing the G.SKILL legacy for other DDR4 memory performance, Trident Z Royal Elite offers high-class memory specifications ranging from DDR4-3600 to DDR4-5333 and from 16 GB (8 GB x 2) a 64 GB (32GB x 2). Each memory kit is built with hand-shielded memory IC chips and tested for compatibility on a wide range of motherboards to ensure stability and high frequency overclocked performance. For a list of specifications available at launch, refer to the table below: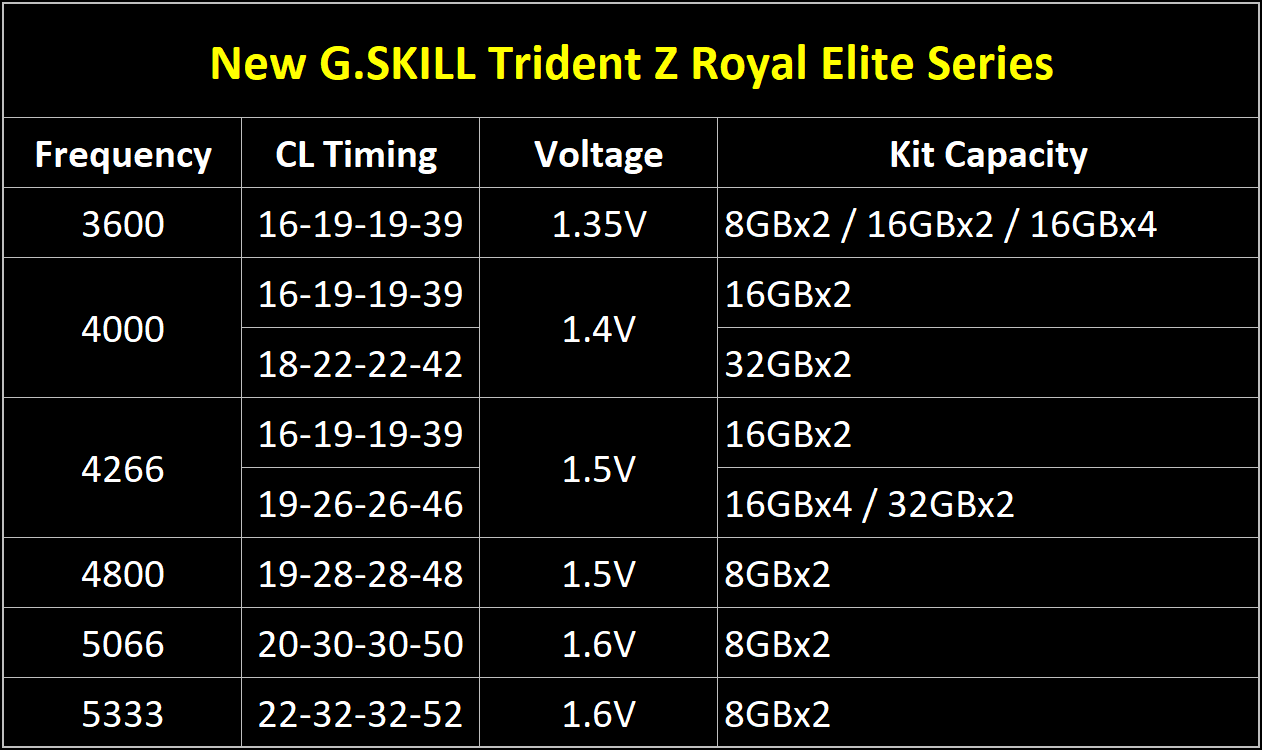 Availability
Trident Z Royal Elite DDR4 Memory Kits will be available through G.SKILL worldwide distribution partners a May 2021.
What do you think about it? Let us know in the comments and keep following us on the TechGameWorld.com pages where you can find the latest news and more.