The Cologne video game fair begins: with the Opening Night Live we could see the best announcements of the Gamescom 2021. The presenter Geoff Keighley gave space to the best developers, actors and creators the opportunity to show us their best products. And it gave players a chance to preview them.
All the news announced at Gamescom 2021 Opening Night Live
After the preshow, the announcements are already off to a great start, with some new world premieres presented by the creators and protagonists of these unmissable video games.
Saints Row, premiered at Gamescom 2021
The first announcement of the event concerns the reboot of Saints Row, which arrives on February 25 (but which you can already pre-order). A world premiere that shows the cars, the shots, the adrenaline that this series has given us. And that he will soon give us another time.
Marvel Midnight Suns
The new Marvel game has been announced: Midnight Suns, a tactical RPG in which you can manage and "live" together with your favorite heroes. In the trailer we have seen Iron Man, Wolverine and the Sorcerer Supreme Stephen Strange. But there is also an original character, The Hunter, the new superhero created together with Marvel that you can customize to defeat Lilith, the mother of demons.
The game comes on March 22, 2022, but if like us you can't wait to find out more, it premieres on September 1st this year.
Call of Duty Vanguard si mostra in un gameplay
The new CoD tells the World War II with a new perspective. The team worked by having the stories of the members told Special Forces, created precisely in that historical period. Trying to tell even the lesser known battles, with a group of different and truly original characters. Laura Bailey will play Polina, a sniper who represents the many women in the Russian army during the Second World War. And judging by the gameplay, we expect truly original stories and campaigns.
The game comes on November 5.
Halo Infinite Multiplayer: Gamescom 2021 announcements
Halo is one of the most popular video game series of the new millennium. For the story full of tension and with great characters. But mostly because who doesn't love shooting distant planets? Who wouldn't want to be a SpartanSoon you can do it: the trailer shows the formation and troops, which you can join thanks to the multiplayer.
A new generation of Spartans that you can follow from season to season, with the multiplayer free-to-play. But on December 10, 2021 we will not only see the new and highly anticipated multiplayer but also one new campaign not to be missed.
Also, for the twentieth anniversary of Xbox and Halo, comes a controller for Elite Series 2 dedicated to the historic Microsoft game, which you can pre-order today. Finally, Spartan 117 not only colors the new controller but also a limited version of the console for Halo Infinite for the 20th anniversary, to be pre-ordered immediately.
Cult of the Lamb
Massive Monster and Devolver Digital present a truly adorable and scary way at the same time. Soon you will alternate sweet expressions with screams of terror for the new Cult of the Lamp. With a truly unique look and really interesting strategies and combat, the game promises to be truly original. But be careful not to worship false prophets: the risk is very high, despite the animals being very sweet.
Midnight Fight Express, a game created by a single developer at Gamescom 2021
After the announcement of 2020, the "young Polish fatherWho has developed a truly violent and unique action game on his own announces the release. Comes next summer with an array of enemy-filled environments to face without fear. But with a great desire to fight.
TMNT Shredder's Revenge, a new character arrives
There is only one way to restore all energy to a ninja turtle: a pizza. April O'Neil, which lovers of the classic animated series of Teenage Mutant Ninja Turtles they know very well comes to play in this retro-flavored game. And to get the turtles back into action with a slice of pizza.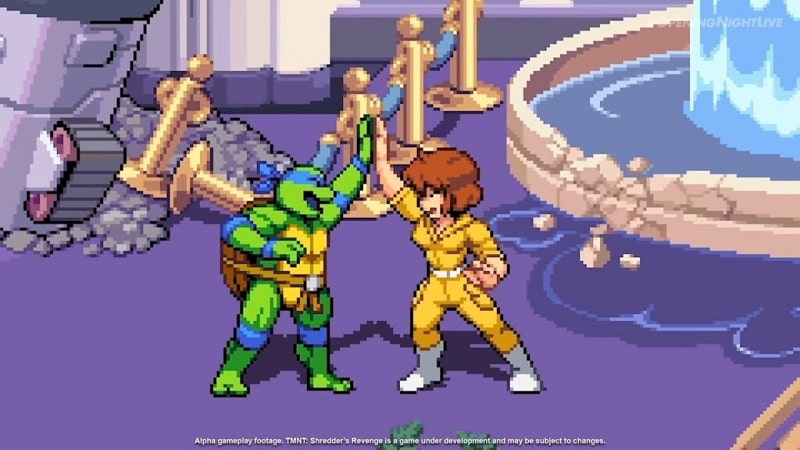 Super Monkey Ball Banana Mania
For the 20th anniversary of the series, the game returns SEGA after two decades. There will be twelve games to play with friends. From tennis to running, from golf to canoeing through the most original games in the series. The game comes on October 5th. But later in the year it also comes Morgana, a character not to be missed.
Splitgame, the news announced at Gamescom 2021
Season Zero of this game literally launched from a college room arrives just today. With weapons futuristic and ever new scenarios, with portals to move from one world to another, you can start playing for free today.
Riders Republic, the beta open to all
Do you love outdoor games, but from the comfort of your sofa? You can ride a bike, snowboard and even fly with the Wing Suit. If you want to become a champion in the most extreme sports, you can't expect better. Ubisoft launches the beta of Riders Republic, open to all until August 28. You can compete and visit the digital version of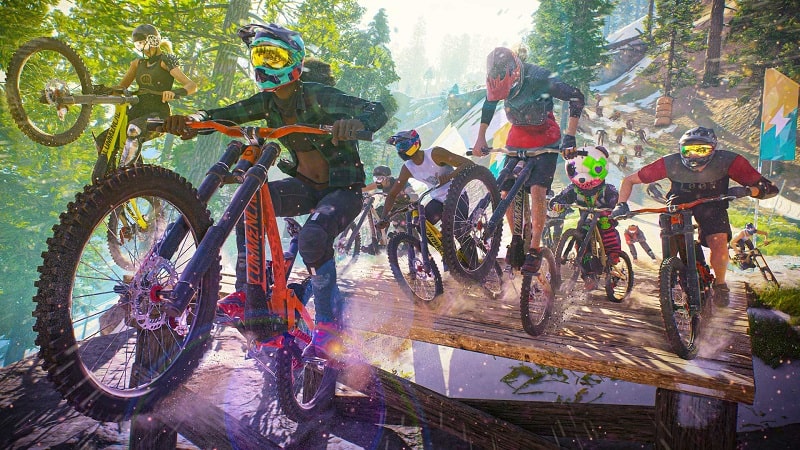 Best Xbox Game at Gamescom 2021
Three top-notch nominations for this category. There is Elden Ring, the new Far Cry 6 and finally Halo Infinite. But the game born together with the Microsoft console can only triumph: Gamescom 2021 celebrates Halo Infinite as best Xbox game.
Century, a real dragons game
Century arrives on November 18, with a new world to experience. In this game you can be a dragon or a warrior and challenge all the toughest opponents. Not to be missed.
LEGO Star Wars: The Skywalker Saga
A highly anticipated event: all nine films in the Star Wars saga are about to be recreated with the digital version of LEGO. You can explore the galaxy far, far away, take on the role of the most important characters and play the entire saga. All the most unforgettable scenes are there and they showed up in the trailer. We just have to wait for it spring of 2022 because it arrives on all consoles and PCs.
Synced Off-Planet
A brand new game of Next Studios which allows you to collaborate with others and challenge enemies in a unique way. Tomorrow 26 August you will find al Gamescom 2021 an in-depth study to discover all the details of this game with a unique gameplay.
The Outlast Trials si mostra al Gamescom 2021
A game that arrives in 2022 but that begins to terrorize us today. We just need to think back to the final image of the hanged man before the title to make us tremble: this The Outlast Trials promises to be a horror not to be missed.
Dokev, where strength comes from people's dreams
a new adventure game developed in Korea. A whole world to explore, full of different game possibilities. Not only can you use tons of objects, from huge hammers to bouncing balls. But you can collect your lovable companions, ride skateboards and rollerblades, and defeat the creatures of this universe. A game that promises to be a concentrate of creativity.
Jurassic World Evolution 2
Have you always dreamed of building your own custom dinosaur park? Don't worry, you don't need DNA from a prehistoric mosquito. From November 9 comes the new game for movie series lovers. But you can already pre-order it today.
Far Cry 6: here is the new trailer
The new chapter in the Far Cry saga promises to tell a truly cinematic story, with Antòn Castillo and Dani Rojas at the center. Here is the new trailer.
The game arrives on October 7, but you can pre-order it today.
Blood Hunt, create your vampire
Already seen at the Summer Fest, this title promises to show vampires as we've never seen them before. With extraordinary powers, from the ability to glide from above to the ability to climb anywhere, always continuing to hit your enemies. A terrifying hunt like we've never seen it before.
Early Access starts on September 7 on Steam, you can register today.
Park Beyond announced at Gamescom 2021
If you have always dreamed of building your perfect playground, today you have an over the top and original team to build it with all your imagination. From cannons to giant octopuses, everything can be part of a carousel in Park Beyond, coming in 2022.
Jett The Far Shore
The world you know is disappearing. So you have to find another one. The task with Jett is to discover a new planet and find out if you can make it habitable. A mission with a galactic reach, to be completed with all the means at your disposal: truly unmissable new technologies.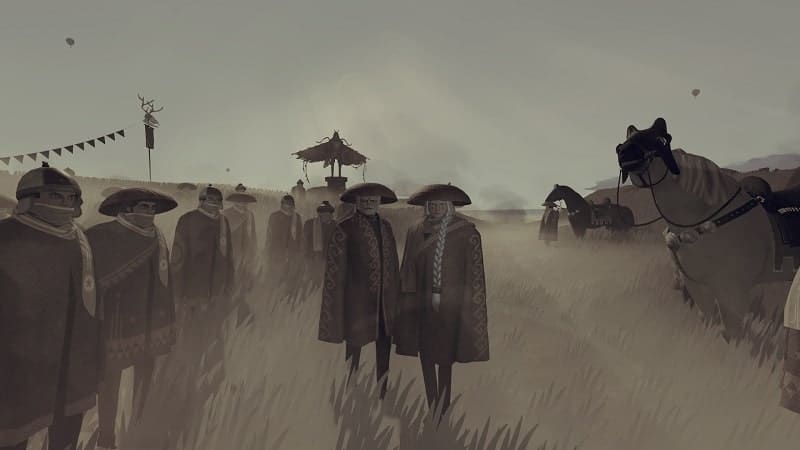 Here comes the October 5, 2021 but you can already pre-order it.
Horizon Forbidden West
The new game enters the final stage of development: will be released on February 18, 2022, with pre-orders coming on September 2nd. Despite the difficulties in development, the team worked hard. Additionally, the team announced support for Horizon Zero Dawn for PS5's high definition.
New World, the new Amazon game at Gamescom 2021
Amazon Studios announces a game that promises to create a new world to explore. Indeed, many. New Worlds arrives on September 28, after a summer of non-stop development during the close beta. This fantasy world promises to be truly immersive and full of enemies to face. You can try it in the open beta from 9 to 12 September. Additionally, the game's director explained that there will be new weapons, new powers, and new group missions after launch.
Marvel Future Revolution
Marvel announces a new game also for iOS and Android. Which seems to want to expand the concept of Multiverse proposed by the MCU to the highest level. Find all the most beloved heroes, from Cap to Star-Lord, passing through Spider-Man and Captain Marvel. And they will all serve, judging by the shots Thanos threw in the trailer. You can download it from today.
Tales of turns 25
The fantasy series turns a quarter of a century. Gamescom 2021 celebrated it with the violin performace from Tales of…