In this review the protagonist will be GEEKOM MiniAir 11. As anticipated in the title we were positively impressed by this product. Let's find out why
Thanks to the advancement of technology, Mini PCs are becoming powerful enough to perform a lot of tasks. The advantage over a traditional desktop PC certainly is compactness and reduced consumption: More desk space and a lighter bill. Compared to laptops instead they are much cheaper because they don't have keyboard and screen included. This can be a great advantage because it is true that you will then have to buy them separately, but you can choose them according to your needs.
We come then to the protagonist of the review: GEEKOM Mini Air 11. A really interesting product in its price range. GEEKOM managed to create an elegant, complete and all in all quite powerful product to allow use at home or in the office. But we will see everything calmly in the next paragraphs.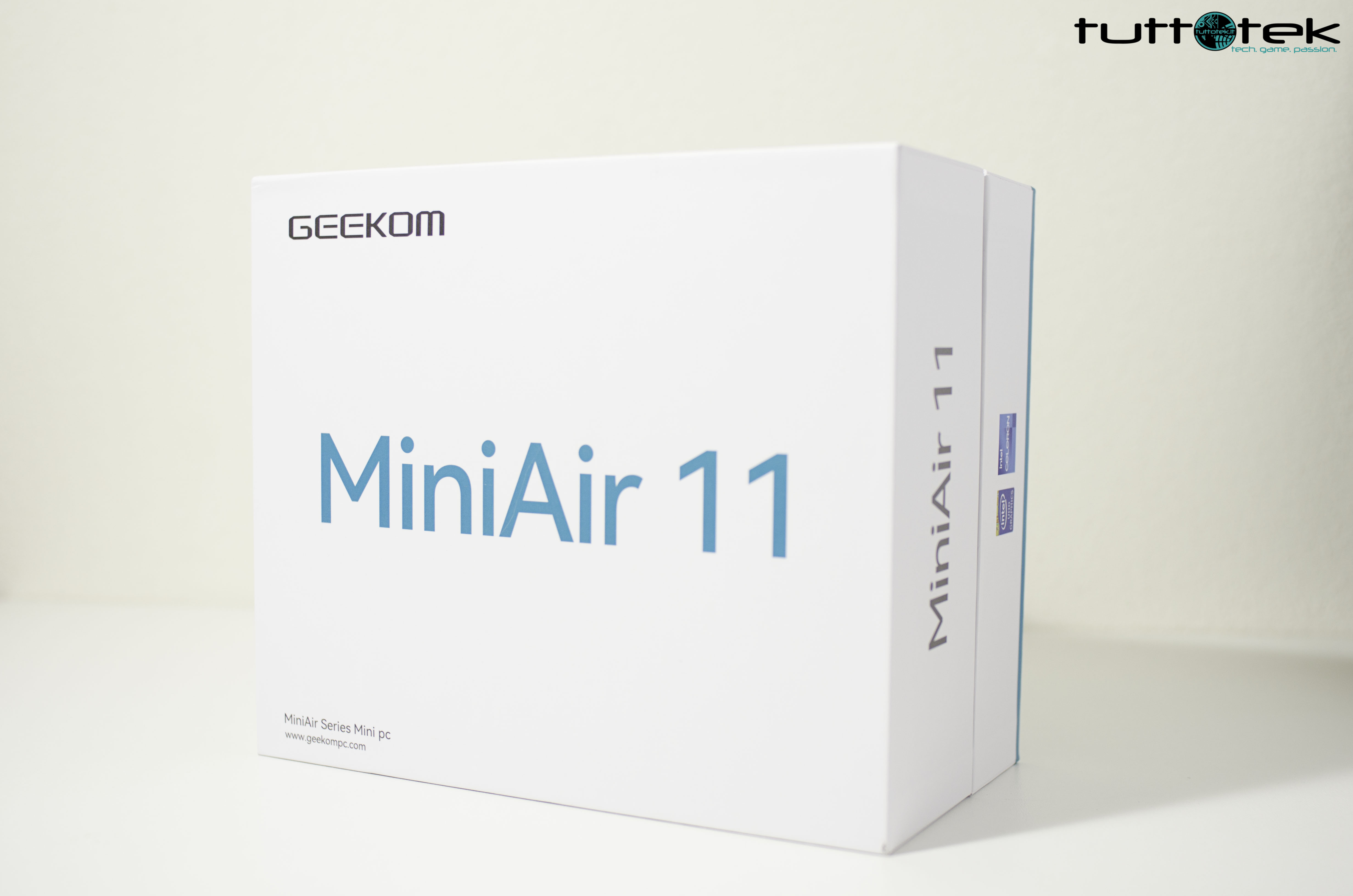 GEEKOM MiniAir 11 review: technical specifications
CPU: 11th Gen Intel Celeron N5095, 4C / 4T up to 2.9 GHz
GPU: Intel UHD Graphics 605
RAM: 8 GB DDR4 SODIMM, expandable up to 32GB in Dual-Channel
Storage: 1x SSD (M.2 SATA / PCIe) of 256GB, expandable up to 1TB
OS: Windows 11 Pro, compatible with Ubuntu and other Linux distros
Connectivity Wireless:

Bluetooth v4.0
Wi-Fi 5 Dual-Band
IR receiver

Wired Connectivity:

Ethernet (1000Mbps LAN)
3x USB 3.2 Gen 2, 1x USB-C (solo dati)
1x jack combi
1x HDMI
1x Mini DisplayPort
1x SD card
1x Kensington Security Slot

Dimensions: 117 x 112 x 34.2 mm
GEEKOM MiniAir 11 review: design and packaging
The first sensation I had when opening the GEEKOM MiniAir 11 package was that I had a premium product in my hands. The packing is nice, very nice – with an undeniable Apple style, it must be said. The space inside is exploited to the maximum, without waste and the product is presented very well, as if it were in a casket. Then there is the thank you card which is the nice touch.
Unlike Apple though, GEEKOM has seen fit of equip your MiniAir 11 with everything you need. We obviously find the power supply very compact and with a fairly long cable. A case to store the Mini PC if we have to carry it around. HDMI cables, Displayport-HDMI adapter and the standard VESA connection to hang the PC behind the monitor and save even more space. In short, excellent packaging, good impact.
Taking the actual product in hand, the impressions do not change. We have in our hands a solid parallelepiped about 10 cm on each side. We can safely store it anywhere, even in our pockets we want to carry it! Although mostly made of plastic, this is of excellent quality and the assembly is just as satisfying. The sensation to the touch is therefore one of solidity. Thanks to the rubber feet then it remains firmly planted on the desk, even if some cables pull a little.
The eye also wants its part. We are certainly facing a fairly minimal product from a design point of view. Two colors (dark matte gray and glossy black which attracts some dirt), a simple writing and the Intel logo. The communication ports are mostly on the back, but it is really ergonomic to choose to leave some on the front to access them more easily, for example with USB sticks or SD cards. This type of design mirrors that of many Mini PCs. We are not at the level of elegance of the Mac Mini, but I would still place it in the medium-high areas of the ranking. It won't look bad on your desk.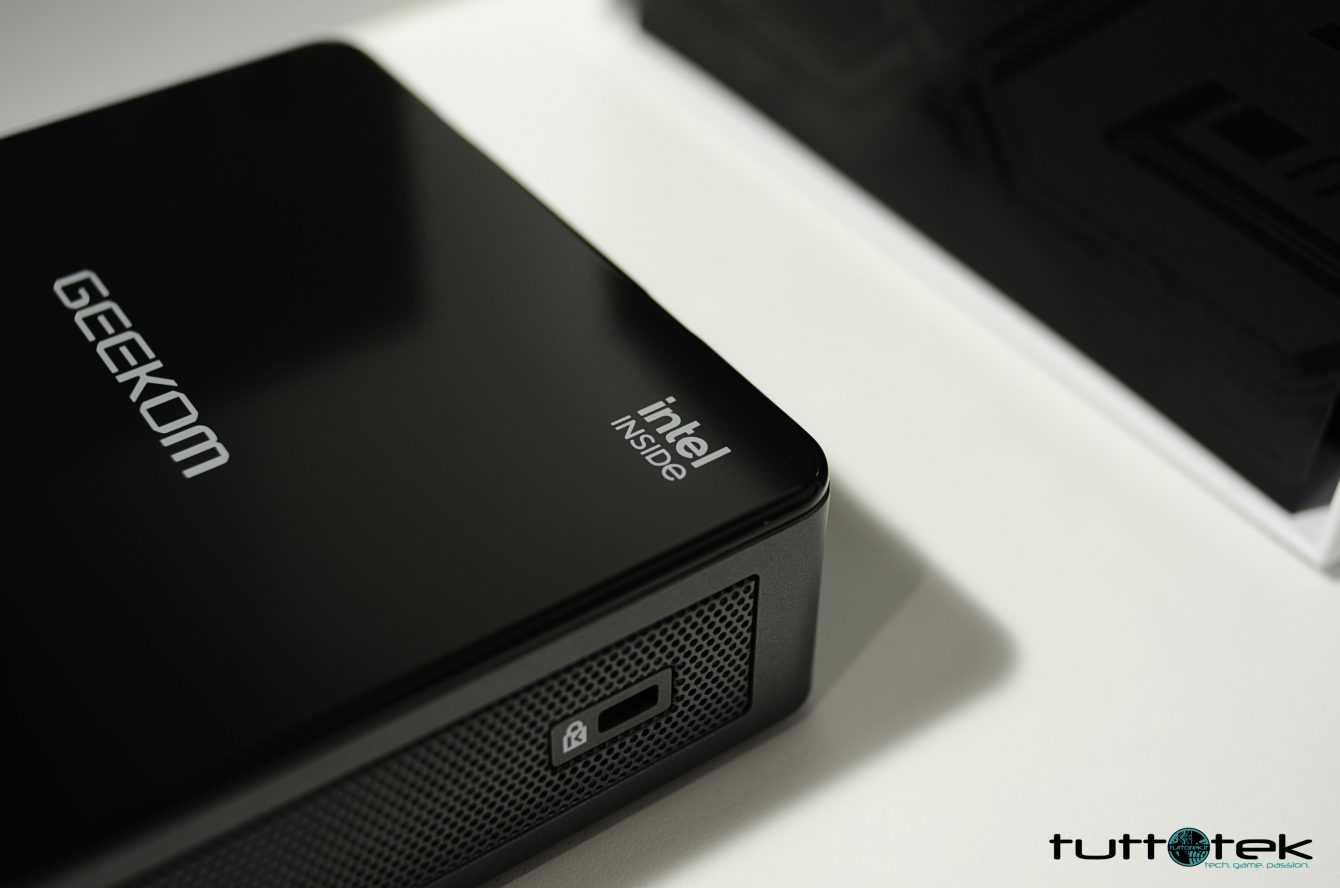 GEEKOM MiniAir 11 review: technical analysis
Let's move on to the slightly more technical part. We will go to dissect a little the characteristics of this product, bringing some tests to support our comments. The Celeron N5095 processor it is perhaps one of the best that can be found in Intel's catalog for budget products. There are many models, both Mini PCs and low-end laptops, with almost unusable processors. This quad-core CPU, on the other hand, manages to manage different application areas quite well thanks to the clock frequencies that can go up to 2.9 GHz. We have put a little stress on this processor with Cinebench R23, both in single core and in multi core. The results were all satisfactory, if you want the numbers we have 614 in single core and 2157 in multi core. We were particularly impressed by the multi-core performance of this processor which makes it very suitable for multitasking rather than CPU-bounded intensive use.
Analyzing the performance during the tests, which lasted about 15-20 minutes, we discover that, thanks to the well integrated fan on GEEKOM MiniAir 11, the temperatures always remain under control. We are talking about 67 degrees in multi core and below 65 in single core. While consumption remained between 8 and 9 W. The really striking thing is that the fan always remains silent, even when the PC is under stress. The frequencies remained very stable during the multi-core test, fixed around 2.8 GHz or just below the maximum frequency. In single core, on the other hand, the frequencies seem to be mene stable, oscillating between 1.5 GHz and 2.8 GHz. This reflects a bit the target of use of this Mini PC which is not designed for heavy loads on a single core.
The SSD memory also offers satisfactory performance. We are not at the level of modern PCIe SSDs, but we still have sufficient performance to ensure good fluidity and acceptable loading times for office programs, browsers and so on. Let's say we are in line with the performance of a SATA SSD. Overall, we can be more than satisfied with the GEEKOM MiniAir 11 hardware. Perhaps the most impressive thing is the amount of communication ports present. Despite being very compact, we have a complete range that covers virtually all the needs of every user.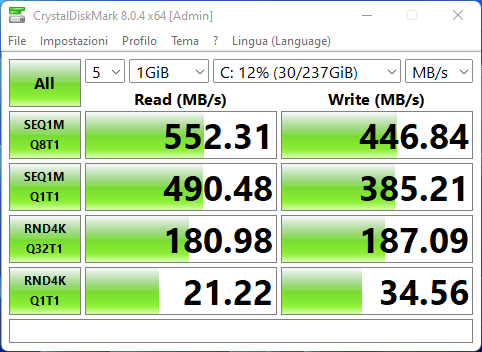 GEEKOM MiniAir 11 review: user impressions
Let's now talk a little about how we found ourselves using this Mini PC. Obviously we tested it taking into account that it is a machine designed for use in the office or at home, not suitable for heavy loads. Globally we can say that the PC does it's always done pretty well, remaining responsive even with different applications launched together. The only hesitation we saw was when Windows was installing its updates …
A Mini PC in the office, why not?
As an office PC, GEEKOM MiniAir 11 is definitely a good choice. Because? It consumes little, takes up little space and works very well with office software. We tried to open and edit very large documents such as a text file with about 60 pages and a spreadsheet with a thousand rows and thirty columns. We have not encountered major difficulties: openings in a few moments, fluidity in scrolling pages and applying functions.
No problem even creating presentations or managing large PDFs. Obviously, thanks also to the 8 GB of RAM, we can open different browser windows together or different applications together. No problems in multitasking.
As for the content creation: video editing is a bit too much, unless you use some very simple and basic tools. Instead you can get more satisfaction with photo editing or 2D graphics, even if we recommend it for amateur rather than professional use.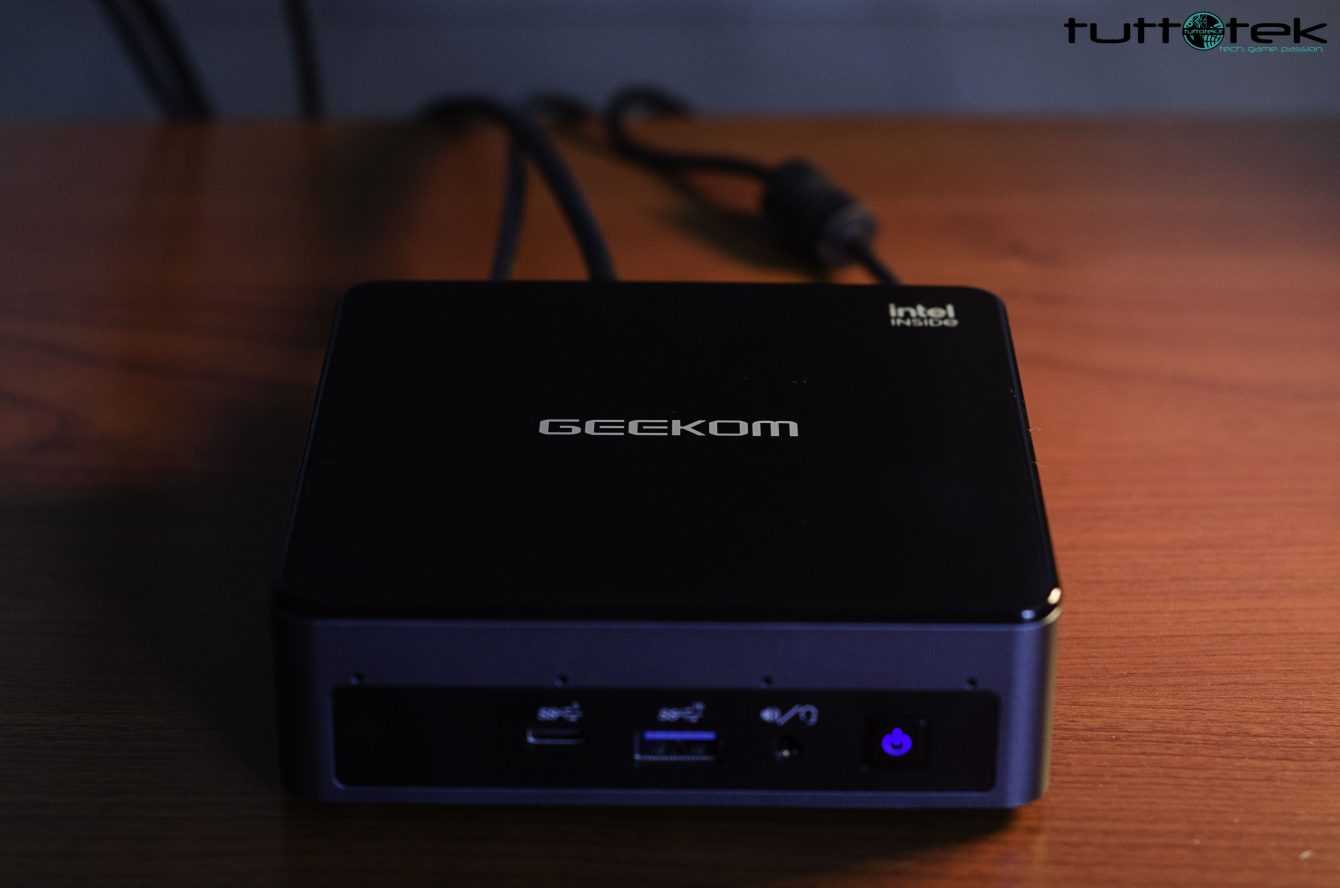 How to use it at home
GEEKOM MiniAir 11 is also a great home PC. For example if you have guys it's great for study and do research. You can also learn the first rudiments of programming. For web browsing, email checking and all various domestic activities it is more than enough.
Another possibility is to use this PC as media center. In fact it is able to perfectly reproduce the various contents, even in 4K from the various streaming services and also from local files. Given its compact size, it can be connected to the TV in the living room or kitchen and transform it into a fully-fledged smart device. Among other things, GEEKOM MiniAir 11 has Bluetooth, WiFi and infrared connectivity so it can also be easily managed by a smartphone, remote control or external keyboard. Finally you can use it as mini server given the very low consumption for home automation.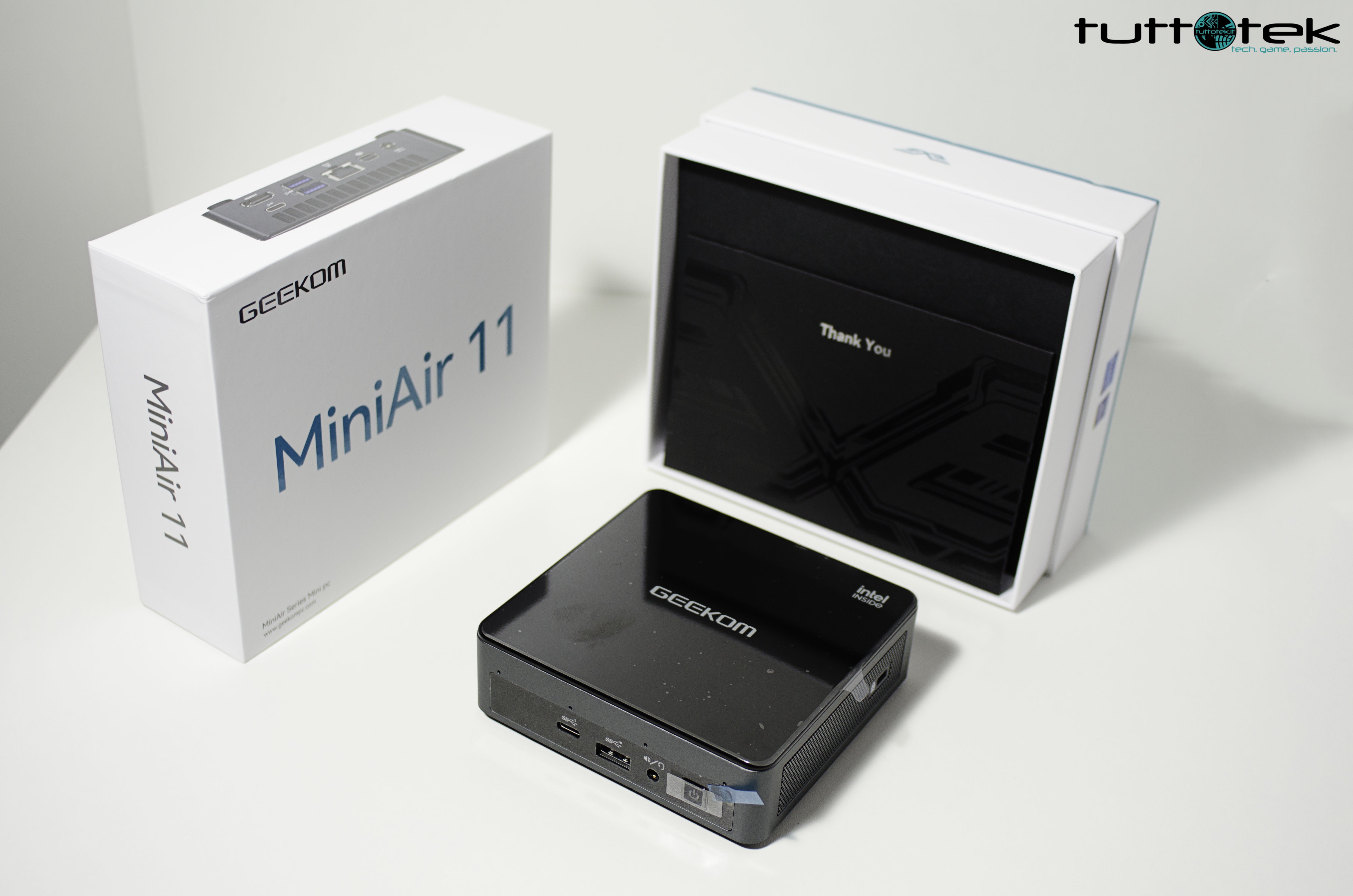 Conclusions
In this review we have seen GEEKOM MiniAir 11, a Mini PC that positively impressed us. On the one hand we have an excellent care for the design and presentation of the product which is nice to see, solid, compact but functional and complete. On the other hand, we have hardware that is more than decent for the price range and that is sufficient to use different applications in the office, studio and recreational fields.
We can only recommend this product, obviously limiting ourselves to the uses listed above. The price is all in all honest, let's talk about 329 euros on the official Amazon store which you can access from the box below. You can also buy it from the official website as an alternative. A great job from GEEKOM! That's all from the hardware section, keep following us.
Compact, solid and powerful
Points in favor
Complete and cured convection
Excellent performance for the price range
Top connectivity
Compactness and solidity