Google is modifying the "snippet" from Google Searchthe boxes at the top of the browser page that show the answer to our questions, for fight disinformation. And she will do it in several ways. Comparing the results to look for a broad consensus and making it clear when there is little information on the subject. But also by expanding the information available on information sources.
Google against disinformation, Search will show results with broad consensus
Search snippets display information by citing web pages. A useful feature for those looking for quick information but which can lead to errors. Google itself, in its post announcing the news, explains that by looking for the time it takes for light to arrive from the Sun to the Earth, the distance from Pluto was obtained. A problem in the way Google's artificial intelligence takes information from the web page. Which Google intends to solve.
According to the VP of Google Search Pandu Nayakthe solution lies in finding a "Broad consensus in information." Google's algorithm will then compare the information with other sites that it considers to be of high quality. In other words, it scans different sites in the search results to find commonalities and differences.
One way to get to the right information "Doing the average", instead of favoring specific sites (for example the WHO site for medical information). Not a perfect system, but one that should avoid misinformation in snippets.
The problem of false premises
Another issue that Google tries to solve to reduce misinformation in Search snippets is about false premises. In fact, if those looking for information ask a tendentious question, Search often ended up finding relevant fragments of text and showed a snippet that looks like a confirmation of the false premise.
To give an example, looking for "When did Snoopy assassinate Abraham Lincoln?", Google offered an answer. Something that "wasn't very common," Nayak explains, but potentially problematic. In these cases, now Google will not show a snippet at all, reducing by 40% the possible misleading results.
Fighting disinformation is a constant challenge for Google Search
Although Google strongly believes in these innovations, it remains aware that the challenge against disinformation remains a constant struggle. For instance, last year it turned out that Google was providing (in English) the wrong information on how to treat seizures. In fact, it provided as an answer a list of actions which, on the web page, they were under the heading "What to avoid" as if they were useful advice.
According to Nayak, "that kind of problem is about making sure our algorithm extracts enough information"In order to avoid problems, potentially even serious (in case of medical problems, call the emergency numbers if you have any doubts rather than pointing to the web).
To avoid these problems, in many cases it is enough open the website suggested by Google and read directly from the site, understanding the context. But that's not always enough.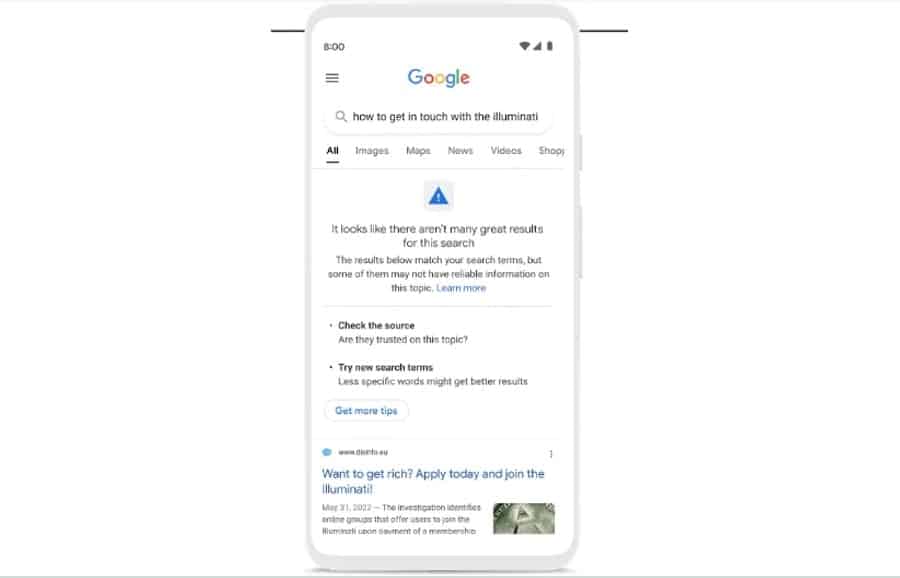 Another measure to prevent snippets from reporting incorrect information is the quality of the sources. For a year now, Google has been reporting potentially fake news in Search to combat disinformation. And now it's going further by adding a notice when, for some questions, it does not find enough reliable information.
Finally, Google is expanding the section "About this page ", which allows you to see the details of a site before consulting it. The system has so far debuted on iOS: with one swipe you can learn extra information about a site. But it only works in English at the moment. However, Google has promised to bring it to Android and other languages ​​in the coming months.