Prideful Sloth offers us Grow: Song of the Evertree, a sandbox who has one and only purpose in his life: relax and allow us to save the world to the sound of buildings, plant e particular creatures. We have tried the title on PC, through Steam, and we're ready to tell you what we think with this one review.
Grow: Song of the Evertree's review – one continuous melody
I Worlds of Alaria they are slowly fading. L'Eternal Tree, whose branches housed an infinite number of worlds, is getting smaller and smaller and its splendor is fading: all this because of theWithering. Nobody knows how to grow the Eternal Tree, how to restore it to its former glory, how to save all worlds. Now everything seems lost, abandoned.
But we have something special: we are young novice alchemists, it is true, but within us there is a powerful power able to bring Alaria back to life. Our strength lies in the I sing is in the heart: after all we are the last alchemists of Eternal Heart. Our task is only one, albeit a complicated one. We can bring the Eternal Tree back to life e we must protect it from all evil.
However withering it won't go away so easily. We will have to strive to keep the worlds in check, protect them and care for them with love. We will have to eliminate the evil, allow life and there worlds to flourish, Once again.
From the start screen and the first few seconds of the game, you can breathe a 'genuine atmosphere e pure. Accompanied by a sweet melody, and at times more compelling, an opening video explains and introduces the story, what is happening to the Worlds of Alaria. After creating our character and meeting our helpers, our adventure begins.
Our first task is to take care of the Eternal Tree. In our inventory we will find the Seeds of the World: once planted, they will allow us to visit gods mini worlds down the drain, who badly need our care and attention. Above all, they need ours love.
Thanks to the presence of other tools in our inventory, we can begin to show love to these worlds choked by the corruption of Withering. The gameplay in this case is simple and understandable. We have to destroy rocks, wooden planks, pull weeds and, where required, we have to plant seeds of plants and water them.
At first these efforts of ours seem quite useless but, suddenly, something catches our attention. A song, delicate and sweet, that only we can hear. We therefore discover that the I sing is what these worlds need. To activate them, in a sense, we have to rwelcome all our energies and sing.
This aspect turns out harmonic really fun, because we will see our character explode with joy as he screams beside the plants. Plus the mini worlds suddenly become more colored, alive.
The moment we finish our daily chores, we are invited to come home for rest and prepare for a new day. Here we can, as far as possible, do what we want. We can explore and see what mini worlds offer us. Of course it is advisable to explore once unlocked enough mini worlds: at the beginning, unfortunately, there will be little to know and visit.
We therefore advise you to go home and rest, because tomorrow we will have some surprises in store.
Time passes, worlds flourish
The following day we can see how mini worlds are transforming thanks to our actions. Once back in the mini worlds you will realize how much your presence is is essential to safeguard the worlds of Alaria.
Everything is like that magical and also satisfying to see these mini worlds begin to come to life and flourish again thanks to us, in our care and our love. In a sense we feel connected to them and in duty to help them every day.
It almost becomes a necessity turn on the game and give some love to these mini worlds. Plus the fact that this growth is gradual e develops over the course of several days, makes our hard work so much more satisfying and also gratifying.
Grow: Song of the Evertree, however, is not only care and love of mini worlds but it is also city ​​management. We can say that, in some respects, it is very reminiscent of the game dynamics of Animal Crossing: New Horizons.
As we progress forward in our adventure, at some point we will have a chance to invite characters to our house, in our mini village. In addition to taking care of the mini worlds, we must also take into consideration the place we live in: we can build buildings, business and allow the inhabitants to work e to live there.
The management aspect is simple e does not create problems. However, the more complicated aspect will be fulfill wishes e meet the needs of the inhabitants. We also need to take care of them and make sure they have the tools they need to make their dreams come true.
Also we must, as you can imagine, continue to take care of the environment, of the other mini worlds and even helping sides e little creatures to do business in their worlds. In short, the activities to be carried out ncertainly will not.
Grow: Song of the Evertree managed to make these activities relaxing, funny, satisfying: this is one of its main strengths. Taking care of the inhabitants, of the mini worlds and of the green settings will not be in the least heavy, on the contrary, it will give us satisfaction.
Seeing the village grow, the mini worlds flourish and come back to life is definitely one feast for the eyes. Magical and unique.
Another interesting aspect of the game is the fact that we are constantly encouraged and, whenever we complete a goal, we come rewarded. Thanks to our book of objectives, we can consult the main, secondary missions and other minor goals. We can decide which ones to play first and every time we complete one, we receive rewards, gods objects that will be useful to us later in our adventure.
An enchanting graphic sector and a magical soundtrack
A special mention goes to graphic sector of Grow: Song of the Evertree, able to bring every single element to life. Every corner, every setting of this universe exudes beauty e personality.
It all turns out like this enchanting e soft to the human eye, at times magical and delicate. The settings of the title they shine with their own light, they are truly exceptional. Along with it, we cannot fail to name the incredible sound sector that makes its way into our hearts and minds right from the home screen.
The title boasts a soundtrack compelling, which changes constantly: sometimes it is full of adrenalin, others it is delicate e you crib. The balance that characterizes the title is something absolutely wonderful.
Grow: Song of the Evertree – in conclusione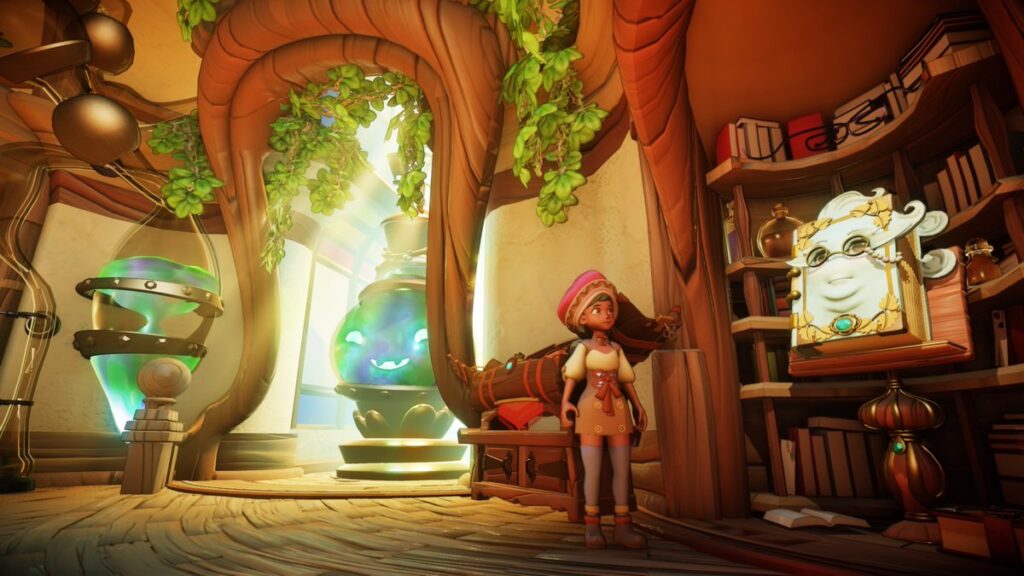 Grow: Song of the Evertree it is a small poem, pure and genuine. The title of Prideful Sloth entrusts us with an important mission and we will feel compelled to honor her to the end. Taking care of this small but intense world, seeing it grow and flourish, makes us feel special.
At the same time the exploration and the various daily activities there relax, allowing the title to become ours shed out of this world, away from the worries of everyday life, from responsibilities and from the most negative thoughts.
In such a small game, so much magic has been encapsulated that it can improve in no time on a rainy autumn afternoon. The title it is not aimed at a specific target: can please anyone, as long as you want to travel, to explore and take care of something with all your strength.
To conclude, we remind you that the title is available starting today on PlayStation 4, Xbox One, Nintendo Switch and PC (via Steam). The physical version for Nintendo Switch will instead be available in stores starting from February 2022.