Finding a job with LinkedIn? You can! In this guide I will explain step by step some of the main functions of the social network necessary to find work!
If you are at the research on how to find a job and would like to find alternative channels to do this, one of the best tips I can give you is to register directly to the social network which, according to statistics, has more than 500 million subscribers, namely LinkedIn. But now, without getting lost in chat, let's analyze the main functions needed to create a profile and start developing our first professional networks.
How to find a job with LinkedIn: the first steps
Would you like to find work and some of your friends have offered you to join LinkedIn? If the answer is yes, in this mini guide we will learn about the four main functions that will allow you to take your first steps within the well-known social network.
In particular, we will see:
Registration and access
The connections
Information to be included in the personal profile
The job search
Registration and access
The first thing you need to do to get on LinkedIn is, of course, open the search engine and type the name of the social network, and then click on the first site in evidence, that is LinkedIn.com.
Once you have entered the site, you can simply fill out the registration form by entering your name, surname, email and password, as indicated in the image below.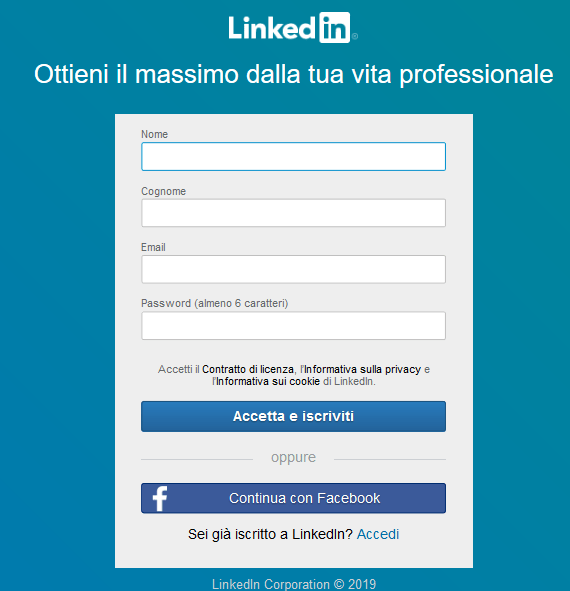 Subsequently, all you have to do is go to your e-mail box, confirm the registration on LinkedIn, thus completing the first access.
The connections
If you've made it this far, it means you're looking for a job and can't wait to start making your first connections to quickly reach your goal. What are you waiting for, then? Let's begin!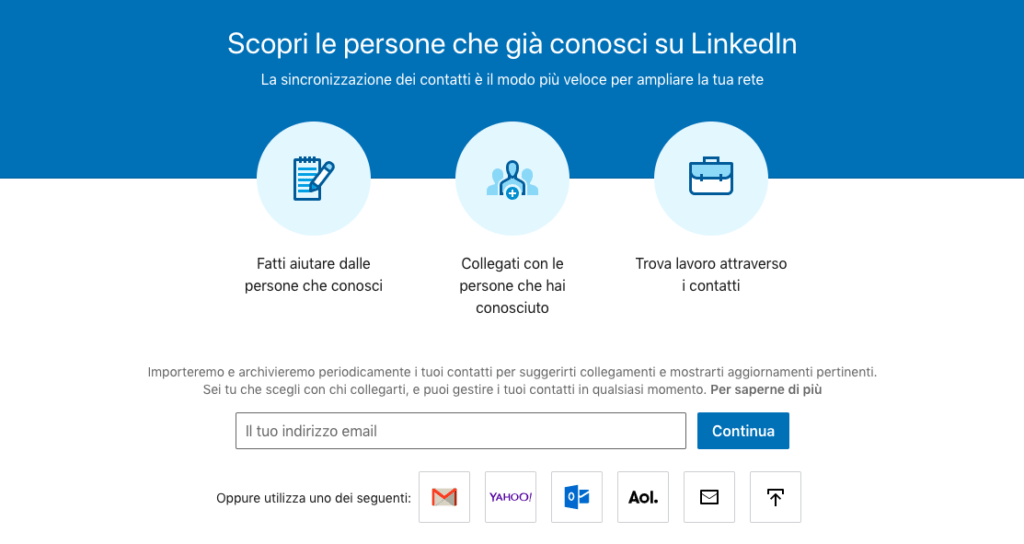 First of all, once logged in, you will need to click on the icon Network located at the top of the window and enter your email in the appropriate bar, so that LinkedIn can import your contacts and suggest which of them have a profile on this social network. It is always advisable, when starting out, to connect with people we know. This will allow, in the not too distant future, to receive positive references and increase your visibility.
Information to be included in the personal profile
Although connections are an important factor in finding work, the information entered in the personal profile can also determine a turning point in terms of visibility and professionalism. But now let's take action and see what are the main data to indicate within your page:
Information Section: one of the most important aspects of the profile is, without a doubt, the Information Section. In fact, within it, the experiences had in the course of one's life both at a professional and personal level are briefly described. In this way, you will help make a first impression to users who browse LinkedIn, both individuals and companies, and who could become your connections or, at best, hire you.
Training Section: this section collects school and training experiences that have allowed you to acquire certain skills over time.
Work Experience Section: we can say that this section represents a real form of Curriculum Vitae. In fact, just like for the Training Section, here too you will have to catalog every work experience you have had in chronological order. Company recruiters often look at this part of the profile as they need to know your level of experience. In any case, don't worry! In case you have no experience, there are several companies that hire equally.
Skills Section: this section contains the soft skills and hard skills that you have acquired over the years and that could play to your advantage when looking for a job.

The job search
After we have tried our hand at requesting connections and improving and / or strengthening our personal profile, we are finally ready to go in search of a job that we like and passionate about most. So, let's get to work!
If we want to find a job on LinkedIn, we must, first of all, go to the appropriate icon located at the top of the page and click on Work. In this way, we will immediately access the job offers screen.

LinkedIn allows you to perform a search by essentially selecting two filters:
Search by qualification, skill or company
Search by city, state or postcode
At this point, you just have to fill the bar of the City to indicate the location where you want to position yourself for the job and, in the box alongside, write the job you want to apply for. However, I have to give you one last piece of advice: remember to further filter searches by date. It is highly inconvenient to apply for a position published by a company three months ago. So, choose this feature carefully as well.
How to find a job with LinkedIn, good luck!
Finally, if for any reason LinkedIn has not met your expectations or has not produced the desired results, I recommend that you read this page on the Best Sites to Find Work!
If you want to stay constantly updated, follow us on social networks and don't miss the next guides!