We previewed the brand new battle royale from Ubisoft, Hyper Scape manages to bring fresh air to this somewhat stale genre
In a very short space of time Ubisoft announced and opened the doors to the closed beta for its brand new battle royale, Hyper Scape. News that can leave you stunned or completely indifferent if we consider that the genre is already richly populated. However, we had been wondering for some time what would be the move of the well-known French developer in response to this widespread and rampant FPS genre.
To reclaim his piece of the pie, he created an innovative and fun video game by reworking a pre-existing formula. Let's see in this Hyper Scape preview for PC how Ubisoft is trying to evolve the genre.
In a virtual world
In a world where real life has become miserable and devoid of real stimuli, people have found refuge in Crownspace, an open and inclusive virtual place. Among its most popular destinations is the Hyper Scape which hosts the city of Neo Arcadia, that is a huge arena where the bravest can fight to get the crown and therefore the victory. This is the simple initial premise to the game, present just to give a minimum of narrative base to the gameplay.
However Ubisoft seems ready to expand it in the future. We know how a compelling story can also be imported into a battle royale, but if the gameplay doesn't catch our attention, it could become derisory. But don't worry why we have plenty of fun in Hyper Scape, let's see it for good in this preview.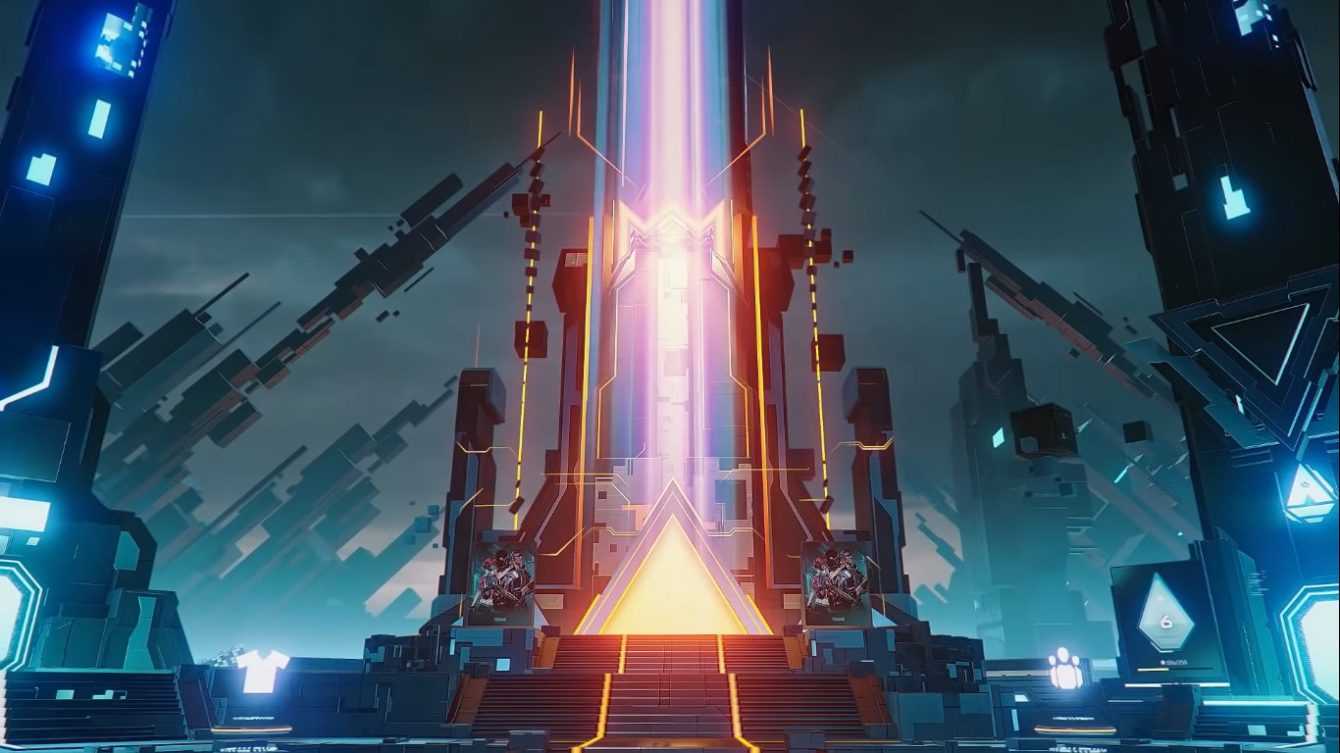 A necessary traditional foundation – Hyper Scape Preview
Hyper Scape at the bottom is a common team-based first-person battle royale, where each player attempts to team up with friends or strangers to achieve ultimate victory. You browse the map in search of weapons and hacks and you fight against 32 other teams for a total of 100 (including you and your team) in a battle for survival (for now there is only one mode). The first impact just fallen in the city of Neo Arcadia is certainly of extreme frenzy, even greater than the other battle royale, including Apex Legends, here you are always in a hurry, jump and parkour all the time in search of a new equipment or simple upgrade.
The focus is in fact on always staying on the move also to avoid being identified by enemies and being caught by surprise. To this end, the game provides us with the double jump, a good speed of movement, extremely smooth vaulting and a plethora of Hack (let's call them skills) to make every roof and surface reachable.
Periodically, as the game progresses, a random sector of the city will begin to collapse and become transparent and causing us damage, ultimately allowing us to freely traverse them. In those moments we will have to escape and reach a new sector remaining uncovered against opponents who can observe us and attack from a distance from a safer area.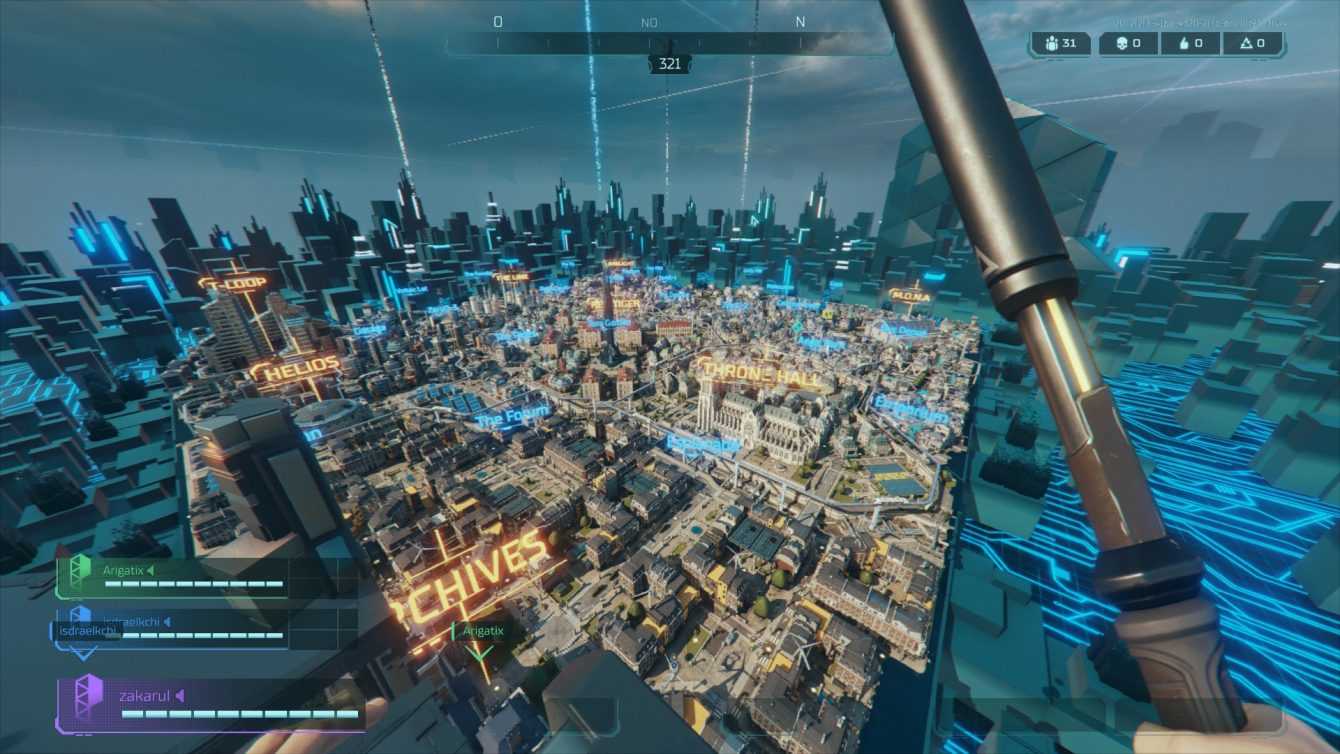 Innovative end game – Hyper Scape preview
Neo Arcadia will ultimately have narrowed down to a handful of areas where the remaining teams will have to contend for victory with the acquisition of the crown. This is where Hyper Scape radically changes from other members of the genre, testing becoming team coordination a kind of capture the flag. In a specific place in the sector, indicated by the announcer at the right time, the crown to which the players must aspire will appear.
Whoever manages to get it, to win, will have to try to keep it for 45 seconds with teammates in defense of the bearer. What we most appreciated about this phase is the clear change of focus, in which moving, running away and defending oneself is as important as attacking. This is where the choice of equipment and Hack made during the rest of the game becomes even more fundamental. In fact, in the early stages we don't have any kind of skills or any chance to get our favorite loadout, everything must be found in play encouraging a continuous change of approaches or search for the best equipment.
There are altogether nine different weapons and nine Hack of which we can equip two per category (so two weapons and two Hacks). The latter are like classic Overwatch-style skills, with infinite uses but limited by a cooldown. They allow us to go invisible, heal ourselves, take huge leaps and more; also each can be upgraded for free, simply by finding the duplicate on the map.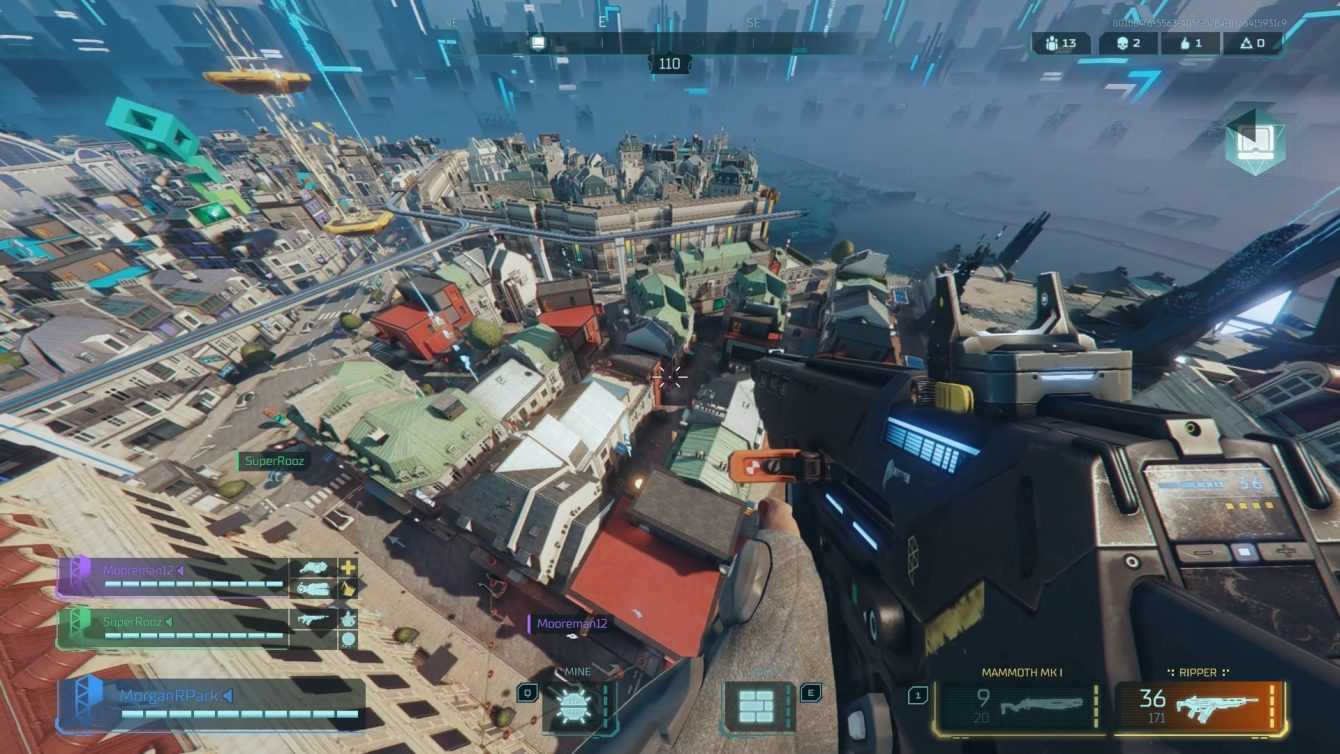 External Influences – Hyper Scape Preview
And if the hacks obtained no longer please us, we can always exchange them with others we think are better, just be able to find them. Their main strength lies in the ability to pair them at will, or at least based on what we can get, often forcing us to change style of play, discovering different combos each time that are team support or attack. If you want a more defensive approach, the options are there, same for attack and support or maybe mixed together for something original. The choice is up to you, even if not really about everything.
Ubisoft has in fact partnered with the purple streaming platform by creating the extension Twitch Crowncast. This gives viewers the ability to influence the game in real time, giving players not just temporary upgrades such as: infinite ammo, moon jumps and enemy revelation. This external influence is not too invasive, but it helps the participants in the battle to adopt an aggressive and active style.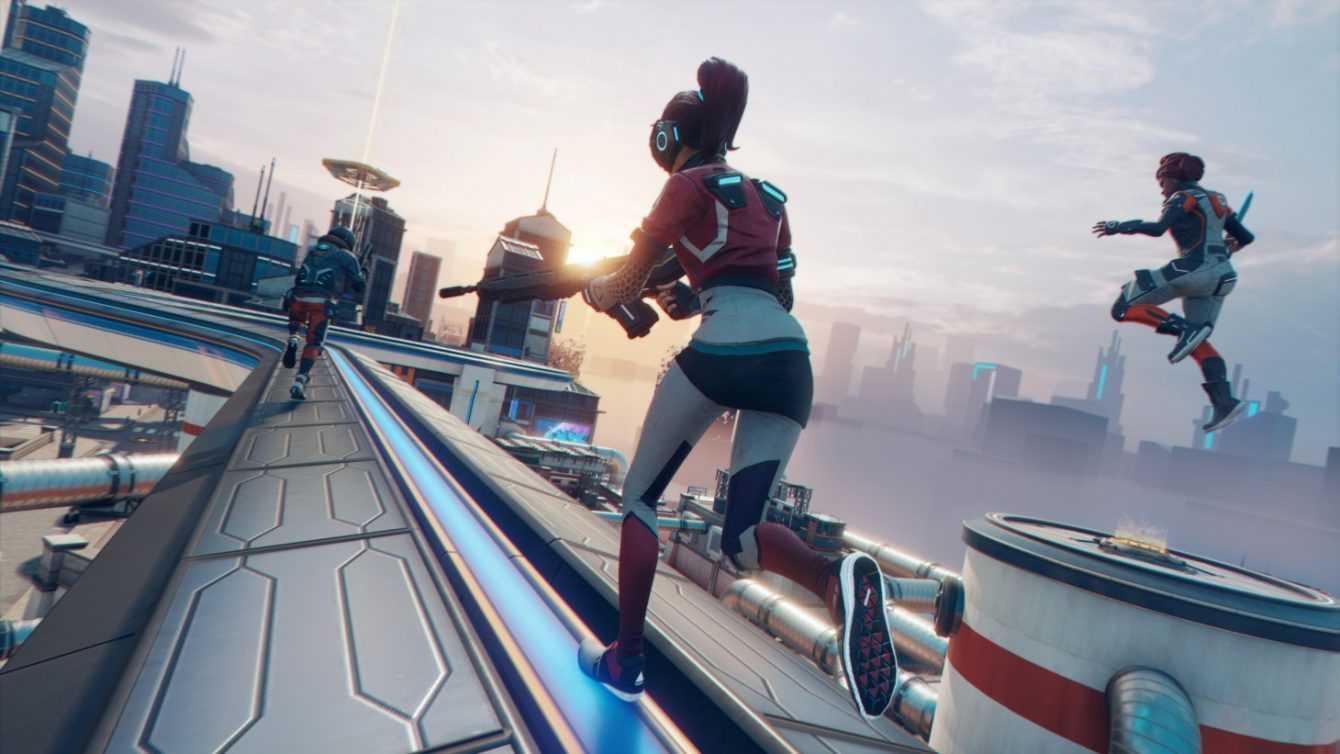 Weapons and Monetization – Hyper Scape Preview
For the weapons the speech is very similar, they can in fact be coupled at will and upgraded to increase the loader. The variety is good but some of them are much better than others and more suited to Hyper Scape's fast-paced gameplay. Although a ranked mode is not yet present, imbalances may arise. Argument that could also be applied to some Hacks with extremely limited and situational use.
However, since this is a closed beta, developers should have time to better balance the game. But beyond the gameplay it is natural to wonder what will drive us to play again and again. Ubisoft introduced three classic monetization and progression systems: a battle pass, shop in play and Fortnite-style challenges to complete to earn experience points.
A taste of prize progression was also provided during this preview of Hyper Scape, but nothing we can really comment on given its current narrowness. However it is good to point out that at the moment there are no pay to win elements, but only objects for aesthetic purposes. It is also worth mentioning the fact that it is possible to change our character at will between a choice of 8 avatars with fairly inclusive ethnicities and sex, while being trivial at the design level.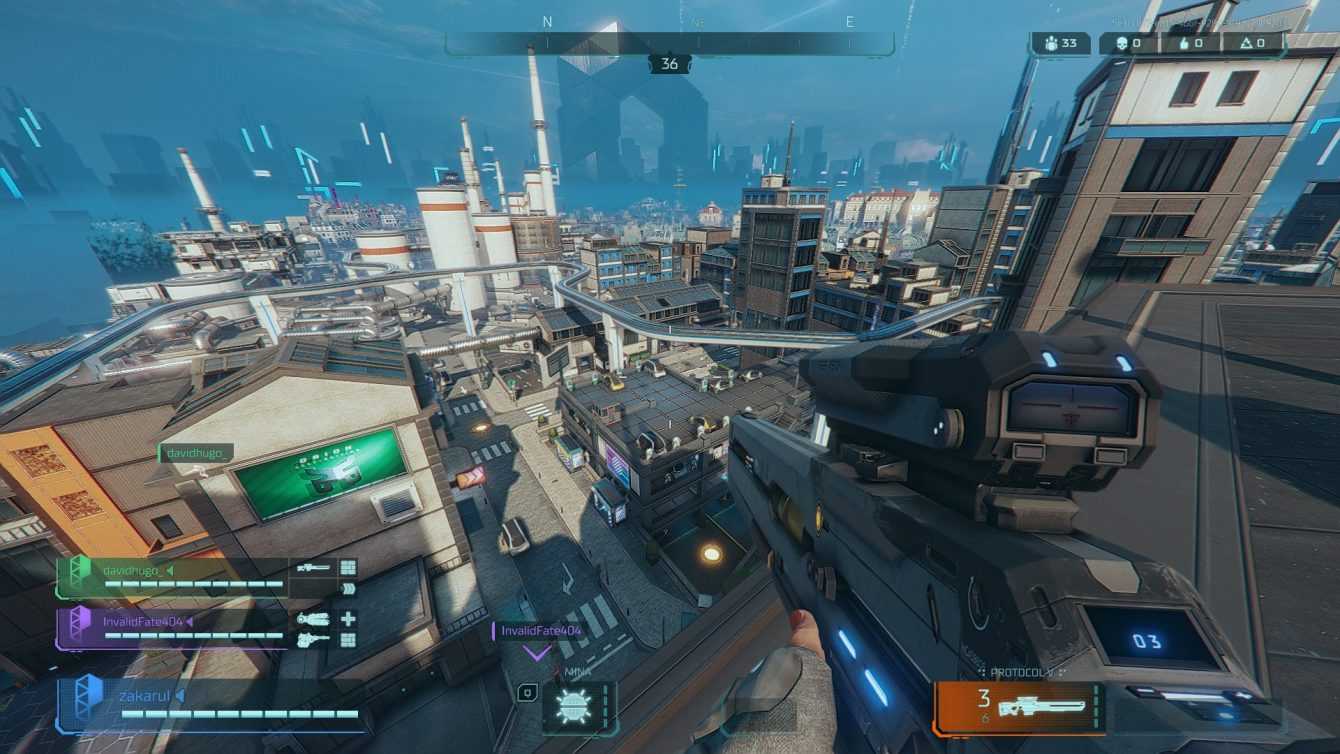 Ubisoft heritage aesthetics and optimal performance – Hyper Scape preview
The urban setting where chaos comes to life, screams "Ubisoft aesthetic" from every wall, full of historical and architectural elements with a heavy futuristic meaning in full Assassin's Creed style. In fact, if it were not for the presence of various firearms, it would seem to be in a universe enclosed within the Animus; we wonder when the crossover will arrive. The audio then is entirely dominated by electronic music, but nothing overwhelming as it could have happened a few years ago with the explosion of Dubstep music.
Interesting is the inclusion of an option to increase or reduce the perception of noise from a distance, such as shootings and explosions. An option that strangely is found in the middle of the graphics, where you can change numerous parameters to make the experience more comfortable for your needs. As far as performance is concerned, the weight of the game has not made itself felt exaggerated and we are pretty sure it will allow many configurations to play the title well.
For the most demanding and fans of FPS on PC you can also change the FOV. Nevertheless, on a graphic level we are not faced with a masterpiece, some textures and lighting effects are of low quality, but the general rendering is still very pleasant.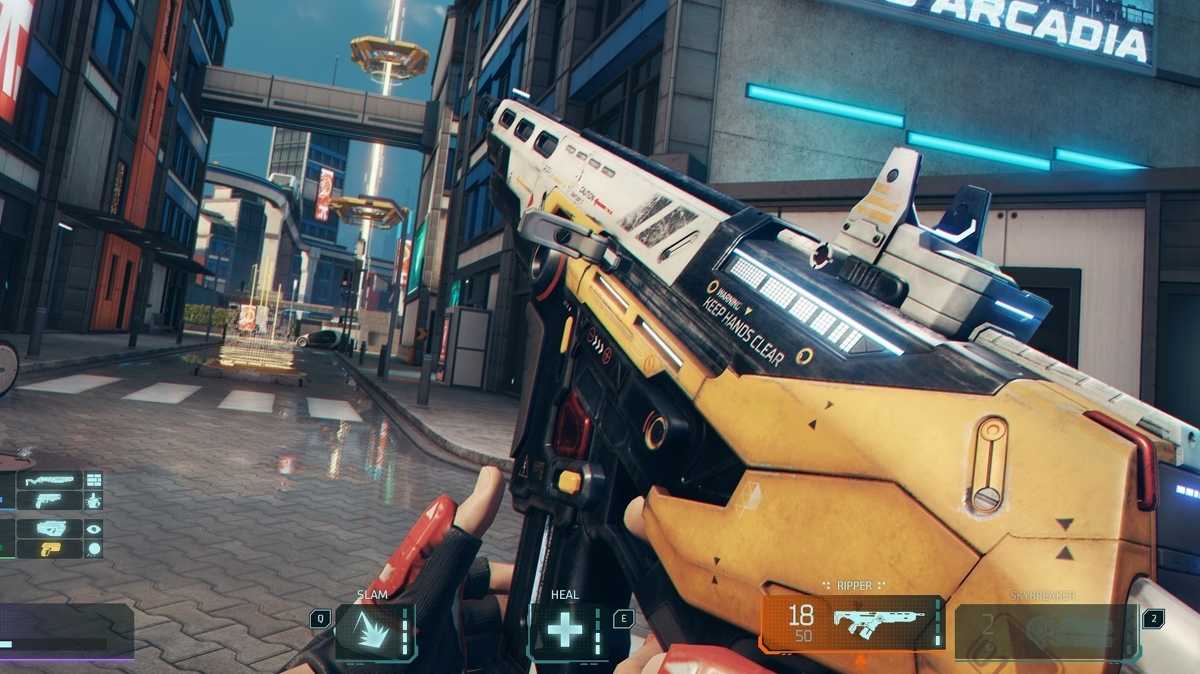 A great first look
Although this is only a preview, this one Hyper Scape enjoyed us a lot. Especially for the fact that it is a new alternative in the battle royale genre. It introduces some fun new features that make the experience always dynamic and active. You will rarely find yourself standing still in one place, but you will be forced to move constantly so as not to die or search for equipment. The ability to choose and find your own weapons and skills in the field, give a considerable depth to the gameplay. Not recommended for players with a shy approach!
The game in this preview Hyper Scape, is now available in closed beta until July 8 for PC, Xbox One and PlayStation 4. If you are among the lucky ones who managed to get access to this trial of the game, let us recommend some guides: guide and what to know about the new Ubisoft battle royale, tricks and tips to start playing, guide to the best weapons and the list complete with the Hack skill. To stay up to date on video games and technology, we recommend that you continue to follow us on the pages of techgameworld.com.