It looks like we'll get a taste of Intel Alder Lake as early as Q3 of 2021 or this summer. The new architecture will in fact be used in the new entry level processors for Xeon series workstations
Intel Alder Lake is the code name that identifies the 12th generation CPUs and which should bring with it many new features. While the newly released Rocket Lake CPUs still use the 14nm manufacturing process, the next generation CPUs will switch to 10 nm process Enhanced SuperFin developed by Intel in recent times and finally ready for entry into the world of desktop PCs. But it is not just about the production process, Intel Alder Lake will also bring a substantial novelty in the architecture. In fact, it seems that for the first time we will see a hybrid architecture in a desktop system which involves the use of different types of cores as already happens in ARM processors with big.LITTLE. The new generation CPUs should integrate two different clusters: one high-performance based on Golden Cove, the other based on Gracemont architecture used in low-end Atom processors with high efficiency. In addition, support for new technologies such as DDR5 and PCIe 5.0 memory will be introduced. But the first Intel Alder Lake-based processor could be dedicated to the workstation segment and will arrive as early as this summer.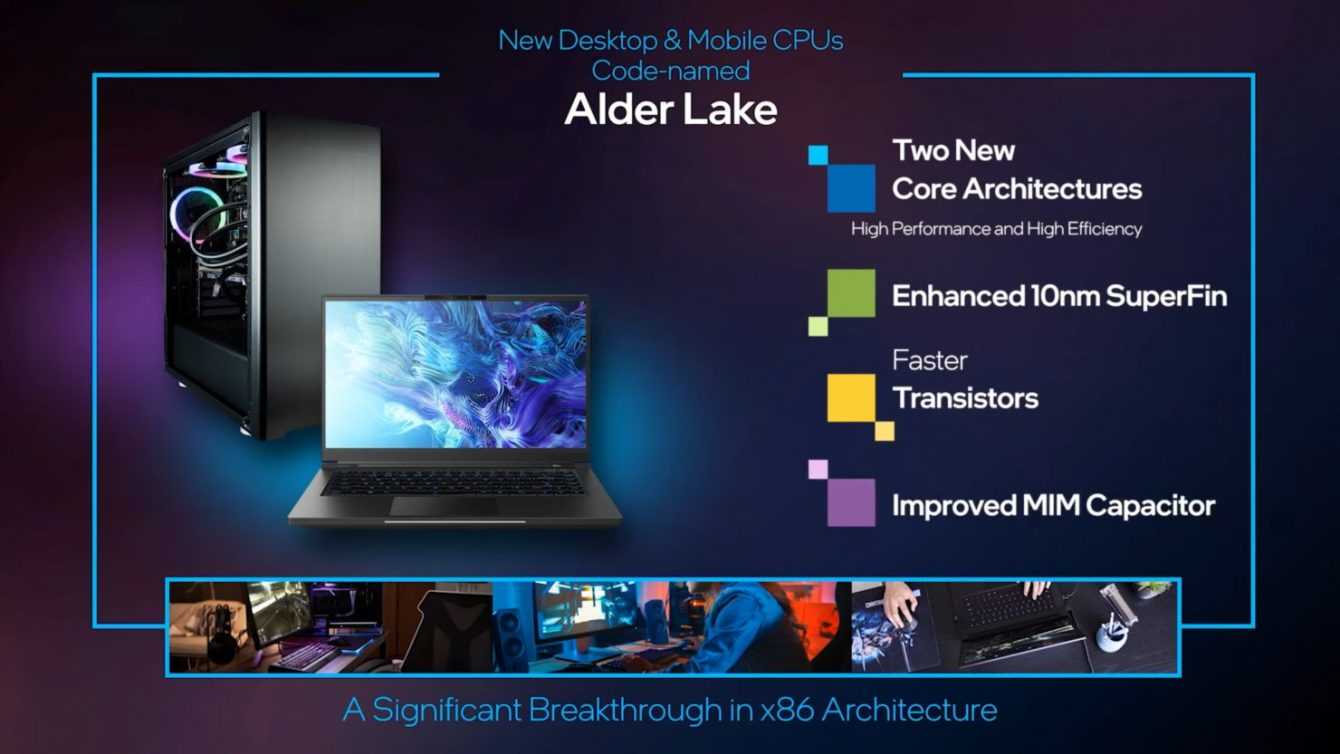 Intel Alder Lake: A Taste Before Autumn?
Thanks to colleagues at wccftech, we were able to view the latest roadmap of the Intel Xeon CPU dedicated to workstations, which unofficially confirms Intel's commitment to present the first Alder Lake-S next-generation CPU third quarter of 2021. The leaked Xeon CPU roadmap was spotted by HXL on Twitter and clearly shows how Rocket Lake based Xeon chips (W-1300) will soon be replaced by Intel Alder Lake architecture based Xeon W-1400 CPUs instead.
🤔intel WS pic.twitter.com/jksoYIXApT

— HXL (@9550pro) April 16, 2021
A taste of the world of workstations
The Intel Alder Lake-S Xeon CPUs for the workstation will be very similar to the CPUs for our desktop PCs. The main difference is that they will feature key workstation technologies such as vPro for business and entry-level workstations. Coming to the details, it appears that the Xeon W-1400 Alder Lake-S CPUs will be supported by the brand new W680 platform that will use the socket LGA 1700, the new socket that will arrive with next generation CPUs. W680 will be one of many Intel 600 series chipsets that will launch alongside Alder Lake-S CPUs, with the flagship Z690 for desktop PCs. We come to the specifics. Intel Xeon W-1400 chips will feature up to 16 physical cores. Two configurations are listed that include 8 + 8 and 6 + 0. The 8 + 8 SKUs featuring 8 Golden Cove cores and 8 Gracemont cores will go into production from week 35 of 2021, while the 6 + 0 SKU will only include 6 Golden Cove cores. and no Gracemont cores and will be mass-produced in week 44 of 2021. Intel Alder Lake Xeon W-1400 CPUs will feature various configurations TDP starting from 125 W on the main "K" series parts and followed by the standard 65 W and 35 W "T" series variants. Each CPU will be supplied with 20 PCIe Gen 4 lanes.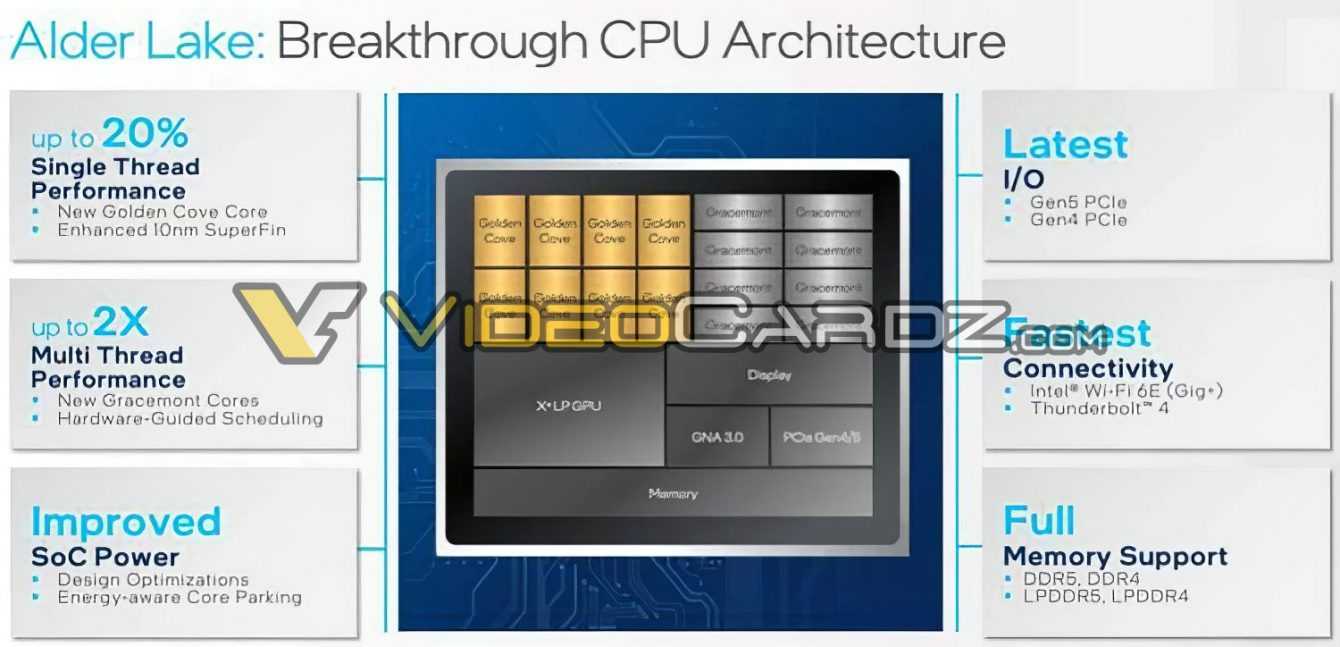 The new architecture will bring interesting performance improvements. There was talk of 20% performance increase in single-thread (although it is not clear what, perhaps in Rocket Lake) thanks to the new Golden Cove architecture that will equip the cores at high performance. To get an idea of ​​what this means, let's make a comparison with current processors. The Cypress Cove cores of the Rocket Lake CPUs offer IPC gains of around 18% compared to Skylake, while Willow Cove is slightly better. So globally, Golden Cove cores would provide a 40-50% CPI increase on Skylake, the first architecture built at 14 nm about 6 years ago. The new processors will be twice as fast in multi-threaded workloads. High efficiency Gracemont cores could come into play here and together with a Hardware-Guided Scheduling. We can therefore imagine that the scheduling will be managed taking into account the hardware characteristics, in order to allocate the heaviest processes to the high-performance cores to avoid wasting power unnecessarily, while the so-called I / O bound processes could be assigned to the cores with greater efficiency. .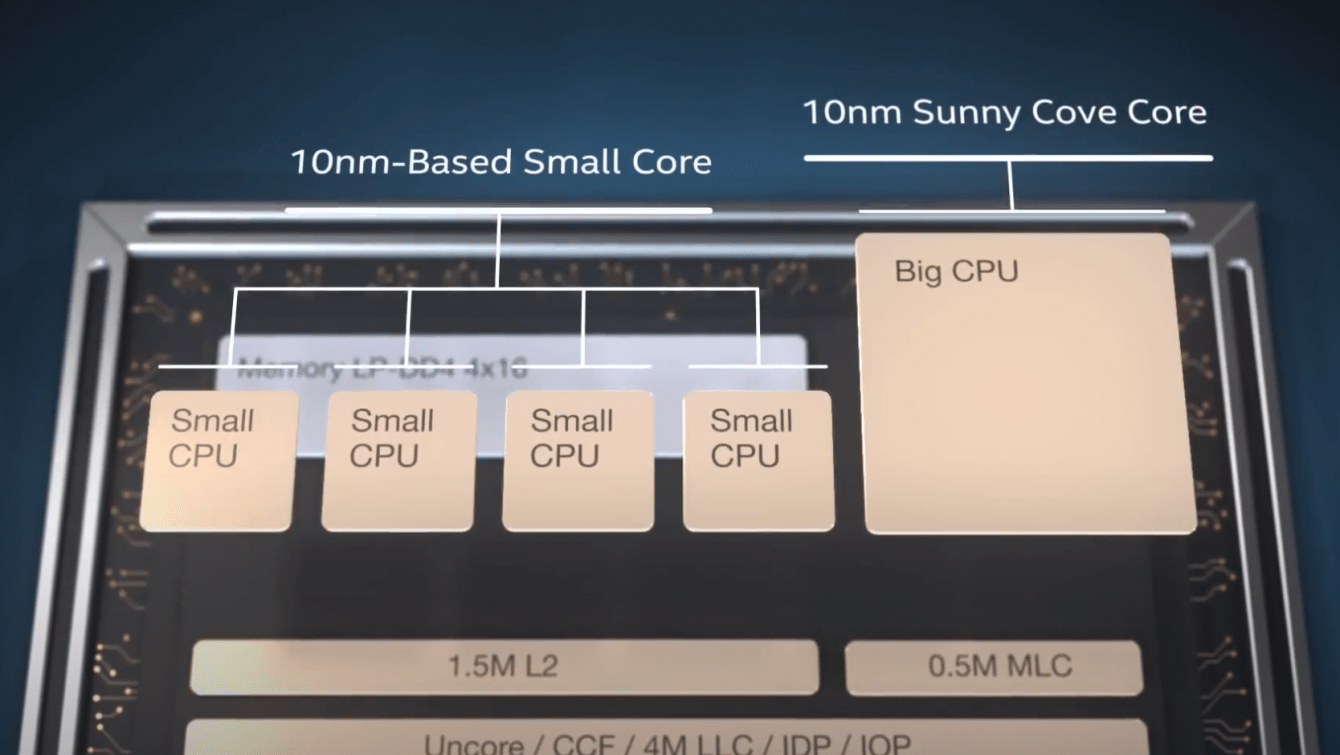 When it comes to I / O, the 12th Gen Intel Alder Lake CPU range will include both support PCIe Gen 5 che PCIe Gen 4, Intel WiFi 6E (Gig +) e supporto Thunderbolt 4. For memory they will probably support DDR5 and DDR4 RAM together for the desktop platform and LPDDR5 / LPDDR4 for the mobile platform. In short, a small taste of the 12th generation could arrive as early as summer, pending the official presentation of desktop products which should take place in September with availability on the market towards the end of 2021 or early 2022. That's all from the hardware section, keep following us!