In the new normal, hybrid between online and offline, tablets are among the devices that have most mitigated the impact of the pandemic on several fronts, from streaming to teaching, from gaming to productivity. The data from the report on the digital life of Italians, produced by Censis in collaboration with Lenovo, which will be previewed on October 19 in Rome, confirm that 91.5% of Italians usually connect to the web, of which 74% use at least two devices. For this reason Lenovo introduces in Italy a range of tablets able to satisfy all the new entertainment and productivity needs, previewing new premium-end devices to the media that stand out for design quality, smart features, audio and video.
The new range includes the Yoga series, featuring the Yoga Tab 13 and Yoga Tab 11 tablets and the full portfolio of P series tablets, such as the Tab P12 Pro and Tab P115G, recently announced at Tech World, joining the P11 Pro and P11 , already available in Italy.
The new Yoga series: all about Lenovo's premium tablets
Yoga Tab 13 is a portable home cinema covered in Alcantara, a luxurious and Carbon Neutral certified material produced in Italy that protects against fingerprints. Awarded with the Red Dot Design Award 2021 for innovative design and high quality materials, Yoga Tab 13 has a large 13 "display with 2K resolution (2160 x 1350) and LTPS panel (Low Temperature Poly-Silicon), more energy efficient and less reflective.
The panel is compatible with Dolby Vision HDR technology, which offers incredible detail and extremely brilliant picture quality (1080p); Thanks to four JBL speakers including two integrated into the soundbar and Lenovo Premium Audio software with Doly Atmos, Yoga Tab 13 delivers a clean and enveloping sound, a great quality home cinema experience, on the go or in any room of the house for the use of streaming content for up to 12 hours.
The design of Yoga Tab 13 is distinguished by the support at the base of the tablet, which can be used in different modes and positions also as a second PC screen via the micro-HDMI cable. Intelligent features such as smarter log-in allow you to make video calls of exceptional quality, with the reduction of background noise.
Certified for Wi-Fi 6 technology, Yoga Tab 13 is powered by a platform based on Qualcomm Snapdragon 870 octa-core processor.
Yoga Tab 11 is the tablet designed to be shared with the family, also ideal for studying thanks to the pen holder With 11 "2K IPS display and Touch Display Driver Integration (TDDI) and Dolby Vision technology, this tablet is certified by TÜV Rheinland for the reduction blue light and increased eye protection; by selecting the Eye Care mode it is possible to automatically adjust the white balance and the color tone for the best visual comfort.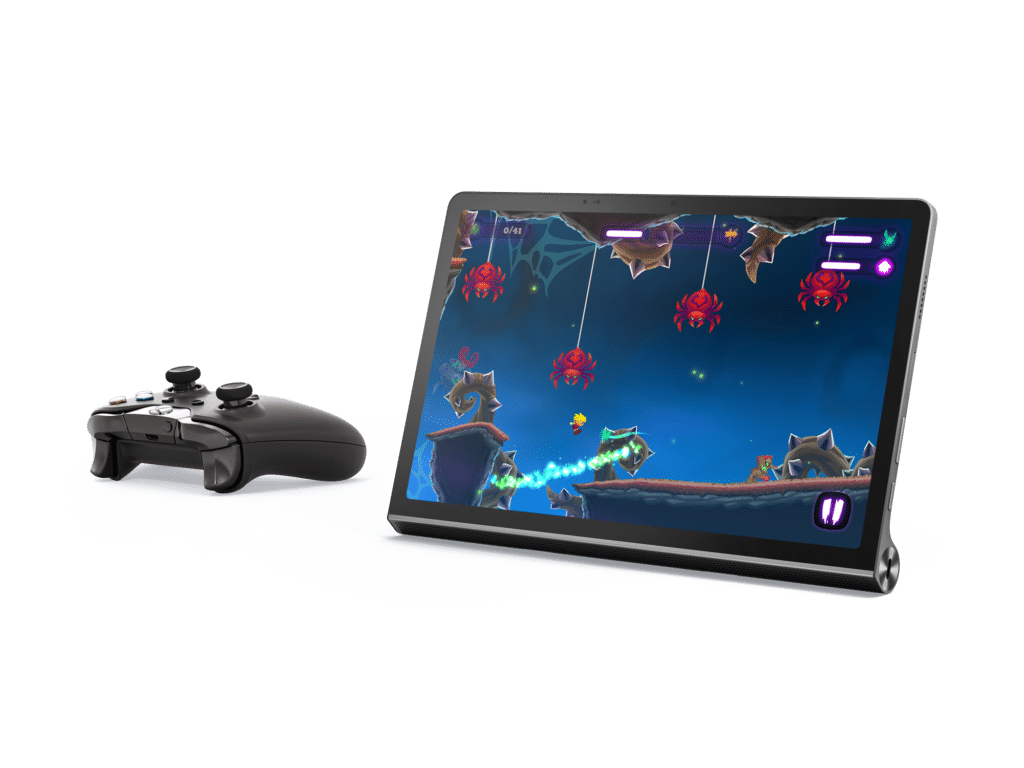 Yoga Tab 11 is available in LTE version (optional) and features many of the entertainment and productivity features of Yoga Tab 13. Based on the powerful Mediatek Hello G90T octa-core processor with UFS memory chip for great quality viewing, super high speed for gameplay on tablets, apps and navigation.
All the news of the P series arriving in Italy, productivity on-the-go
Lenovo Tab P12 Pro is designed for productivity instantly, delivers an exceptional multimedia experience with a 12.6 "AMOLED display and the all-new Lenovo Precision Pen 3 with practical magnetic attachment for wireless charging along with a flexible, slim and detachable keyboard.
Lenovo Tab P12Pro is synonymous with entertainment thanks to a number of premium features such as an S-Stripe RGB touchscreen display for vivid picture quality, 16:10 aspect ratio and four-channel audio, and four speakers for deeper bass, clarity and depth cinematic sound.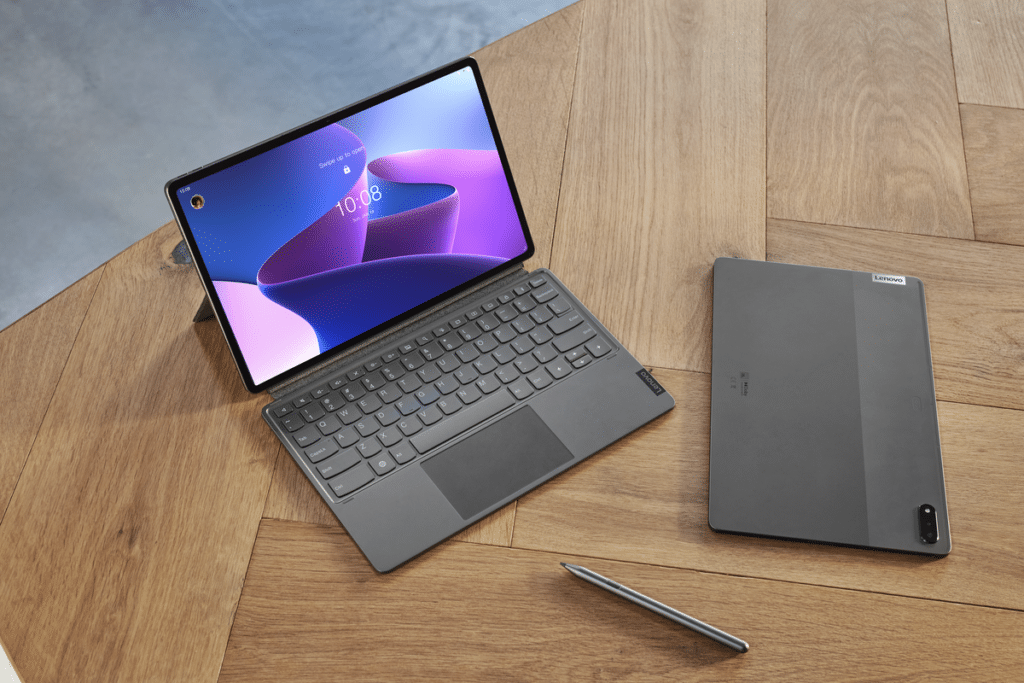 The tablet intelligently self-adjusts for all needs, ranging from 120Hz refresh rate for casual gaming to 60Hz for web browsing. Among the features for the new hybrid reality:
Designed for the instant multitasking, it's a lightweight, all-metal device that weighs around 1kg for the total package and is also ultra-thin, just 5.63mm with narrow bezels for a larger screen.
Model 5G offers sub-6 GHz bandwidth connectivity and lightning-fast download speeds when on the go; both models, Wi-Fi or 5G, provide a 10200 mAh battery with 45 W rapid charger support for up to 17 hours of video streaming.
For unlimited collaboration on devices, Lenovo Tab P12 Pro introduces the new wireless connectivity software solution called Project Unity.
Lenovo Tab P11 5G is designed to be ultraportable for work, play and study in the new hybrid modes; is Lenovo's first consumer Android tablet with dedicated 5G capable of providing connectivity below 6 GHz.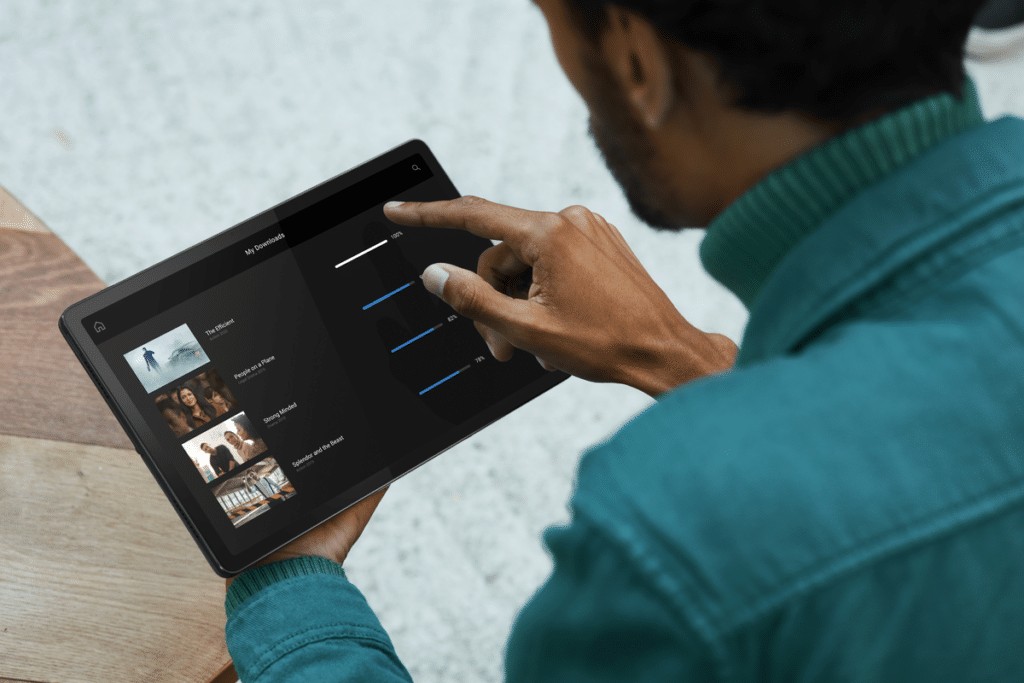 TÜV certified for visual comfort, the tablet's 11-inch IPS display with 2K resolution, combined with the layered sound of four JBL speakers, tuned with Lenovo Premium Audio delivers a totally immersive entertainment experience. Features for the new hybrid mode include:
Lenovo Tab P11 5G is available with keyboard package (optional) and Lenovo Precision Pen 2 (optional) for on-the-go productivity
Lenovo Tab P11 5G's nano SIM card enables lag-free video chat in real time with hands-free access via the front camera sensor and also provides background blur to keep your surroundings private
Fast download speeds even during peak hours or crowded areas and streaming video playback at the highest level thanks to the efficient Snapdragon 750G 5G mobile platform
Lenovo introduces the "Guaranteed Reliability" program for the Italian market
Lenovo recently introduced the Guaranteed Reliability program on the Italian market for all consumer products, including tablets. Subscription to the program allows you to receive up to a maximum of 1000 euros in reimbursement on notebook, desktop, all-in-one PCs and up to 350 euros in reimbursement for tablets and monitors that develop technical failures after 30 days and up to 365 days from the date of purchase, plus the possibility of having your device repaired. Thanks to the Guaranteed Reliability program it is therefore possible both to obtain a refund and to have the repaired product back; Accidental damage and failures due to negligence or improper use are not included.
Guaranteed Reliability is available for all Lenovo consumer products purchased by December 31, 2021 through any channel; To access the program, you must register on the official website within 15 days of purchasing the product, indicating your personal data and the product serial number. Within 30 days from the date of repair, you will be able to submit a refund request.
Prices and availability for the Italian market
Lenovo Yoga Tab 13 is now available for € 899
Lenovo Yoga Tab 11 is now available for 549 euros
I tablet Lenovo P11 Pro e P11 are already available on the Italian market from May at 799 euros and 299 euros respectively
Lenovo Tab P12 Pro will be available at the beginning of 2022 starting from 999 euros
Lenovo Tab P11 5G will be available at the beginning of 2022 starting from 649 euros
In addition, it is possible to request the service Lenovo Premium Care and get support on your tablet such as: assistance on using the device, quick repair on site, hardware and software support, free annual check-up.