BERLIN – Entering the hall 18 of the Berlin fair IFA 2022, two huge screens welcome you and fill your eyes with light: they are two new LG's 97-inch OLED. And after entering this Wonderland of technology, the innovations continue: from first OLED TV with variable fold screen up to a refrigerator that changes color with your smartphone. The brand's "Life, Reimagined" concept comes to life and is truly amazing.
LG at IFA shows the largest OLED in the world and the one with variable curvature
The huge TV at the entrance is the TV OLED evo Gallery Edition da 97" and it is the largest in the world in its category. It has all the technological innovations of the G2 series, but with an amazing size. The vivid colors and pure blacks of the screen enchanted us.
We recently reviewed LG's 42-inch model, which we called a little gem of a TV: here was the entire royal crown available.
And continuing the LG "jewels of the queen" continue. We were able to admire the Signature range OLED 8K yes 88 pollici, with a spatial definition. And then the huge LG Micro LED 4K yes 136 pollici (Yes, you read that correctly). All ultra-premium products, which serve to demonstrate the enormous quality of LG technology when it comes to screens.
But the brand has dedicated an entire area to a new and surprising technology. In the Flex Arcade we could indeed admire LG OLED Flexthe first screen from 42 inch foldable. LG has set up some play stations to test the 20 levels of curvature of this product that really impressed us.
During the demonstration organized by LG we watched the screen go from flat to one really important curvature up to 900R: we were amazed. Especially considering that it remains in effect a very high quality OLED evo TV, with all the features you can expect from LG. And also a highly adjustable stand equipped with RGB LEDs, for a true gamer look.
Technology as a lifestyle for LG at IFA 2022
Continuing the journey we were able to see the lifestyle TVs of LG della OLED Object Collection, with solutions with the fabric that covers the screen or with a retro so full of style to put at the center of any room. And then there is the new LG XBOOM 36 speaker0, a real piece of furniture. And then you can't miss a refrigerator that changes color according to to what you set on your smartphone. A furnishing solution we had never thought of. But that we would like to take home with us right away.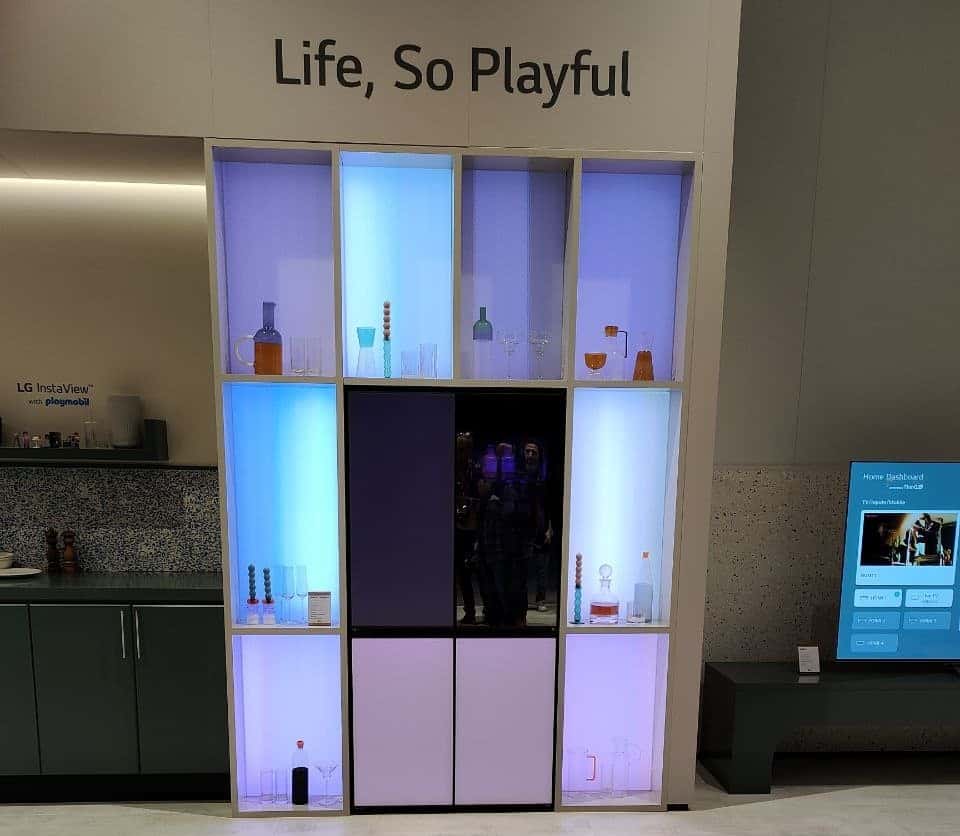 A novelty that really surprised us is the double solution for shoe care: LG Styler ShoeCase e ShoeCare. On the one hand, a kind of "rotating showcase "for sneakers and shoeson the other, a technological accessory for their cleaning.
And then there LG WashTower, which becomes even more compact. And then LG Aero Furniture, a truly unique air purifier that becomes a furnishing table. Products like this make it clear that customization is becoming more and more important for the brand: everyone can furnish the home of their dreams, without giving up the top of technology.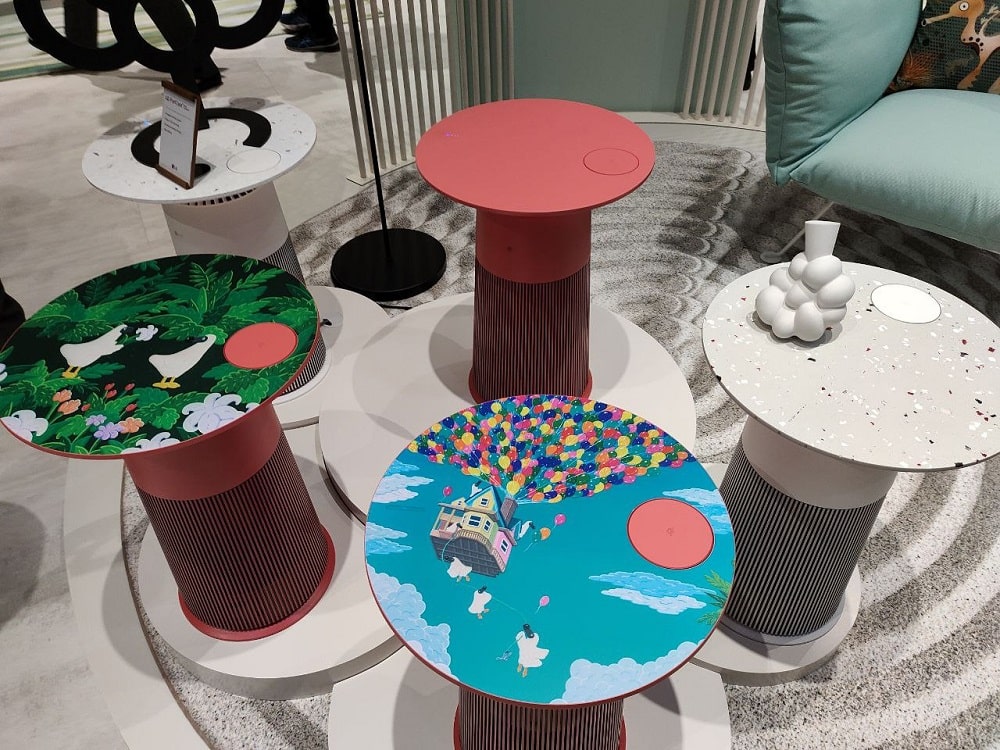 Audio and monitors (even those that follow you)
Finally, there is no shortage of areas dedicated to audio with the new earphones LG Tone that the company has recently announced. And then the monitor area, with the interesting Ergo Monitor Workstation, which houses displays that move with you to always have the best position. Even following your movements with an intelligent mechanical arm, which will make zooming calls even easier.
Next to the displays designed for those who work there is also the UltraGear Gaming Monitor Play area, with the entire line of products for gamers. Also in this the (fixed) curvature often makes the difference, with truly enveloping solutions.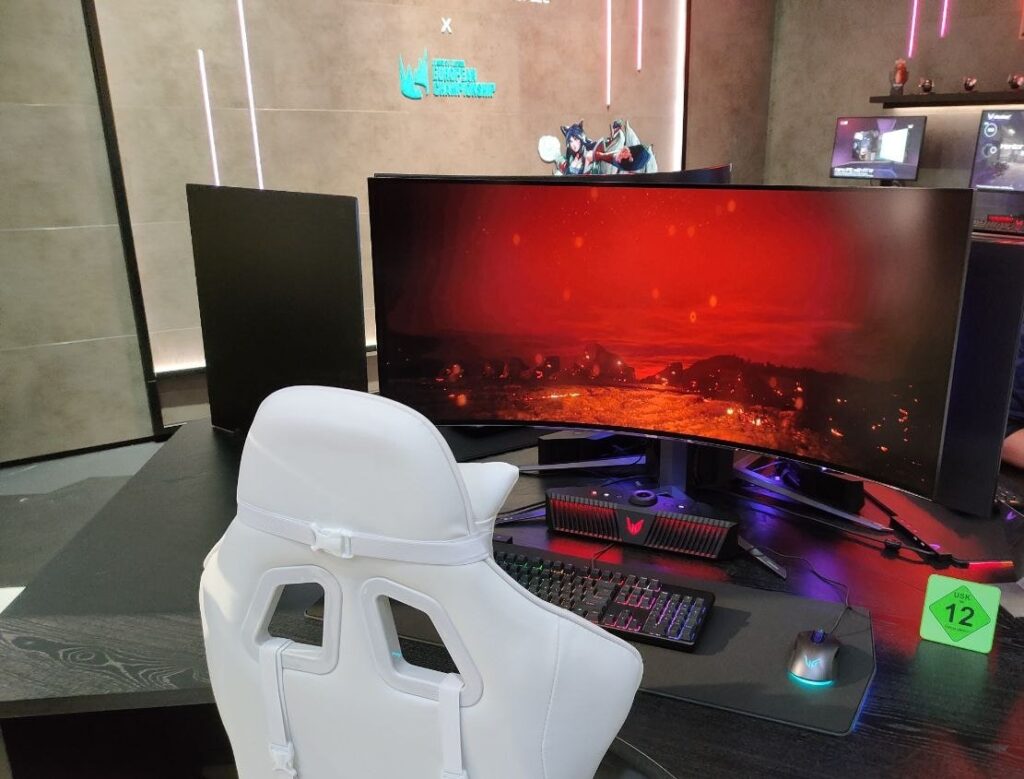 If you are passing through Berlin for IFA 2022, we really recommend you to visit the Hall 18 set up by LG: a paradise for technology enthusiasts, simply not to be missed. But if you can't, you can still explore the booth with the official video on LG's channel (and check out our channels for a few more tastes!).