There is an air of news at Little Rocket Games, what is waiting for us in this first quarter of 2021? Let's go and find out together
Little Rocket Games is not new to this site and there are many of their games that we have reviewed, including Rune and Naenia Cantor. Today we are here to talk to you about their news that will accompany us in these first three months of 2021, let's go and see what it is
Little Rocket Games news of January 2021
Kingswood
The Kingswood Forest is overrun by monsters, so the King has decided to bring together all the most important guilds in the village who have the goal of clearing the forest and gaining fame and glory for their guild. How to play? Players must control the guild adventurers moving around the village, their purpose is to create or update new resources. Only when you have enough resources will you be able to enter the forest to be able to fight against monsters. Each monster gives points to add to its glory and only some monsters offer immediate benefits when defeating them. The first player to reach 20 points begins the final round. Vince who at the end of the game has the highest total glory.
Content: 13 Location boards, 42 Monster cards, 7 Guild cards, 1 scoreboard, 7 tokens, 110 Resource tokens, 3 Adventurer tokens, 1 King's Guard token, 1 Starting Player token.
Exit date: January 2021
Age: 10+
Players: 1-5
Duration: 15-45 min.
Author: Henry Audubon
Illustrations: Tristam Rossin
Price: 29,90
Little Rocket Games news of February 2021
Calico
It is a family puzzle game. Players have to compete with each other to create the most comfortable and beautiful quilt. How to play? It's very simple! During your shift you have to sew patches onto the quilt, but how do you do it? By choosing and placing tiles on your board. Additionally, victory points are earned by sewing buttons, fulfilling their own design goals and attracting cute kittens to curl up on the quilt.
Content: 4 Quilt Boards, 108 Patch Tiles, 80 Cat Tokens, 52 Button Tokens, 24 Objective Tiles, 5 Cat Score Tiles, 6 Black & White Patch Tiles, 1 Score Pad, 1 Quilt Master Card, 1 Button Score Card.
Exit period: February 2021
Age: 10+
Players: 1-4
Duration: 30-45 min.
Author: Kevin Russ
Illustrations: Beth Sobel
Price: 39,90
Santa Monica
California. Miles of sunny beaches. Welcome to Santa Monica! Each turn, draw a Characteristic card needed to create your beach. Will it be a fun and lively place that will attract tourists or something more peaceful for those who love to immerse themselves in nature?
Content: 78 feature cards, 4 summary cards, 6 feature tiles, 4 sand dollar tiles, 3 objective tiles, 30 locals tokens, 30 tourist tokens, 8 VIP tokens, 28 footprint tokens, 25 sand dollar tokens, 4 multipliers, 1 Food Truck token, 1 Gourmet token, 1 First Player token, 1 Scoreboard.
Exit period: February 2021
Age: 14+
Players: 2-4
Duration: 45 min.
Author: Josh Wood
Illustrations: Brigette Indelicato, Jeremy Nguyen, Josh Wood
Price: 39,90
Little Rocket Games news of March 2021
Tutankhamun
Reiner Knizia continues to take us around the world with his games. Pack your bags, this 2021 we go to Egypt! The Great King Tutankhamun is dead and it is necessary to decide which artifacts to bury with him in his tomb, to take them to the afterlife. Your task is to take on the role of priest or priestess and to collect artifacts from all over Egypt. Once all parts of an artifact have been found, it can be placed in the King's tomb and the priests who can take credit for it are authorized to donate funds for its acquisition. Will you be able to win the favor of the new Pharaoh and be declared the new High Priest of Egypt?
Content: 1 Underworld board, 1 Pharaoh's sarcophagus, 2 Guardian statues, 6 Canopic Vase tokens, 6 Boat tokens, 10 Egyptian God tiles, 6 Egyptian God Summary cards, 70 Artifact tiles, 1 Game box (the lower part is the Tomb and the Path of the Spirit is along the upper edge).
Exit period: March 2021
Age: 8+
Players: 2-6
Duration: 30 min.
Author: Reiner Knizia
Illustrations: Jacqui Davis, Matt Paquette
Price: 29,90
CHILD WOOD Vol 3 The Collision of Realities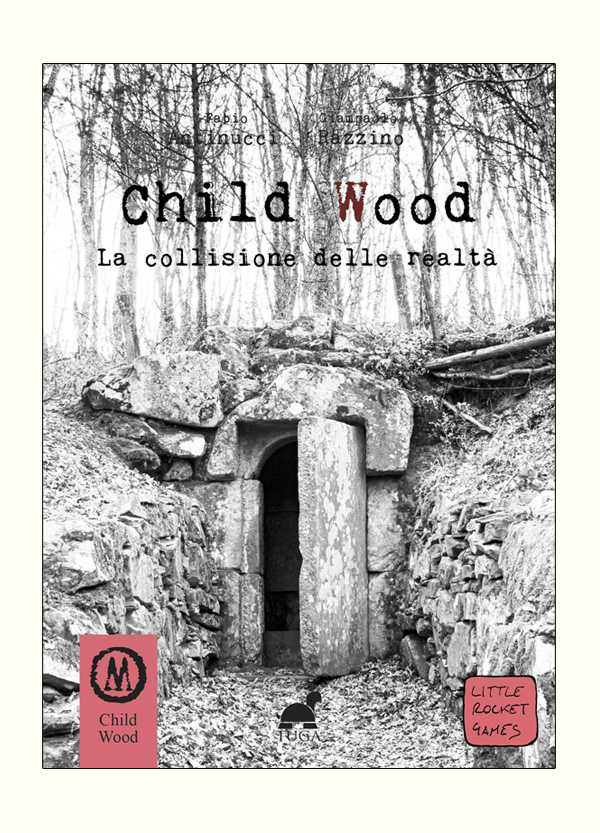 Finally, in March, the long-awaited third volume of the book saga "Child Wood" will be released. Still in the role of Ron Stephenson, you will find yourself following a new trail of disturbing clues that will lead you to have to venture back into the woods, but this time in the company of your colleague Peters. Waiting for you will be Clarence, the mysterious wanderer, who is ready to help you in your investigation. Will you choose to venture out with Ron or go deep into the mysterious darkness with Calrence? Follow your instinct.
Exit period: March 2021
Author: Fabio Antinucci, Giampaolo Razzino
Illustrations: Erica Rossi
Price: 12,90
Publishing house: Tuga Editions / Little Rocket Games