Logitech, Turtle Beach and ROCCAT are three brands that produce high quality peripherals for PCs, especially dedicated to gaming and which could turn out to be excellent Christmas gifts
Christmas is also approaching for hardware and gaming enthusiasts and some of the most important brands in the industry are bringing out a lot of interesting products for your Christmas gifts. Also Logitech, Turtle Beach e ROCCAT they have set up a splendid showcase for the Christmas holidays. We will see peripherals of various types in this article, who knows if you will find the one that best suits you or your friends.
LOGITECH's best Christmas gifts
Let's start with LOGITECH and lots of products dedicated to gamers.
G PRO X Superlight mouse: between simplicity and performance
The new PRO X SUPERLIGHT joins the incredible lineup of PRO series products, which already boasts an excellent reputation for quality and performance among pros around the world. The PRO X SUPERLIGHT has been tested on the field, resulting decisive, for the victory of the ASTRALIS in the Season 12 ESL PRO League Final, and for the G2 Esports to win the European Championship 2020 of League of Legends. To meet the needs of competitive gamers, the new PRO X SUPERLIGHT has been designed to remove every possible obstacle to victory by being the lightest and fastest Logitech G wireless mouse ever. Meticulously redesigned and structured to reduce weight and improve performance, the new PRO X SUPERLIGHT weighs less than 63 grams and is nearly 25% lighter than the standard PRO Wireless.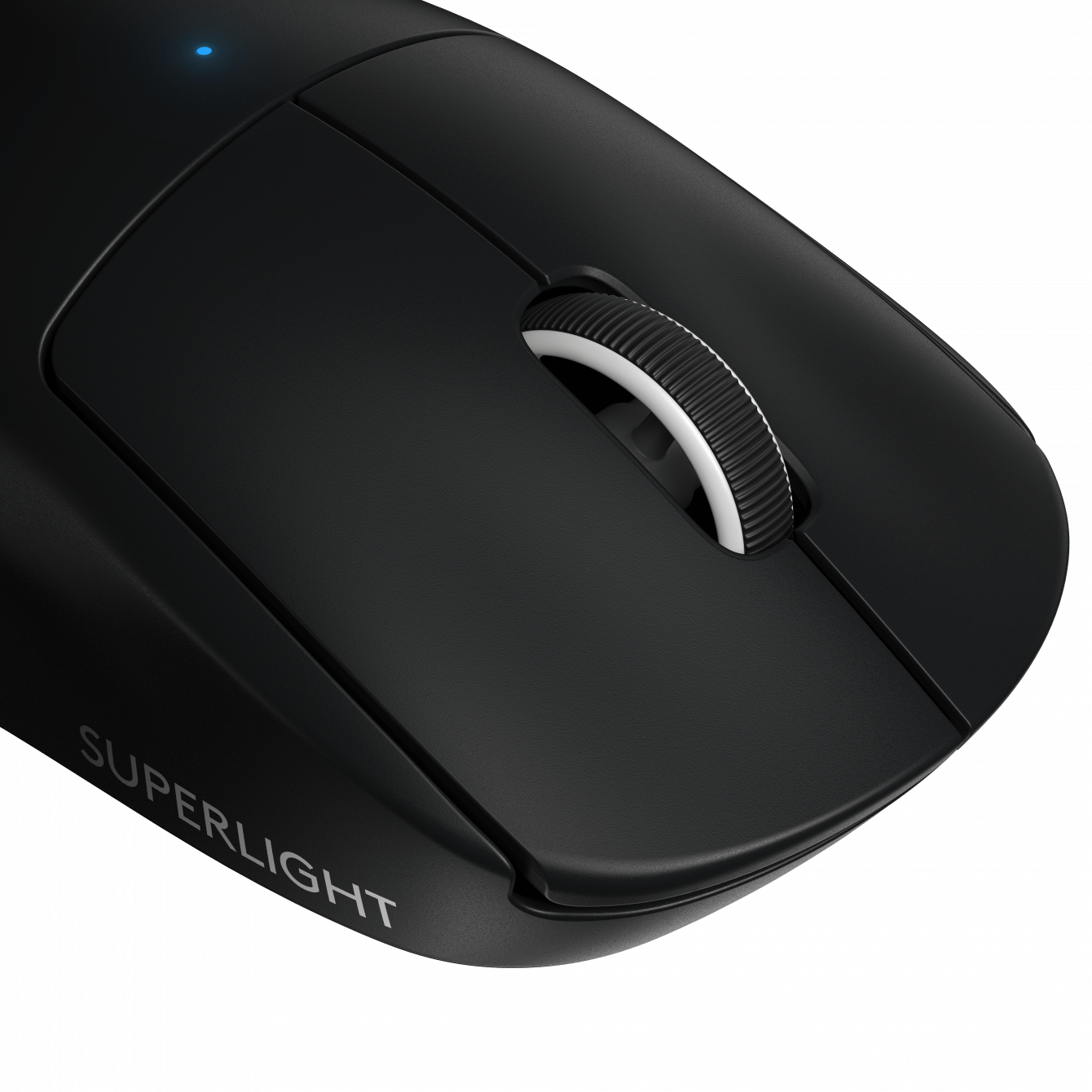 In addition, the PRO X SUPERLIGHT is equipped with a more responsive 2.4GHz LIGHTSPEED wireless to play with no strings attached for over 70 hours of battery life. The new mouse also features large PTFE feet for a low-friction gaming experience that offers unrivaled precision, speed and maneuverability. The PRO X SUPERLIGHT features the new HERO 25K, the latest version of our iconic HERO sensor, offering a whole new level of precision for the best performance. Track motion down to sizes less than a micrometer (less than one millionth of a meter!) with extreme precision, with zero smoothing, filtering or acceleration. HERO uses an intelligent power management system to continuously adjust the frame rate based on the movement of the mouse. This allows for high-level performance and at the same time continuous energy management that keeps consumption to a minimum. In this way, energy efficiency is 10 times better than previous generation devices. Logitech G PRO X SUPERLIGHT is priced at € 149.99 in black and white.
(currently on offer)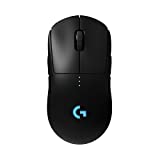 Logitech G Pro Wireless Gaming Mouse, Hero 16K Sensor, 16000 DPI, RGB, Lightweight, Designed for eSports, 4-8 Programmable Buttons, Long Battery Life, Integrated Memory, Pc / Mac / Laptop, Black
For Professional Gamers: Logitech G, together with esports athletes, created the PRO line; the PRO optical wireless gaming mouse is designed for optimum performance
Steering wheel G923: to immerse yourself in the game
The Logitech G923 Racing Wheel, a high performance steering wheel that revolutionizes the experience of simulated racing. Designed for maximum realism, the G923 features TRUEFORCE, a new high-definition feedback system that works with the game's physics and sound system to deliver an ultra-realistic experience. TRUEFORCE is a proprietary high definition force feedback technology that revolutionizes what is possible to live in racing games. Utilizing in-game physics and real-time audio, it allows players to truly hear the rumble of an engine, tire traction, track terrain and steering wheel feedback, more than ever before. TRUEFORCE connects directly to in-game engines, processing data up to 4000 times per second to produce next-generation realism and detail in supported games.
Designed for today's simulations, the G923's steering wheel and pedals have been modernized with a brushed metal steering wheel, polished pedals and a leather steering wheel cover for maximum comfort. Additionally, the G923 has been designed with a number of new features, including:
Programmable dual clutch controls – allows riders to perform cleaner and faster starts with a programmable double clutch that facilitates maximum traction and minimum slippage.
Integrated rpm indicator – The integrated colored LED lights indicate the range of revolutions per minute, alerting the rider when he is about to go over-rev.
Game controls on the steering wheel – Playstation and XBOX game controls are integrated into the steering wheel for total control at your fingertips.
Progressive brake pedals – With a new progressive spring for a more responsive feel, the new brake pedal responsiveness adds more realism and control.
24-point selection dial – the integrated selection dial allows the rider to adjust traction, torque, automatic stability management, braking force and more.
The Logitech G923 Racing Wheel is available for PC, PlayStation and XBOX. The recommended price is € 409.99.
G PRO X Wireless headset: top performance
This G-Series headset combines pro-grade LIGHTSPEED wireless technology with the award-winning design of the PRO X, built to the rigorous specifications of elite esports professionals around the world. Based on the award-winning PRO X gaming headsets, the PRO X Wireless are equipped with high-quality materials, deliver advanced communication, precision audio and total wireless freedom. The PRO X LIGHTSPEED Wireless are now equipped with tecnologia LIGHTSPEED wireless 2,4 GHz, and they offer beyond 20 hours of battery life and 12m range.
In addition, the new headphones feature the advanced Blue VO! CE microphone, with dedicated software, for incredible voice clarity and high-quality in-game and live stream communication, 50mm PRO-G driver for clear, professional sound, next-generation DTS 7.1 surround sound for improved situational awareness and comfortable memory foam padding with a lightweight design, providing hours of comfort for long training sessions or competitive matches. The Logitech G PRO X Wireless LIGHTSPEED Gaming Headphones are available at the recommended price of € 199.99.
The best Christmas gifts from TURTLE BEACH / ROCCAT
Let's move on to the gaming news of TURTLE BEACH and ROCCAT, here too many interesting news!
Turtle Beach Stealth 600/700 Gen 2: designed for the next gen
The Stealth 700 Gen 2 and Stealth 600 Gen 2 are the next generation of Turtle Beach's best-selling wireless headphones, which will be available for Xbox One, Xbox Series X, PlayStation 4 and PlayStation 5. Direct evolutions of the acclaimed Stealth 700 and Stealth 600, the Gen 2 versions take the company's best-selling products to a new level, thanks to refined construction and their sleeker look, powerful and accurate in-game sound, even better chat thanks to a larger flip-to-mute microphone high sensitivity that integrates perfectly into the side of the headset, and of course the extreme comfort that will last hours and hours – all at the same recommended price of 149.99 euros and 99.99 euros respectively.
The second generation Stealth 700 and 600 have been created to continue on the path taken by two of the company's best-selling headphones3 since launch in 2017. Gen 2 versions once again offer the perfect combination of advanced wireless connectivity, precision in-game audio, ultra-clear chat, comfort and unmatched build quality, innovative and impressive features for an affordable price. All the details of the Stealth 700 Gen 2 and Stealth 600 Gen 2 versions of Turtle Beach.
Vulcan PRO keyboard, Mouse Burst PRO, ROCCAT ELO series headphones: the definitive set for gamers
This set for ROCCAT gamers, Vulcan PRO and TKL PRO keyboard with tecnologia Optical Titan Switch, which offers revolutionary speed and durability, Mouse Burst PRO capable of guaranteeing maximum performance, a reduced weight and an ultra competitive price, and the ELO series headphones, from the more 'economic' ELO Stereo X, passing through the ELO 7.1 USB up to at ELO 7.1 Air, with Wireless technology. The Burst Pro is the first ROCCAT mouse to debut with the Titan Optical Switch, which gives PC gamers a competitive edge by providing a new level of accuracy and speed, over 100 times that of a regular gaming mouse, as well as a longer product life.
The Vulcan Pro is a full-size keyboard equipped with Titan Optical Switches, while the Vulcan TKL Pro has the same features in a smaller format, without the numeric keypad. Additionally, ROCCAT will launch the new Vulcan TKL keyboard, Keypad-less version of the award-winning Vulcan mechanical keyboard, with both Titan Speed ​​switches and Titan Tactile switches. The Vulcan Pro and the more compact Vulcan TKL Pro, both equipped with Titan Optical Switches, will be available from authorized retailers starting October 30, 2020 at the recommended price of € 199.99 and € 159.99 respectively.
The Elo product series includes three different PC headset models to choose from, each designed with high quality and comfort features, such as the memory foam pads and the floating metal headband and simple to adjust, characteristics capable of offering a unique and lasting comfort, where a fundamental part is played by the general lightness of the product. The Elo X Stereo are ultra-light stereo headphones at a recommended price of € 49.99. The Elo 7.1 USB are able to improve the performance of the previous model, thanks to 7.1 surround sound, AIMO intelligent lighting system, variable microphone monitoring and USB connectivity for € 69.99. The Elo 7.1 Air, on the other hand, take everything to the next level, having all the features of the Elo 7.1 USB but with the freedom of Wireless connectivity, in addition to the Superhuman Hearing of Turtle Beach and a battery capable of reaching 24 hours of autonomy, all at a price of € 99.99.
Keep following our hardware section for lots of news and insights!