Dby 2030, Mercedes-Benz promises to produce only electric models where market conditions permit. A very important acceleration compared to the already ambitious plans of the Star, announced at Mercedes-Benz Strategy Update of today. The turning point will be the end of this decade, with 2030 the watershed in which Mercedes will become a fully electric brand in the most important and developed markets. In addition, electrified models will reach 50% of sales by 2025, new platforms will arrive, many innovative technologies and huge investments. Let's do a bit of order and understand where Mercedes is today and where she wants to go in a decade.
From 2025, the new models will be EV Only: at least one fully electric model for each segment
During the Mercedes-Benz Strategy Update the House stated that by 2030 it will make a momentous change for its future. From a company that has proposed itself as an innovator and one of the first to believe in the evolution and the electric revolution, Mercedes-Benz has decided to take an extra step ahead of schedule. From EV-First, or pioneer in the world of electric, to EV-Only, or have an exclusively electric offer.
The original plan foresaw the presence in the Mercedes range of hybrid models for a while longer, until exactly 2039, as explained by the previous plan, Ambition 2039. But as you surely expect it will not be a sudden and violent revolution, but a progressive, albeit fast, development towards 100% electric mobility. From today, in fact, Mercedes-Benz will slow down its research on exclusively thermal models, reducing it to almost zero by 2025.
In fact, in four years, Mercedes expects that 50% of its sales will feature electrified models. This does not mean that by 2025 half of the Mercedes sold will be electric, as much as that the mix of pure electric and plug-in hybrids will account for half of total sales. As we have seen, in fact, Mercedes-Benz pushes a lot on plug-in hybrid technology, seen as a transition between the thermal and electric world. All Mercedes plug-ins, in fact, are characterized by a really important range, from 70 to over 100 km, in order to bring the electric experience to models still equipped with a heat engine.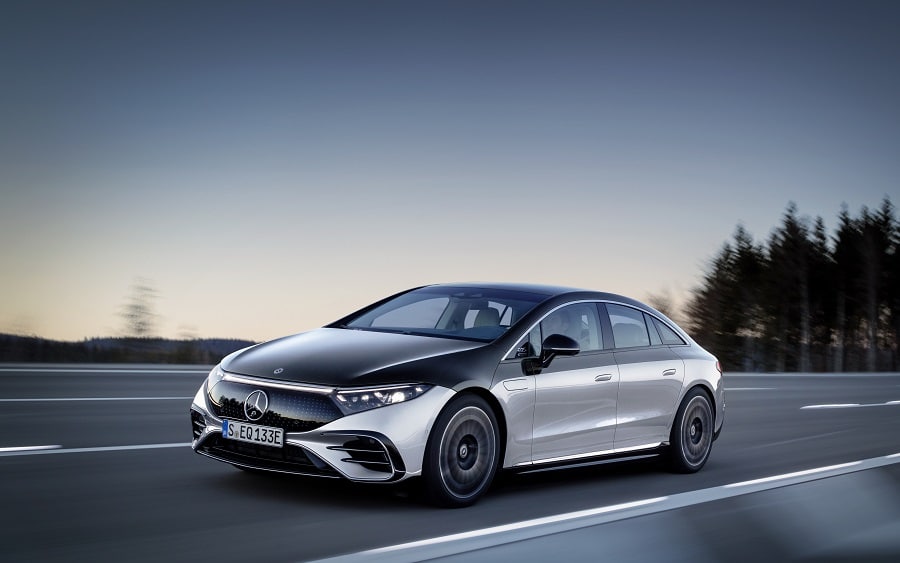 And for this very reason, Mercedes plans to have at least one all-electric model for each segment of the market by 2025, from Class A to Class S. All without forgetting i sub-brand. In fact, by 2025 too Maybach e AMG they will have an electric model for each segment, and both will become full electric by 2030. In addition, the third sub-brand, Class G, will turn towards the batteries. In fact, the first fully electric G-Class will arrive in 2024, which will join the iconic German thermal off-road vehicle. Instead, let's focus for a moment on the models close to the launch of Mercedes. They will debut there very soon EQE, the electric sedan sister of the E-Class, and theEQV, the "brother" van of the V-Class. They will then arrive there EQB, the small SUV based on GLB, and versions SUV from EQE ed EQS.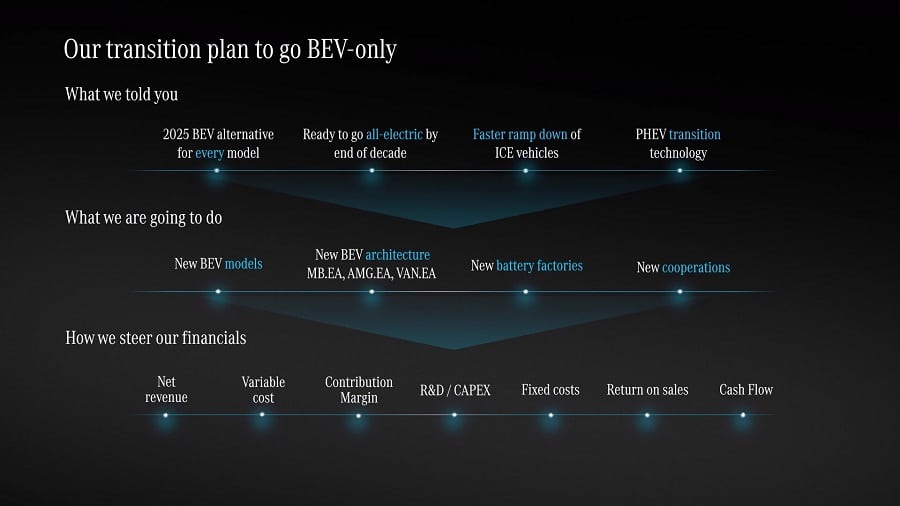 Finally, there is a clarification to make. For Mercedes, 2030 will be the year in which there will be the shift towards a fully electric range, but this turning point will not be the same all over the world. Mercedes-Benz CEO, Hello Kallenius, has in fact specified that in 2030 Mercedes will switch to 100% electric "where the market will make it possible". This means that in markets where electrification will be slower, it will be possible to wait a few more years before the total turnaround, while in other very advanced markets the change could even come sooner. In any case, however, Mercedes wants to clarify that the road is already marked, and it is no longer possible to go back.
By 2030, Mercedes-Benz will launch three new platforms, as well as new battery and engine technologies
So what will the new fully electric Mercedes look like? For its zero-emission revolution, the Casa della Stella has 5 platforms in the pipeline on which to build its electrified range. From EQA to EQS, Mercedes will soon begin to revolutionize itself from the platform MMA, coming in the coming months. This is a platform conceived with in mind the optimization of space and efficiency necessary for the electric powetrain, but still suitable for the use of heat engines.
By 2025, however, all new Mercedes-Benz will be built on totally new electric platforms. They will all be grouped under the heading .EA, or Electric Architecture, and will arrive within 4 years 3 unpublished mechanical bases. The first is there MB.EA, designed for traditional Mercedes-Benz models, from the smallest to the largest. Then there will be the platform AMG.EA, which already from the name identifies itself as the platform for high-performance cars with the AMG brand. Finally, Mercedes does not forget its commercial vehicle division with the FROM.EA, or the platform dedicated to zero-emission light commercial vehicles.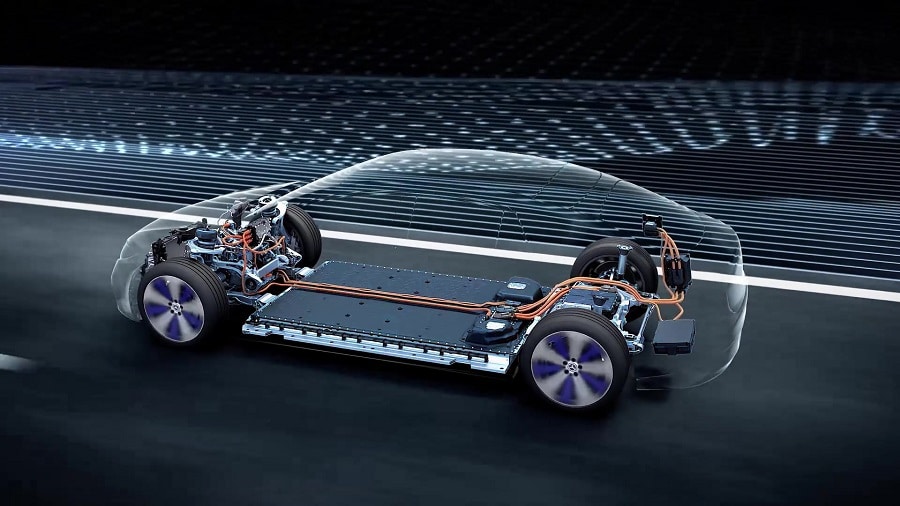 More, Mercedes wants to reach 2030 with state-of-the-art technology in changing engines and batteries. All platforms, especially MB.EA, will be totally modular, with interchangeable components and mountable without modifications to the assembly line. More, the batteries will also be modular, and will be completely revolutionized. Of all the batteries produced and fitted to Mercedes-Benz products, 90% of the components will be common across all battery models and cuts. This leads to easier software management, better production standardization and, most importantly, a cost cutting very important. In addition, with modular batteries, research and development resources can be concentrated on new technologies and ideas to improve their efficiency.
Mercedes has indeed announced that current lithium-ion batteries will be improved with a new structure, different individual cell chemistry and higher cells, for better efficiency and capacity. In addition, a technological innovation made with the partner will be added SilaNano. This is the introduction of a silicon-carbon anode, more efficient and more resistant to heat and wear. The goal is to arrive at one density of 900 Wh per liter, and get even shorter charging times. The final step will obviously be the arrival of solid state batteries, which will lead to weight reduction, faster charging times, better safety and performance. When they will arrive? Mercedes is not out of balance, but we think we will see something in the next 5 years.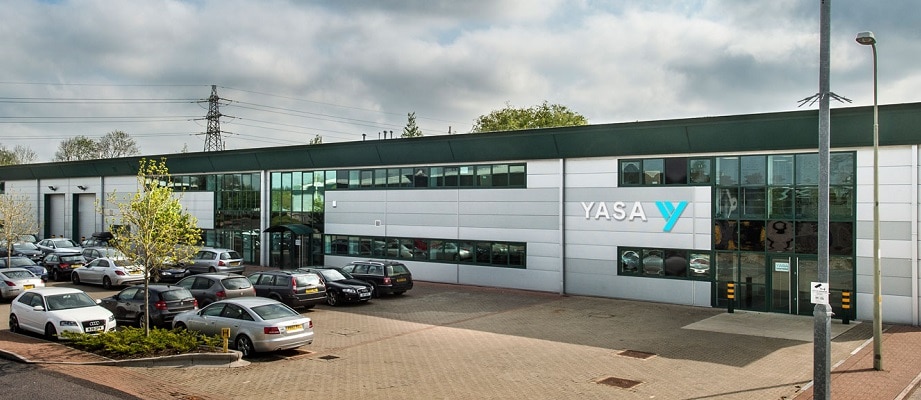 Finally, Mercedes will also focus on in-house production of its electric motors. A job that not all manufacturers do, and that Mercedes-Benz has already set up with its EQS. A home-developed motor brings greater efficiency, better energy management and benefits on all fronts. For the future all-electric AMGs, then, the Star has acquired the YASA, a young English builder who has created a axial flux electric motor, not cylindrical as usual but thin and flat. Compact, small and super efficient, this engine will be fitted to all electric AMGs of the future.
New partners, new factories, new hires: the renewal of Mercedes until 2030
But there are obviously not only engines, new models and batteries. A company cannot ignore factories, its employees and their improvement. In Mercedes' 2030 project, factories are one of the pillars of the sustainable strategy. How to improve them? Reducing their environmental impact, creating Gigafactories and, unfortunately, reducing staff but making them more specialized.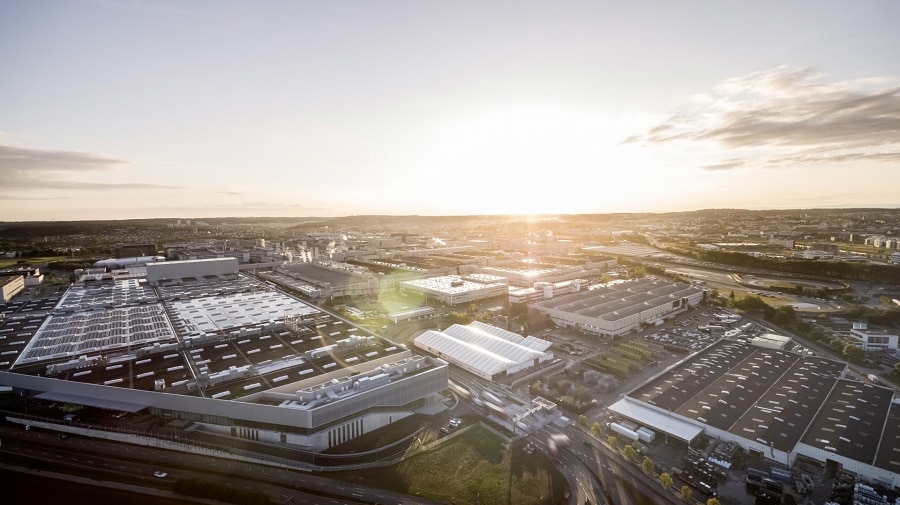 Let's start with the reduction of emissions from each factory. The flagship of the Mercedes house is undoubtedly the Factory 56 di Sindelfingen. Here, the Casa della Stella produces several models, including the S-Class and the EQS, but above all it has already managed to create a factory carbon neutral. What does it mean? That in Sindelfingen CO2 emissions are very low, and are offset by the use of renewable energy for almost all processes. In fact, for example, EQS uses 100% recycled steels, for emissions lower than 60%. The batteries are also produced with neutral emissions of carbon dioxide, and from 2025 all the steel used by Mercedes-Benz will be CO2 free.
By 2022, all Mercedes-Benz factories worldwide will be carbon neutral, and the economy of these lines will be circular and sustainable. In addition, by 2023 Mercedes will open one battery recycling factory in Kuppenheim, in Germany. And, last but not least, he is obviously working on the birth of several Gigafactory. For those unfamiliar with this term, Gigafactory are factories where only batteries are produced. Mercedes-Benz has big plans, with 8 Gigafactories planned around the world, from North America to Australia to China, with 4 Gigafactories in Germany. Despite globalization, in fact, Mercedes wants to remain linked to Germany and Europe, keeping the Union at the heart of the global automotive industry. Returning to the Gigafactories, Mercedes plans to produce well 260 GW of battery capacity in its factories around the world.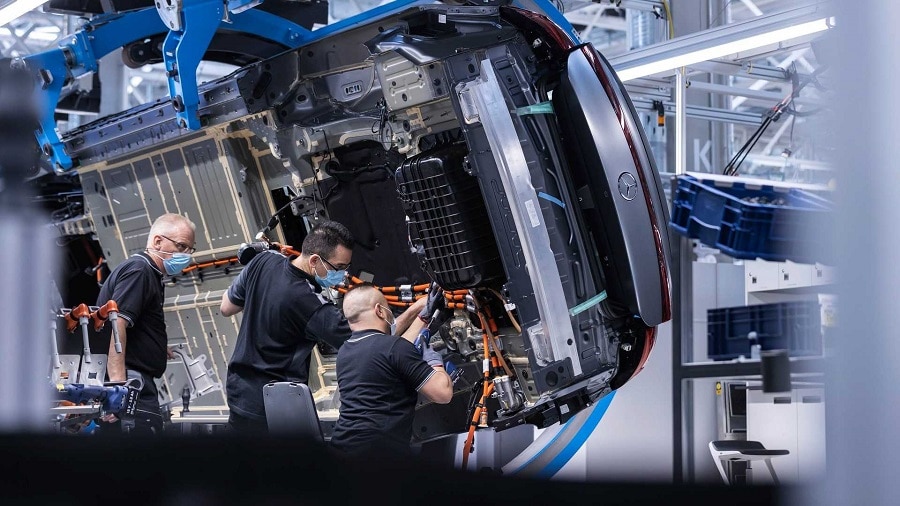 To do this requires investments, decisions and some sacrifices. Mercedes-Benz will invest 4 billion euros for the electric transition by 2030 between models, platforms, factories and new business partners. More, investments for thermal and hybrid models will decrease by 80% between 2019 and 2026. An important commitment, which will also pass from the Mercedes employees, which will change drastically. In fact, the Stuttgart company said it was ready for a painful sacrifice, fielding social security measures to allow for early retirement and personal arrangements with various employees. At the same time, however, over 20,000 employees have been educated and qualified on electric vehicle construction, increasing its expertise in the construction of electrified vehicles. In addition, Mercedes has plans to hire as many as 3,000 new electronic and IT engineers to cure the software MB.OS, increasingly central to Mercedes' future.
The Mercedes me charging network and software, the cornerstone of the mobility of the future
In fact, Mercedes-Benz focuses heavily on management software and, let's not forget, on the Mercedes me Charge charging network. These two components, according to the top management …