Work.Reworked is a very detailed analysis that Microsoft has carried out on the world of work, tracing the pros and cons of what was the period in which it saw our society and our way of life, upset due to the Covid Pandemic- 19
Microsoft presented in Italy on October 16, 2020 the results of the Work.Reworked survey as: a research on Remote Working e Future of Work.
What method did Microsoft use to conduct this study and what came of it. The advice of those who have managed to profit from it, making a virtue of necessity, we will see together.
Microsoft Work.Reworked: Metodologia
Microsoft commissioned the poll online at KRC Research, a company specializing in global market research in partnership with Boston Consulting Group, a strategic consulting multinational e coordinated by Dr. Michael Parke, a professor at the Wharton School of the University of Pennsylvania.
KRC interviewed about 9000 manager e employees of large companies (including over 600 in Italy), with an average sample size of 600 respondents per country. THE sectors 11 are considered: basic materials, consumer goods, consumer services, financials, health care, industry, oil and gas, public sector, technology, telecommunications and utilities.
The survey was carried out on 15 markets financials: Austria, Belgium, Denmark, Finland, France, Germany, Italy, Ireland, the Netherlands, Norway, Portugal, Spain, Sweden, Switzerland and the United Kingdom.
Important thing to take into consideration is that the respondents were not informed that Microsoft commissioned the survey.
Microsoft Work.Reworked: Working remotely makes you more productive, but could lead to a sense of isolation and a reduction in the rate of innovation
The survey found that while business leaders have registered benefits in terms of productivity and efficiency, workers are facing feeling of being isolated and less in relation to colleagues, which could lead to a decline in innovation.
In detail, the number of Italian companies that have adopted models of flexible work, rising from 15% in 2019 to 77% in 2020 and 66% of employees continue to work remotely at least one day a week.
I advantages of remote work are many both in terms of cost that the company is able to obtain and in the organization, removing those dead times that are necessary for moving to reach the workplace or the customer.
The new normal: hybrid work and flexible work
The new normal, being able to lead a way of working hybrid, which encounters remote and traditional work, would be the solution for 88% of manager expecting to spend a third of the time (37%) outside the traditional workplace.
What are the advantages encountered by employees working remotely?
Among the main benefits 77% indicated the possibility of dress more casual, to be able to customize their work environment 39%, have more time for hobby 49%, for i sons 36% and for their own animals domestic 22%.
What did remote work take away, how desirable the lack of the social contact that is also the basis of our culture.
In fact, almost all the interviewees declared to appreciate the traditional environment above all for the possibility of being able to socialize with colleagues, share experiences and information.
This emptiness caused by the isolation that brings work at a distance, involves an important drop in the rate of innovation since it inhibits the sharing of ideas between people, it leads employees to be less enticed to ask for help or to delegate inappropriately.
Many managers who have experienced this intersection between technology and social culture, where the personal feels disconnected by their team, have experienced an innovative culture in the workplace, verifying first-hand i limits, that our social culture of work traditional it imposes on us, trying to overcome them.
What are the limitations they faced: 61% of managers surveyed acknowledge they had problems a to delegate effectively and to deliver support to virtual teams, 63% report greater difficulty than a strong culture of team.
Innovative culture in the workplace: determined factors
The perception that all companies have shown in the same way was the decline in innovation of products and services which went from 56% in 2019 to 47% in 2020.
The difficulty in staying connected with your team for to share new ideas and innovate is the cause principal of this decline. The number of managers who declare that their company has an innovative culture has gone from 40% in 2019 to 30% in 2020.
It goes without saying that without innovation there is no future, which is why in my opinion this is a fact that really needs to be taken into consideration.
The health emergency has revolutionized the way we live and work, making new technologies even more essential for our daily life. Thanks to the support of our vast ecosystem of partners, in recent months we have helped Italian organizations to work, communicate and collaborate remotely, guaranteeing their security and that of corporate assets, "he said. Luba Manolova, Director of the Microsoft 365 Division of Microsoft Italy. "But the success of a digitalization process does not depend only on the technological tools implemented, but on the ability to make employees feel united, appreciated and free to express their ideas. Our research highlights the importance of a human approach to innovation: the teams that will be truly successful will be those characterized by greater team spirit, empathy and trust in others. It is essential to continue to promote the digital culture at the same time as the culture of innovation and to make technologies available that favor the empowerment of individuals but also the collaboration of teams
There have been companies who have been able to to maintain an innovative culture within this hybrid work system. We can define an innovative culture as an environment in which it is easy to share and advance new ideas.
There are three i factors decisive to be able to reach the optimal condition: teamwork, technological tools and a strong team leader.
The role of the team leader is the basis of a structured work environment, especially when human contact is lacking.
To be strong, a team leader must: empower the team, support the middle management and protect the state of flow of employees.
Microsoft Work.Reworked: middle management support and employee flow status
Middle management occupies one space essential between the manager and the team and in critical situations the manager must deal with various problems, necessarily delegating some tasks. 42% of managers say they get the support they need from middle management.
When i employees they are able to put all their attention on the work to be done they can get results best. This is often referred to as state of flow (to be in the piece). When an employee can operate in this state, they find the work exciting and able to focus on it, finding satisfaction in doing it.
The state of flow is achieved much more easily in remote work, away from small distractions and interruptions, as it requires the right concentration.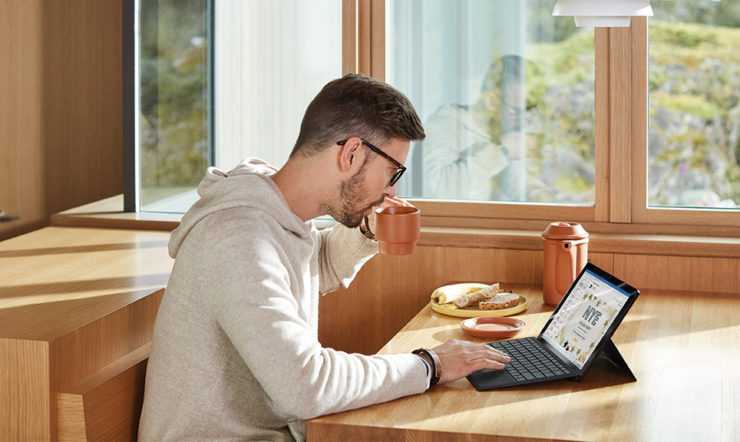 After seeing the three main points that a team leader must be able to achieve to create an innovative work environment are outlined five steps that the leader companies can take to support their remote and hybrid teams:
To adopt instruments that support flexibility and encourage accountability.
Rethink setting of the office.
Plan meetings in the best possible way, distributing them at the right time and right time (best time for "being in the zone").
Review the code of clothing, even when the nature of the profession calls for more formal attire.
To define policies clear and transparent work, ensuring the right flexibility.
Doctor Parke noted:
It is important to step back and to appreciate challenges, thousands of workers have had to adapt to remote and hybrid work. First of all, it is in the broader context of the pandemic, which obviously causes stress and concern over Welfare their families and the impact on their communities and their employer. Furthermore, although modern tools of cooperation are not new at all, many workers have always known some sort of existence based office, so I think this almost overnight transition to remote working has been a big challenge for many people. The challenge is less important in getting the job done, but how do you keep it ties close and trustworthy with your colleagues. The ability, introduction and advancement of new ideas is much more difficult when people don't feel like they are working for the same purpose and within a strong, cohesive team.
The analysis made by Microsoft, Work.Reworked, highlighted all aspects of work, in this difficult historical period, where the Company and the Company are put to the test. Being able to understand the scenario allows us not to be caught unprepared and to correct ourselves where we have been lacking in order to find the right social and work balance and be able to express the maximum potential that resides within each of us.
For more information and to compare the Italian data with those relating to Western Europe, you can read the whitepaper.