the Nothing ear (1) they are the first Nothing product to debut on the market. Consider them the new eldest son of Carl Pei, the Chinese entrepreneur who in 2013, together with Pete Lau, founded OnePlus and who last year decided to leave the company to found another one that aims to revolutionize the electronics market. Not only because it is a hardware company with a European headquarters but above all because the basic idea is to put products in the hands of users that fully integrate with our way of life. You know the smart mirrors that we often see in films, TV series and video games set in the future? The ones that show useful information while brushing your teeth or face? Here, the technology according to Nothing should be like this: useful but almost invisible, present but without requiring the user any effort.
the Nothing ear (1) I'm a bit like this: comfortable and frustration-free. Everything works just as you expect and right away. We tell you everything in this review of the London company's first true wireless headphones.
Nothing ear review (1)
the Nothing ear (1) they are Bluetooth headsets with active noise cancellation and they cost money solo 99 €. "Only" because we tend to associate this type of technology with more expensive headphones. Nothing, however, has tried to contain costs, where possible, to immediately stand out from the competition. After all, he is a new player in an already very populated and equally competitive market: positioning yourself well is essential. And so Carl Pei's company opted for an aggressive strategy, something that would say to competitors "we can do what you do but asking consumers less". The price, however, is only a small piece, a piece that, separated from the characteristics and performance of the product, still tells us very little.
So let's not waste any more time and find out what these headphones are like.
"We have nothing to hide"
This is the implicit message of Nothing ears (1), the first to show up with a transparent body and case. Let's start with the latter because its appearance is rather unusual compared to what other manufacturers offer. Not only because you can see what's inside but above all because, at first glance, it looks like a traditional box and certainly not very premium, it is even slightly larger than usual. But appearances are deceiving. The ear case (1) is very solid and pleasant to the touch, with a magnetic lid that satisfies those who, like us, spend most of their time opening and closing the box and with a central depression that transforms it into the equivalent of a fidget spinner. They seem trifles but they reveal un attention to the consumer and his habits above average.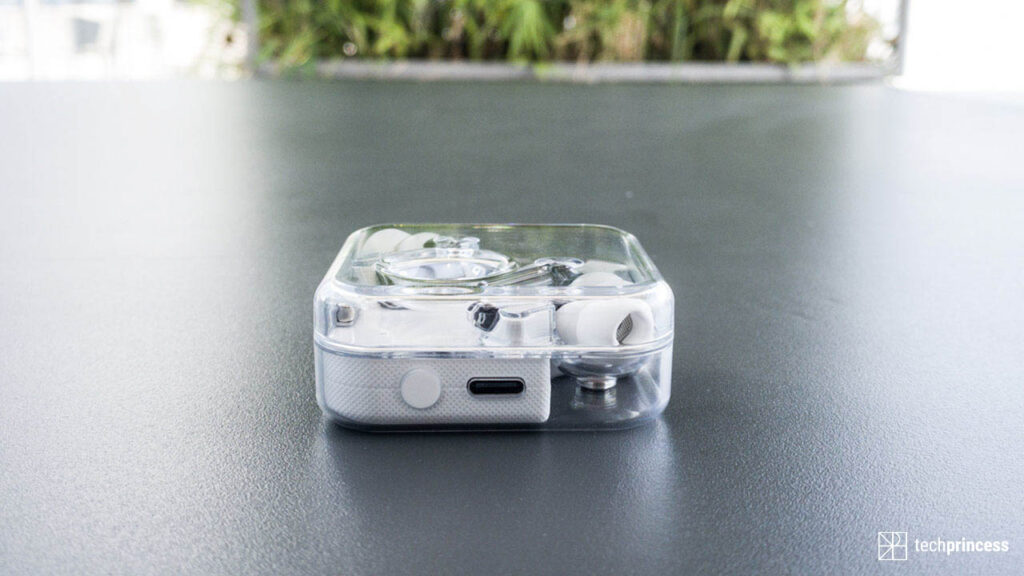 On the outside we also find the USB-C connector for charging and the button for pairing with new devices.
Once you open the lid you will find the two earphones, kept inside their housing by a small magnet that facilitates positioning. Both true wireless headphones boast a small colored dot – white or red – which we also find inside the box. Its purpose? Help to understand where to put the two earphones in a simple and universal way, without confusing users with left and right.
A small status LED completes the picture.
We talked about transparent houses but in reality it is only partially so. We find in fact also a white part characterized by a texture reminiscent of golf balls. Here, once again, the obsessive attention to detail emerges as the pattern was created manually by the designers of Nothing who invested a week of their time to find the right combination.
Too much? Maybe, but the result is certainly interesting.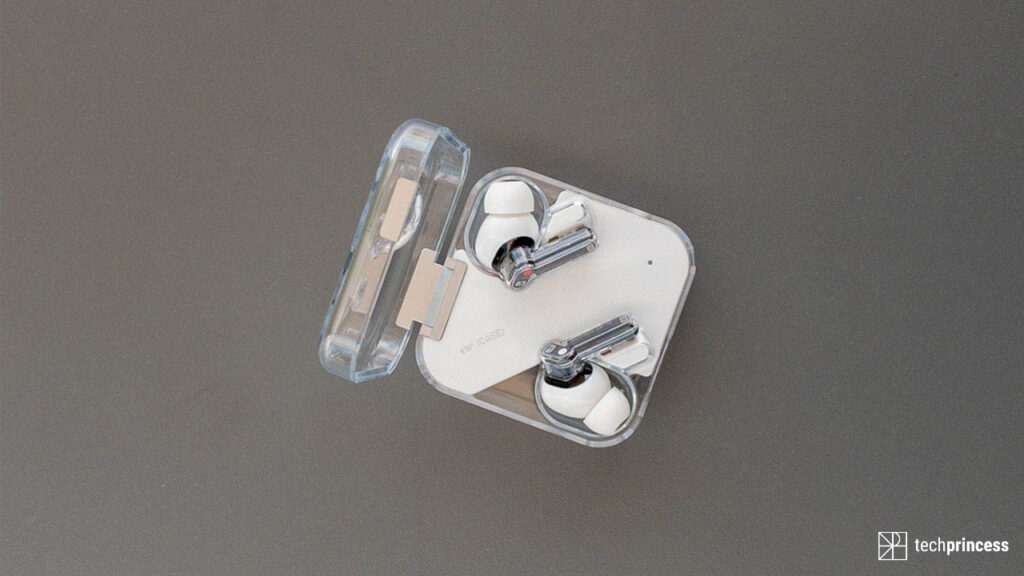 We now come to the ears (1) which reflect the style of the case: half white and half transparent. The white part is the upper and in-ear part, while the rod gives you an intriguing see / not see. In fact, it is not possible to see totally what is inside but what you will notice is enough. In fact, we are talking about the precision with which the two parts that make up the two headphones are joined: the joint can be seen but it is clean, there are no glue smears. Everything is designed to be flawless.
The result is an elegant product, light, resistant to water and sweat and very comfortable even after hours of use.
Just a touch
The surface of the two rods is touch and this means that they are enough for you few touches to manage Nothing ears (1):
scrolling from the bottom to the ace and vice versa, raise and lower the volume;
with 2 quick taps pause and restart playback;
with 3 taps go to the next track;
holding down toggles between active noise cancellation, transparency mode and deactivation of both.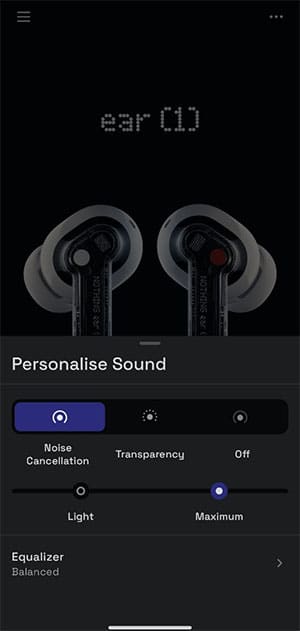 These controls can be customized using Nothing's application, available on iOS and Android. Not all, mind you. You can use the triple tap to go to the previous track instead of the next one while the long press can only be disabled.
However, the app is not just for this. You can use it to manage noise cancellation from here or to select one of the four presets provided by the equalizer: Balanced, More Bass, More Treble e Voice. Furthermore, the application is indispensable for updating the software.
Nothing ear (1) review: how do they sound?
Carl Pei's company he worked with Teenage Engineering, manufacturer of some of the most popular and original synthesizers in the world. All this to optimize the audio performance of the ears (1) which, with their 11.6 mm drivers, give a good listening experience. The volume is very loud, there is no distortion and the sound is quite rich and full although not meant for audiophiles.
You can take advantage of the application presets to adapt Nothing's true wireless headphones to your needs. The difference between the four profiles is in fact tangible and allows you to enhance highs, lows and voices. The latter, however, did not thrill us listening to music, with a preset that on balance seems more suitable for films and podcasts.
Listening to multimedia content, however, is not everything. We spend most of our day on the phone and here the newcomers have given us great satisfaction. The three microphones ensure crystal clear communications even in the noisiest environments, for the satisfaction of both the wearer and the one on the other side.
Active noise cancellation also helps a lot. On the train, it eliminated the speeding at high speed on the rails but also the people talking around us, reducing them to a slight background murmur. In reverse transparency mode amplifies external sounds and helps you keep in touch with your surroundings, be it colleagues talking to you or cars whizzing by as you try to cross.
Autonomy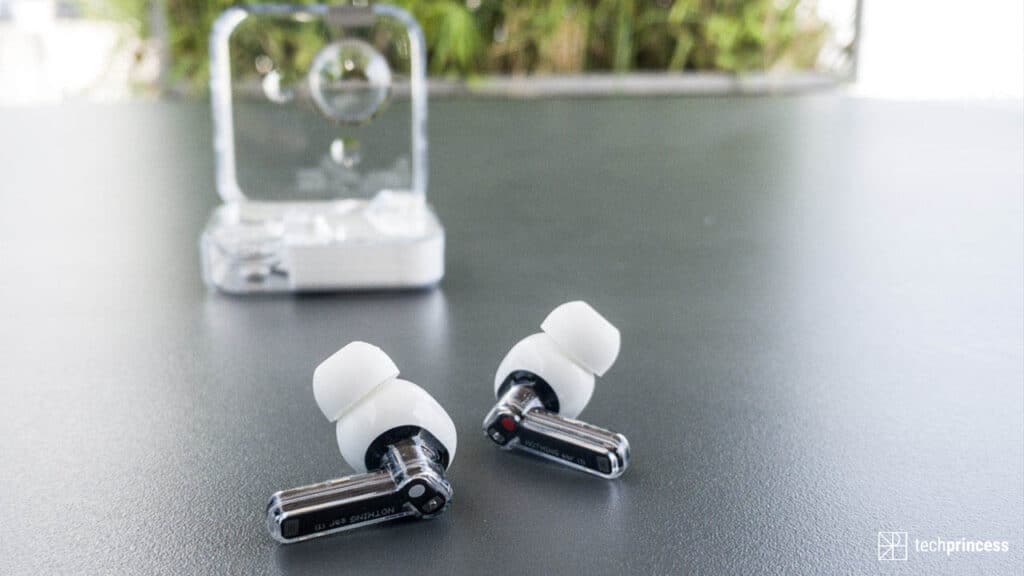 Calculating the actual hours of use of true wireless headphones is always complex. Nothing declares 5.7 hours of autonomy with another thirty hours offered by the charging case. An estimate that seemed quite accurate to us.
Once discharged, you can then opt for two charging methods: wireless or via USB-C cable.
Nothing ear review (1): a promising start
At 99 € the Nothing ear (1) is a really good product: original, well-built, with good audio quality and effective noise cancellation. Then the call management is perfect: none of our interlocutors has ever complained and it was very easy for us to understand them and make ourselves understood. Finally, the app, in its essentiality, is clear, intuitive and equipped with everything you need.
In short, the debut of Nothing is really promising.