During the CES di Las Vegas 2022, NVIDIA provided updates on the future of its platforms for gamers and creators, unveiling more than 160 Studio GeForce laptops; exciting new technologies e GPU GeForce RTX per desktop e laptop. The company also announced new RTX content and the expansion of both cloud gaming GeForce NOW and the NVIDIA Studio ecosystem, including the launch of NVIDIA Omniverse for creators.
NVIDIA at CES 2022 announces RTX 3080 Ti and RTX 3070 Ti laptop GPUs
The world's leading manufacturers are bringing it to the market more than 160 gaming laptops and Studio based on the revolutionary architecture NVIDIA Ampere. They are then equipped with second generation RT Core to support ray tracing and third generation Tensor Core for DLSS and AI, creating the thinnest, lightest and most powerful laptops ever. Based on the latest generation of CPUs, these laptops offer a wide range of designs, such as dual screens, convertibles and 14-inch screens, many G-SYNC displays and 1440p eSports.
Photo credits: Nvidia.
Today NVIDIA announced the debut of the RTX 3080 Ti and RTX 3070 Ti laptop GPU. The launch of the GeForce RTX 3080 laptop GPU brings you NVIDIA flagship cards to laptops for the first time. Equipped with a memory 16GB GDDR6, the fastest ever delivered in a laptop, the RTX 3080 Ti delivers higher performance than the desktop NVIDIA TITAN RTX. The RTX 3080 Ti laptops will start at a price point of $ 2,499.
The new GeForce RTX 3070 Ti it is up to 70% faster than RTX 2070 SUPER laptops and can deliver up to 100 FPS at 1440p resolution. RTX 3070 Ti laptops start at a price point of $ 1,499. Laptops powered by both of these new GPUs will be available starting February 1st.
NVIDIA also introduced the fourth generation of Max-Q technologies, which have revolutionized laptop performance since their introduction four years ago. These features include CPU Optimizer, Rapid Core Scaling, and Battery Boost 2.0, which further improve efficiency, performance and battery life.
The new GeForce RTX 3050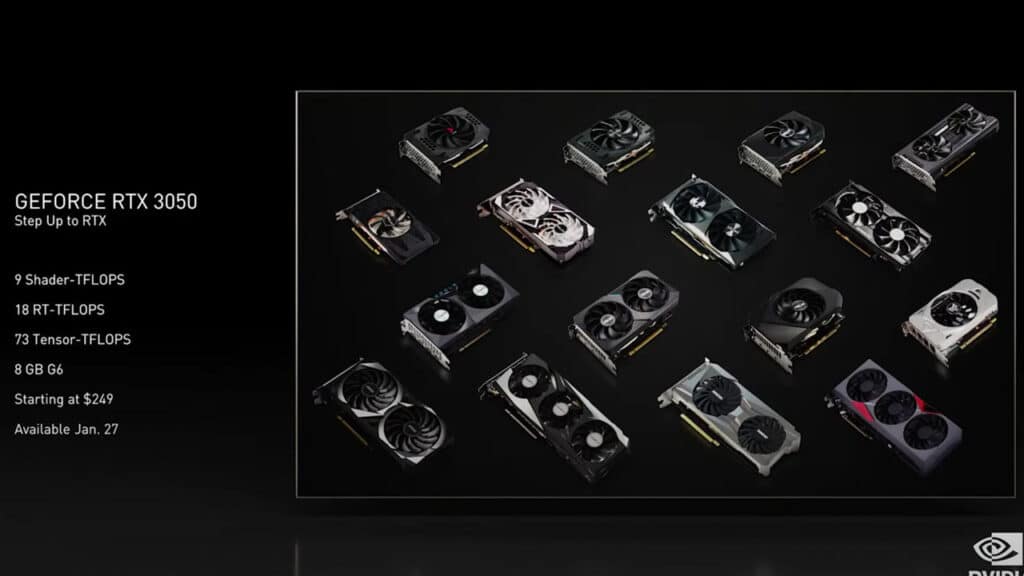 Photo credits: Nvidia.
As for the desktop sector, however, NVIDIA at CES 2022 has further expanded its family of GPUs based on the NVIDIA Ampere architecture with the GeForce RTX 3050. The RTX 3050 is the first desktop GPU in the xx50 family to power latest ray-traced games at over 60 FPS. With 75% of gamers still playing on GTX GPUs, the 3050 – which also includes second-generation RT cores and third-generation Tensor cores for DLSS and AI – represents an exciting upgrade opportunity to upgrade to RTX.
The RTX 3050, which comes with 8GB of GDDR6 memory, starts on its own 249 dollars and will be available from January 27 with NVIDIA's worldwide partners.
New laptops and NVIDIA Studio apps
NVIDIA is further expanding its Studio platform of unique hardware, software, and applications designed to help creators develop projects faster and easier. This includes a major update to NVIDIA Canvas, a digital painting application that uses artificial intelligence to generate landscape images from simple brush strokes. The app now produces images with 4 times higher resolution than past versions, with five additional elements such as flowers and bushes.
The Studio platform also includes a broad NVIDIA Studio range of laptops, featuring designs from ASUS, MSI and Razer powered by the new laptop GPUs GeForce RTX 3080 Ti and 3070 Ti. With the latest RTX GPUs, these laptops support more than 200 creative applications, plus NVIDIA's high-performance video processor, AI, and RTX-accelerated ray tracing, making them the perfect tool for any workflow.
NVIDIA Omniverse per i creators
Further enriching the NVIDIA Studio ecosystem, NVIDIA Omniverse is now available for free to millions of creators working with GeForce RTX and NVIDIA RTX GPUs. The platform of real-time 3D design NVIDIA collaborative and world simulation enables artists, designers and creators to connect and collaborate in key design applications from their RTX-enabled laptop or workstation.
A new feature of the platform will be Omniverse Nucleus Cloud, which will enable sharing large projects on Omniverse 3D with a simple "click". Artists can thus collaborate in real time across the room or across the world without having to transfer huge data sets.
NVIDIA also introduced new features for Omniverse Machinima – the Omniverse app that enables real-time collaboration to animate and manipulate characters in virtual worlds – with additional free characters, items, and game environments. Also updated Omniverse Audio2Face, which quickly and easily generates expressive facial animations from a single audio source, now supports blendshape and direct export to Epic MetaHuman.
CES 2022: new NVIDIA RTX titles, with Ray Tracing, DLSS and Reflex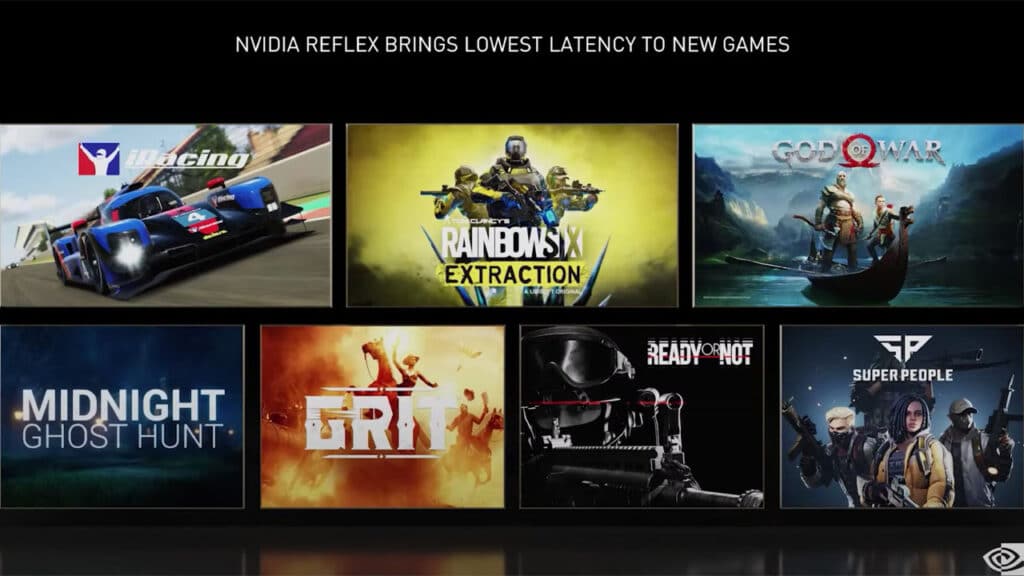 Photo credit: Nvidia.
NVIDIA announced 10 new RTX games, which use ray tracing, NVIDIA DLSS and NVIDIA Reflex gaming technologies to provide new levels of realism. Among the new titles are: The Day Before, Escape from Tarkov e Rainbow Six Extraction.
NVIDIA also announced seven new additions of NVIDIA Reflex, its low-latency gaming platform, for a better gaming experience. New Reflex games include iRacing, the online racing simulator, Ubisoft's Rainbow Six Extraction and the award-winning action-adventure game God of War. Speaking of NVIDIA Reflex, the dedicated hardware ecosystem is also growing. NVIDIA announced six new Reflex monitors and six new Reflex mice.
With the global growth of sports, the demand for dedicated displays has doubled every year. Additionally, NVIDIA Research has found that 27-inch 1440p displays can improve the gaming experience by up to 3% over traditional 24-inch 1080 displays. Precisely for this the company announced four new displays in the 1440p esports category. ASUS ROG Swift 360Hz PG27AQN features a refresh rate of 360Hz. AOC AG274QGM – AGON PRO Mini LED, MSI MEG 271Q Mini LED, and ViewSonic XG272G-2K Mini LED all own mini-LED con un refresh rate a 300Hz. All are equipped with NVIDIA ESports Vibrance, Dual-Format, and Reflex Analyzer features.
GeForce NOW further expands its catalog
NVIDIA has announced the arrival of more games and devices to the GeForce NOW ecosystem and the extension of its own partnership con Electronic Arts, carrying Battlefield 4 e Battlefield V su GeForce NOW. The company also announced a partnership con Samsung to integrate GeForce NOW into its Smart TVs, starting in the second quarter of this year. This follows last month's beta of the GeForce NOW app for the LG 2021 WebOS Smart TVs.