Photo Credits: Parallels Desktop
Parallels has announced the launch of Parallels Desktop 17 per Mac, the latest version of its powerful solution for run native Windows applications on Mac computers equipped with Apple M1 and Intel chips.
Parallels Desktop 17 for Mac: The new version is ready for Windows 11 and macOS Monterey
Parallels Desktop 17 for Mac application is optimized for highly anticipated operating systems Windows 11 e macOS Monterey. It also offers impressive improvements in graphics and speed, including a better gaming experience on Windows and better resource management. Parallels Desktop 17 for Mac allows users to run Windows applications on a Mac extremely smoothly and quickly.
Here are all the new and improved features in Parallels Desktop 17 for Mac:
Developed for macOS 12 Monterey and Windows 11. Parallels Desktop 17 will support macOS Monterey as a host and guest operating system (OS) and will be optimized for Windows 11.
Faster and more performing. Applications running with Parallels Desktop 17 on Mac computers with Apple M1 and Intel chips now run much faster and more efficiently.

On all supported Mac computers:
– Windows, Linux and macOS recovery up to 38% faster
– OpenGL graphics up to 6x faster
– 2D graphics performance up to 25% faster
Its a Mac with chip Apple M1:
– Starting Windows 10 on ARM Insider Preview up to 33% faster
– Windows 10 disk performance on ARM Insider Preview up to 20% faster
– Improvement up to 28% DirectX 11 graphics performance
Its a Mac with Intel processor:
– Up to 60% faster network connection on a macOS Big Sur virtual machine (and newer versions)

Display driver for a better gaming experience on Windows.
New powerful features for Mac with Apple M1 chip. With Parallels Desktop 17, Windows 10 recognizes the Mac's battery status and allows power savings when the battery level is low. The new TPM virtual chip allows Windows 10 and 11 to use BitLocker and Secure Boot for a higher level of data protection.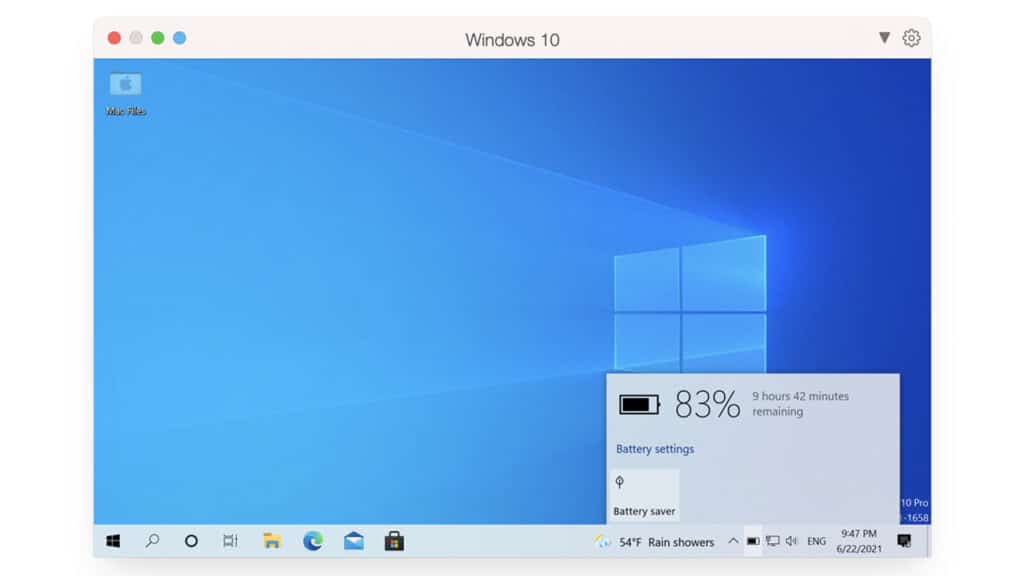 Photo Credits: Parallels Desktop.
Improvement of the Coherence mode. Users can now go through their workflow seamlessly and without distraction as all Windows shutdown, update and logon screens are in window mode, so users can minimize them to icons and stay focused and productive.
Users can now use the Automatic resource manager, developed to evaluate and recommend the optimal amount of Mac hardware resources for virtual machines to ensure the best possible performance every time.
Linear drag and drop of content between Windows and Mac: Users can now drag any text or image between Mac and Windows applications, even between Windows and macOS Monterey Quick Note applications (when available).
Advanced experience and support for USB devices. Parallels Desktop 17 for Mac now supports USB 3.1, which allows the use of additional USB storage devices. Users now see the familiar name of the device in the Parallels Desktop interface and can quickly identify the right device to connect or disconnect.
Better control of disk space. Users can now view the amount of disk space occupied by VM snapshots and make an informed decision on how to use their Mac computer's disk space in Parallels Desktop 17.
Parallels Desktop 17 per Mac Pro Edition
Developed to offer the best value to Parallels Desktop advanced users, developers and IT specialists, Parallels Desktop Pro Edition is the best-selling version of Parallels and offers all the power of the standard version Parallels Desktop 17 for Mac, plus the following exclusive features:
Simplified conversion of a bound clone to a standalone virtual machine: Responding to our users' requests, with Parallels Desktop 17 for Mac Pro Edition it is now possible to create an independent virtual machine from a bound clone with two simple clicks.
Improved Visual Studio plugin: Parallels Desktop plug-in for Visual Studio (designed to debug code in a standalone VM) now supports Apple M1 chip Mac computers. Furthermore, the plug-in installation procedure has been simplified thanks to Visual Studio 2019.
Business Edition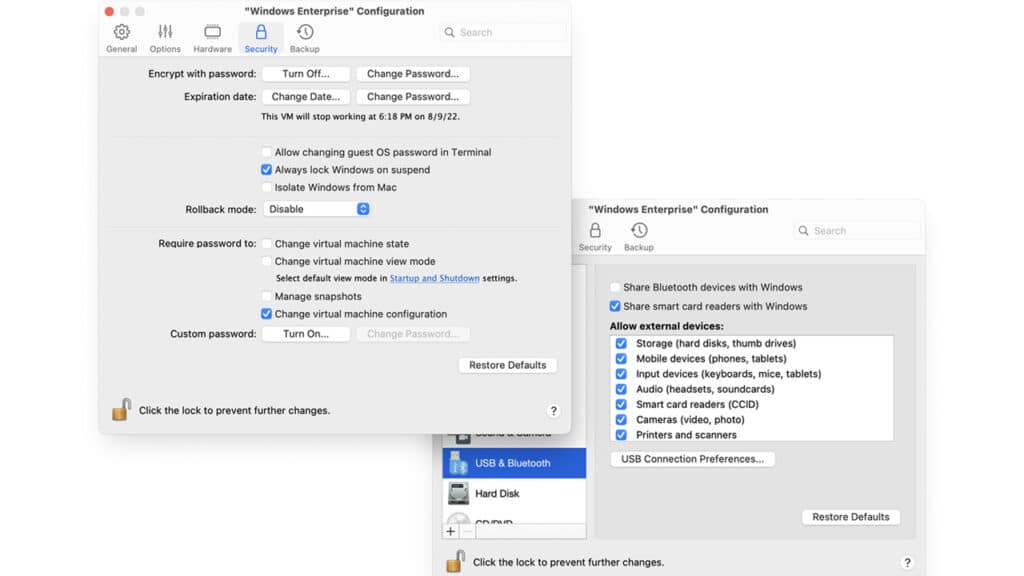 Photo Credits: Parallels Desktop.
Offering essential functionality specific to business environments, Parallels Desktop 17 Business Edition boasts all the power of the Pro version, with additional features including:
Enterprise virtual machine provisioning on any Mac. Business administrators can now provision pre-configured Windows virtual machines to a mixed group of Mac computers with Intel and Apple M1 chips. IT managers can now specify download links and descriptions in Parallels My Account for Intel and Apple M1 chip computers, and Parallels Desktop will automatically download the correct image for each employee.
Deploy Parallels Desktop on a fleet of Macs with multiple architectures with a single package: Parallels Desktop 17 is a "universal binary" application that allows you to create a single mass distribution package for use with Mac computers with Intel and Apple M1 chips. With this new option, deploying Parallels Desktop with Mac Management Tools and the Self-Service Portal is much easier.
With the new version of Parallels Desktop, new tools also arrive in Parallels Toolbox 5 for Mac and Windows: focus on one window; transform text; recognize text; barcode reader and barcode generator. Parallels Toolbox has a large collection of more than 30 tools.
Availability and prices
The new software version can be purchased on the official website with the following prices.
Parallels Desktop 17 per Mac:

Upgrade to a permanent license: 49,99€
New subscription: € 79.99 a year
New permanent license: 99,99€

Parallels Desktop per Mac Pro Edition:

Upgrade from any edition: € 49.99 per year
New subscription: € 99.99 per year

Parallels Desktop per Mac Business Edition: