Polymega, the modular game console dedicated to retro gaming, is about to arrive in the homes of all fans, as its launch is officially scheduled for 12 September. The project, announced four years ago, has changed its name and features several times during its development, but now it finally seems ready for distribution. But what exactly is it about?
Polymega: the console dedicated to retrogaming
Technically speaking, Polymega is a console based on a software emulation system, which mounts a custom motherboard and operating system Linux. The hardware compartment has everything you would expect from a machine of this kind, including support for HDMI, Wi-Fi, ethernet, USB connections and SD cards.
Polymega, however, also includes some other more distinctive additions, such as a unit CD-ROM, support for the SSD m.2 and, much more importantly, the support for four possible extra inserts of the console called "Element Modules". These modules offer compatibility with NES, Super Nintendo, Genesis, 32X, TurboGrafx-16 cartridges and controllers; including all of their European and Japanese counterparts.
As if that were not enough, in addition to these optional modules, Polymega supports Sega CD, TurboGrafx-CD, Neo Geo CD, PlayStation discs and Sega Saturn. A truly impressive degree of compatibility, which guarantees access to a huge library of great games from the past.
Particularly surprising is the ability of the console to be able to guarantee complete compatibility with Sega Saturn games, notoriously very difficult to emulate due to the dual core system of this system.
A jump in the past
The most interesting part of all this is that the console, once connected to the internet, will download a full list of supported games and, once we have inserted our disc inside it, we will be offered the possibility to play the game directly from the cartridge, or to opt for a digital version, to avoid wearing out what is probably a collector's item.
This console will then extract the ROM from the cartridges and then, essentially, emulate them within the modules, with all the typical emulator options such as save and load state, take screenshots, record gameplay and so on.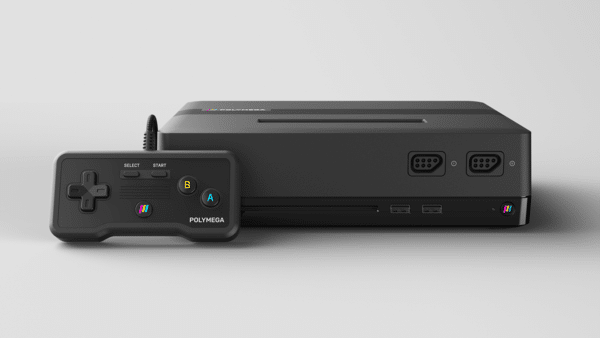 One of the most evident criticisms of Polymega is undoubtedly its memory, limited to just 32 GB. If you have a large collection of games that you want to digitize the best idea is probably to buy an external hard drive, in order to avoid unpleasant situations.
To have a 360-degree retrogaming experience, the console includes a series of controllers suitable for each player. Some of these closely resemble the DualShock 4 , but there are also some with a more eccentric design, including a Retro Gun Controller (available separately). It should be noted that all Polymega controllers are backwards compatible with the original consoles, should you have one that is still functional.
The lighthouse of retrogaming
Polymega is proposed as the ideal product for all retrogaming enthusiasts, or more simply for those who are interested in recovering an important part of the history of the medium. In this sense the idea of ​​launching a digital store through which it is possible to access all ROMs in a perfectly legal way is very valuable in the current videogame landscape, as it allows the developers of those titles to become an active part of the project.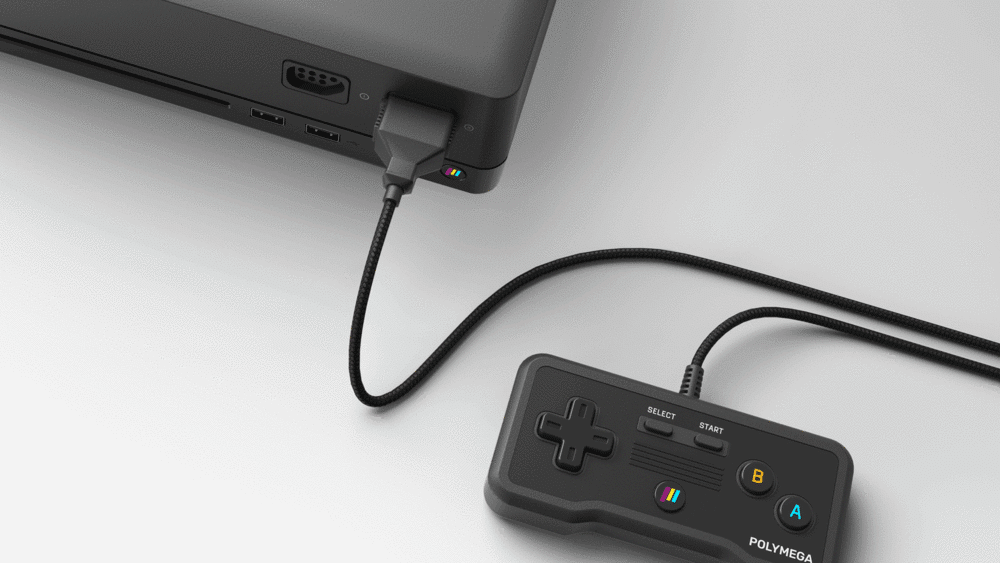 That said, although the opportunity to create an online store to sell games directly within the Polymega is definitely feasible, the creators of the console still don't seem willing to create one, also because it is realistic to imagine that obtaining the license to sell all those video games is a nightmare.
Anyway, if you have some aging cartridges or discs that you want to replay without jeopardizing their integrity, this console is for you. You can buy it directly from the official console store along with all the appropriate accessories.