Italian overclocker, world champion, Roberto Sannino reached 5666MHz with the new XPG Spectrix D50 Xtreme, without liquid nitrogen
At the following link you can reach the HWBOT portal – place of the main competitions related to the Overclock sphere – and the record posted by our Roberto Sannino. Protagonists are the RAMs of the manufacturer XPG, in particular the Roberto has reached a world record in Y-cruncher with the Intel core i9 and a retail version of the D50 Xtreme 5000MHz.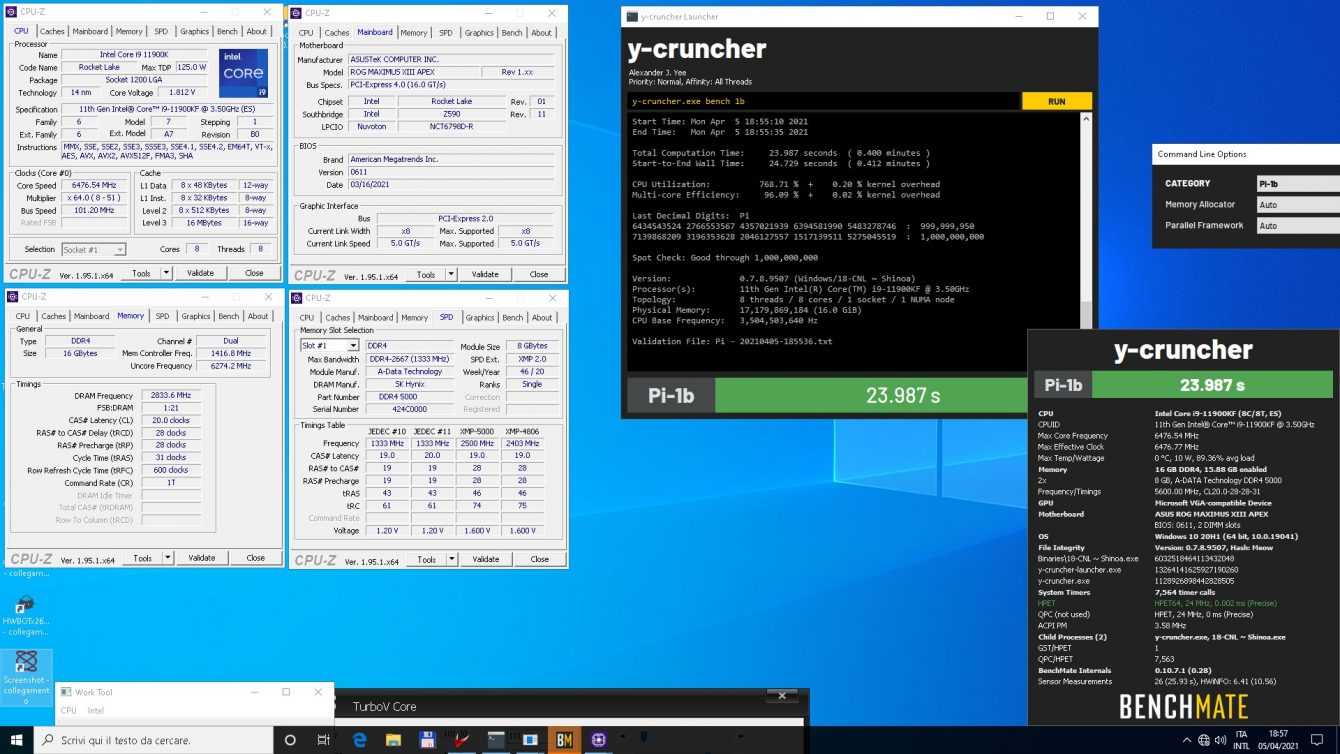 Record for XPG Spectrix D50 RAM: 5666mhz reached
In the last weeks XPG worked closely with Roberto Sannino to achieve a common goal. We remember Sannino being a well-known overclocker for his records, considered a real guru in the sector, he became world champion in 2017 by winning the OC World CUP in June in Taipei and subsequently l'Overclocking World Chmpionship held in Berlin in December of that same year.
This time he used a machine consisting of a platform Intel Z590 with processor Intel Core i9, especially the model 11900K, and motherboard ASUS Maximus Apex XIII. The intent, which succeeded perfectly, was to push the XPG D50 Xtreme up to the frequency of 5666MHz, and without the use of liquid nitrogen. The result was then uploaded and certified on the HWBOT portal, which, together with the CPU overclock, won the first position in the 8 Core CPU category and in the Intel core I9 11900K CPU only category.
The words of Roberto Sannino;
However, among all the "memoriette" not binned I had, ste XPG fly. Yesterday I had fun and in Y-Cruncher and at 5666 MHz I got a WR. Soon there will be a battle for this record, but being the first to get it with the new platforms is the top. It is difficult to maintain because others have scary binned CPUs and in these cases it is just luck. Among other things, I used the RAM with the original heatsink, without disassembling them, because with the frozen toilet they cool well but nitrogenous I think these D50 Xtreme can do even more but I'm sorry to disassemble them, my heart cries because they are really beautiful. Obviously in some benches these ram are used, with others, the Samsung B-Die because they have less frequency but tighter timings, with the new CPUs an incredible split has been made.
If you want to continue to know the latest news from the hardware world, keep following us. Greetings from TechGameWorld.com.