Today we will talk about the Styles for Capture One Pro, in particular the "Kodak Everyday Original" package created in collaboration with Mastin Labs. We will analyze what this software package offers and how it can be used in the development of your photographs
Capture One is a reference software in the world of photo editing. Famous above all for its color management, in the version 12 Pro (which we have reviewed for you) new creative heights have been reached thanks to the features and improvements introduced.
If you want to expand the functions of the software, several additional packages are available, which we have already reviewed in the past. Continuing on this line today we talk to you about Kodak Everyday Original by Mastin Labs.
Mastin Labs proposes the best film simulations also present on the market on Capture One 12 Pro. It is one of the best products we have had the opportunity to test recently: let's find out why.
Kodak Everyday Original by Mastin Labs: what does it offer? | Review
Thanks to Kodak Everyday Original by Mastin Labs it's possible reproduce faithfully the tones of 3 Kodak films from the past. We are talking about the historians Ektar 100, Gold 200 and the Immanable Tri-X 400. Anyone who has ever used one of these films will remember its characteristic tones with joy. I personally grew up with the Tri-X 400, and seeing the tones reproduced in such a faithful way has sincerely excited me a lot. We will let the images talk, below we show you the effect of these presets on a photograph
Kodak Everyday Original by Mastin Labs: Dedicated Workspace | Review
These presets are not like all the others released by Phase One. Let's find one dedicated work space to optimize the yield of the same. The fidelity from the Mastin Labs film simulations is truly remarkable, combined with the available options it really manages to give an analogue look to the photos. And, although having only 3 simulations available may seem cheap compared to the price, you immediately realize that in reality these are amply justified.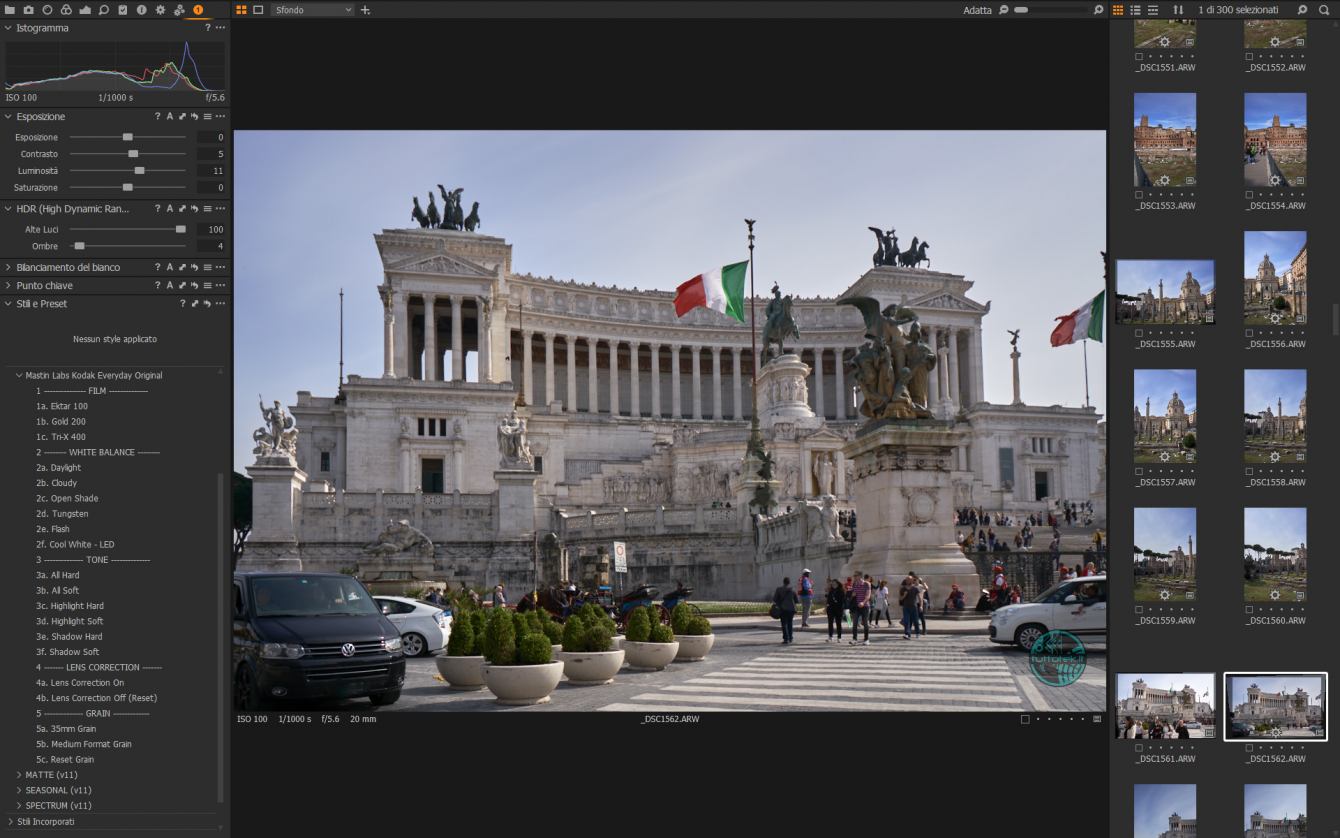 Using the dedicated workspace we have a complete control on what are the parameters on which these styles go to act. We will then be able to work dynamically on exposure, dynamics management, white balance and key points. Also, unlike all the other presets we might notice the presence of 5 categories of settings in the dedicated tab. Selecting the film to simulate we can choose a custom white balance, then a tone to give to the image, the lens correction and finally the type of grain to be displayed on the image. The result will be totally faithful to the original emulsions every time.
Kodak Everyday Original by Mastin Labs: the perfect simulations | Review
Kodak Everyday Original is a package that carries the Kodak's analog rendering also on digital. This is not a simple operation as it is easy to expire in presets that are not valid for every situation and that do not succeed well as promised. Here, however, none of this happens, and indeed the premises are maintained. Every characteristic of the simulated emulsions is perfectly reproduced. In particular there is a lot of care for those that are the typical tones of Extar and Gold, films much loved by analogue photography enthusiasts, which are faithfully filmed: they can be recognized among a thousand and finding them with a simple click makes a tear drop.
Speech to itself for what concerns the simulation of the legendary Tri-X. This historical emulsion has been one of the most used ever, it has immortalized many of the key moments in the history of humanity, and now with these packages its classic rendering is also back in digital. Then the grain reproduction: perfectly faithful to the paper rendering of these particular emulsions. We are on a higher level than what was offered to us with "Movie Styles"Which was already able to provide a valid simulation of an analogue rendering even if not based on specific films. The Target of Kodak Everyday Original by Mastin Labs is also very broad: as the name implies, they are packages for everyday photography.
Kodak Everyday Original by Mastin Labs: not to be missed | Review
Simply perfection made film simulation, Kodak Everyday Original by Mastin Labs, represents a new level of simulations for film even managing to do better than "Film Styles" in terms of fidelity in reproduction with a very faithful emulation of the original films. Clearly we are talking about only 3 emulsions, a limited number in absolute value, but they are reproduced as never before on Capture One 12 Pro. Impossible to resist the purchase for lovers of the analog Kodak flavor. Package therefore recommended for any genre. Are they suitable for everyone? Are you, provided you know what these emulsions represented in the analog era. If you love the analogue rendering, but of a different film, arm yourself with patience: soon other packages dedicated to other glories of the past will arrive.
We remind you that you can buy the package at this address for 99 €. We also recommend that you visit the Phase One website for more information.
Below we leave you one photo gallery developed on Capture One Pro with Kodak Everyday Original by Mastin Labs. We have purposely applied only the default presets to show the effect of this software package on photographs.
Kodak Everyday Original by Mastin Labs: Photo Gallery | Review
Points in favor
Fidelity of reproductions
Package quality
Speed ​​of use
Ability to stack multiple presets
A must for analog lovers
Points against
Cost perhaps a little high, but certainly justified