From February 1st to March 31st 2021 it will be possible to buy FUJIFILM X-T4, X-T3 and X-T30 enjoying interesting immediate discounts, thanks to the Instant Rebate promotion that is being offered again in this sales period
From February 1st it is even more advantageous to take advantage of the photographic and video quality of the XT Series, which has been able to be appreciated for its ease of use, great performance, technological innovation and accurate design. Otherwise as of March 31, 2021, you can, in fact, get an immediate discount, from 100 to 300 euros including VAT, depending on the product chosen, on the purchase of the mirrorless FUJIFILM X-T4, X-T3 e X-T30. The FUJIFILM Instant Rebate promotion gives us once again the opportunity to buy many interesting products at really interesting prices!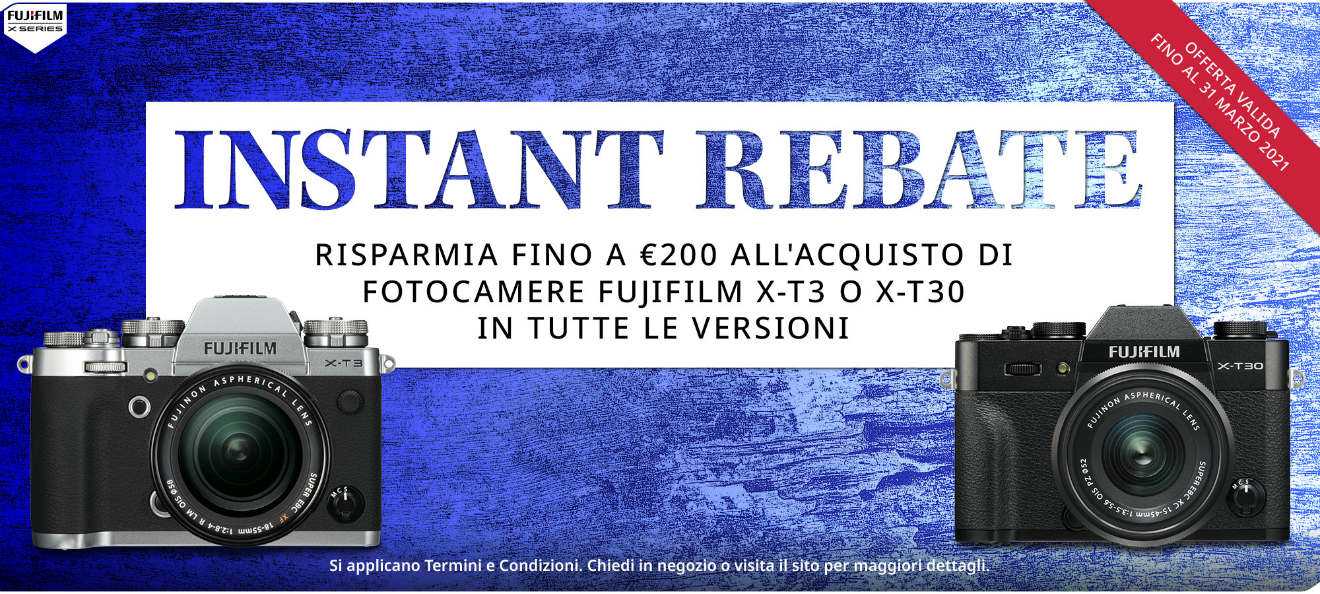 FUJIFILM Instant Rebate: la serie X-T in saldo!
The first protagonist is FUJIFILM's APS-C flagship or X-T4 with its own 26 MP BSI X-Trans sensor stabilized on 5 axes for an image quality that is always at the top. In addition, the AF can chase subjects even during the burst up to 30 fps. There is no shortage of 4K 60p videos that can also be recorded with 10-bit 4: 2: 2 color depth internally. For X-T4 Silver / Black the discount will be reserved by purchasing the camera (Body version or kit with XF18-55mm or kit with XF16-80mm) in combination with XF23mmF1.4 R, or XF8-16mmF2 at the same time and in a single transaction. .8 R LM WR, or XF16-55mmF2.8 R LM WR or with XF50-140mmF2. 8 R LM OIS WR. For each "super kit chosen", you can benefit from a different saving, namely:
€ 200 i.i. per X-T4 (body o kit) con XF23mmF1.4 R
€ 300 i.i. per X-T4 (body o kit) con XF8-16mmF2.8 R LM WR
€ 300 i.i. per X-T4 (body o kit) con  XF16-55mmF2.8 R LM WR
€ 300 i.i. per X-T4 (body o kit) con XF50-140mmF2. 8 R LM OIS WR
Then we have the old one, but still very good X-T3 with the "old" 26 MP X-Trans sensor which unfortunately is not stabilized, but still offers very high quality. Among the specs we mention the burst up to 20 fps and 4K 40p videos. If you don't need the stabilizer, it could be a great choice! For the purchase of X-T3 Silver / Black (Body version or in kit with XF18-55mm or kit with XF16-80mm) the immediate discount at the cash desk is € 200 including VAT. Finally we have the little one who is basically a reduced version of the X-T3 which, however, has little or nothing to envy to its older sister. For X-T30 Silver / Black / Anthracite (Body version or in kit with XF18-55mm or kit with XC15-45mm) the discount reserved for the purchase is € 100 including VAT.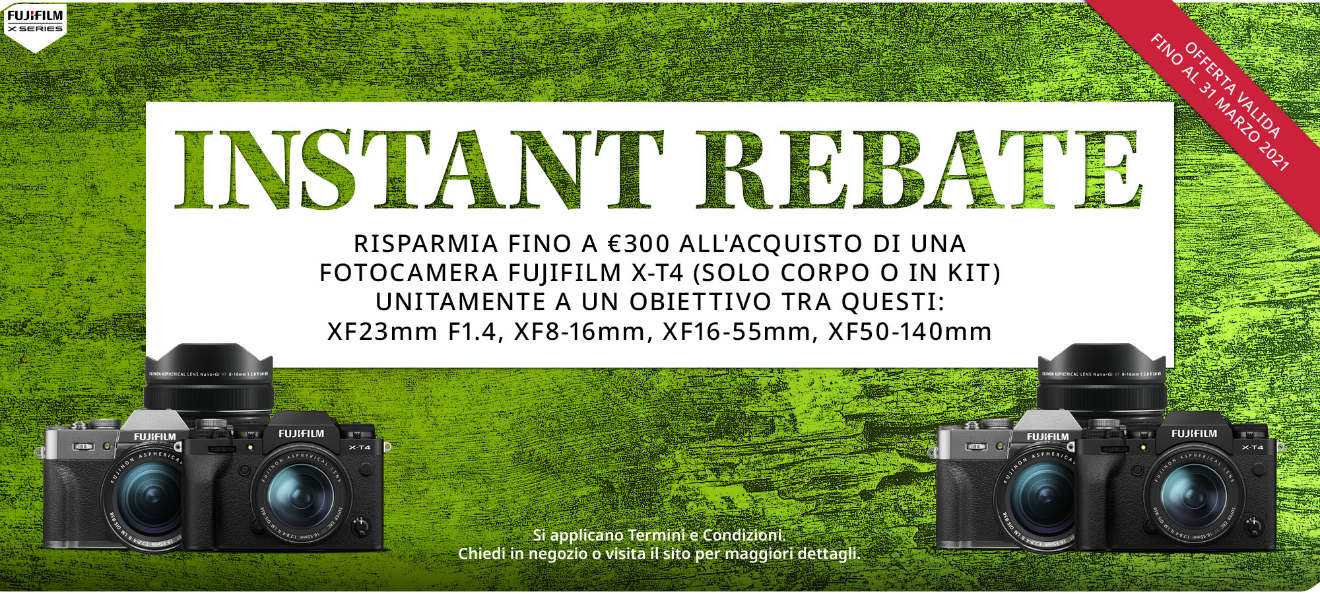 How to access the promotion
The promotion is valid only for new products, distributed by FUJIFILM ITALIA SpA Second hand or refurbished products are excluded from this promotion. The transaction can take place in both a physical and online store, but only at an Authorized Reseller. FUJIFILM reserves the right to cancel this promotion at any time and to change the terms and conditions or products in question without incurring any liability. All the details with the list of authorized dealers is available on the official website dedicated to the promotion.