In this review we will tell you about Scarlet Hood and the Wicked Wood, a fairy-tale graphic adventure that includes some action elements
Now that of graphic adventures has become a very rare genre and as a result fans of this category of video games are always looking for something new to try. Luckily for them it was recently released Scarlet Hood and the Wicked Wood, a title indie which mixes the basic mechanics of the genre with some elementi action. The last work of Devespresso Games e WhisperGames to hit the target? Find out with us with our review of Scarlet Hood and the Wicked Wood!
The classic Wizard of OZ
Let's start this review by briefly talking about the history by Scarlet Hood and the Wicked Wood. In this title, players will take on the role of Scarlet, a girl full of energy who she is a singer in a little known band. One evening she and the other members of her group participate in a competition to impress the producer of a well-known record company called Wicked Records, but unfortunately the performance is not going well.
In fact, due to a certain event, Scarlet ends up walking away from her friends after a bad fight. The evening is now ruined but apparently there is never an end to the worst, since just before returning home the protagonist comes engulfed by a violent tornado that sends her into a fantasy world. Once she entered this alternate universe Scarlet will mysteriously gain the powers of the mighty red witch and will have to learn to master them to survive the machinations of Le Faba, the black witch.
The beginning of the game is very classic and incorporates many elements taken from the famous novel The Wonderful Wizard of Oz. In the course of the adventure we also came across some very interesting finds, but unfortunately on the whole history has not particularly convinced us. The plot of the game in fact continues in one way extremely linear and all the twists turn out to be really telephoned. In the end, the story remains enjoyable, but for sure we would have liked to see some more interesting implications.
A World of Puzzles – Scarlet Hood and the Wicked Wood Review
Now it's time to talk about one of the most important elements of any graphic adventure: the puzzles. To complete Scarlet Hood and the Wicked Wood you will have to overcome a large number of puzzles that differ greatly from each other. For some you will have to solve gods particular puzzles related to the setting, while for others you will only have to find certain objects around the map and then use them in the right place.
Overall the puzzles they are very varied, and that's good, but unfortunately they suffer from a major flaw. In general the puzzles are quite simple, but some are unfortunately very unclear. For example, sometimes some environmental puzzles have a structure that does not allow us to understand if we are proceeding in the right or wrong way. This problem is likely to make certain sections of the game very frustrating, greatly damaging the experience.
Fortunately, in some cases you can mitigate this issue based on your style of play. This is because every area of ​​Scarlet Hood and the Wicked Wood it can be completed in two completely different ways. This choice adds a good level of replayability to the title and, with a little luck, will allow you to avoid the less successful puzzles.
Azione innecessaria – Review Scarlet Hood and the Wicked Wood
As we told you at the beginning of our review, Scarlet Hood and the Wicked Wood features a few atypical elements for a graphic adventure. For example Scarlet owns a life indicator, a stamina bar and is capable of use objects bought or found around for bonuses. Obviously if all these elements are present there will also be gods enemies.
The enemies will only be present in certain points of the map and when you meet them you will have only two ways to overcome them: use a mana crystal or dodge. Mana crystals are gods consumables which will allow you to automatically eliminate nearby opponents for a short time. Dodging instead will allow you to overcome enemies by consuming a certain amount of stamina.
Regardless of your approach, you will always be overcome by enemies extremely simple, to the point of making theirs presence almost totally superfluous. Even in the most advanced sections of the game where more dangerous opponents will be added you can safely avoid them without any difficulty.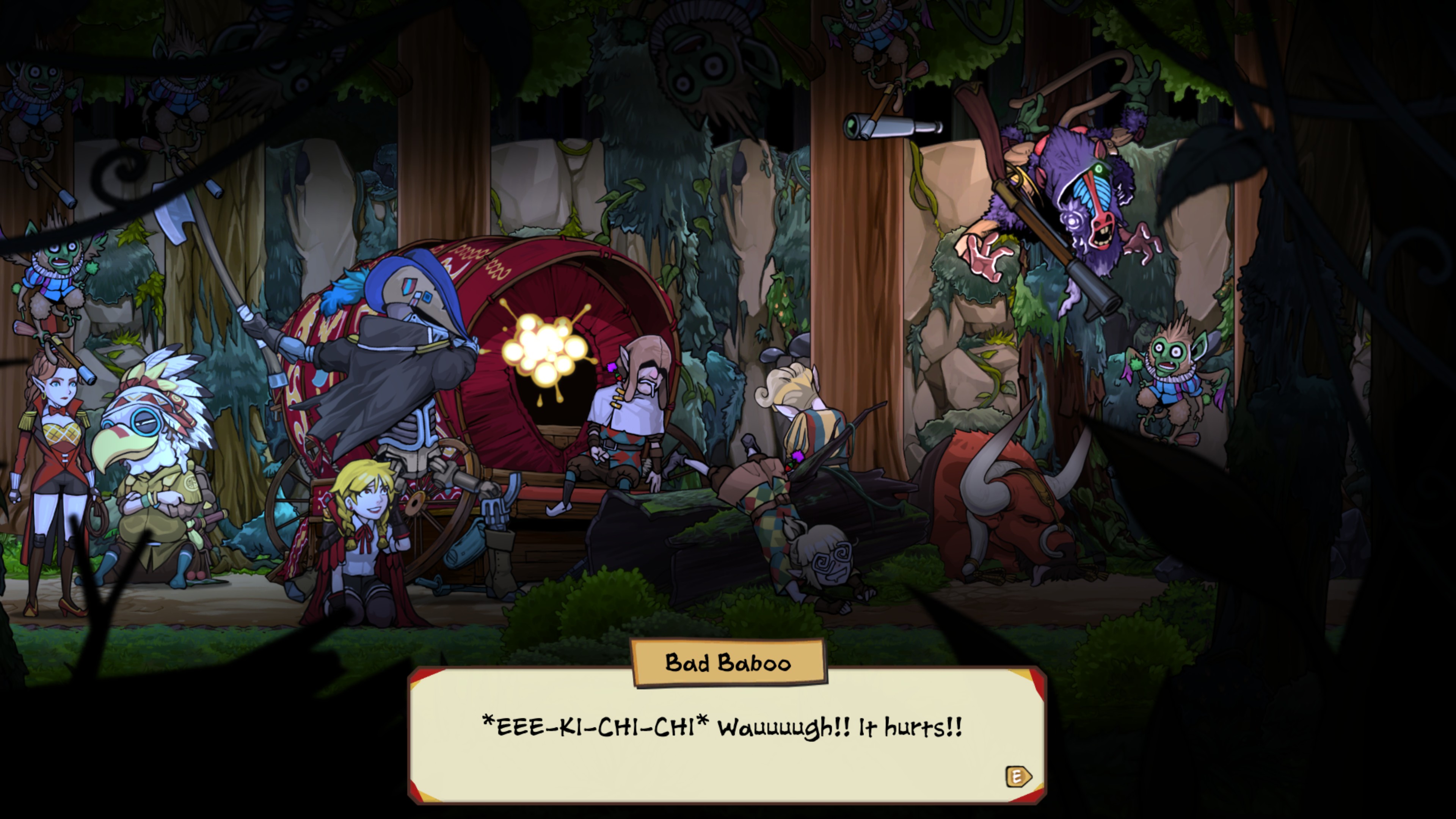 Quality and lightness – Scarlet Hood and the Wicked Wood review
I drawings featuring Scarlet Hood and the Wicked Wood are very beautiful and are also joined by good character design. The game, however, shines particularly thanks to settings, which always result accurate and rich in details. Furthermore, also the soundtrack it's really good and has several very catchy tracks. The only negative point is represented by animations, which in many cases are a little too rough.
For what concern technical sector instead there is not much to say. The title is extremely light and as a result we never noticed any drop in performance. Also in the course of our test we hardly ever ran into bugs or crashes. Perhaps the only thing we have to complain about is the loading times a little too slow, but it is still a small thing.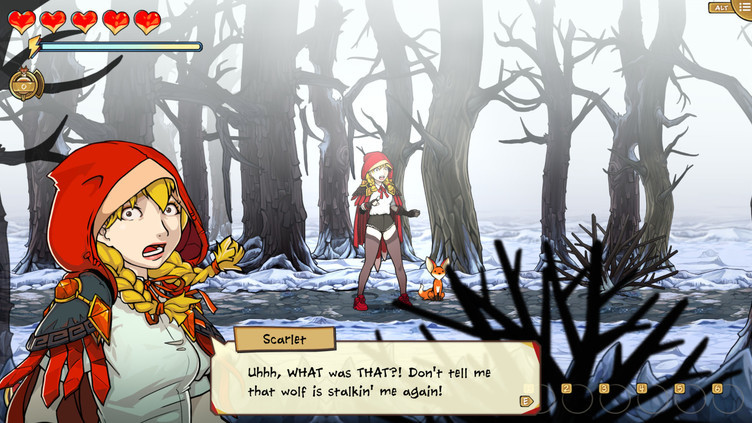 Conclusions
By reading our review you will surely understand that Scarlet Hood and the Wicked Wood is a graphic adventure without infamy and without praise. The title features interesting elements such as the ability to follow different paths, but suffers from unclear puzzles and a superfluous action component. Overall, however, the title remains enjoyable and if you are a big fan of the genre for sure you will be able to appreciate it.
Scarlet Hood and the Wicked Wood è available now for PC. If you are interested in staying up to date with all the news on the world of video games and much more, then continue to follow us here on TechGameWorld.com. Furthermore, in case you want to buy some games at an advantageous price, we suggest you take a look at the many offers on Instant Gaming.
Points in favor
Good replay value
Artistically valid
Very varied puzzles …
Points against
… but not always clear
Trivial story
Unnecessary action component